Queen Rania's Kids Have Grown Up To Be Gorgeous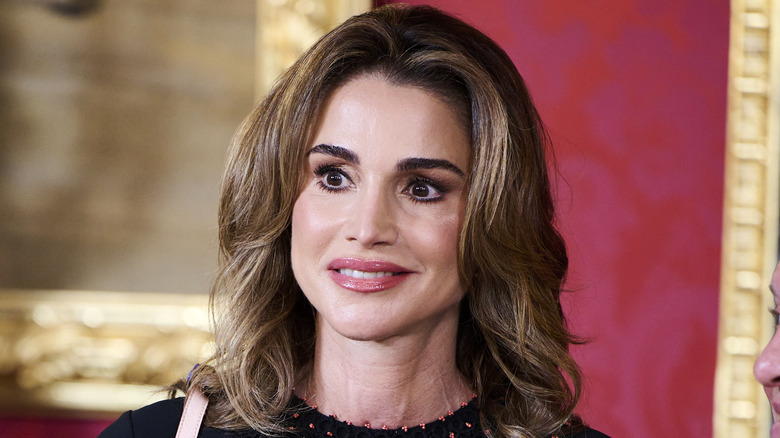 Carlos Alvarez/Getty Images
Queen Rania is one of the most glamorous royals alive today. Of Palestinian heritage, she was born in Kuwait and eventually moved to Jordan, where she worked for Apple. In a story worthy of a fairy tale, she met the future king of Jordan, Prince Abdullah II bin al-Hussein, at a party in January 1993. Their whirlwind romance saw them married that June and, six years later, they became King Abdullah Bin al-Hussein and Queen Rania al-Abdullah.
Queen Rania is beloved not just for her compassion — she's a supporter of UNICEF and other humanitarian organizations and has been called the "Princess Diana of the Middle East" — but also for her timeless fashion. The style icon is one of the most beautiful princesses and queens in history, and her four children have grown up to be just as gorgeous. She and King Abdullah have two sons, Crown Prince Hussein and Prince Hashem, and two girls, Princess Iman and Princess Salma. As busy as she is as queen, Rania has always been there for her kids. "I'd rather be dealt with as a person than a persona," she once told CBC. "With my children, I'm just Mom. At the end of the day, the position is just a position, a title is just a title, and those things come and go. It's really your essence and your values that are important."
Queen Rania has raised her kids with beauty and grace, and, as they've grown up, their mother's influence has been apparent.
Her children claim they can trace their ancestry to this important figure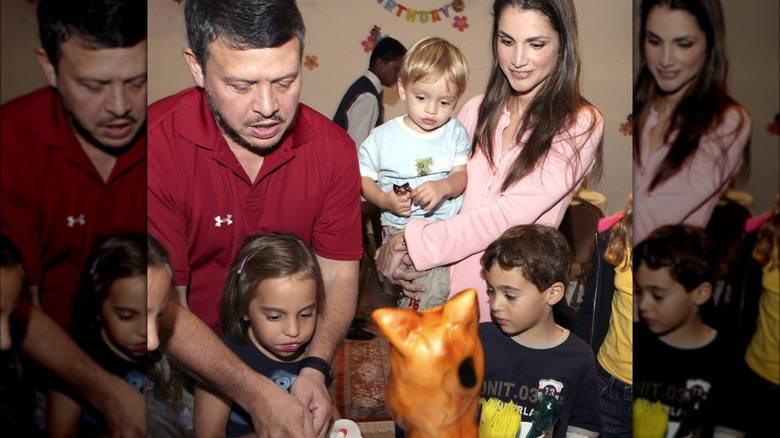 Handout/Getty Images
Through their father, King Abdullah, the children of Jordan's royal family claim descent from one of the most important figures in religion. They are part of the Hashemite dynasty, whose descendants trace their ancestry back to the prophet Muhammad who began to spread the message of Islam in the 7th century. While the modern kingdom of Jordan is quite new, having only become independent in 1946, the family has long held power in the region. The Hashemites ruled Mecca for centuries and, prior to Jordan's independence, were emirs of the Emirate of Transjordan since 1921.
Jordan's royal family takes their storied history very seriously, with King Abdullah once telling The New York Times Magazine, "It's a tremendous responsibility to be direct descendants of the prophet Muhammad. This family has had the burden of leadership on its shoulders for 1,400 years. I'm not going to drop the ball on my shift."
Crown Prince Hussein wasn't always the heir to the throne of Jordan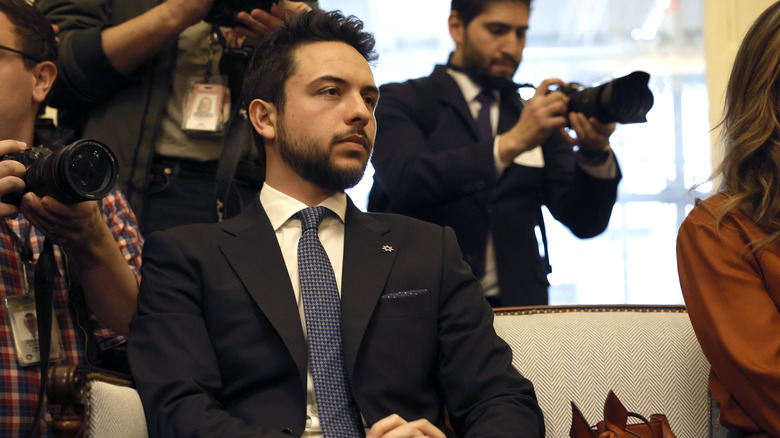 Anna Moneymaker/Getty Images
Crown Prince Hussein bin Abdullah II is the firstborn child of King Abdullah and Queen Rania and was born on June 28, 1994. At the time of his birth, there was no assumption that he would one day rule, in spite of the fact that his father was the oldest son of then-King Hussein bin Talal. Prince Abdullah himself was not guaranteed the crown, having been stripped of the title of crown prince at the age of three due to the hazards of having such a young heir in a time of political upheaval. For decades, Abdullah's uncle, Prince Hassan, was the heir to the throne of Jordan; Hussein didn't reinstate Abdullah as crown prince until 1999, weeks before he died.
Even after his father became king, Hussein was not named as his father's heir. Instead, Abdullah's half-brother, Prince Hamzah bin Hussein, was crown prince for a few years, holding the position until 2004 when Abdullah named Hussein as his successor.
Crown Prince Hussein has an international education fit for a king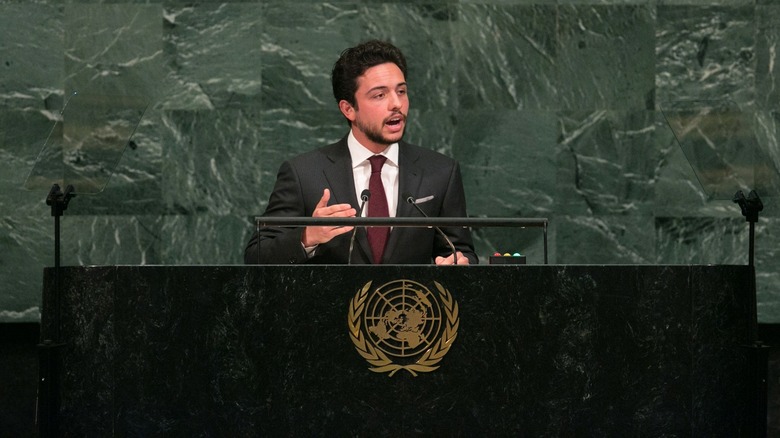 Kevin Hagen/Getty Images
Crown Prince Hussein may not have been born with the expectation that he would one day rule Jordan, but his education has definitely prepared him for life as a diplomat. He graduated from King's Academy, a private school in Jordan founded by King Abdullah that hosts many international students. Prince Hussein then traveled abroad to enroll at Georgetown University in Washington D.C. His course of study was fit for a future leader — he graduated with a degree in International History in 2016.
Queen Rania and King Abdullah traveled to Washington for their son's big day, and the proud mom captured the special moment on Instagram. "A very special day when your first born is graduating from university!" she captioned the image of the beaming parents standing on either side of the new grad. "What a wonderful journey you have taken us on, Hussein."
Prince Hussein became a captain in the military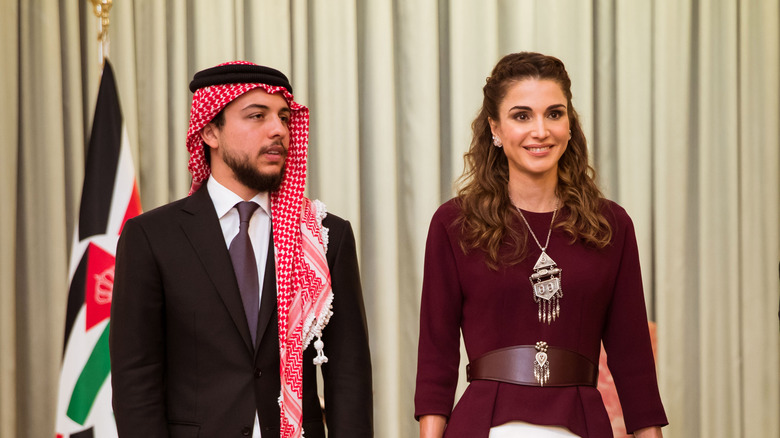 Handout/Getty Images
Not only is Crown Prince Hussein well educated in terms of academics, but he also has military training. After his graduation from Georgetown, he headed to the United Kingdom to attend the Royal Military Academy Sandhurst. The elite institution has trained British military officers since the 19th century — famous alums include Winston Churchill; William, Prince of Wales; and Prince Harry, Duke of Sussex.
Prince Hussein graduated from the 44-week course in 2017. The day before his graduation from Sandhurst, Queen Rania posted a picture of Hussein as a young boy dressed in military garb. "As I look at this photo from 1998 I am thrilled about seeing you graduate from Sandhurst Military Academy," she wrote in the caption of the Instagram post.
In the years following his graduation from the military academy, the heir to Jordan's throne has risen through the ranks and is now a captain in the Jordan Armed Forces-Arab Army (JAF).
Princess Iman was the first of Queen Rania's children to get married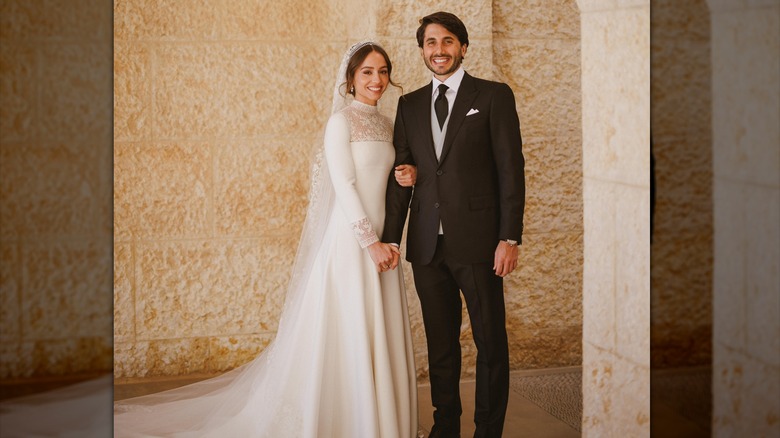 Handout/Getty Images
Princess Iman is perhaps the most elusive of Queen Rania's four children. The second oldest child and firstborn daughter of Queen Rania and King Abdullah was born on September 27, 1996. While she's been spotted at public events over the years, such as the 2023 National Prayer Breakfast Gathering's International Luncheon in Washington D.C., where her mother gave the keynote address, she seems to prefer living a quieter life. As the Jordan crown only allows male heirs, she's not in line for the throne, giving her the freedom to live a life less burdened by royal obligation.
Still, Iman made international headlines in 2023 when she became the first of Abdullah and Rania's children to marry, tying the knot with New York-based financier Jameel Alexander Thermiotis in March — just a few months before her older brother got married. Queen Rania gushed about her daughter's nuptials. "Iman, I pray this next chapter in your life brings you as much joy, love, and laughter as you have brought us over the years," wrote the queen in a sweet Instagram post featuring snaps from the wedding. "Congratulations to the bride and groom!" 
In another post, Rania reflected on her daughter growing up writing, "My dear Iman, it's not goodbye when you're always on my mind and in my heart."
Crown Prince Hussein was married in a lavish wedding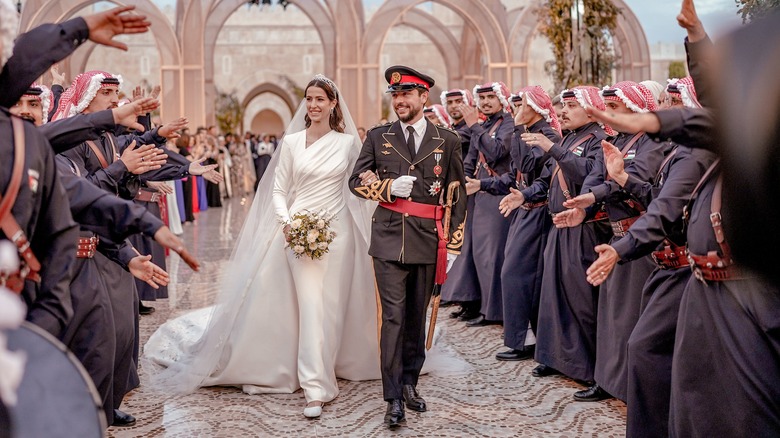 Jordan Pix/Getty Images
Less than three months after Princess Iman married Jameel Alexander Thermiotis, Crown Prince Hussein became the next member of Jordan's royal family to get married. He and his bride, Rajwa Al Saif, tied the knot in June 2023. Among their many guests were King Willem-Alexander and Queen Máxima of the Netherlands, FLOTUS Jill Biden, and William and Catherine Middleton, Prince and Princess of Wales. Princess Rajwa's Elie Saab wedding gown was covered in several pounds of pearls and must have cost a fortune on its own. Tack on a reception boasting approximately 1,700 invitees, and you have an unforgettable — and pricy — royal wedding.
Queen Rania made several posts about her oldest child's wedding on Instagram. "May God bless you both and fill your home with love and happiness," she captioned one set of pics. 
While royals aren't immune to troubled relationships with in-laws — just take a look at Queen Elizabeth's relationship with Princess Diana — it seems that Rania approves of her daughter-in-law. "I'll never forget how happy His Majesty and I were when Al Hussein told us he wanted to marry Rajwa," she said at an event ahead of the wedding (via Daily Mail). "She is the perfect answer to all my prayers for him."
Princess Iman is a fashion icon following in Queen Rania's footsteps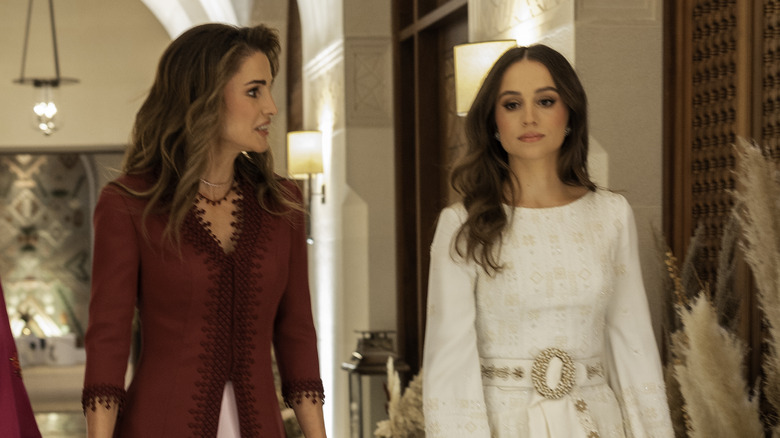 Jordan Pix/Getty Images
Like her older brother, Crown Prince Hussein, Princess Iman has an international education. In her younger years, she attended Jordan's International Academy Amman (which was founded by Queen Rania) where she excelled in sports. She then headed off to the U.S. to attend her brother's alma mater, Georgetown University. She didn't stay at the prestigious university, though, transferring to the Parson's School of Design in NYC. 
The transfer may not have come as too much of a surprise to keen-eyed royal watchers who have observed Princess Iman's evolving style over the years. Just like Queen Rania, Princess Iman is stunning and knows how to rock a stylish ensemble. She wore a gorgeous Dior gown at her wedding and has been seen out and about sporting other luxury brands such as Max Mara, Bottega Veneta, and Alexander McQueen.
Tabloids have long noted Iman's resemblance to her mother and acknowledged her as a trendsetter, so it makes sense that she'd want to attend school in one of the world's biggest fashion capitals.
Queen Rania has a special bond with her daughters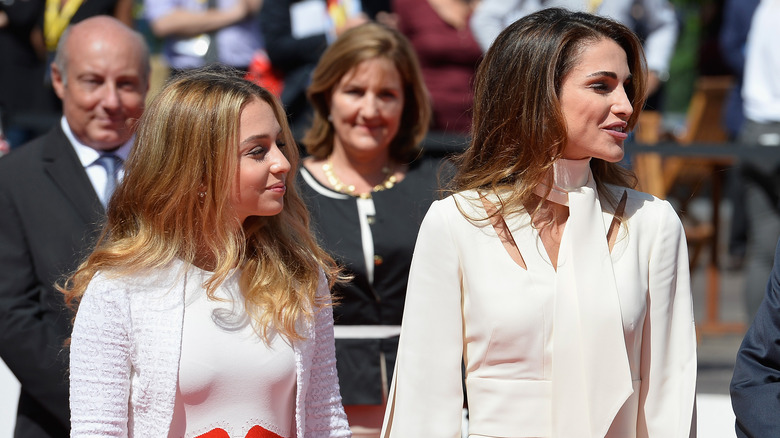 Pascal Le Segretain/Getty Images
Princess Salma is the third-born child of Queen Rania and King Abdullah of Jordan. She was born almost six years to the day after her older sister, Princess Iman, whose birthday is September 27. Salma was born on September 26, 2000, and it seems that the sisters have often celebrated their special day together. For their birthdays in 2022, Rania posted a beautiful picture of her and her daughters on Instagram, writing in the caption, "Our friendship gets stronger as you both get older... Couldn't have asked for better besties. Happy birthday Iman and Salma."
It's evident that the women of Jordan's royal family have a special bond, and it's sweet to see how close they are to their mom. While Jordan's royal daughters aren't eligible to inherit the crown, don't assume that this means Rania or her daughters bow to the patriarchy. She's raised her daughters to be fierce leaders and is an outspoken advocate for empowering girls and women. "I always find that, with women, if you empower them a little bit, they lift everyone around them. Education for girls is the best investment you can make, because the ripple effect affects so many issues — health, child mortality, economic empowerment all benefit when you give girls an education," she once told The Times (via Tumblr).
Princess Salma made Jordanian military history
Queen Rania is a strong believer in women following their own path, and her children have done just that. Her younger daughter, Princess Salma, chose to embark on a military career before she headed off to college and accomplished an impressive feat that will go down in history books. After following in her sister's footsteps and graduating from the International Academy Amman, she then copied her older brother and headed off to the Royal Military Academy Sandhurst. Salma completed the commissioning course in 2018, but she didn't stop there. 
She continued her training in her home country and, in 2020, became the first female pilot in Jordan's military, at the age of 19. King Abdullah pinned his daughter's pilot's wings on at the ceremony, and Queen Rania proudly re-shared the picture posted by the Royal Hashemite Court's Instagram account. Her brother, Crown Prince Hussein, posted his own celebratory message on Instagram, writing, "Brilliant and hard-working as always! Congrats on receiving your wings and here's to more success and achievements."
Princess Salma has since achieved the rank of first lieutenant in the air force.
Princess Salma went to school with Sasha Obama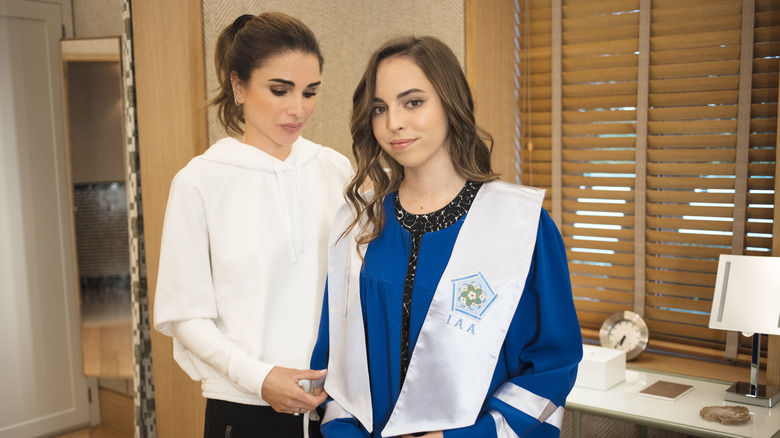 Handout/Getty Images
Princess Salma would have already been considered quite successful even without going to college, but she still completed her post-secondary education. Unlike her older siblings, who headed to the East Coast of the United States for their college studies, Princess Salma decided to go to California for her college years.
She graduated from the University of Southern California with a degree in archaeology in 2023. Her parents flew out for the ceremony, as did Princess Iman and her new husband. They weren't the only famous figures in attendance on graduation day, though. Former president Barack Obama and his wife, Michelle Obama, were also there to see their younger daughter, Sasha Obama, get her college diploma.
"So proud to celebrate my Salma's graduation yesterday from the University of Southern California," Queen Rania wrote on Instagram. "I can't wait to see what you do next. Congratulations!"
Prince Hashem is the baby of the family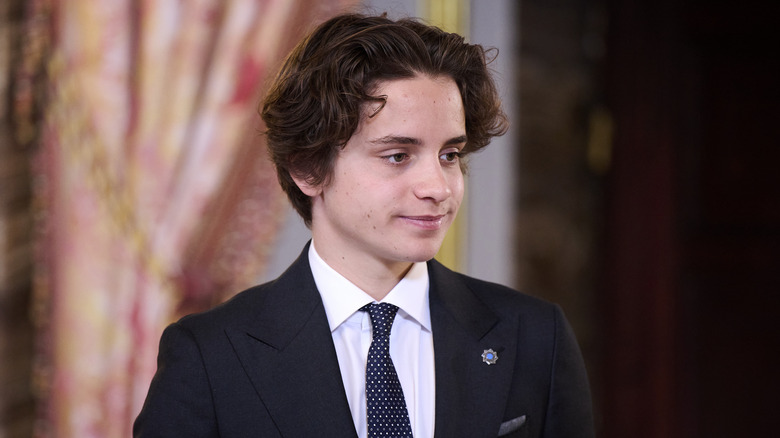 Carlos Alvarez/Getty Images
Born on January 30, 2005 — more than a decade after his oldest sibling, Crown Prince Hussein — Prince Hashem is the baby of Jordan's royal family. "You would think that I would be more confident and unperturbed by the whole thing by the fourth time around, but I'm not," Queen Rania told Hello! of welcoming her fourth child. "In fact, in many ways it feels like he is my first baby and I still find myself nervous and fumbling at times."
Like Crown Prince Hussein, Prince Hashem attended King's Academy and graduated in May 2023. The special event took place after Salma's college graduation and between Iman and Hussein's weddings, and Queen Rania joked about the whirlwind year in her Instagram tribute to her youngest son commemorating his graduation. "Guys, can we slow down a bit?" she wrote. "This mum needs to catch her breath! Another proud family moment at Hashem's high school graduation today."
Most of Queen Rania's kids aren't on social media
Handout/Getty Images
Given Queen Rania's large social media presence — she has 10.1 million followers on Twitter and nearly as many fans on Instagram — you might expect Jordan's royal family to be utilizing popular apps to boost their public image. Most of the family keeps private online, though. Crown Prince Hussein has an IG account boasting 5 million followers, but that's it for the royal kids. 
While it's possible that Hussein's younger siblings have private social media accounts that their relatives may or may not know about, Queen Rania only follows two accounts on Instagram: Hussein's, and the official account of the Royal Hashemite Court. While she has a few dozen people that she's following on Twitter, none of the accounts seem to belong to her kids. 
It's likely that, as the heir to the throne, Crown Prince Hussein maintains an Instagram profile to remain engaged with his future subjects. His younger siblings, though, lead more private lives and may enjoy the privacy that comes with not keeping up an online presence. Fortunately for royal fans, though, Queen Rania posts regular photos of her kids so we can at least get some small glimpses into their otherwise secluded lives.
Queen Rania can't wait for her kids to have kids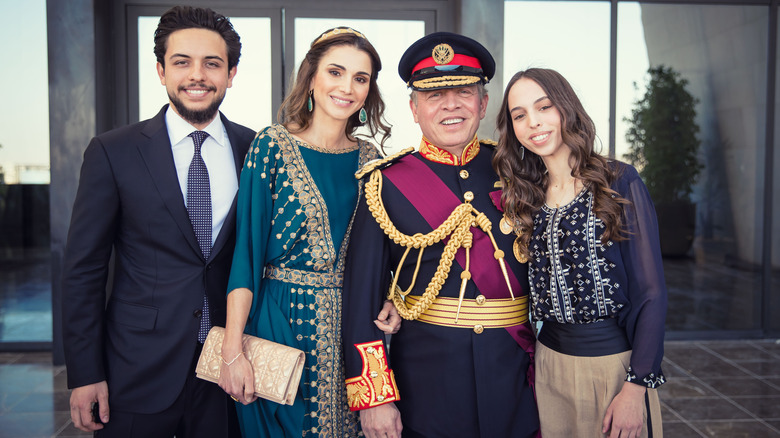 Handout/Getty Images
Queen Rania has accomplished a lot in her life, but it's safe to say that raising her four children has been her best achievement. Now that they're grown up, the world is looking forward to what they do next, and so is Jordan's queen. "I think all of us as parents, you know, we want to see our kids grow up and become independent adults and share their life's journey with partners and I'm so proud of the choices they've made," she said in a 2022 appearance on "Good Morning America."
One thing Queen Rania is looking forward to is grandchildren. In the interview, she said that she is excited to add "grandma" to her long list of titles. She'll no doubt set a formidable example for future generations of Jordan's royal family. She knows just what kind of grandma she wants to be, too. "My goal is to be like a fun grandma," she said. "We have a saying in Arabic that no person is dearer to us more than our children than our grandchildren."