Courteney Cox Had Strong Feelings About Brangelina's Divorce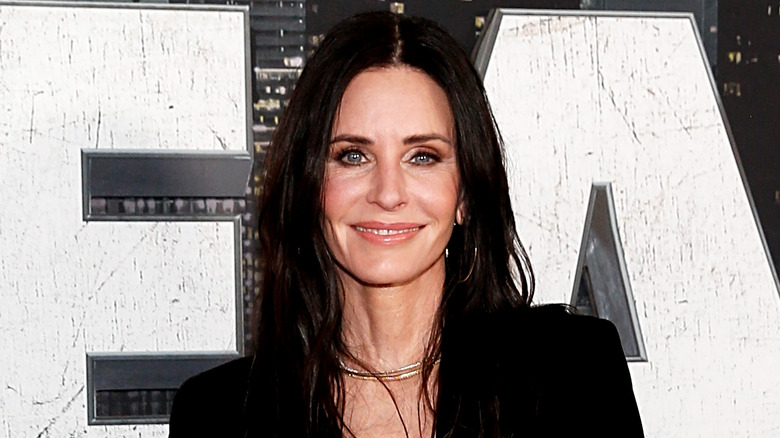 Dominik Bindl/Getty Images
Brad Pitt and Angelina Jolie were once one of Hollywood's most famous couples. However, some fans were shocked in 2016 when they heard the news that the pair had split. At the time, Jolie's attorney Robert Offer released a statement revealing that his client had decided to call it quits with her longtime love "for the health of the family," per Entertainment Weekly. Pitt and Jolie share three adoptive children together, Maddox, Pax, and Zahara, as well as three biological children, Shiloh, Vivienne, and Knox. After news of the divorce began to circulate, rumors also began to fly, some of which included Pitt's ex-wife, Jennifer Aniston. Soon after, Aniston's close friend and former co-star, Courteney Cox, made her opinion about the tabloid fodder clear.
As for Aniston's reaction to the Pitt and Jolie divorce drama, sources told Us Weekly that the "Friends" star never thought that the relationship was built to last. "She didn't feel that Angelina was truly the one who Brad was meant to stay with. She always felt that Angelina was too complex for him. He's a pretty simple guy," the insider said. However, she reportedly "never wanted this for them or wished this on them," the source added.
As for the rumors involving Aniston having in part in the divorce, Cox had some strong feelings about the situation.
Courteney Cox wasn't happy that Jennifer Aniston was mentioned in the Brangelina divorce drama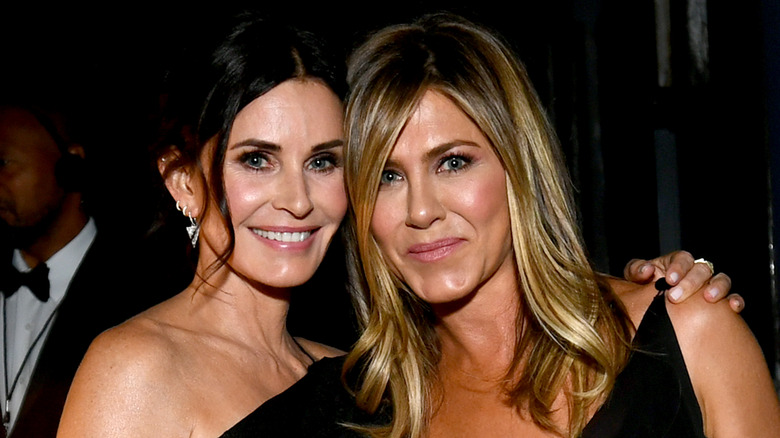 Emma Mcintyre/Getty Images
Courteney Cox and Jennifer Aniston have been friends for decades. The pair met when they were both cast on the hit TV series "Friends," and they've stayed close ever since. They've seen each other through the ups and downs of their lives, including Aniston's divorce from Brad Pitt. Of course, Cox has her friend's back, and when she was asked about her bestie's name being dragged into Pitt's divorce with Angelina Jolie, Cox wasn't happy. "I feel like we're exacerbating it by even talking about it," Cox told Entertainment Tonight. "It's not about her," Cox added.
Meanwhile, that wasn't the first time that Cox had spoken out about Pitt. Following Aniston and Pitt's divorce, the "Bullet Train" actor quickly made his romance with Jolie public, and even did a photo shoot featuring snaps of himself and Jolie happily in love. Some looked at the photos as a slap in the face to Aniston. However, Cox didn't see it like that. "I don't think he was trying to hurt Jen," Cox previously told Vanity Fair of the situation. "I don't think that Brad is malicious, or a liar," she added.
Thankfully, all of that drama seems to be in the past now.
Jennifer Aniston and Brad Pitt are friends now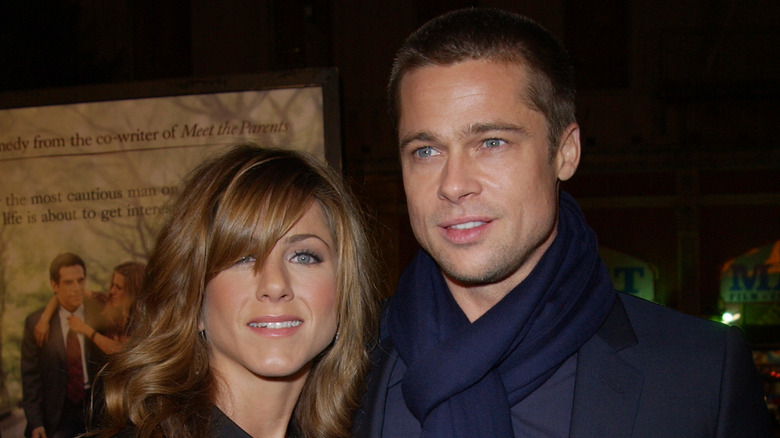 Jon Kopaloff/Getty Images
Brad Pitt and Jennifer Aniston's marriage may be in the past, but they have built a friendship over the years. Pitt reportedly attended Aniston's 50th birthday party, and the two also shared a viral reunion backstage at the SAG Awards in 2020. In addition, the duo both worked on the virtual table read of "Fast Times at Ridgemont High," where they played love interests.
"Brad is completely sober now and is in such a different place than he was when they were together," a source told Entertainment Tonight. "Brad is truly an introspective guy who has worked hard on himself. He has apologized to her for many things he felt were his issues in their relationship." A second source also told the outlet that Pitt and Aniston have learned a lot from their divorces. "Right now they just love and adore each other and have been much closer friends since their split and Pitt's divorce from Angelina Jolie," the second insider said.
Meanwhile, Aniston confirmed her friendship with Pitt during an interview with Howard Stern (via E! News). "Brad and I are buddies. Like, we're friends and we speak. There's no oddness at all," she said.