Details We Know About Zac Brown's Fiance, Kelly Yazdi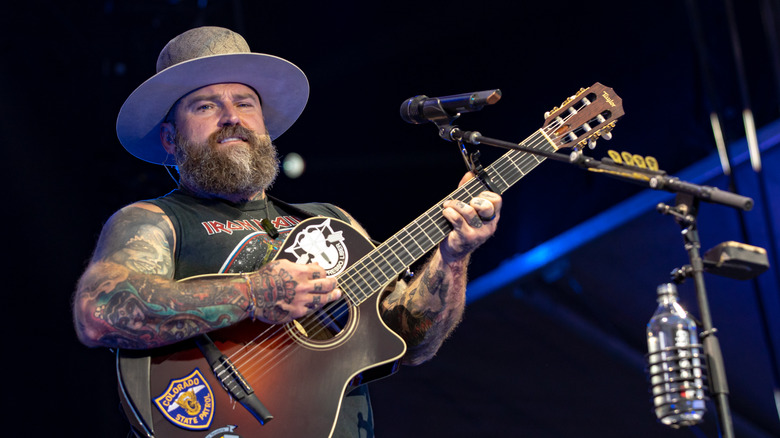 Natasha Moustache/Getty Images
Singer Zac Brown is one of the biggest country stars who leads a surprisingly normal life. The performer has remained protective of his personal life, especially when it comes to Brown's romantic connections. After announcing his divorce from jewelry designer Shelly Brown, in October 2018, after 12 years of marriage, there hasn't been much to report about his love life until December 2022, when sources confirmed that he'd popped the question to actor Kelly Yazdi.
The news came as a surprise to fans, as many did not know that Brown was even seeing someone. While not much is known about the timeline of their relationship, insiders revealed to People that Brown asked for Yazdi's hand in marriage while they were in Hawaii. A July 2022 Instagram post offers a hint that the couple had been engaged for months before media outlets caught wind of it. 
The Zac Brown Band shared a birthday reel of Brown and several others in a huddle. Yazdi is in that clip and sporting a noticeable diamond ring on her finger. While the two do a great job of keeping their time together under lock and key for the most part, Yazdi's personal achievements have been well documented.
Kelly Yazdi is an avid outdoorswoman
Kelly Yazdi is much more than a pretty face. The part-time model has made a career out of her love of outdoor sports. Her Instagram profile is a testament to her many skills, including diving and fishing. Yazdi has perfected her craft so much that she broke four spearfishing records, as the IUSA Records Committee verified.
Additionally, Yazdi used her love of motorsports to launch an all-female collective, empowering women who also love to ride. Ride Wild brings women together for organized riding events, snowmobiling, and other outings. Their official website posts all upcoming events that interested women can sign up for and images from past meet-ups as well.
When she's not leading women on motorcycles, Yazdi is spending her time bow hunting. In April 2023, she shared a stunning photograph alongside a New Zealand Fallow Deer that she had taken down. In the caption, the multi-faceted woman wrote: "I've always wanted to bow hunt and learn the craft of harvesting my own food. And this experience with the fallow deer is one I'll never forget." As part of that post, Yazdi also shared the meat that she cut from the animal.
Kelly Yazdi appeared in a Katy Perry video as a stuntwoman
The adventure-loving Kelly Yazdi is also known for her glamorous onscreen work. Her acting resume includes roles in multiple episodes of "Steve Austin's Broken Skull Ranch Challenge" and "Hawaii Five-O," which was ironically filmed in the state where Zac Brown proposed to her. When she is not doing mainstream acting gigs, Yazdi serves as a stuntwoman. 
Her work is so notable that it attracted Katy Perry's team, who contracted her for the music video for "Harleys in Hawaii." With so many avenues of exploration and several accolades under her belt, Yazdi still finds time to accompany her beau to red-carpet events and tour stops. 
Their busy schedules filled with various endeavors may not allow for a wedding anytime soon. Nevertheless, Yazdi has done a great job of making a name for herself outside of her romance with Brown and his thriving music career, which has seen him working with fellow country greats such as Dolly Parton and Sheryl Crow.