Selah Marley: 14 Facts About Lauryn Hill's Gorgeous Model Daughter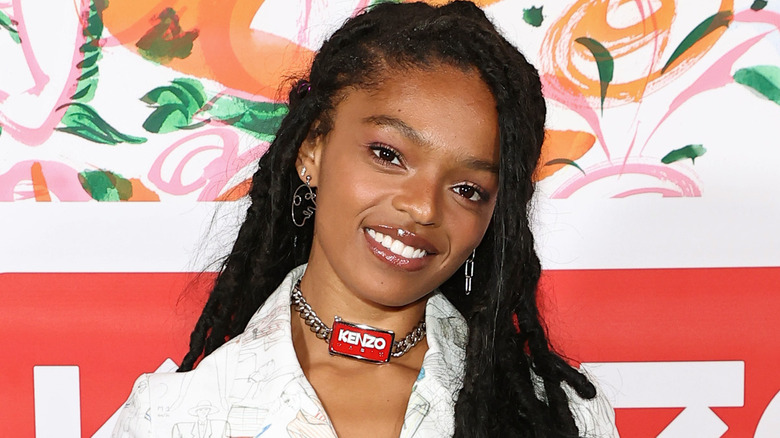 Arturo Holmes/Getty Images
Selah Marley has a very famous lineage — her grandfather is reggae legend Bob Marley and her mother is Lauryn Hill. Yes, that Lauryn Hill — renowned rapper and eight-time Grammy winner. Marley's father, Rohan Marley, is an ex-football player, entrepreneur, and the son of Bob Marley. Needless to say, she has a massive legacy to live up to, and she's pretty open about feeling the pressure of the world's expectations.
Still, Marley has had no trouble blazing her own way. At 12 years old, she'd already started making a name for herself as a model while still in school and didn't even skip out on any after-school activities. "I do piano, violin, guitar, basketball, gymnastics, ballet," she told Teen Vogue at the time. And her mother proudly interjected that she still managed to get straight As.
Now, Marley is all grown up and ready to take the world by storm. Her accomplishments at such an early age were a clear indication that she's determined to make a success of everything she tackles, and we've pretty much been blown away by all she's achieved since. Read on to get to know her a little better.
Selah Marley's first name is of biblical origin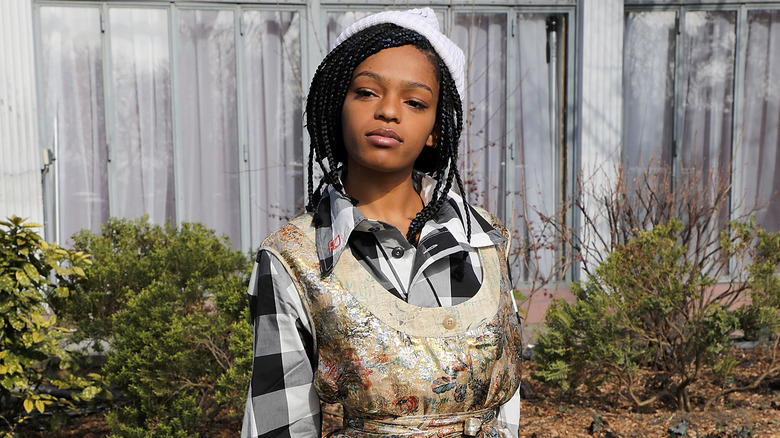 Pierre Suu/Getty Images
If you think Selah Marley's name is pretty unique, you'd be right. It's of Hebrew origin, and what's even more interesting is that it actually originates from a term used in the Bible. The book of Psalms, which contains songs mostly written by King David, periodically features the word "selah" at the end of some verses.
"It kind of means a meditational pause, so to reflect on something, to think about that," Marley told W Magazine. "I think I have that name for a reason, unfortunately and fortunately," she added. When asked what was unfortunate about it, Marley said that she tends to overthink and analyze things. Like so many of us, her mind can sometimes be a crowded place she wants to escape.
Marley told Andscape that her grandmother, Rita Marley, came up with her name. Her mother, Lauryn Hill, later wrote a song titled "Selah" that appeared in the 2002 film "Divine Secrets of the Ya-Ya Sisterhood." It's likely the title of the song was a nod to her daughter, even though the lyrics don't appear to be about her.
Her father Rohan Marley was absent during her childhood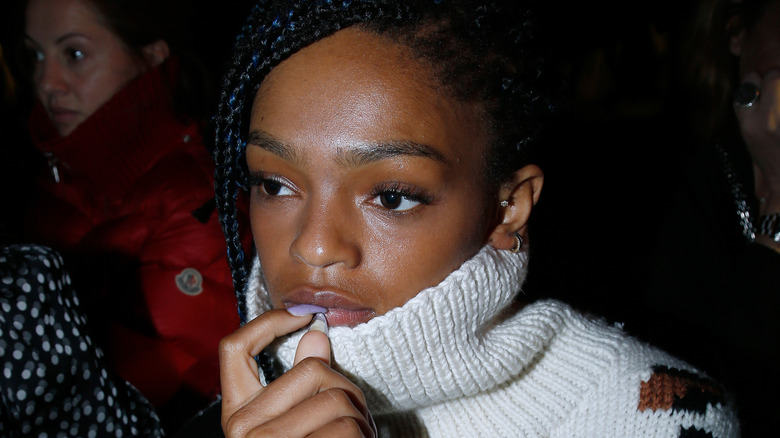 Bertrand Rindoff Petroff/Getty Images
Having famous parents doesn't mean having perfect parents, and Selah Marley opened up to her fans about her childhood and the strained relationship she has with her father during an Instagram Live, explaining that she was working on healing some of her childhood trauma.
While Marley made it clear her mother did the best she could, she felt the void her father's absence left, and this had a profound effect on her childhood. "I came to the conclusion of how much of my life I've f***ed up and how much of me is f***ed up simply because my dad just wasn't around. And there's just a void where there should be a person. And it's honestly really hard," she told fans. Marley even took to the internet to find out what life is like when your dad is around because she'd never experienced it.
Marley saved this Instagram Live to her account but eventually deleted it after the media ran with the story and her father started getting angry messages from people calling him a "deadbeat." Marley rushed to her father's defense in another post. "He is not a deadbeat, it is just that we have a strained relationship and that is because of the things that happened," she clarified, adding that her family knew she was coming from "a place of healing."
Selah Marley's mother Lauryn Hill faced prison time for tax evasion when she was still very young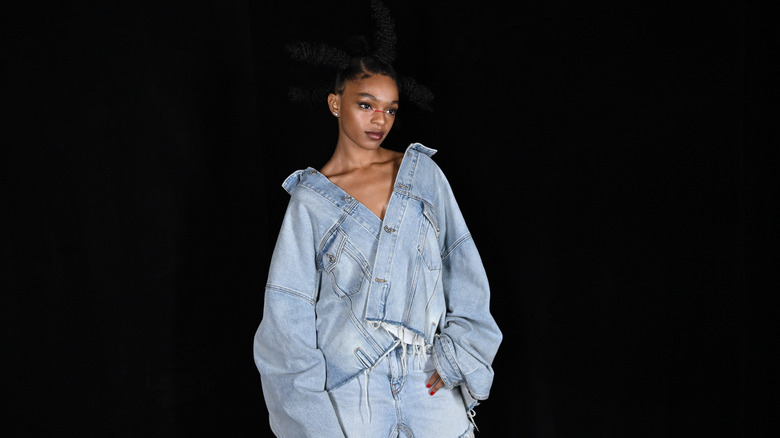 Anthony Ghnassia/Getty Images
Aside from growing up without her father, Selah Marley also spent plenty of time away from her mother. In Marley's infamous Instagram Live about her dad, Marley said that she mostly stayed with her grandparents. While Marley appears to have a better relationship with her mother than her father, Lauryn Hill had her fair share of trouble to deal with while Marley was young, and she was sentenced to prison for three months after being found guilty of tax evasion.
During this time, TMZ reported that Marley's dad, Rohan Marley, planned to fill the Lauryn-shaped hole in his kids' lives. "I will be there even more while she is dealing with this ... to make sure that everything is fine," Marley told the tabloid at the time. He seemed to insinuate that he was a steady presence in his children's lives, but this, of course, was not his daughter's experience.
Selah Marley's mother Lauryn Hill is her role model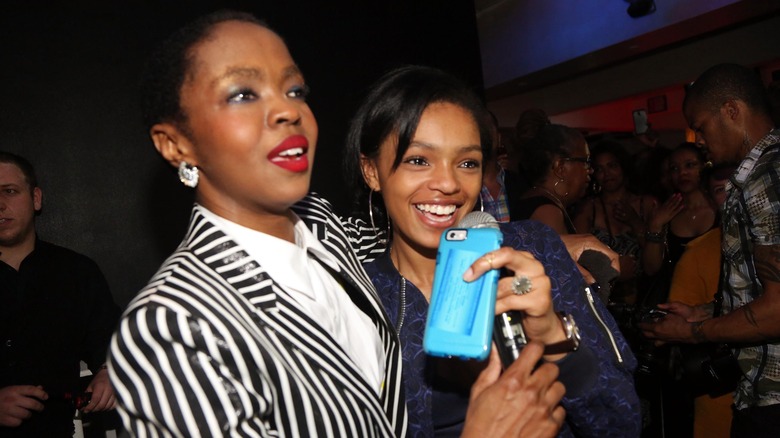 Johnny Nunez/Getty Images
Selah Marley admits that the pressure that comes with being Lauryn Hill's daughter and Bob Marley's granddaughter is pretty intense. Marley told Andscape that she'd always admired her mother's strength and perseverance, but it also made her worry that she won't be able to live up to it. Then there was also her grandfather's massive legacy. It's always in the back of her mind when she tackles a new project — whether it's diving into music or walking down the runway.
But Marley has always looked up to Hill. In fact, when she was a little kid, all she wanted to be when she grew up was her mother. "When I was younger, my mom was a huge icon for me," Marley revealed. "I was always, like, 'Yo ... if I could be like my mom, that's lit.'"
Marley admits that her famous family makes her feel a little boxed in sometimes. People expect certain things from her because of who her mother is, and while that's not always easy, she's tried to roll with it. "It is what it is; I try to embrace it. I'm like, 'Yo, these gifts have been passed down to me.' Everyone has gifts — but I got some special gifts passed down to me from both my parents. I now have a chance to show who I am. I'm totally here for it," she said.
She first started writing songs at the age of 15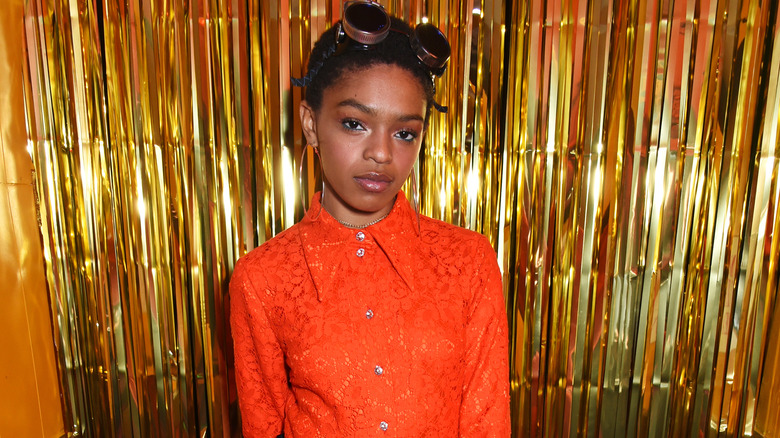 David M. Benett/Getty Images
During her interview with W Magazine, Selah Marley's excitement was palpable when she talked about all her creative ventures. While most know her from the catwalk, Marley loves to write — music, that is.
She recalled her mother's home studio and she was always busy creating something. That same fire lives in her — Marley is at her happiest when she's making something new, and music is one of those things. She wrote her first song when she was 15, but it wasn't a full-fledged song just yet. Marley felt a bit intimidated by all the components a good song requires, so she opted to write a poem instead. She didn't divulge all that many details about what she was working on at the time but has said that writing is something that's therapeutic for her. "You know it's crazy when I'm writing sometimes I feel like I'm being channeled? Like I feel like I lose control of the pen and I'm just really writing," she said.
While writing is definitely something Marley loves to do, she has a wide range of other interests. "I want to be a creative director, I want to create in all aspects of the term ... so photography, music, production, fashion, modeling. [I'm] trying to start executing my ideas more," she said.
Selah Marley has a successful modeling career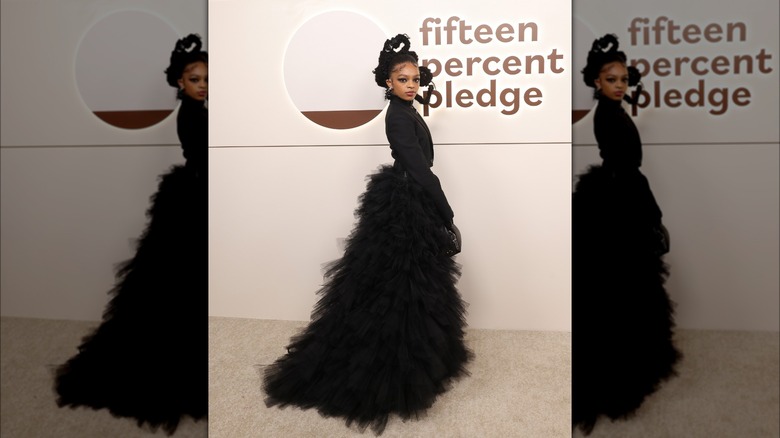 Taylor Hill/Getty Images
Selah Marley has taken some big strides since she first ventured into the modeling industry while still in school. She was ready to jump in headfirst as a teen, but her mother wouldn't let her do it full time and insisted she finish her education, Marley told Vanity Fair. Marley counts Beyonce's Ivy Park, Chanel, and Calvin Klein as some of the big brands that have worked with her. She also landed a spot in Kanye's Yeezy Season and appeared on the cover of the Sunday Times.
When asked why she wanted to model from such a young age, Marley is pretty upfront. "My self-love. I truly found myself beautiful and thought that I had the potential to model, so I always would do little poses in the mirror and things, but I never expected it to come to this," she told Harper's Bazaar. It appears her dad was the first parent she told about this dream. Marley was only 11, and her dad's girlfriend at the time was a model. "I just told him, 'Daddy, I want to model.' ... He said, 'All right, do the catwalk.' So I did a little two-step for them!" Marley told Vogue.
Despite all her accomplishments, Marley still wants to do more. "[I] still feel like I could be doing better. I feel like I need to go a bit more in-depth, showing who I am and stepping out on my own," she told Andscape.
She was nervous about her first walk down the runway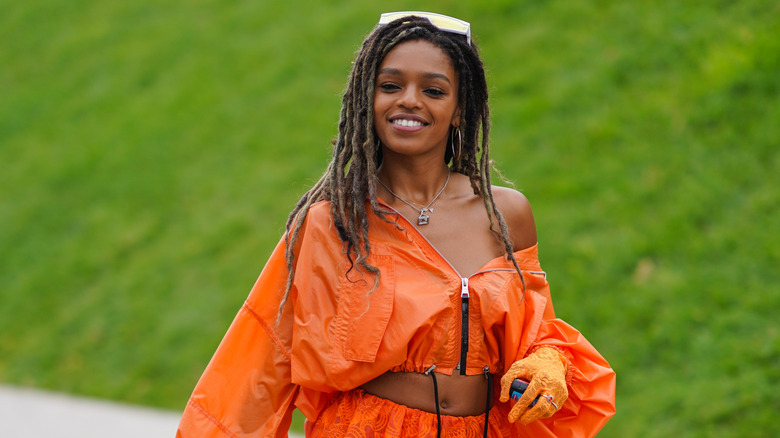 Edward Berthelot/Getty Images
She might exude confidence, but Selah Marley gets nervous just like the rest of us. During her interview with W Magazine, she admitted that her first walk down the runway was quite nerve-wracking, and no, it's not because she was afraid she'd fall. Marley is, as she puts it, "a super woman in heels," but she wanted to get her strut just right.
Marley's first time on the runway was for Kanye West's Yeezy show. It had been a dream of hers to walk in it, and as an added bonus, she was one of the shortest models at only 5 feet, 3 inches tall. "I got to represent the shorties," she said. In her interview with Vanity Fair, Marley admitted that even though she'd gotten fairly used to seeing and meeting famous people thanks to her mother, she still gets star-struck, and West was one of the people she was super excited and nervous to meet. "I'm sure [Kanye] and my mom have met, but I'd never met him. The last show, my heart felt like it was about to fall out of my chest, but I just had to tell him, 'Yo, honestly, you're one of my biggest inspirations!'" she said.
Marley's first walk down the runway was witnessed by the likes of A$AP Rocky and Kim Kardashian, and she seemed to stop forget to worry about her strut and just enjoyed the experience.
Selah Marley once named Rihanna her favorite fashion icon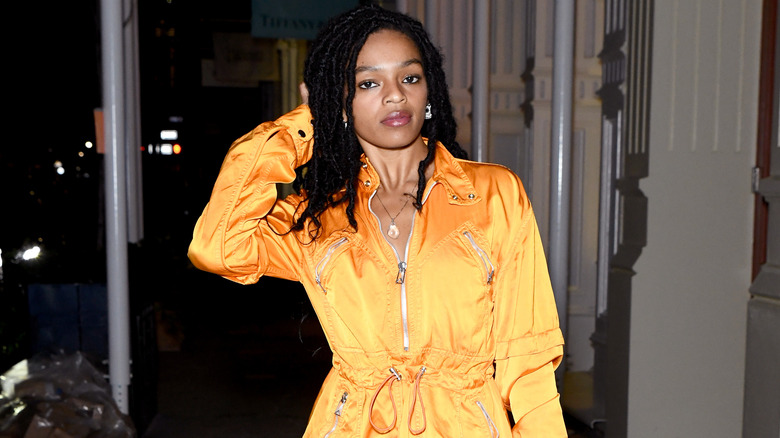 Jared Siskin/Getty Images
Every model has her muse, and for Selah Marley, that person is Rihanna (and her mother, Lauryn Hill). We all know RiRi can dress to kill, so it's no wonder Marley draws inspiration from her style. During her interview with Vogue, Marley explained that her own style changes from day to day depending on her mood, but if she's out of ideas, Rihanna's outfits always provide some much-needed inspo. "I think she's dope. I love the way she dresses up. I have a million screenshots of her in my phone," she told the outlet.
Then there's Lauryn Hill's collection of outfits in the basement that Marley loves to indulge. "Our basement is literally like a museum of couture! It's insane. I can go shopping down there, and I do," she said, adding that her mother is the real reason she loves fashion so much. "She's the one who exposed me to the fashion world simply because of everything that she has," Marley said.
She attended NYU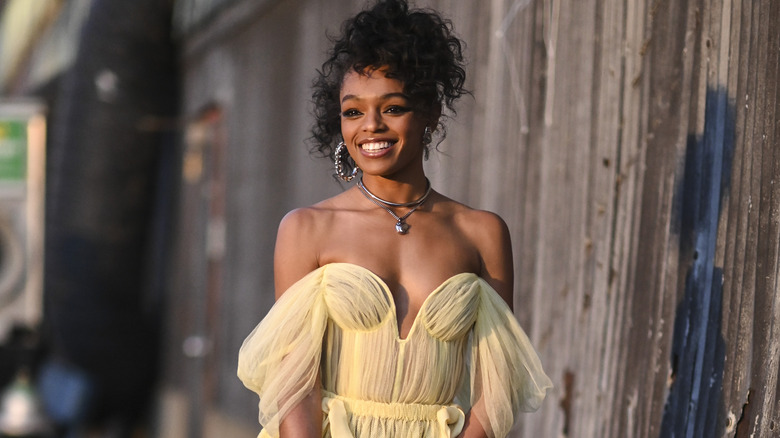 Daniel Zuchnik/Getty Images
Selah Marley likes to hustle. After finishing school, she applied to New York University to study science and spirituality. All the while, she was doing modeling gigs on the side.
When Marley sat down with W Magazine in 2017, she was excited about her classes and all the opportunities NYU offered. She even planned on doing some DJ classes on the side, but her modeling work started picking up, and eventually, even she had to admit that she couldn't keep up the pace. "I got handed all of these amazing opportunities, especially travel opportunities," she told Vanity Fair later that year. "College takes serious dedication — you can't just half-a** it. Honestly, I don't think I was ready for that," she admitted.
Speaking to Coveteur in 2019, Marley revealed that doing modeling and college at the same time felt "restrictive." "As soon as I got there I felt like I was just stalling until I figured out what I wanted, so I left," she said. That doesn't mean she hasn't questioned the decision since. Marley is well aware of the sense of security that comes with having a college education, and sometimes she's doubted herself and the validity of her work. Of course, anyone who's paying attention will be able to tell her that she has nothing to worry about.
Selah Marley has dabbled in sensory art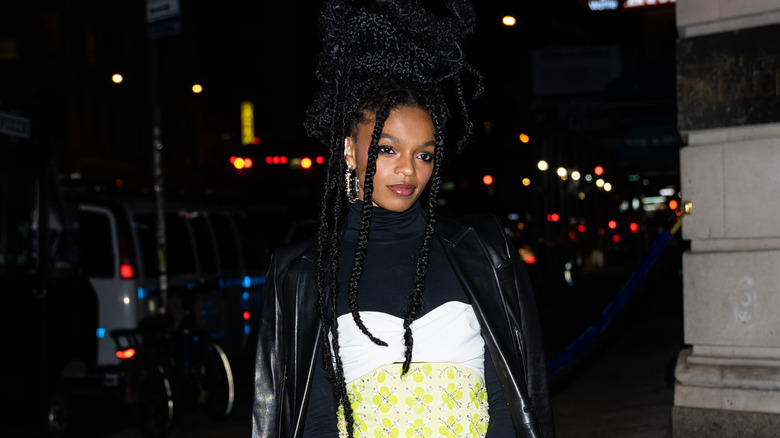 Gotham/Getty Images
In 2019, Selah Marley made some headlines when her sensory art installation in New York attracted plenty of spectators. When it comes to the question of whether there's anything Marley can't do, the answer seems to be a resounding no. When she puts her mind to something, she works hard to get it done, and then she puts it out into the world. Somehow, it always seems to resonate. Perhaps it's because Marley isn't trying to impress — she's simply trying to create from a place of authenticity.
The sensory installation, which was titled "A Primordial Place," was born from one of Marley's daydreams. "[I]t's not unlike me to create worlds in my mind. I've always liked making worlds, whether they're tangible or through film, and that was one that I wanted to create," Marley told Coveteur, adding, "[T]he turnout was way more than I expected." The dreamlike natural landscape she created was one where people could get lost and find some peace from the craziness of life, Marley told Blanc magazine. The installation got rave reviews and plenty of mentions on Instagram, and Marley may or may not be doing more sensory art in the future. We're waiting with bated breath.
Selah Marley has continued to work on music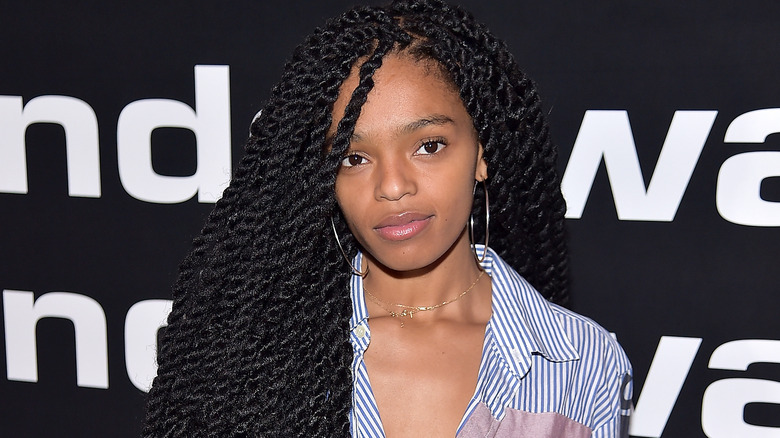 Theo Wargo/Getty Images
When she was 12 years old, Selah Marley told Teen Vogue that she wanted to pursue music at one point. "One day I was like, 'Mom, you wanna sign me at Sony?'" Marley recalled. Her mother answered, "Let me hear your stuff and I'll think about it." Ten years later, Marley graced the pages of Vogue once again to talk about her debut EP, "Star Power." The EP features a collection of songs that capture Marley's experience of growing up in the spotlight.
When she was younger, all she wanted was to fit in and be an ordinary girl, Marley told Vogue. She tried to blend into the background and eventually started feeling like she was losing herself. The songs she wrote for the EP try to encapsulate that while also preaching the freedom that comes with just being yourself. "You can't lie about who you are or hide it; doing so only dims your light and taints your essence," she said.
Given that both her mother and grandfather are musical legends, the pressure was on, but Marley decided to just go for it. "This entire process has been a co-creation between the universe and myself; my community and myself; God and myself," she told Vogue, adding, "I think there have been tiny callings shining a soft light on this particular path — if that makes sense. I realized there was no better time than now."
She was in hot water for wearing a very controversial T-shirt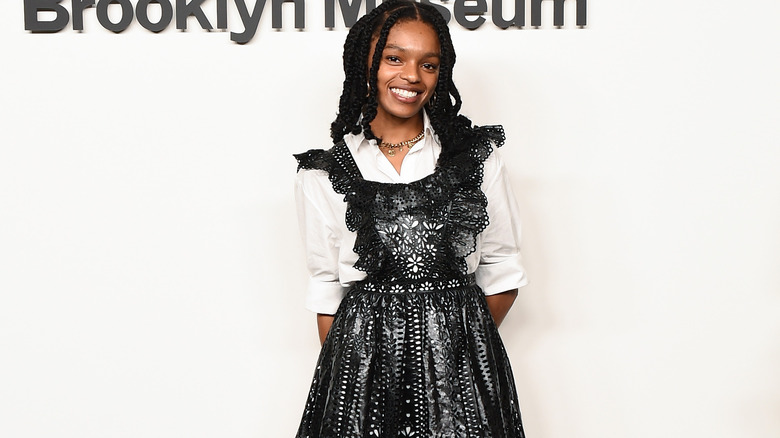 Ilya S. Savenok/Getty Images
Kanye West's YZY SZN 9 fashion show is one few will forget anytime soon. 2020 marked the rise of the Black Lives Matter movement, and two short years later, West's fashion show saw models wearing shirts with the slogan "White Lives Matter." Even more shocking was the fact that Selah Marley walked in that show. Fans and critics alike voiced their shock and horror at what appeared to some to be a blatant dismissal of a very important movement. Many expected Marley to apologize, but it appears she had a very different view of what West was trying to achieve with the show. However, many others agreed that whatever message he had been trying to convey fell flat.
Marley took to Instagram after the media storm that ensued to tell her side of the story. "The past 24 hours has allowed me to realize that most of yall [sic] are stuck in a hive mind mentality," she wrote in an Instagram Story. "Witnessing someone break free from 'the agenda' sends you all into such a panic that you will do whatever it takes to force them back into the box that you feel they should exist in." She added that people don't know about her experiences and that she always puts "thought and intention" into what she does. "Wait til [sic] you hear what I have to say," she said.
Selah Marley's comments about how she was disciplined as a child went viral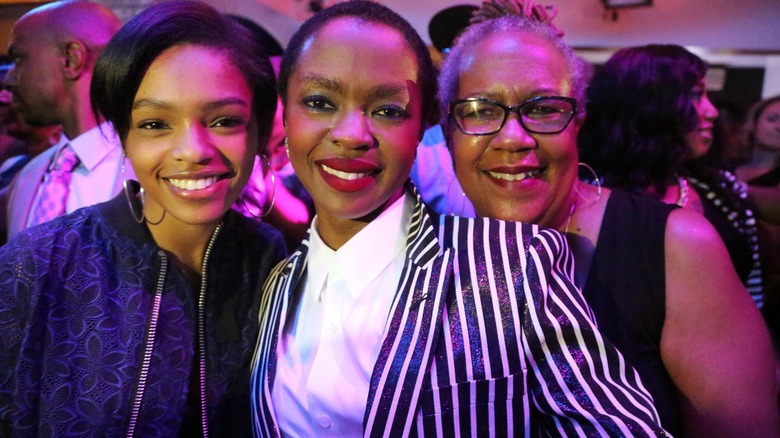 Johnny Nunez/Getty Images
When Selah Marley took to Instagram to share some stories about her childhood, they went viral. Marley spoke openly about how her mother disciplined her and her four siblings when they were younger and said that she still deals with some trauma because of it. Marley's mother, Lauryn Hill, was a no-nonsense mother who believed in spanking her kids when they misbehaved. "She would spank us to no avail. She was just very angry. So, so, so, so, so, so angry," Marley said during the live. "You walk to go get the belt, the switch, this, that. And my mother is an amazing woman, but she obviously didn't do everything right," Marley added.
Marley appeared to have some understanding as to why her mother disciplined with anger. Raising five children on your own is no small feat, and at the same time, Hill was bombarded with negative stories about her in the press.
Hill took to Facebook after the video went viral, acknowledging her daughter's right to expression and providing more context about that time of her life and why she disciplined her children the way she did. "[S]he also got the discipline that Black children get because we are held to a different standard," Hill wrote. She also made it clear that she and Marley have a good relationship and are both working to heal the wounds of the past.
She edited one of her own music videos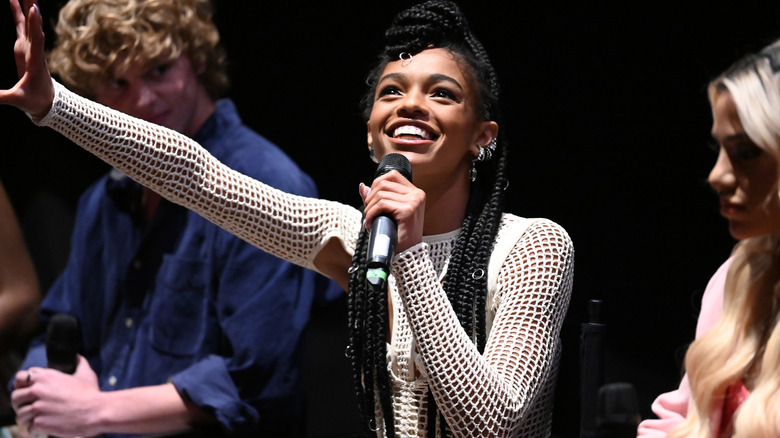 Slaven Vlasic/Getty Images
In 2022, Selah Marley released some more music, including her single "Safety," which was all about feeling secure in a romantic relationship. The music video that accompanied the song was extra special because Marley edited it herself.
While speaking to Girls United, Marley said that she loves visual art and considers herself to be a visual artist. "I always have this visual element to everything. The fact that I'm independent, I really get to put my touch on all of it," she told the outlet, adding, "I always feel the need to announce it because I'm just like, 'Yeah, I designed that,' 'I directed that,' or 'I wrote that.'"
She admitted that doing it all could be pretty exhausting but that she also got a lot of satisfaction out of it. She also made it clear that she does most of the work herself — even though her mother is a musical legend, she doesn't spend all her time on Marley's projects. "[M]y parents have kids; they have other things to do. I'm not getting this constant 101 of the music business," she said.