Oswald's: 12 Facts About The Members-Only Club Prince William And Kate Middleton Frequently Visit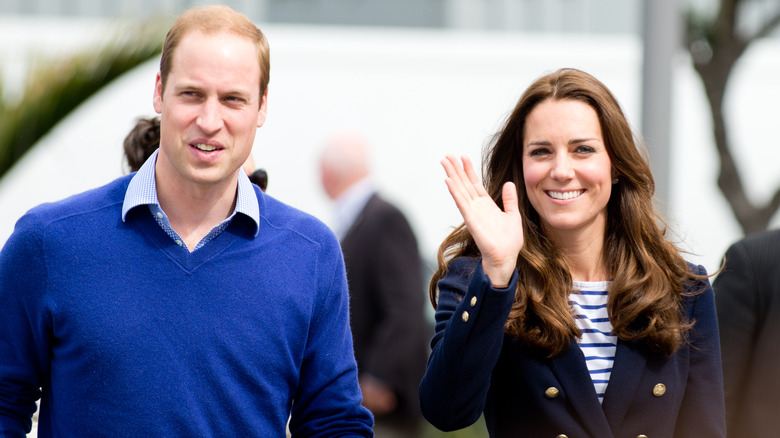 Shaun Jeffers/Shutterstock
For most of us, going for a well-deserved night out is not only something to look forward to but something that helps us relax after a tough working week. Whether it be purely to catch up with friends or to celebrate a special occasion, we have our pick of places, from restaurants to bars — there's almost too much choice. When you're a celebrity or a member of the British royal family, your options are a lot more limited. With paparazzi lurking around every corner waiting to catch you out after one too many chardonnays, going out can be a risky business. That's where places like Mayfair's swanky members-only club, Oswald's, come in. 
While there are several elite establishments in Britain's capital, Oswald's seems to be a favorite destination for royals wanting to blow off a little steam and feel safe and secure while doing so. The club flies under the radar, making it somewhat of a mystery as so little is known about it. Ordinary members of the public can't just waltz inside to take a peek at its hallowed halls, and it's so incredibly secretive that information about it is scarce. 
We've scoured the history books and the finest society magazines to give you an inside peek at what it's really like inside 25 Albemarle St, London. What makes Oswald's so prestigious, and more importantly, why do the royals keep coming back for more when they have their pick of places?  
Oswald's is so private, there's nothing on their website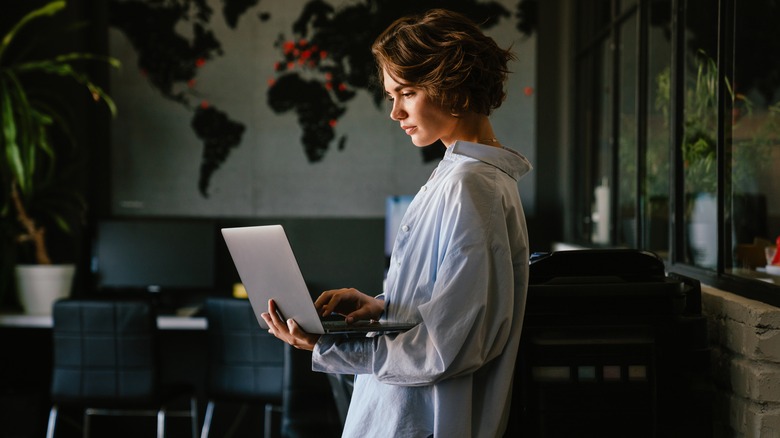 Dean Drobot/Shutterstock
Running a hospitality business is cutthroat. In fact, in October 2022, a survey conducted by UK Hospitality, the British Beer and Pub Association, and the British Institute of Innkeeping and Hospitality Ulster discovered that over 35% of businesses asked were expecting losses (via The Guardian). Marketing and a strong online presence are important tools for any business to have, so owners can set it apart from the rest and encourage clientele to walk through their doors and not anyone else's — but Oswald's appears to shun that trend completely. 
The club is so elite that its website has practically nothing on it of value. There's no menu, no event list, and no way to book a table. Instead, there are simply contact details for enquiries. Perhaps most noticeably, there aren't even any photos of the club (interior or exterior) on the site. At the time of writing in July 2023, there is a small illustrated image of the front of Oswald's, but that's where it ends. 
It begs the question, why doesn't Oswald's need to advertise what it has to offer like everyone else in the business? The answer is simple: this establishment doesn't need it. Word of mouth, well-established connections, a sterling reputation, and memberships that run from friends to family are likely all Oswald's needs to keep ticking over. Why advertise something like the masses when you only want to appeal to high society? 
It's a political hotspot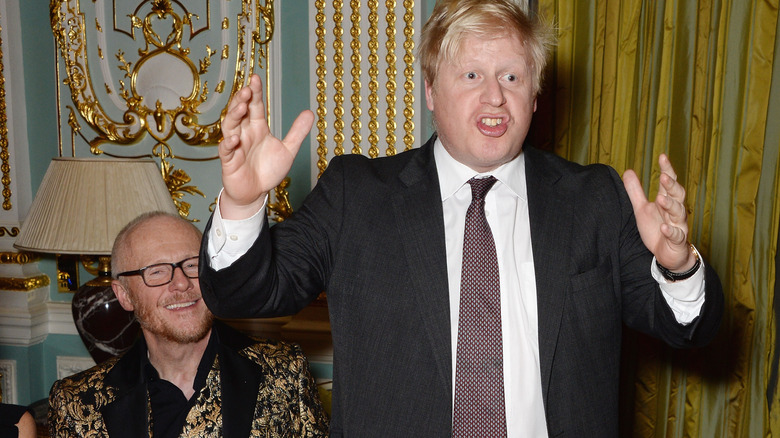 David M. Benett/Getty Images
Royals and other A-list celebrities have been spotted enjoying nights out at Oswald's, but it's also a haven for a different kind of public figure: politicians. Politicians need to try and stay out of trouble if they want to get re-elected, as anything untoward can lead to widespread disdain. As a result, nights out for them can be a little bit of a risk, too. Oswald's provides a sanctuary for the biggest names in the government, so they can go and spend time with friends and family without worrying about a paparazzo snapping their picture at an inopportune moment. 
Former Prime Minister Boris Johnson was spotted leaving the establishment after enjoying dinner with his wife, Carrie Johnson, back in 2022. The club has also been enjoyed by foreign secretary-turned-prime-minister Liz Truss, education secretary Nadhim Zahawi, and more. It makes sense that these figures choose Oswald's, as club owner Robin Birley is a prominent supporter of the Conservative Party. 
Birley has never been shy in donating to political parties he believes in, having gifted Nigel Farage's controversial UKIP £268,000. He also gave Johnson £20,000 to help fund his campaign in 2019. It's only natural that given this, government figures would feel like Oswald's is a safe environment for them to have a few post-Westminster drinks of an evening without winding up in the paper the next day.
Membership for Oswald's isn't cheap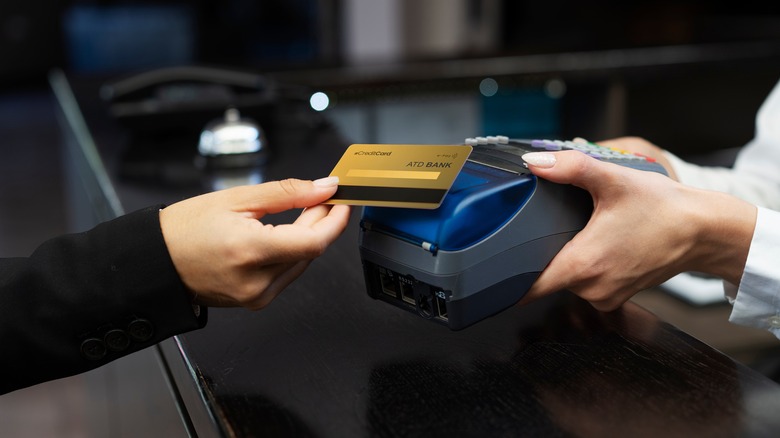 james benjamin/Shutterstock
As we've established, Oswald's is about as exclusive as it gets — but how do they keep the riff-raff out? In order to even get a foot in the door, members have to be prepared to pay the annual fee, but exactly how much they have to cough up is a mystery to everyone apart from those in the know. Information on the membership prices is scarce, but if it's anything compared to other clubs owned by the same person, then it's not cheap. 
Robin Birley's other private club, 5 Hertford Street, asks for £1,800 per annum from members, according to the Daily Mail. Other elite clubs in the same vein also charge thousands, but the stipulations don't end there. Many of these private places also require potential members to be referred by existing members, and in the case of 5 Hertford Street, even interviewed by the club secretary. It's likely that Oswald's also requires its clientele to jump through the same hoops. After all, you can't have just anyone rubbing shoulders with the world's elite. It simply wouldn't do. 
It may seem like overkill, but keeping the status of Oswald's is paramount to its success, which means making membership fairly difficult will ensure that the wrong sort of people stay out. What's more, one can assume that running a business this swanky isn't cheap, so keeping fees high helps to give visitors the lavish experience they've become used to.
The royal family had their pre-coronation dinner there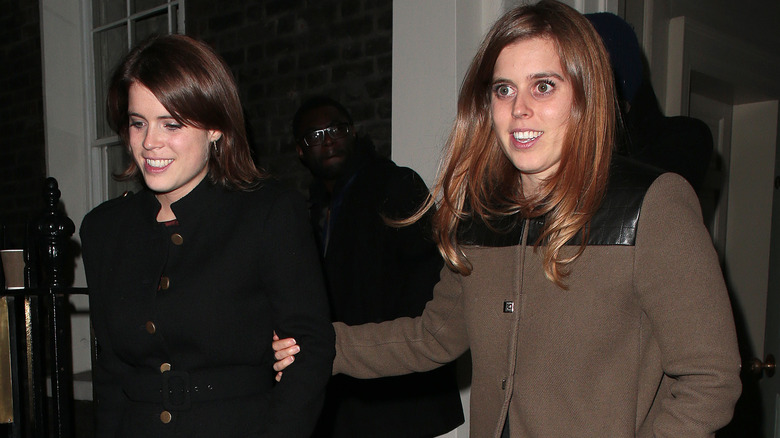 Ricky Vigil/Getty Images
The royal family has tons of palaces and stunning residences at their disposal, but dinner at home isn't always that exciting for anyone, is it? Just prior to the coronation of King Charles III in 2023, several members of the House of Windsor donned their finest designer outfits and headed to the heart of Mayfair for an upscale dinner at Oswald's. This was a family dinner with a decidedly lavish twist that most of us aren't used to! 
Alongside Princess Beatrice and Princess Eugenie were Prince Edward's wife Sophie, Duchess of Edinburgh, and her kids. If that wasn't enough, other heads of state from different countries were also there for the festivities. Charlene, Princess of Monaco came out for the occasion, as did Queen Anne-Marie of Greece and her daughter, Marie-Chantal, the Crown Princess of Greece. As this was the night before Charles' big day, some senior members of the royal family like Princess Catherine and Prince William were notably absent, likely because they were busy trying to prepare for the historical event and squeeze in a good eight hours of shut-eye.  
Of course, what went on at the family dinner remains a total mystery, but that's just how it's supposed to be. We may have seen them entering and leaving the premises, but other than that, it's down to our imagination. Did Eugenie order wine with dinner? Did Queen Anne-Marie shout at a waiter? We'll never know!
Oswald's owner, Robin Birley, is a big deal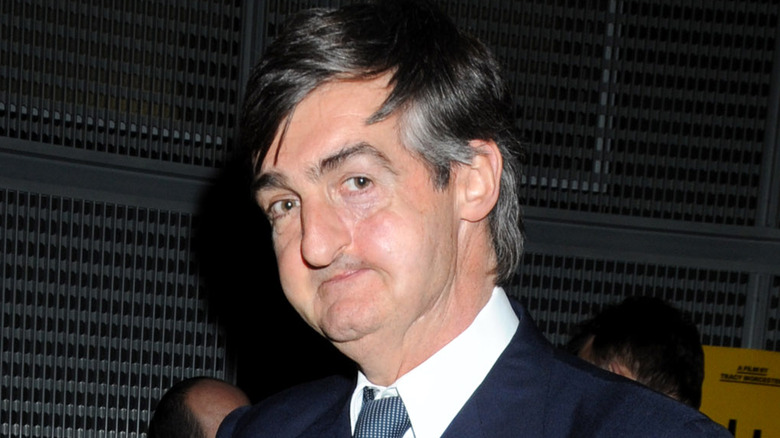 Dave M. Benett/Getty Images
Each successful company has a person at the top running things and pulling the strings. In Oswald's case, it's Robin Birley, an entrepreneur that has been managing hospitality businesses for decades. According to Tatler, Birley's reputation precedes him and has garnered him the nickname "king of clubs." Birley isn't simply a quiet investor or a hands-off owner. He can frequently be spotted at the club and often speaks to guests, making his presence known. Birley's own personal tastes have shaped Oswald's, according to his own half-brother, Ben Goldsmith: "Robin is creatively gifted and that's why Oswald's is a place of such beauty." 
Birley also owns another elite London hotspot, the private members club 5 Hertford Street. Encouraged by his success on British soil, Birley took his expertise overseas to the United States in 2022 in order to open up a club on Madison Avenue. If Birley's previous ventures are anything to go by, it should be a rip-roaring triumph. 
Needless to say, Birley's career has proven to be lucrative enough to afford him a life of luxury and he isn't exactly short of cash. When the hospitality industry was hit hard during lockdown in 2020, Birley gave every member of both Oswald's and 5 Hertford Street a free dinner worth up to £500. Reports suggest that the generous gesture would have cost the businessman over £1.5 million. 
Celebrities like Beyonce and Ivanka Trump have visited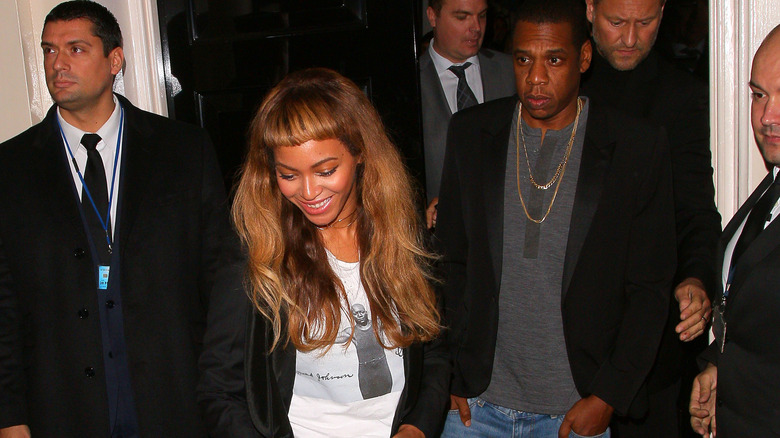 Mark Robert Milan/Getty Images
Politicians love Oswald's and royals can't get enough of the place, but what about regular, run-of-the-mill A-listers? Are they deemed high society enough to enter through the club's famous door? If reports are anything to go by, then the answer is yes (though it probably depends on just how famous you are!) In May 2023, none other than Queen Bey herself was spotted leaving Oswald's alongside her hubby, rapper Jay-Z. Whether Beyonce is a member or simply just a very notable visitor remains to be seen, but she isn't the only uber-famous client to have spent an evening at the prestigious club. 
Donald Trump's daughter, Ivanka Trump, was spotted at the society venue back in 2022, and she certainly dressed for the event. According to the Daily Mail, Trump wore a $6,800 designer dress with an embellished collar and silver sleeve detail. She wouldn't have looked out of place among London's aristocracy while dining out that evening. If these huge names weren't enough to boost Oswald's already stratospheric reputation as the place to be, Madonna was also spotted leaving Oswald's in 2022, as well. 
If it's good enough for the 64-year-old queen of pop then it's good enough for anyone. After all, Madonna has an estimated $580 million fortune according to Forbes, so it's not like she can't afford to take her hard-earned cash elsewhere! 
It's located in one of London's most prestigious areas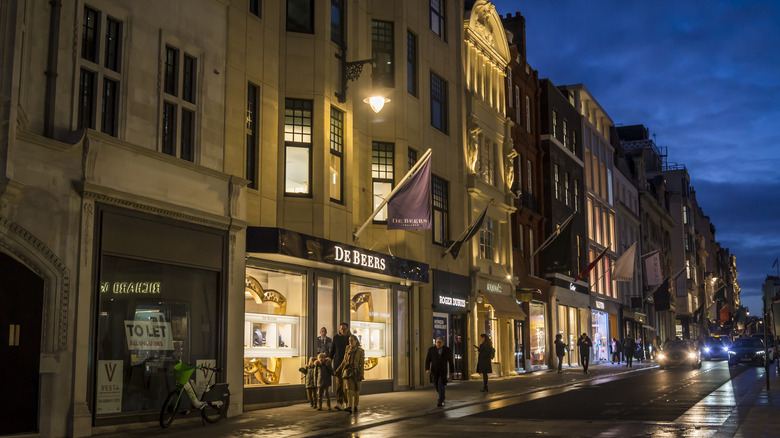 Purpleimages/Getty Images
As a capital city, London has some impressive areas. Kensington and Chelsea are both places that attract the rich and famous, but Mayfair is about as elite as it gets. Of course, Oswald's is situated in this area, where houses sell for an average price of £4.5 million, according to RightMove. It's ideally situated for shopping as it's just a stone's throw away from Oxford Street and Regent Street, making it a central spot for those that love to spend money in high-end stores. 
Actress Vivien Leigh, musician Jimi Hendrix, and actor Peter Sellers all previously called Mayfair home, but it isn't just about who lives there. Oswald's, situated on Albemarle Street, is in good company when it comes to member's clubs. Birley's other offering, 5 Hertford Street, is also in the area, as is Annabel's. So, if you happen to be a member of all three clubs and want a bar crawl, then you won't have far to go. 
As for Oswald's direct neighbors, Albemarle Street is full to the brim of designer stores such as Alexander Wang, Paul Smith, Thom Browne, and Marina Rinaldi. If one happens to be popping by Oswald's for a lunch engagement or an afternoon coffee, then it only makes sense to drop some cash in the stores next door, doesn't it? When it comes to prime locations, Oswald's has it all. 
The interior of Oswald's is lavishly luxurious
Considering how expensive it is to become a member and the status of some of Oswald's clientele, it only makes sense that the interior is lavishly decorated and curated to the nines. According to Tatler: "Also otherworldly are the high-ceilinged interiors (the work of Tom Bell and Bruce Cavell), with elegant chandeliers, columns, and red upholstered chairs. In the center of the dining room, a marble mantelpiece has a vast arrangement of roses and greenery (changed twice a week)." 
It sounds like a very expensive dream, but that's part of its allure. Members gush about just how exquisite the style is, with Countess Cawdor saying: "Robin is an original genius ... and Oswald's is 100 percent his handwriting – inspiring, otherworldly, and delicious from start to finish." When it comes to taste, Birley seems to have it running in his veins. Rumor has it that he even prefers for male customers to wear a tie, something he himself is rarely seen without. 
Of course, the interior decoration wouldn't be quite finished if there wasn't a giant portrait of Birley's grandfather, Sir Oswald Birley, hanging in the foyer. Sir Oswald isn't only the club's namesake but he also had impressive royal connections himself. He was an artist that painted portraits of Queen Elizabeth II, King George VI, and many more monarchs in his time. One could say that entertaining royals is in Robin Birley's blood. 
There's a swanky new restaurant upstairs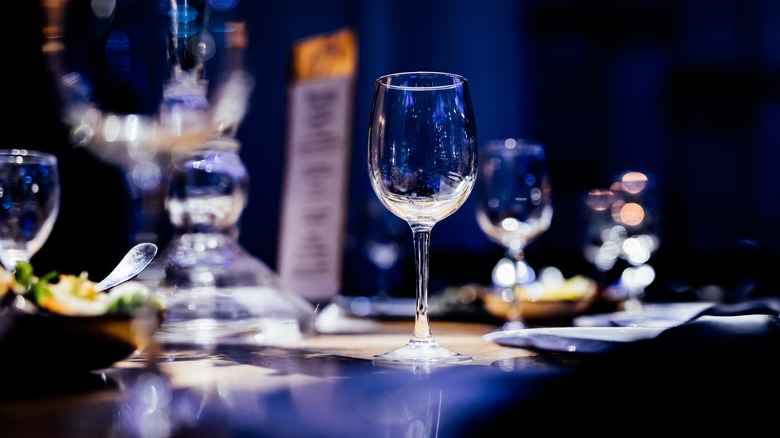 BorisK9/Shutterstock
What's the point in charging members thousands of pounds a year if you can't feed them in the manner they are accustomed to? Sure, even the most famous A-listers probably enjoy a sneaky McDonald's every now and then, but Oswald's isn't the type of establishment that will give you a bowl of nuts at the bar and leave you to it. Instead, a swanky new restaurant upstairs called La Loma can take care of your every culinary need. As you might expect, it isn't just the South American-inspired menu that wows diners, but also the deliciously decorated interior.
Though connected to the club, La Loma's decoration is reportedly rather different. Robin Birley took no chances with the aesthetic and sought hired help, employing Turkish fashion designer Rifat Ozbek. Ozbek's own homewares aren't cheap with a pair of two Suzani / Style cushions currently retailing at $550 on his website. If a pair of cushions costs that much, imagine how much commissioning him to design an entire restaurant would have set Birley back. 
La Loma isn't the only option if guests find themselves feeling peckish, though. According to a review by Privilege Entertainment: "Oswald's Club London, for example, has several fine dining establishments that serve the most exquisite cuisines." This statement is echoed by Oswald's member Ben Elliot who told Tatler: "[Oswald's is] the perfect equilateral triangle between Robin's meticulous taste, Michele's extraordinary attention to service and Gianluca [Cossu]'s incredible Italian cooking."
Robin Birley's father owned the infamous private club Annabel's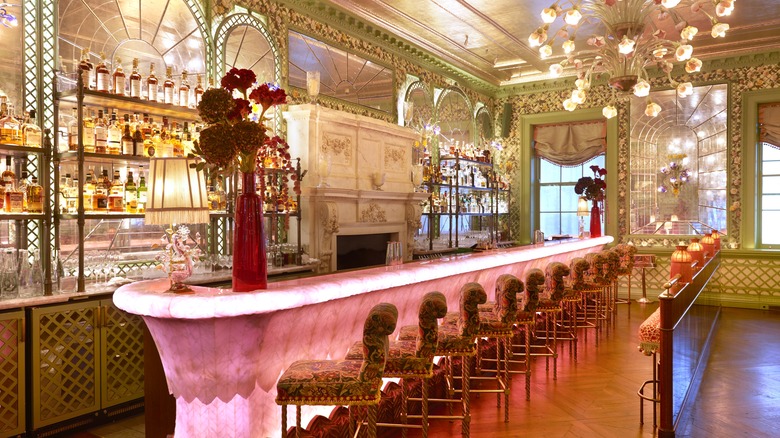 Peter Dazeley/Getty Images
There's no doubt that Oswald's owner Robin Birley is a supremely gifted businessman with a natural talent for high-end hospitality, but he may have had a little help learning the ropes. His father was none other than Mark Birley, the man that founded the infamous hotspot Annabels, a club he named after his wife (and Robin's mother) Lady Annabel Birley. Annabel's was originally opened way back in 1963 and its reputation soon grew. Some of the biggest names in the world partied the night away in the townhouse-turned-member's-club, from ol' Blue Eyes himself, Frank Sinatra, to Lady Gaga. 
As Robin Birley grew older, he became more involved in the running of Annabel's — but it wasn't exactly a happy family business. In fact, it all ended rather sourly. Mark fired his son in the mid-noughties after supposedly learning that he had been meddling in his sister's affairs by hiring a private investigator to look into her boyfriend. The grievance was so strong that it caused an almighty feud, resulting in Robin not inviting his father to his own wedding. 
As a side effect of the family divide, Mark sold Annabel's in 2007 for a reported £90 million. Sadly, he wasn't able to enjoy the spoils of his labor for long or mend fences with his son, as he died from a stroke shortly after at the age of 77.  
Discretion is guaranteed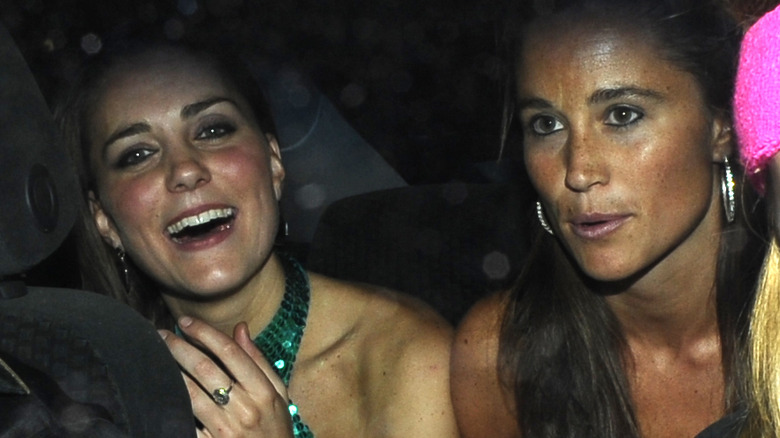 Mark Milan/mu Kei/Getty Images
What's the one thing that royals and high-society names want from a private member's club above all else? One could argue that great food, great company, and great music are all par for the course, but really what they're after is discretion. Keeping the membership list tight-knit is one thing, but it has to go beyond that. Guests need to feel like they can talk openly to their companions without worrying that their conversations will be repeated, or that their photo will be taken without their permission. 
Oswald's knows this, which is why there is a strict no-photography rule. It isn't just the paparazzi lurking outside that could make a mint from a well-timed photo of a worse-for-wear patron. Photos from inside the club would be far more valuable if they happened to fall into the wrong hands. While the punishment for snapping a pic isn't clear, it's not exactly a stretch to assume it may result in the perpetrator being stripped of their membership. A private club is no good if it doesn't stay private — especially when there are royals involved. 
The rules around what staff are allowed to do also haven't been disclosed, but given the nature of the job, it's possible that employees are asked to sign a non-disclosure agreement as part of their contract. Regardless, whatever rules Oswald's has in place are obviously working, since it remains a tight-lipped, iron-clad party vortex.
Prince William enjoyed a night out there with James Blunt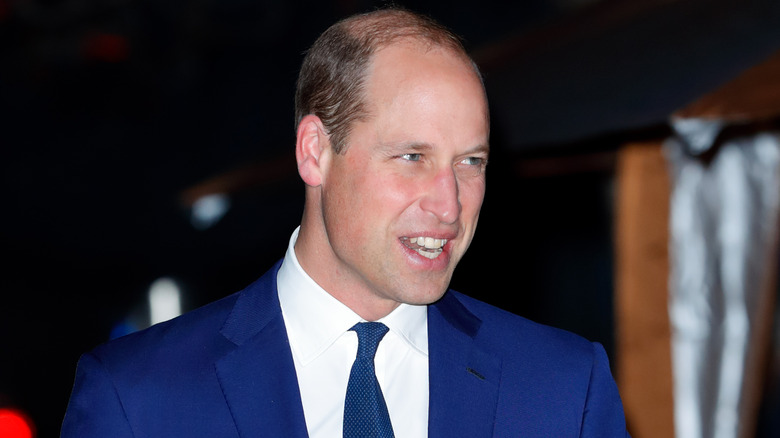 Max Mumby/indigo/Getty Images
As the future king of England, the current prince of Wales, and father to three children, Prince William's schedule doesn't often allow for a night out. When he does get a few hours to himself, he has been known to head to Oswald's. Back in 2021, William joined singer James Blunt and his wife at the club for a festive Christmas night out, but he didn't get too carried away. The heir to the throne was back in his car and heading for home by 7:30 pm. Other people of note in attendance included former actress and singer Holly Valance and her spouse, Nick Candy. 
William returned to the hotspot a few months later when he met a friend for an extended catch-up. This jaunt lasted a little longer than his previous Christmas bash, with the prince not leaving until around 11 pm. Even when visiting the secure club, William wasn't without backup. Three security guards were with him, but that's just life when you're a future king. While William's wife Princess Catherine doesn't seem to accompany him on any of his visits, Oswald's has been known to entertain royal women. 
Zara Tindall, Princess Beatrice and Princess Eugenie, Princess Anne, and more have all been known to visit. Perhaps William just prefers to keep it as a little refuge and take Catherine elsewhere!