Joe Biden's Dog Commander Was More Aggressive Than We Were Led To Believe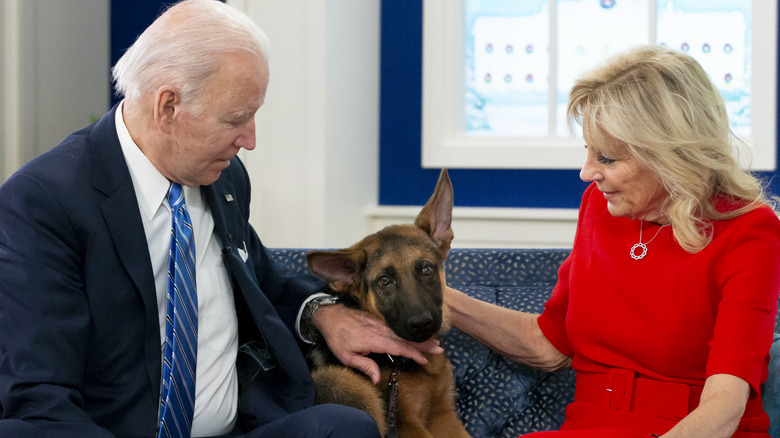 Bloomberg/Getty Images
Animal lovers cheered when Joe Biden took up residence at the White House in 2021, as his predecessor Donald Trump had been only the third president in history not to own a pet. As he explained at a rally (per The Washington Post), he was too busy for walks and ear-scratching, and trying to boost his man-of-the-people image with a dog would just come off as insincere. The Bidens have no such worries. The devoted dog parents brought Champ and Major, their two German Shepherds, into their new home, where they were frequently seen trotting across the lawn or sitting in the Oval Office. They later added another fur baby, a tabby cat named Willow.
Sadly, the FDOTUSes (First Dogs) have caused their share of trouble and heartache during this administration. The heartache came with the death of 13-year-old Champ, "our good, sweet boy," as the Bidens called him. The trouble came courtesy of Major, their young rescue dog, who displayed a shocking tendency to bite. After trying behavior training, the president and first lady reluctantly decided to place Major with family friends. Shortly afterward, Biden's brother James gifted him a new pup, another German Shepherd dubbed Commander. Hopes ran high that the handsome dog would rank among such popular presidential dogs as Fala, Liberty, Millie, and Bo. However, documents obtained by the conservative group Judicial Watch about "incidents of aggression and bites involving the Biden family dog, 'Commander,'" show that he takes after Major more than Champ.
Commander Biden has been a naughty boy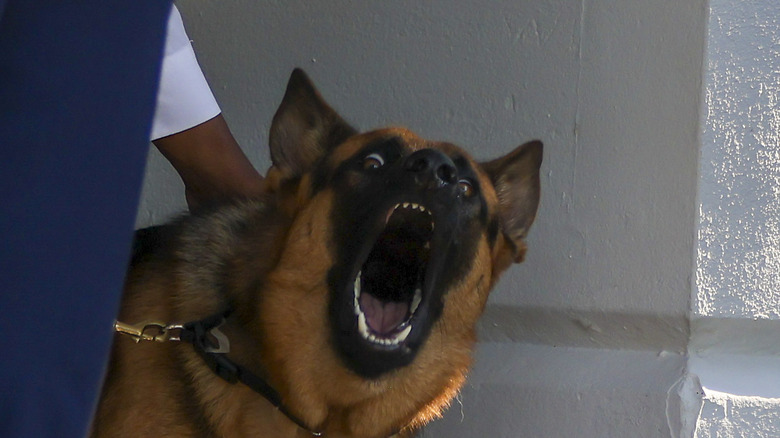 Tasos Katopodis/Getty Images
The American Kennel Club describes German Shepherds as intelligent loyal, highly trainable, and "a dog lover's delight." However, the breed can be wary of strangers, so early socialization and training is essential. Joe Biden's dogs, Champ and Major, are proof that this breed can be trustworthy family pets or troublemakers. As for Commander, the documents obtained by Judicial Watch show that he has bitten Secret Service agents a number of times in a four-month span. While some of the incidents have been described as "friendly" and "playful," there was at least one in which Commander reportedly came running at an agent as if to attack. First Lady Dr. Jill Biden had trouble restraining him. "I believe it's only a matter of time before an agent/officer is attacked or bit," the memo stated. On an even more serious occasion, Commander bit an agent hard enough to send them to the hospital. A colleague sent a sympathetic email: "What a joke ... if it wasn't their dog he would have been put down ... freaking dog needs a muzzle."
The first lady's spokesperson has issued a response. "The White House complex is a unique and often stressful environment for family pets, and the First Family is working through ways to make this situation better for everyone," she said. Adding Commander is undergoing additional training, she concluded, "The President and First Lady are incredibly grateful to the Secret Service and Executive Residence staff for all they do to keep them, their family, and the country safe."