Our Favorite Looks So Far From Beyonce's Renaissance Tour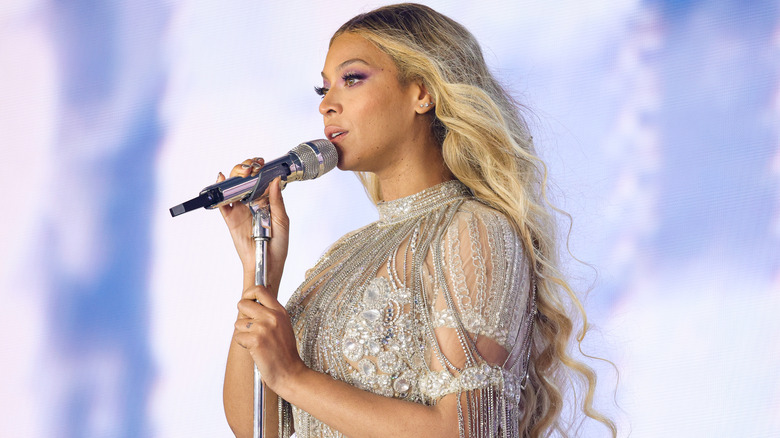 Kevin Mazur/Getty Images
As countless concert-goers come up with outfit ideas for attending Beyoncé's "Renaissance World Tour," you may be wondering what Queen Bey, herself, is wearing to her highly-anticipated shows. This is the star's first tour in seven years, and as a result, fans are very excited to get a ticket to the show. Once you're in, you're in for three hours of amazing performances, classic songs, and of course, a truly incredible wardrobe. 
Beyoncé's tour wardrobe is made up of entirely custom-made ensembles of all different kinds from some of the most famous designers. One of the said designers, David Koma, told Harper's Bazaar, "For us, the designers, it is not just an amazing exposure but a wonderful cultural moment to be a part of." It's no surprise that the star looks amazing in every look. Of course, having Beyonce's killer physique and incredible stage presence doesn't hurt when it comes to pulling off an ensemble. But, an array of incredible, unique pieces also had a hand in making this tour what it is. While it certainly isn't easy to narrow down, we've got our favorite looks from the Renaissance Tour.
Asymmetrical metallic gown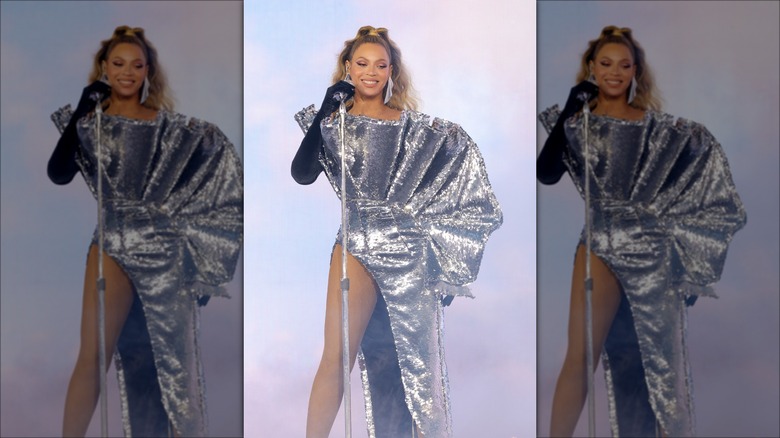 Kevin Mazur/Getty Images
Theatricality is key in many major musicians' concerts. Consequently, a few looks that fit an over-the-top vibe and lean into a spectacle are an important part of an artist's tour wardrobe. Beyoncé got the memo and has been sporting her fair share of clothing pieces that look more like art than outfits. One standout example is this asymmetrical silver Balmain gown. The gown has an exaggerated crumb-catcher neckline and one big, billowing sleeve. On the sleeveless arm, she wore a long, black glove, which balances the gown's slit that goes all the way up to her hip. 
UFO-inspired 'fit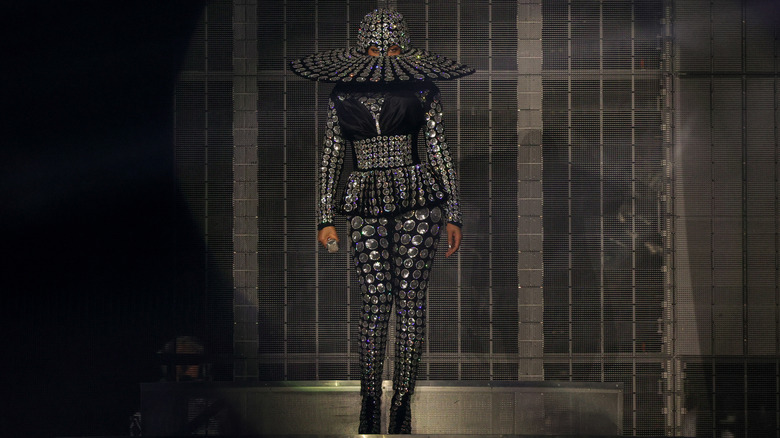 Kevin Mazur/Getty Images
We didn't need an outfit to tell us that Beyoncé is out of this world, but this peplum top and pants ensemble certainly doesn't hurt. This glittering Richard Quinn outfit has to be one of the most unique and surprising 'fits Queen Bey sports on her tour, and consequently, it's one of our favorites. From the neck down, this look is the perfect concert wardrobe moment: it's a typical silhouette that's elevated with texture and glitz. What takes this outfit to the next level, though, is the matching headpiece that's unquestionably UFO-inspired. 
Old Hollywood glamour-inspired red gown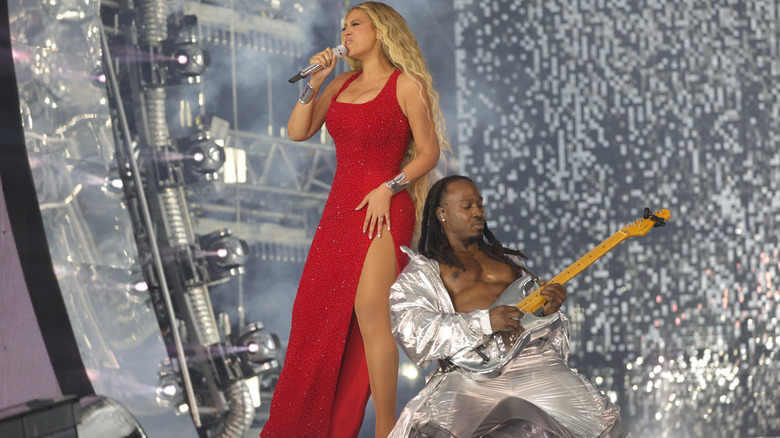 Kevin Mazur/Getty Images
For Beyoncé's Juneteenth performance in Amsterdam, the star's entire wardrobe was designed by Black designers. One of the evening's standout looks was this sparkling red gown from Ferragamo by Maximilian Davis. The gown was perfectly fitted and entirely beaded, which allowed Beyoncé's curves to take the stage. With its body-hugging fabric, low, square neckline, bold slit, and of course, the iconic red color, this look was reminiscent of a sophisticated Jessica Rabbit or an old Hollywood starlet. She kept this look simple, accessorizing with silver Tiffany & Co cuffs. 
Ethereal sheer minidress and cape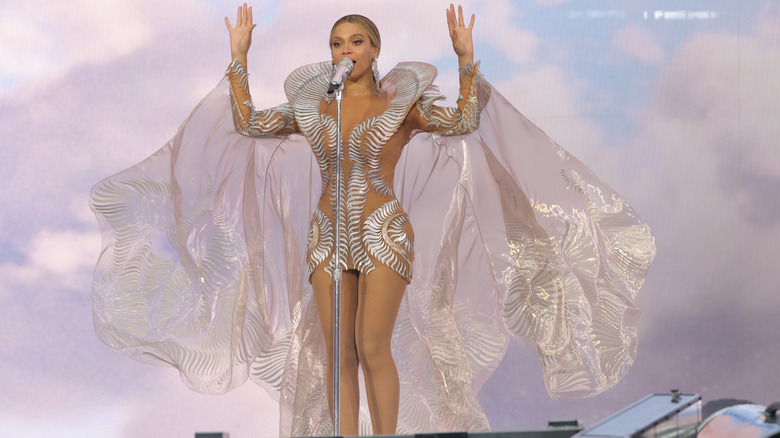 Kevin Mazur/Getty Images
One tour outfit that really stole the show was, ironically, almost entirely sheer. In Amsterdam, Beyoncé sported this amazing, ethereal ensemble by Iris van Herpen, and while this wearable art is easy on the eyes, it was no easy task to construct it. The minidress and glass-organza cape were put together by 12 people over the course of 700 hours. The team used Swarovski crystals and nearly 1,000 different shapes to get the end result. And, while constructing this look took quite a bit of time and effort, it certainly paid off. 
Sparkling silver bodysuit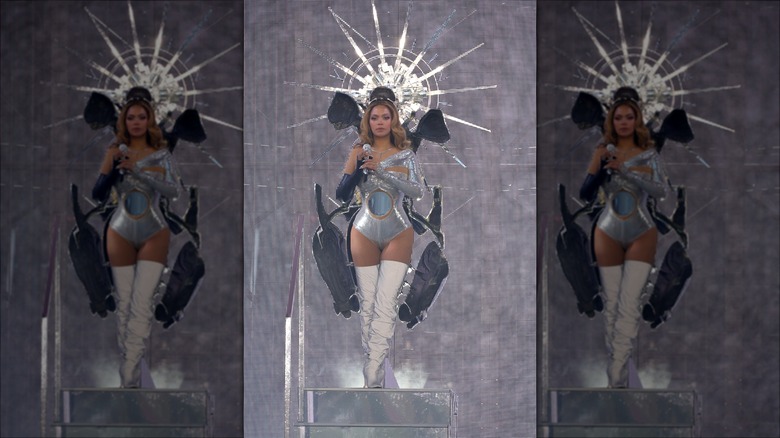 Kevin Mazur/Getty Images
It's clear that metallics have been a common thread throughout the Renaissance Tour, and for good reason. Metallic finishes let the star shine a bit extra under the stage lights, while also creating a modern, futuristic look. This glitzy silver Courrèges bodysuit was both understated and updated. She sported the one-shoulder bodysuit with a single long, black glove, bold thigh-high Gedebe boots, and silver jewelry by Tiffany & Co. Not only was she coordinated with the set and props, but she also coordinated with her background dancers who crowded around her in silver matching sets. 
Birth of Venus hand jumpsuit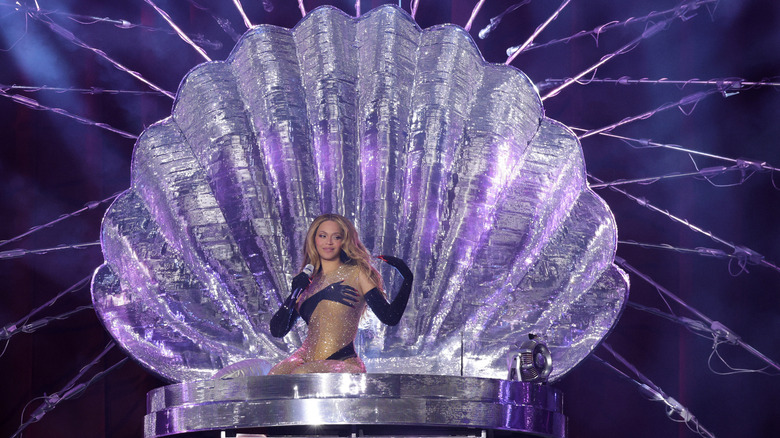 Kevin Mazur/Getty Images
One of the most memorable outfits from the Renaissance tour allowed for this iconic visual moment that was inspired by the Botticelli painting, "The Birth of Venus." Beyoncé sported a custom-made catsuit by Loewe as part of an entire look that was co-created by costume designer, Shiona Turini. The catsuit was adorned with Loewe's iconic trompe l'oeil hands, which added coverage to the otherwise sheer piece and paired perfectly with black opera gloves. Tiffany & Co jewelry paired with bright red nails that perfectly matched the catsuit's print were the finishing touches. 
Glitzy mini dress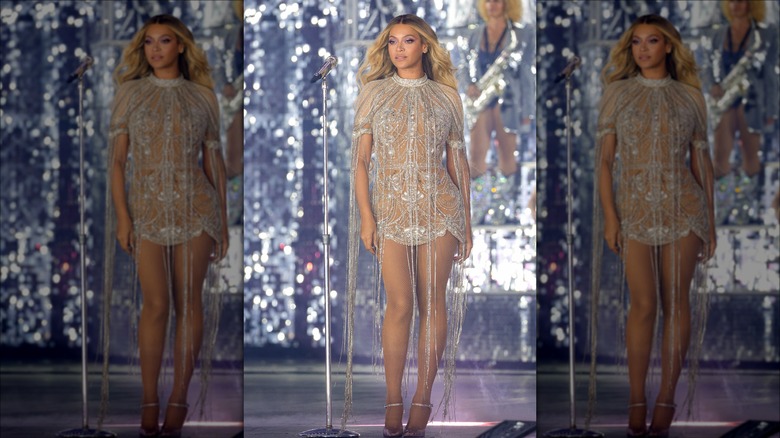 Kevin Mazur/Getty Images
If you've seen photos of the "Renaissance World Tour," you've surely seen this sparkly Elie Saab minidress that feels like the quintessential look of the tour. It's a unique ensemble in that it marries a classy, understated silhouette and shape with glitzy, glamorous details. This juxtaposition screams superstar and lets Beyoncé's show-stopping beauty shine through. The piece shows off her body while also looking elevated and full of glamour. And, while it doesn't make the artistic, over-the-top statement that some of her other outfits did, it does make one important statement: Beyoncé is the ultimate superstar.