Erin Krakow's Tribute To When Calls The Heart's Kadence Roach Shows How Fast Her Co-Star Grew Up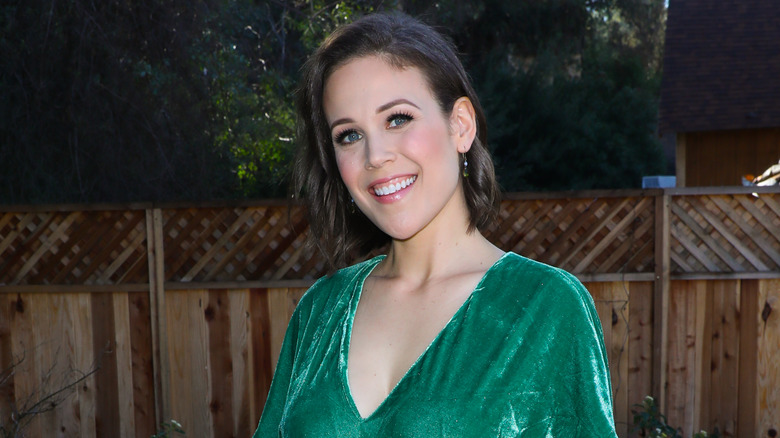 Paul Archuleta/Getty Images
Fans of the Hallmark series "When Calls the Heart" have been following the story of Elizabeth Thornton since the series debuted in 2014. Elizabeth has led the youth of Hope Valley for years and, in particular, blonde-haired Coal Valley transplant Anna Hayford. Kadence Roach has portrayed Anna since the very beginning, joining the cast of the show when she was only 7 years old. "I feel that I have pretty much grown up on the show," she told Super Channel.
Believe it or not, Roach celebrated her 18th birthday this week. Co-star Erin Krakow, Mrs. Thornton to Anna, posted a birthday message to Roach on Instagram. The pictures she posted showcase Roach over the years, from a vibrant little girl to a stunning young woman. "Happy Birthday to the kindest little goofball who grew into the loveliest young lady!" Krakow wrote in the caption. "[Kadence Roach], you've been warming my heart and impressing me with your tenderness for a decade. I hope you had the most wonderful birthday!!!" 
Decade? Yup. It's been 10 years since the duo started filming the Hallmark show together, and they aren't stopping anytime soon. When Season 10 was announced, there were some questions about who would be returning, but Roach tweeted, "I couldn't be any happier to stay in Hope Valley and live up stairs," when Krakow broke the news of her co-star returning. 
Erin Krakow and Kadence Roach have a special relationship
With 10 years as co-stars under their belt, Erin Krakow and Kadence Roach have had plenty of time to share their decade-long devotion to each other; they regularly pen tributes to each other in celebration of their birthdays. When Krakow celebrated her birthday last September, Roach posted an Instagram tribute to her "When Calls the Heart" co-star. "Happy birthday to the sun of our set. The joy everyone needs on a set," she wrote. "Happy birthday Erin, over the last 10 years you've taught me so many valuable things. ... have the most beautiful day."
In 2018, Krakow posted on social media in honor of Roach's 13th birthday "You have a kind word for everyone, & such an encouraging, positive presence on set! It continues to be a joy watching you grow up!" she wrote (via Facebook). In 2020, Roach gave props to Krakow via Instagram, writing, "Words can't describe how amazing this woman is! Erin Krakow it has been such a blessing to be able to have you as a role model for the last 8 years! You inspire all of us kids every day!" 
The love fest has continued beyond "When Calls the Heart," with Roach visiting Krakow on the set of the Hallmark movie "The Wedding Cottage." Fellow Hallmark star Ashley Williams summed it up best when she commented on Krakow's IG snap of the meetup, writing, "How darn cute are you."