The Real Meaning Of Beyonce's Song Love On Top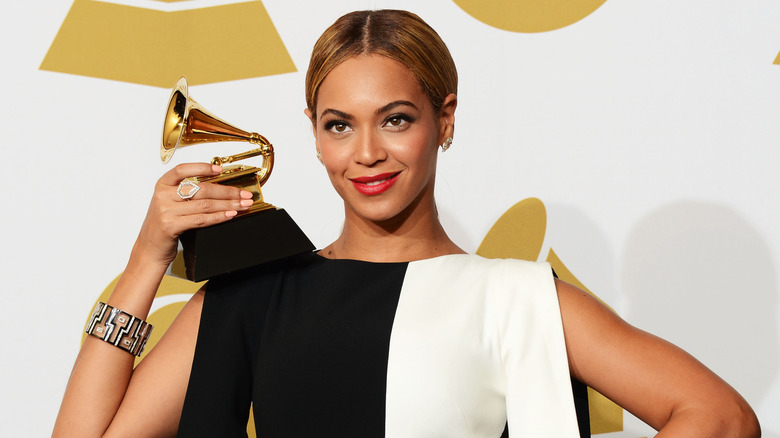 Jason Merritt/Getty Images
As the opening song on her album "4," Beyoncé's Love On Top is a certified classic — if not for the song's catchiness, for its status as one of her greatest hits after her iconic MTV Music Video Awards performance in 2011. Sporting a glittery tuxedo, the talented performer danced in heels as she belted out the love ballad in what ended up being one of the most shocking outfits she's ever worn. In the end, Beyoncé revealed her pregnant belly. Needless to say, fans around the globe went wild.
"Love On Top" remained number one on the Billboard R&B / Hip-Hop Songs chart for seven weeks, and won the Grammy for Best Traditional R&B Performance. Beyoncé co-wrote and co-produced the hit with longtime collaborator Terius "The-Dream" Nash and Shea Taylor. But what was the inspiration behind "Love On Top" for the singer? Surely, the song was unlike any others the pop vocalist had released.
In a blog post on her website, Beyoncé revealed that she was deeply inspired by soul legend Etta James, who she portrayed in "Cadillac Records" in 2008 (per American Songwriter). In addition to the dreamy lyrics, she also challenged her voice by going up four keys in the iconic final chorus, and six keys over the entirety of the song. "It does not sound like the vocals on my past albums," Beyoncé wrote of "Love on Top." "It's a lot rawer. It comes from a deep place."
How did playing Etta James inspire Beyoncé's Love On Top?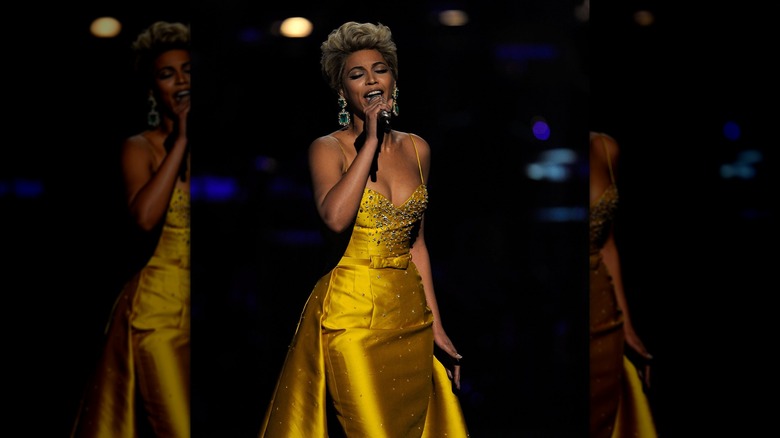 L. Busacca/Getty Images
Taking on the persona of a Motown singer is no easy feat. But in portraying Etta James and her journey, Beyoncé — who is known for her stunning transformations — learned more about embracing artistry and expressing true emotion in her music. "When I went into the studio I used the same passion, honesty, and approach with my vocals I channeled as Etta James," she wrote on her website (per American Songwriter).
Beyoncé's reawakened passion is evident in "Love on Top." She sings about loving someone so wholly that you can't help but feel joy around them: "I can feel the sun whenever you're near / Every time you touch me I just melt away." Of course, Beyoncé is singing to her longtime lover, Jay-Z. The couple has been private about their relationship for decades, as their love for each other is just too real to share, she told Essence.
The chorus of "Love On Top" continues as Beyoncé reminisces about sipping champagne and dancing the whole night away while kissing her lover. Just as Etta James unashamedly declares in "I'd Rather Go Blind" that she would do anything to be loved again, Beyoncé proudly expresses her devotion. "I realized that Etta James was so unapologetic, bold, and strong that playing her was a big risk for me," she told Billboard. "It gave me the confidence and the push to challenge myself a little more with my music."
Beyoncé took creative risks with her lyrics and vocal ability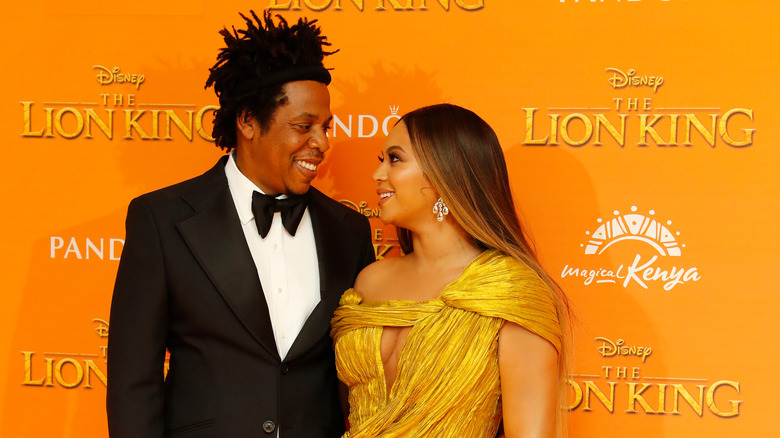 David M. Benett/Getty Images
In the pre-chorus, Beyoncé addresses the hard work that goes into true love. "They say love hurts / But I know it's gonna take the real work / Nothing's perfect but it's worth it / After fighting through my tears and finally you put me first." With direct co-writing credits, it's apparent that Beyoncé also drew inspiration from her own experience. Beyoncé and Jay-Z's marriage has had ups and downs — such as her husband's affair — yet, their love prevailed. Just as she sings, while the relationship may not be perfect, it's worth fighting for.
At the end of "Love on Top," Beyoncé demonstrates her incredible range as she moves up four keys while repeating the hook over and over. She belts out what seems like a cry of joy: "Come on, baby, it's you / You're the one that gives your all / You're the one I can always call / When I need to make everything stop / Finally, you put my love on top."
Her engineer DJ Swivel said in a video on his YouTube channel that he was shocked by Beyoncé's commitment to showcasing her range. After moving into falsetto, which was beyond her regular range, Swivel said he was amazed yet worried by her vocal cords. "Really, that's nonsense, because she has probably the most powerful voice I've heard. There's no hurting that voice," he explained. "That's one of the most innovative songs I think I've ever worked on."