Kelly Clarkson Refuses To Date These Hollywood Stars. Here's Why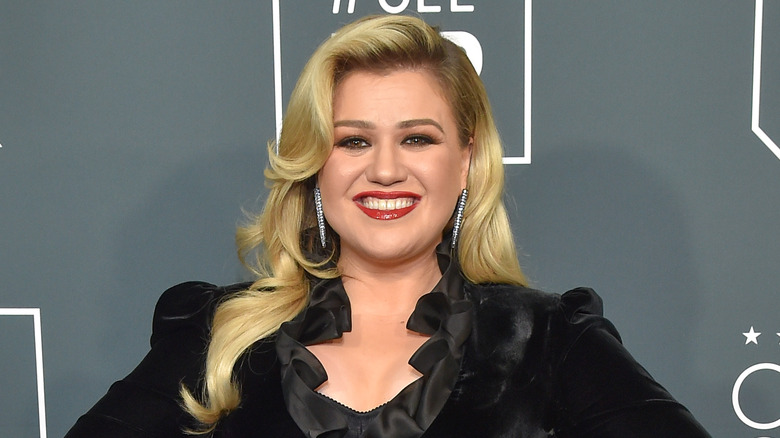 DFree/Shutterstock
Kelly Clarkson, the powerful voice behind hits like "Breakaway," "Since U Been Gone," and "Stronger," is no stranger to heartbreak. She and Brandon Blackstock, her husband of nearly 10 years, called it quits in 2020. Their divorce was finalized in 2022, and the "American Idol" winner now has primary custody of their two young children. "I would love to fall in love. I'm not against love at all. I'm not really into marriage," the singer explained in a 2023 episode of "The Howard Stern Show" — in other words, she probably won't walk down the aisle again. At least not anytime soon. Her album "Chemistry" served as a creative outlet in the midst of divorce drama. According to Clarkson, she and Blackstock reached a stage in their relationship where there was no "try" left.
Although the talk show host is single and (somewhat) ready to mingle, there are a few famous men she won't consider. For starters, she doesn't picture herself becoming a part of Pete Davison's complicated dating history, although she does think he's cute and funny. "Pete Davidson, you are wonderful. But no, I'm not looking," Clarkson clarified. As for whether she'd join a dating app? That'd be a little hard for her, considering she's a world-famous recording artist. "I'm not against them or above them... that scares me," she told Howard Stern. Maybe the celebrity dating app Raya is the answer?
Kelly Clarkson isn't up for dating Tom Brady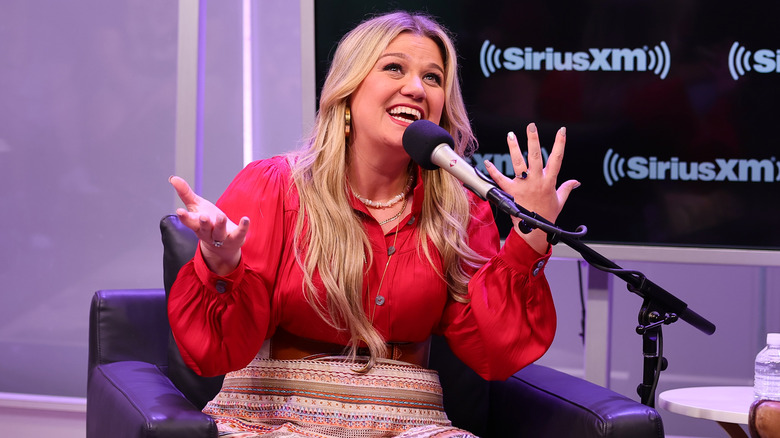 Theo Wargo/Getty Images
Although Tom Brady is recently divorced, just like Kelly Clarkson, she doesn't think he's the one for her. "I'm a very confident woman," she shared on "The Howard Stern Show." That being said, "I don't think I'd like to follow Gisele Bündchen ... How do you not think about that when you're making out with him?" she wondered. As for whether she'd consider Arnold Schwarzenegger? Clarkson is intimidated by how much he works out. An athlete probably isn't in the cards for her.
Rather than harbor celebrity crushes, the pop icon tends to focus on fictional characters, or "fake people," as she calls them. For example, she loves Nathan Fillion on the show "Castle" but wouldn't consider him to be a real-life love interest. Right now, she's excited to focus on herself and her two kids. "I'm just enjoying me, and I'm enjoying my children, and I'm enjoying my work," Clarkson told E! News, noting that introducing a stepparent or even just a boyfriend into the mix might make things complicated. When the time does come, however, she's not afraid to ask a guy out herself.
Writing her new album helped Kelly Clarkson process her divorce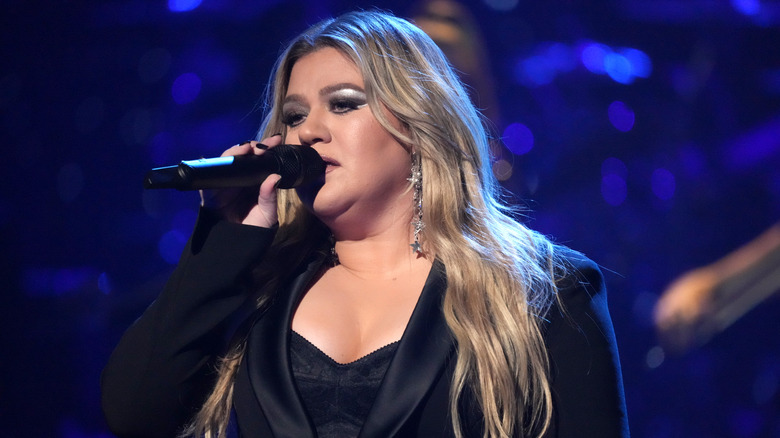 Jeff Kravitz/Getty Images
Throughout her career, artists like Avril Lavigne and Christina Aguilera have written some of Kelly Clarkson's most famous songs — she doesn't mind being a "vessel" as long as people can relate to the music. This time around, however, she wrote all the music and lyrics herself. Her June 2023 album, "Chemistry," explores the ups and downs of her marriage and the pain of saying goodbye to someone you love. "When my ex and I first separated, there were many emotions. It was hard," the singer told Variety. "My producer and I were laughing yesterday because I was like, 'Remember that time we wrote, like, 25 songs in a week?' A lot of those are the ones that are on the album," she explained.
For the performer, writing was kind of like therapy. That being said, she wouldn't want to go through the same thing again, even if it meant producing beautiful art. "I rather other people write it and me not be living a dumpster fire," she joked on "The Howard Stern Show."