Everything We Know About Brad Pitt's Sobriety Journey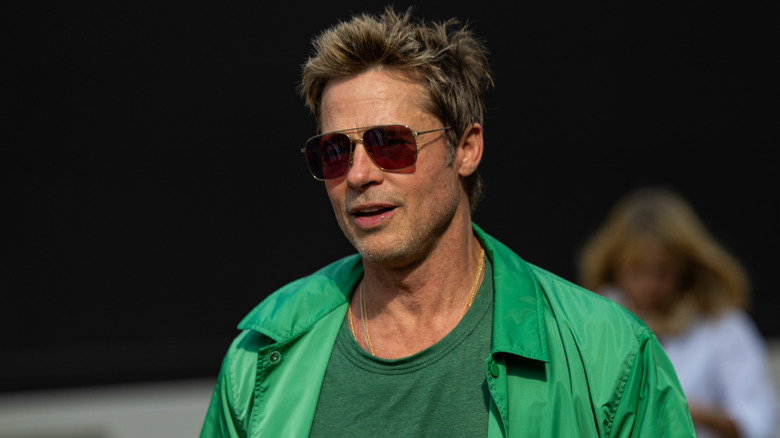 Kym Illman/Getty Images
It's easy to imagine that life as a Hollywood celebrity is nothing but a non-stop party. But the sad reality is that the industry is full of high-pressure deadlines, excessive working hours, jobs that require extreme levels of commitment, and the double-edged sword of fame. Unsurprisingly, many Hollywood celebs resort to substance abuse to meet these high expectations and regulate their emotions. 
Once upon a time, stars shied away from talking about their addiction issues, fearing the reputational damage, but nowadays, more and more celebs are opening up about them to make others who are struggling feel less alone. Even A-listers like Brad Pitt are openly discussing their struggles with addiction. In a GQ interview, Pitt recalled how he hadn't gone a day without having something or the other to take the edge off since college. Looking back on it, the actor realized that he didn't want to face his feelings, so Pitt quit everything except drinking when he got serious about settling down. 
But, when the "Fight Club" star was going through his divorce from Angelina Jolie, the need for avoidance returned, so Pitt found himself overly relying on alcohol again. Fortunately, he noticed it and got the help he needed to get his life back on track. The actor concluded the interview segment on a hopeful note, though: "I think that's part of the human challenge: You either deny them all of your life or you answer them and evolve." 
Brad Pitt attended Alcoholics Anonymous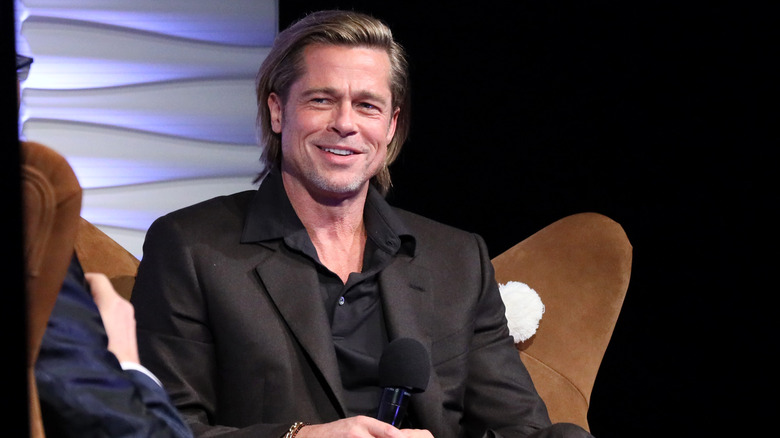 Rebecca Sapp/Getty Images
Brad Pitt quit drinking and found a support system in Alcoholics Anonymous, a group he attended for a year and a half post his divorce. Speaking to The New York Times, Pitt shared how the group helped him: "You had all these men sitting around being open and honest in a way I have never heard." The actor added that the atmosphere was so judgment-free that everyone could express themselves without shame or self-criticism, noting, "It was actually really freeing just to expose the ugly sides of yourself." 
In a 2022 GQ interview, the Oscar winner revealed that he wasn't initially on board with the idea of a support group because of the videos he saw online. The "Once Upon a Time in Hollywood" star also acknowledged that he quit smoking cigarettes when he realized he couldn't strike a balance without overindulging. When Bradley Cooper presented Pitt with the Best Supporting Actor award at the National Board of Review Awards Gala, Pitt credited Cooper with helping him get sober.
Speaking to CNN in 2019, Pitt shared how getting sober forced him to confront terrifying emotions he had been running from. His newfound perspective on dealing with them is: "I don't want to be running from anything. I wanna sit in it. I wanna feel it. I wanna get through the rough night." He added, "You come out of it, on the other side, with a more profound understanding of yourself and a greater gratefulness for those in your life."
Brad Pitt's addictions affected his marriage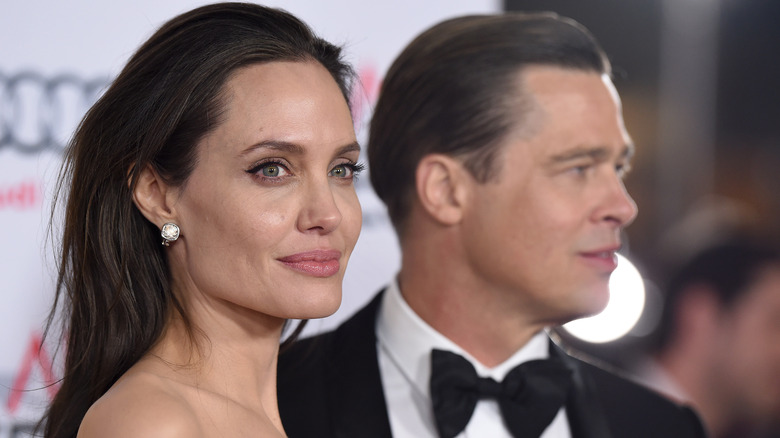 Axelle/bauer-griffin/Getty Images
Brad Pitt and Angelina Jolie infamously got into an ugly fight on a private plane with their kids present. Pitt had been drinking heavily throughout the flight and their disagreement supposedly began because he believed she was attempting to distance his children from him. Although the topic was brought up during takeoff, things got heated when Pitt called Jolie into the bathroom, yelled at her, and pushed her into the wall. 
According to court filings obtained by Vanity Fair, their children heard the noises and checked to see what was happening. Pitt told them, "Mommy's not okay. She's ruining this family. She's crazy." One of the kids told him to stop, but Pitt charged at them and pushed Jolie into a seat when she tried to defend their child. In the scuffle, Pitt allegedly choked one child and slapped another while the others tried to get him to stop. 
As the flight went on, Pitt poured wine on his kids, and beer on Jolie and the children. Jolie wanted to halt the flight to get her kids to safety, but he refused to let her take them away. Many believe this incident created a strained relationship between Pitt and his son, Maddox until they had a fallout. Although Pitt and Jolie were having trouble before the plane incident, it was the final nail in the coffin of their marriage because she filed for divorce one day later.