11 Times King Charles' Body Language Said It All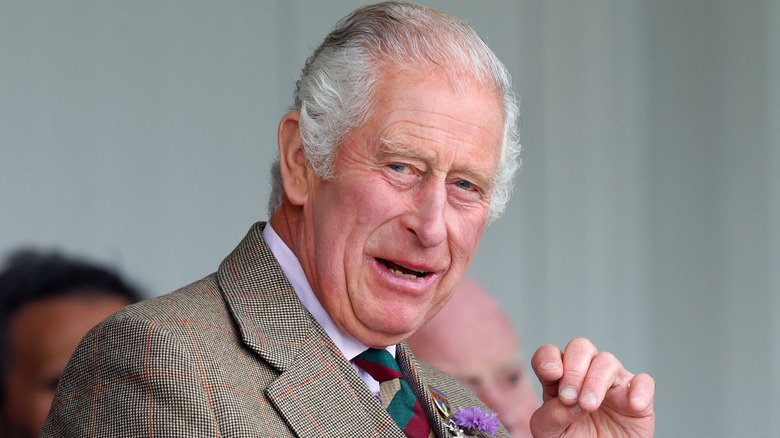 Max Mumby/indigo/Getty Images
Members of the British royal family typically keep their emotions close to their chests and their lips sealed, living by the motto "never complain, never explain." Unless backed into a corner, the royals let spokespeople and statements say what needs to be said. For a family that maintains a collective stiff upper lip, though, the royals sometimes have pretty telling body language that points to exactly how they're feeling. This is especially true of King Charles III.
Since he's been photographed practically since birth, the public has gotten a pretty good read on him — from his anxious behaviors to his frustrated eye contact. Body language expert Darren Stanton told the Mirror that as a prince, Charles displayed a "real lack of confidence, uneasiness and vulnerability"; however, since becoming king, his confidence has grown. Of course, confidence is not the only thing we can pick up from Charles' mannerisms, gestures, and behaviors. Over the years, a variety of experts have examined the prince-turned-king's body language. These are times when his body did all the talking.
Charles' body language during a photoshoot with Diana spelled trouble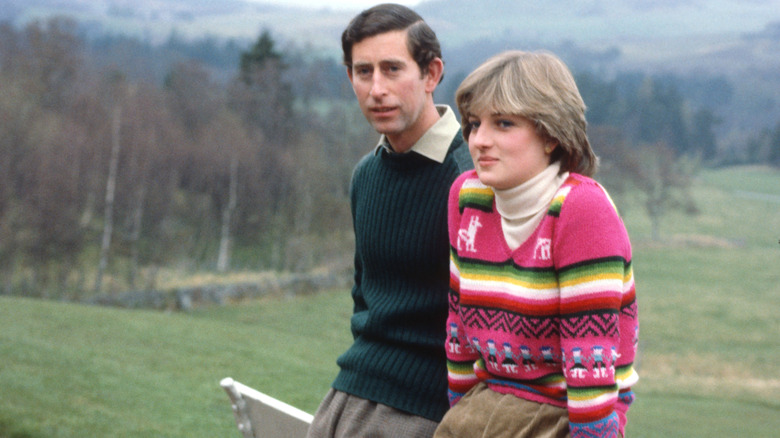 Anwar Hussein/Getty Images
In 1981, Prince Charles and Princess Diana posed for a photocall at the Craigowan Lodge at Balmoral. A series of photos were taken of the betrothed couple just two months ahead of their summer wedding — and their body language was already pointing to trouble. "During the engagement so many years ago, I could already see something wasn't quite right between Prince Charles and Lady Diana," body language expert Patti Wood explained to Reader's Digest.
The expert pointed out that Diana's arms and shoulders were stiff, and she diverted her attention away from Charles — and Charles didn't look any more comfortable. "She may be fearful of the cameras, but notice how Prince Charles [who arguably has been getting comfortable with cameras all his life], is also holding his arms stiffly by his side," Wood said. "It's as if these two already know their impending nuptials are a mistake, but they're powerless to do anything about it." Although Diana and Charles would ultimately see the wedding through, their marriage would end in an infamous divorce in 1996. 
The king self-soothed during his mother's funeral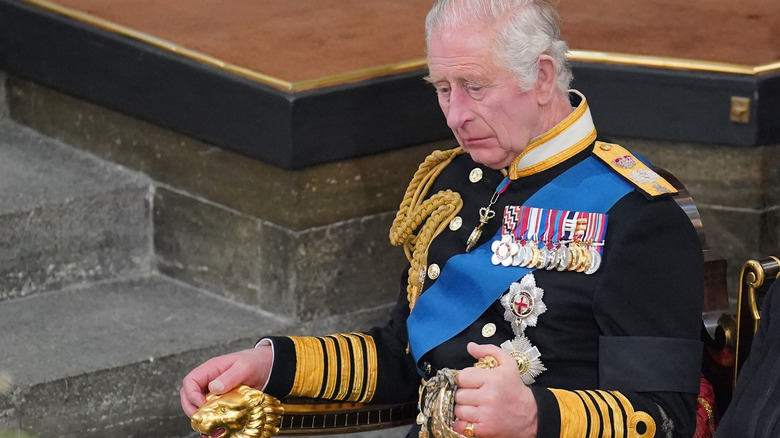 Wpa Pool/Getty Images
When Queen Elizabeth II died on September 8, 2022, Prince Charles immediately took the throne and became known as His Majesty King Charles III. The queen's funeral was held after a period of mourning, and the new monarch let his body language do the talking during his attendance. During the singing of "God Save The King," the United Kingdom's national anthem, "a slight parting of his [Charles'] lips in a horizontal in-breath" could be observed, communication coach and CBT therapist Sonia Beldom told The Independent. "It is a sign of grief, which he is controlling brilliantly."
Beldom further explained that both Charles and his eldest son, Prince William, kept their composure. "A tiny sign of self-soothing is seen as they rub the top of their swords with their thumbs," she explained. "This is a mini version of massaging the thumb, which is a pacifying gesture."
Charles was also spotted subtly rocking during the service. "Rocking is often seen in times of high psychological distress and is an effective way of reducing anxiety and tension, promoting a sense of calm through stimulation of the vestibular system or balance centre," body language expert Katia Loisel told Yahoo! Lifestyle.
King Charles let his passion do the talking during the 2023 Royal Ascot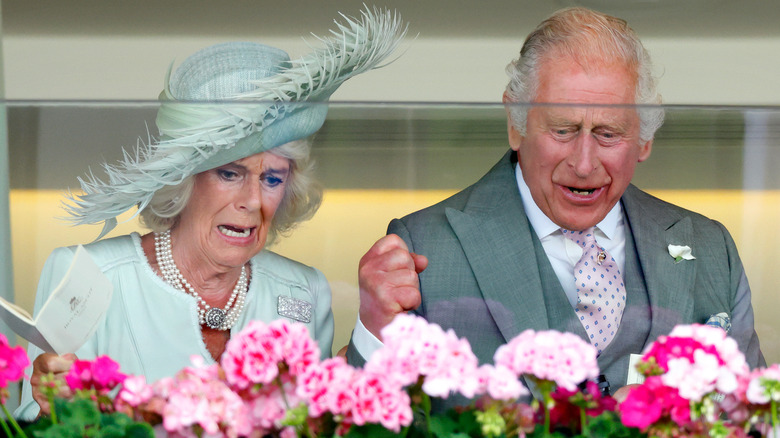 Max Mumby/indigo/Getty Images
In 2023, King Charles III and Camilla, Queen Consort, attended the Royal Ascot and became particularly excited as their own horse, Desert Hero, competed. "These are spontaneous displays from the couple [Charles and Camilla] who not only reveal a hidden side to their personalities but contrasting responses, too," body language expert Judi James told Express. James explained that Camilla appeared more competitive, while "Charles is rather gentle in the way he urges his horse on and it's interesting that a display of more pent-up emotion at the win ended in a rather tearful look. He raises one fist but the hand is curled rather than squeezed into a fist and held quite low."
Despite their differing reactions, however, the expert noted that they both used the Royal Ascot as a way to let go of all the stress and anxiety they were experiencing — the death of Queen Elizabeth II and the coronation.
King Charles' balcony kiss told us all we needed to know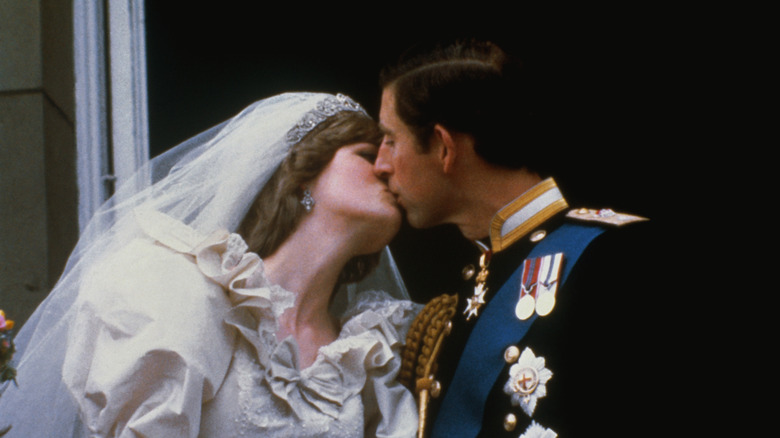 Bettmann/Getty Images
When a young King Charles III wed an even younger Diana Spencer, Britain celebrated their seemingly fairytale wedding. Roughly 1 billion people tuned in to watch the live televised event and the crowds that gathered outside Buckingham Palace were treated to the famous balcony kiss between the newlyweds. In fact, it was Charles and Diana who started the royal wedding tradition. However, it was during this moment that some were already sensing trouble in the couple's brand-new marriage.
Body language expert Patti Wood explained to Reader's Digest that Diana had to reach a good distance to meet Charles' lips. "See how she's doing all the work?" Wood remarked. The young, new wife was already "bending over backward" to please her husband, Wood revealed. While the princess appeared to be putting in the effort, Charles was doing the absolute bare minimum and seemed disconnected from his bride. Not a great sign on one's wedding day!
It became even more obvious how lackluster Charles' balcony smooch was when, five years later, Charles' younger brother, Prince Andrew, kissed his bride on the balcony of Buckingham Palace. "Andrew performed a highly sensual kiss with Fergie," body language expert Judi James told Express.
Charles' body language when talking about Prince Harry was incredibly telling
When King Charles III spoke to Britain and the Commonwealth for the first time following the death of Queen Elizabeth II, he named Prince William and Princess Catherine the Prince and Princess of Wales, respectively. This didn't entirely come as a surprise; however, the king's later mention of Prince Harry and Meghan Markle did, given their frosty relationship with the firm. "I want also to express my love for Harry and Meghan as they continue to build their lives overseas," Charles said.
"'This was a very different Charles from the usual stoic and emotionally-isolated man we are normally allowed to see," body language expert Judi James told Metro. She continued, saying, "This last reference [of Harry and Meghan] prompted a pause from Charles as he looked down in an eye cut-off of what looked like regret and even emerged with what sounded like a small sigh."
Charles was 'moved' by his son's pledge of allegiance
King Charles III and Prince William have long had a distant relationship. However, with the ostracization between Harry and William, some, including body language expert Carole Railton, have argued that William and Charles' bond has significantly improved. This was clear during the king's coronation.
"When William was in front of him he looked emotional to me," the expert told the Daily Mail. "[Charles] is blinking a lot, showing a bit of stress for sure. ... He also appears tired and the previous deep breath gives notice that he is refreshing his self getting back in step. He sat on the edge of his seat, showing that he is excited about what is going on, even thrilled." After William kneeled to his father and pledged his allegiance, he touched the crown and kissed his father's cheek, which invoked an emotional reaction from the king. "Charles was moved as he nodded to his son, and said 'amen,'" Railton said. 
Charles was 'besotted' by Camilla early on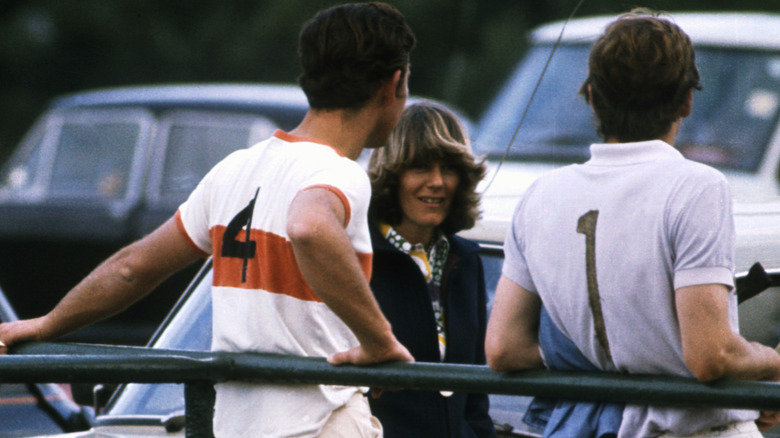 Hulton Deutsch/Getty Images
Back in the 1970s, well before King Charles III married Princess Diana, he dated Queen Camilla, then known by her maiden name, Camilla Shand. At a polo match in 1972, the two were photographed chatting. Camilla didn't seem to shrink in the presence of the royal, according to body language expert Judi James said of the photo to Express. Charles, on the other hand, appeared "rather awkward and besotted under her gaze," according to the expert. 
Charles' positioning in the snapped photo not only shows how infatuated he was with Camilla, but displays just how quickly their relationship blossomed. These days, body language expert Darren Stanton asserts that when he's not around her, Charles is even more awkward and on edge. "He tends to get a little stressed when Camilla isn't in his eye line because she gives him a lot of strength," Stanton told OK! Magazine. "Little key indicators are when he plays with his cufflinks or with the cuffs on his shirt and jacket." 
Charles distanced himself from Princess Diana – literally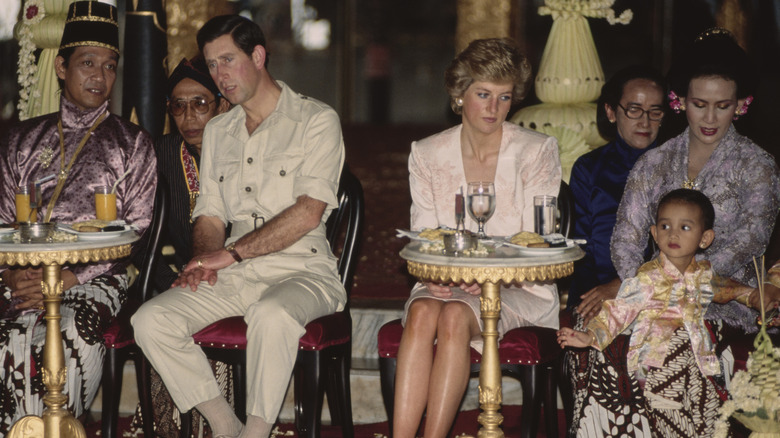 Tim Graham/Getty Images
After getting married, King Charles III and Princess Diana's relationship quickly devolved. The then-prince's ongoing affair with Camilla, along with Diana's own infidelity and her lack of support from the monarchy, turned a bad situation into a full-blown crisis. The couple's relationship troubles were especially evident when they embarked on a royal tour in 1989.
During a stop at the Palace of Yogyakarta in Indonesia, Charles and Diana sat beside each other as they normally would, but they left a gaping space between them. Body language expert Patti Wood told Reader's Digest that the couple's positioning hinted at just how distant they'd become. "His shoulder turned away, his mouth tightly sealed — it's as if Charles was forced by his mom to take this girl he doesn't like to the school dance." A few years later, the two would go on to separate.
Charles wasn't shy about his love for Zara at the 2019 Royal Ascot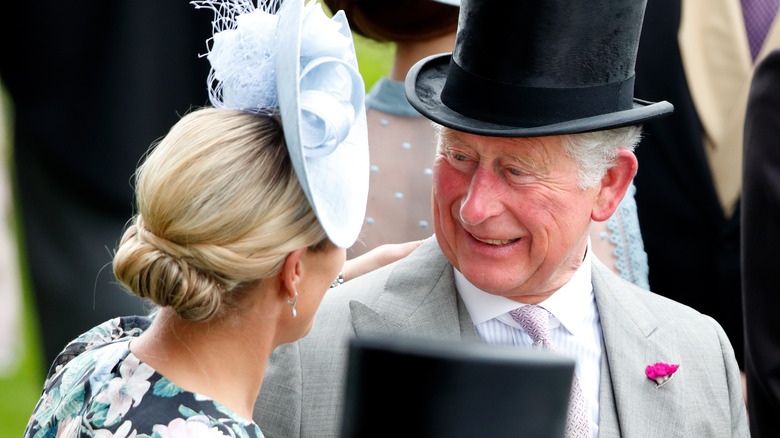 Max Mumby/indigo/Getty Images
King Charles III never really seemed to be the warmest parent — as Prince Harry would attest. However, the king is apparently a much different uncle. "The body language dynamic between Zara and her uncle Charles has been giving joy for many years," body language expert Judi James told Express. "If you were to place all the royals on some sliding scale of PDAs and tactile behavior in public you'd see Charles close to one end as a rather hands-off, stuffy-looking kind of a guy. Zara would sit firmly at the other end as the most spontaneous and gloriously gregarious looking royal adult." The expert went on to explain that Zara doesn't change her behavior toward Charles just because they're out in public. "Instead she seems intent on cutting through any formal stuff by instigating some very dominant-looking hugs that seem to both surprise and delight the prince," she said.
At the Royal Ascot in 2019, Charles' body language when interacting with his niece showed us all just how much he enjoys Zara's company. "Charles is much more reserved in terms of his reciprocal signals but his wide grins and his close-quarters eye contact suggests he's a very doting uncle to his sister's consistently upbeat and fun-looking daughter," James told Express.
Charles' 'dissonance' was clear at his father's funeral
King Charles III and his late father, Prince Philip, had a historically tense relationship. "They didn't speak to each other as normal father and son," royal biographer Penny Junor asserted in her 1988 book, "Charles," explaining that the late consort often took issue with his son's emotional side. "Charles is a romantic — and I am a pragmatist," Philip himself even admitted in 2016. "That means we do see things differently and because I don't see things as a romantic would, I'm unfeeling."
Given their disjointed relationship, it is no wonder that Charles' body language was off during his father's funeral in 2021. Walking out of beat with the drum playing during the funeral procession, Charles appeared distracted and out of step with his relatives, according to body language expert Louise Maher. 
"They have the music, and they have it there for a purpose," Maher told "The Morning Show." "It's to slow you down and make you feel something. Here it wasn't even subliminal. They had a bang, bang, bang of the march. Anne was immediately in that step, and Charles was out of step, going slower against the rhythm. He just looked awkward with the rhythm. That took a conscious effort." The expert continued, saying, "It did show a dissonance. For me, it sent a message. 'I don't walk to the beat I'm told to walk to. I will do my own beat.'" 
The king's body language says his relationship with his sister has improved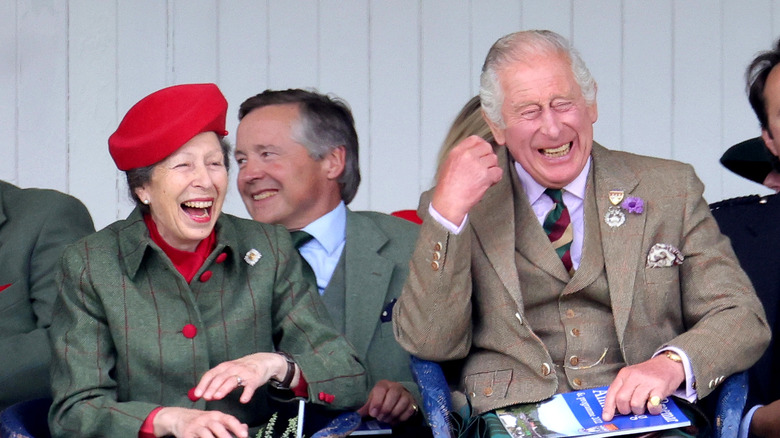 Chris Jackson/Getty Images
Not unlike most siblings, King Charles III and Princess Anne haven't always seen eye to eye. While Anne inherited her parents' sense of level-headedness, Charles has always been more outwardly emotional, according to body language expert Judi James.
"Charles grew up sandwiched between two remarkable women. Both his mother and his sister are hard-working, strong and stoic, with no outward signs of emotions like anxiety or self-doubt. Charles on the other hand has always shown signals that suggest self-pity and inner anguish," James told Express. "As Charles adopted a more academic approach to the life of a future King, Anne became a successful, no-nonsense sportswoman alongside her regular royal duties."
However, by James' estimation, the king and the princess have gotten closer with time. A perfect example of this strengthened bond was on display at the Braemar Highland Gathering in 2022, where the royals were pictured laughing together.