The Friends Props Matt LeBlanc Took From Joey And Chandler's Apartment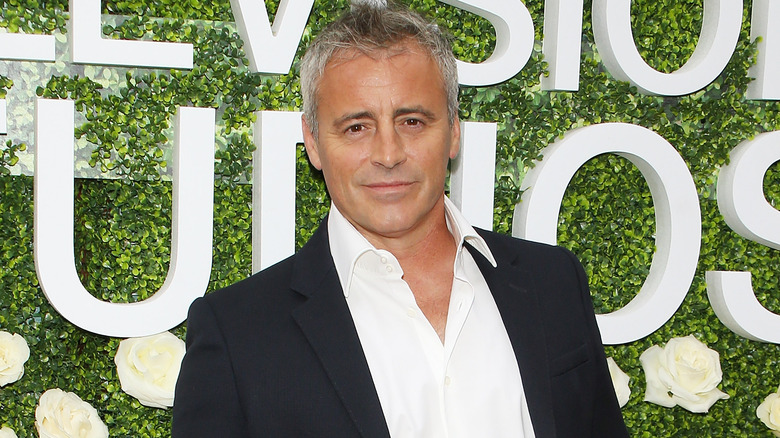 Michael Tran/Getty Images
"Friends" is not only one of the most popular television shows of all time, but it also includes some of the most recognizable sets ever. In addition to Monica and Rachel's iconic purple apartment with the yellow frame hung on the door, and the cozy Central Perk coffee house couch, fans can easily recall Joey and Chandler's apartment as well. In fact, the guys' home may have included more recognizable features than even that of Monica and Rachel's place through the years. It was so cool that Matt LeBlanc, who played the character of Joey Tribianni on the hit series, took home a few props from the set after the show ended. The actor admitted during an interview with Jimmy Fallon that he grabbed items such as a ball from the foosball table and the Magna Doodle toy. 
Some of the most identifiable things in the apartment of best friends Joey and Chandler included their iconic foosball table, a dart board, a Magna Doodle that was placed in the middle of their door, a huge print of comedy duo Laurel and Hardy that hung in several spots around the apartment, the big white dog statue, and of course, their lounge chairs, one of which Joey hilariously named Rosita.
The set was so memorable and important to LeBlanc that he knew he couldn't wrap up his time on the series without taking home some souvenirs to remember that time in his life.
Matt LeBlanc took sentimental pieces from Joey and Chandler's apartment
During his appearance on "The Tonight Show with Jimmy Fallon," Matt LeBlanc opened up about his time working on "Friends," and he even admitted that he walked away with a couple of props from the set. After joking that he took home a "ton of cash" from the show, he confessed that there were a few things he took with him when the series came to an end. "You know in Joey and Chandler's apartment we had the foosball table? I have the actual ball from the table," LeBlanc told Fallon. "I have it in my toolbox somewhere. Why it's in my toolbox I don't know, but I ended up with the foosball," he said.
However, that wasn't the only thing that LeBlanc snagged before leaving the set for the final time. The actor also confessed to grabbing the iconic Magna Doodle that hung on the door of his character's apartment. However, he gifted that to someone special. "There was this one guy, Paul, on the crew, that was the one that always drew whatever was on there," LeBlanc explained, revealing that he felt it was only right for Paul to have the Magna Doodle. In addition, the actor told People that he once took a license plate that read "I love Friends" and placed it on co-star David Schwimmer's car as a joke.
LeBlanc wasn't the only member of the "Friends" cast to take something home from the set.
What did the other Friends cast members take from set?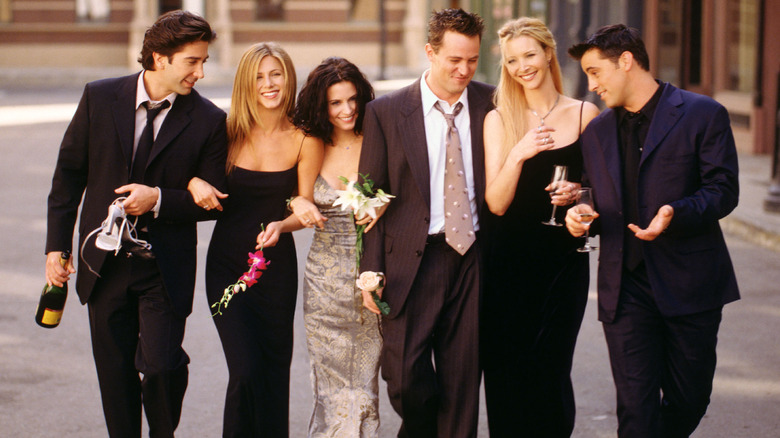 Getty Images/Getty Images
Matt LeBlanc wasn't the only member of the "Friends" cast who wanted to grab a memento from the set before the show wrapped. Jennifer Aniston, who played Rachel Green on the series, revealed that she took home a dress worn by Courteney Cox's character, Monica. "I went into her line of clothes and I pulled it out, and I still have it and wear to this day. It has tiny little flowers with a black lace V-neck and a little cap sleeve with a little slight ruffle of black lace," she told People Magazine. She's also previously confessed to taking a neon sign from the Central Perk set, which she told Graham Norton still hangs in her office.
Lisa Kudrow, who played Phoebe Buffay, says she took some of her character's rings. However, Kudrow previously revealed during an interview with Jimmy Kimmel that the crew used to search her car to ensure she wasn't stealing props. Matthew Perry who portrayed Chandler Bing grabbed a cookie jar from Monica's apartment and gifted it to Kudrow. As for David Schwimmer, who played Ross Gellar, he says he only took a placard from his character's office that read "Professor Gellar." 
It's clear that their time on the show meant a lot to the cast of "Friends," and that they wanted something to remember that very special time in their lives by. Who could fault them for that?