A Look At Miley Cyrus' Relationship With Her Mom Tish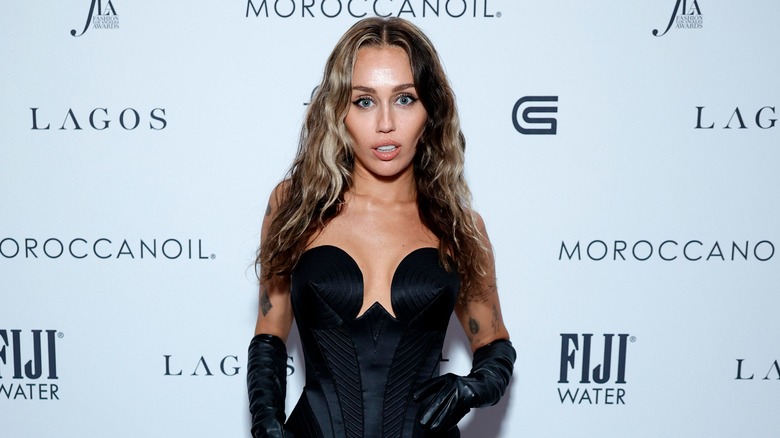 Stefanie Keenan/Getty Images
Growing up in the entertainment industry is a unique experience that only a few stars can truly comprehend. For Miley Cyrus, her journey from a young Disney star to a multifaceted artist has been a rollercoaster ride of growth, challenges, and self-discovery. At the tender age of 12, Miley entered the industry as the lead of the hit Disney Channel show "Hannah Montana."
Despite the glamorous façade of her on-screen persona, her life as a young actor wasn't always as alluring as it seemed. In an interview with InStyle Australia, she opened up about the struggles of growing up in the public eye. She said, "I carried some guilt and shame around myself for years because of how much controversy and upset I really caused. Now that I'm an adult, I realize how harshly I was judged."
Although, it did help that she had her celebrity parents around. Miley is the daughter of musician Billy Ray Cyrus and Leticia Jean Finley, also known as Tish Cyrus. She had her mom as her manager, and Tish protected her as a child star. She told Elle, "My mom started understanding how many people take advantage of a child, so she hired smart people to protect me in that way. I'm happy that when I was younger, people protected me." Still, assuming the responsibility of being Miley's manager meant that she had to make decisions that would benefit her daughter's career, which resulted in the pair's complicated relationship through the years.
Tish as Miley's momager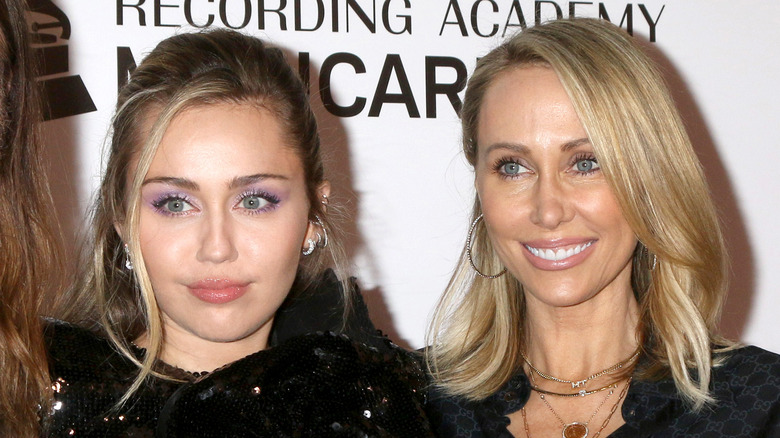 Kathy Hutchins/Shutterstock
Miley Cyrus' road to stardom has been closely intertwined with her mother, Tish Cyrus, who has played a huge role as her momager — a combination of a mother and manager. However, their relationship hasn't been without its complexities and challenges. Since Miley entered Hollywood, Tish has been there every step of the way, managing her daughter's career and guiding her through the unpredictable terrain.
However, being both a mother and a manager can undoubtedly blur boundaries and intensify emotions. In an appearance on the "Chicks in the Office" podcast, Tish shared some details on what it's like navigating their relationship as a mom and manager. She revealed, "There were times where we would be on tour and I'd have to ground Miley. She'd be like, 'You're fired'; And I'm like, 'You're not 18!' It was a whole thing."
Tisch continued, "There were those times where she was pushing the boundaries, and we were arguing and I was punishing her ... just being a full mama bear." However, she admitted, "I think she always knew that I did those things because I loved her." For her part, Miley has expressed her gratitude towards her mom. She told Entertainment Tonight in 2013, "My mom is my homie. If I win, she wins. Not because she's my manager — because she's my mom."
How her parents divorce affected her relationship with them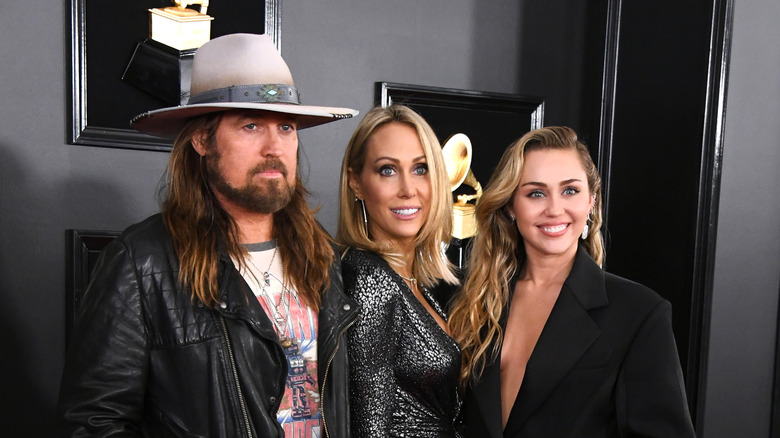 Jon Kopaloff/Getty Images
Miley Cyrus has always been open about her strong bond with her parents. The Cyrus' close-knit family was evident, as Miley has donned the red carpet with her mom and dad several times. In 2009, walking the Oscars red carpet, Miley was asked about her closeness with her dad, who was not with them that night. She told NBC Washington, "I feel like me and my dad have a better relationship than most kids in high school do with their parents and some say that's odd, but I don't find that odd. He's the reason I'm alive!"
However, their relationship reportedly changed after Billy Ray Cyrus and Tish Cyrus separated. "The divorce between her parents have put a strain on her relationship with her dad and it's been hard to connect with him in the last year," a source told E! News. The insider added that although she hopes nothing but the best for Billy Ray, she has remained closer to Tish.
Miley kept mum on the supposed engagement of her father with singer Firerose, but she has reportedly shown support to her mother's new relationship. "Miley hasn't seen her mom this happy in a while. Miley thinks Dominic [Purcell] is kind and respectful and has many of the qualities her mom needs in a partner," a source told Hollywood Life.