Ben Affleck's Hostage-Like Birthday Photo With J.Lo Isn't What You Think, Expert Says - Exclusive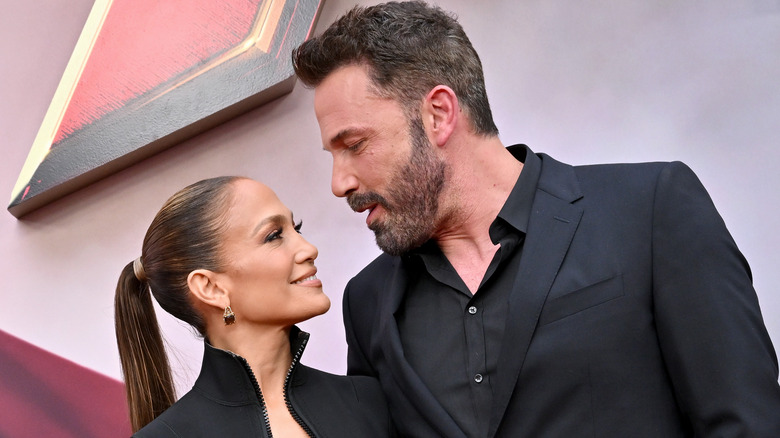 Axelle/bauer-griffin/Getty Images
Jennifer Lopez celebrated her 54th birthday on July 24 and was feted with a party courtesy of her hubby, Ben Affleck. "Thank you all for the birthday love. Here's a lil peek into my party. Ben hosted it at our new house with our closest family and friends. All the kids were there, it was a gorgeous day full of sunshine and perfect for a pool party," Lopez wrote via her subscription-only newsletter, "On the JLo," per People. Along with her post, she included some never-before-seen pictures from the event. In one of the photos, Lopez had her arms around Affleck's neck as she stood behind him while he was seated at a table. He had a seemingly confused look on his face as he held his wife's arms, but he didn't appear happy at all. The List decided to get the inside scoop from body language expert, communication coach, and author of "A.W.E.S.O.M.E.," Jess Ponce III.
Interestingly, Ponce thinks there's a fairly simple reason why Affleck always appears so sullen and moody. "His facial expressions are often awkward or show little enthusiasm. Put him next to Jennifer Lopez, who exudes confidence and warmth, and it is even more noticeable. She is always camera ready — and the camera loves her. Ben, less so," he explained. Ponce added that Affleck simply doesn't "love the camera" like some celebrities do, which further contributes to his often unhappy facial expressions.
Ben Affleck shows signs that he's totally in love with Jennifer Lopez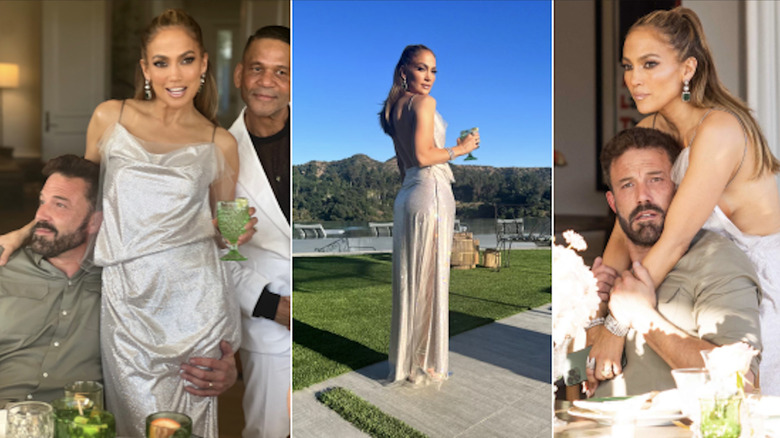 OnTheJLo
While some fans may be quick to jump to conclusions based on Ben Affleck's facial expressions, body language expert Jess Ponce III believes there is enough going on in the candid snaps of Affleck and Jennifer Lopez that proves he's very much in love with her. "When looking at the two of them together the bigger story is his proximity to her, his arms, and overall body positioning," he explained exclusively to The List. 
In another photo Lopez shared in her newsletter, Affleck had his arm around her and was leaning into her as she posed while holding a drink in one hand. "He is a protector," Ponce said of Affleck's body language in this particular snap.
Ponce noted that fans are seeing just one "isolated... moment in time" and suggests that we shouldn't make too many assumptions about Affleck based on these photos — or any photos, for that matter. "This is a good reminder that body language is not static. Context is hugely important, as well as looking at the entire picture. Let's give Ben a bit of a break... after all, how many of us would look good next to Jennifer Lopez?" Ponce concluded. Heck, he's not wrong.