Courteney Cox Once Trolled Kanye West For Insulting Friends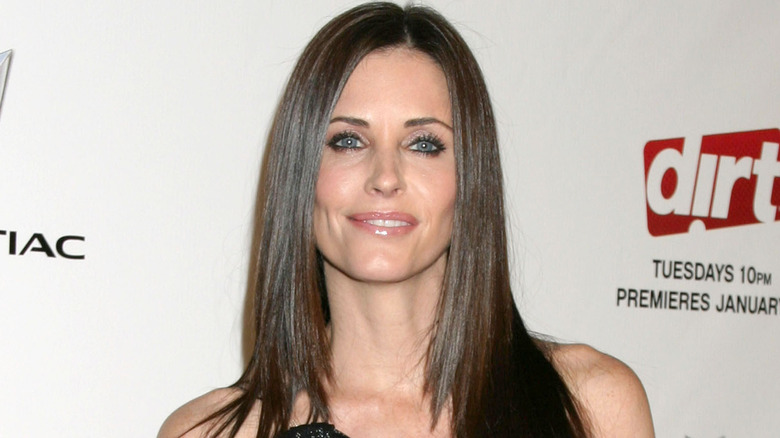 carrie-nelson/Shutterstock
As we have found over the past few decades, no person or thing is off limits when it comes to Kanye West's sometimes problematic and shocking commentary. He has been criticized for anti-Semitic comments and even started a rumor that Pete Davidson had AIDS. For better or for worse, West wears his heart on his sleeve. Given the popularity of his music, fans and onlookers alike have wished that West would make himself less controversial. In other words, fans want the "old Kanye" back. Davidson even comedically wore a hat stating "Make Kanye 2006 Again" on "Saturday Night Live" in 2018 after West was consistently seen wearing a "Make America Great Again" hat.
"Friends" alumn Courteney Cox is another public figure who would like the old Kanye back. She posted an Instagram video with a lighthearted dig at West after he brought up an old tweet that stated "'Friends' wasn't funny" in an Instagram caption. West has since deleted the Instagram post, but not before Cox got her hands on it. 
Kanye West claims that he did not tweet ''Friends' wasn't funny'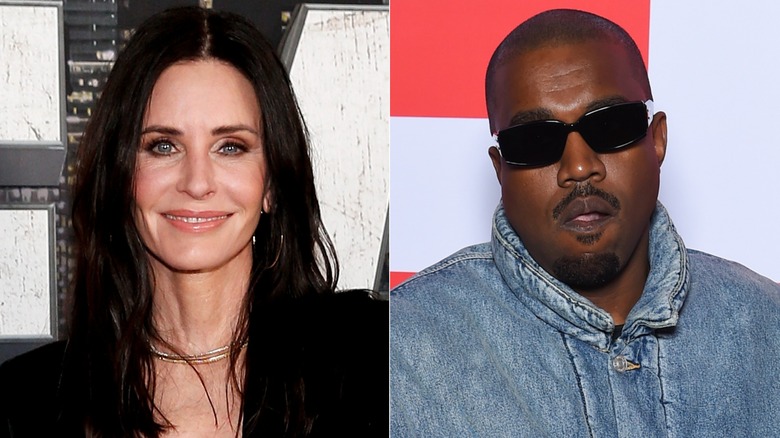 Dominik Bindl & Stephane Cardinale - Corbis/Getty
In 2020, Kanye West tweeted "Friends wasn't funny either," but later deleted it. In a 2022 Instagram caption, he claimed that he was not the one behind all of his past tweets. "This was not from me someone copied my style of text and wrote something not funny. I know you guys gonna be disappointed, but I actually didn't write the tweet that said, "Friends' wasn't funny either.' But I wish I had. I'd love to know who thought of that," West stated.
In response to West's post, Courteney Cox posted an Instagram video of herself listening to West's song "Heartless" while looking at her phone. She then turned her phone to show that she was reading West's aforementioned Instagram caption and focused the video on the "'Friends' wasn't funny" sentence. The "Scream" star raises an eyebrow and turns off the song. She captioned the video with "I bet the old Kanye thought 'Friends' was funny."
Kanye West received around 60,000 votes in 2020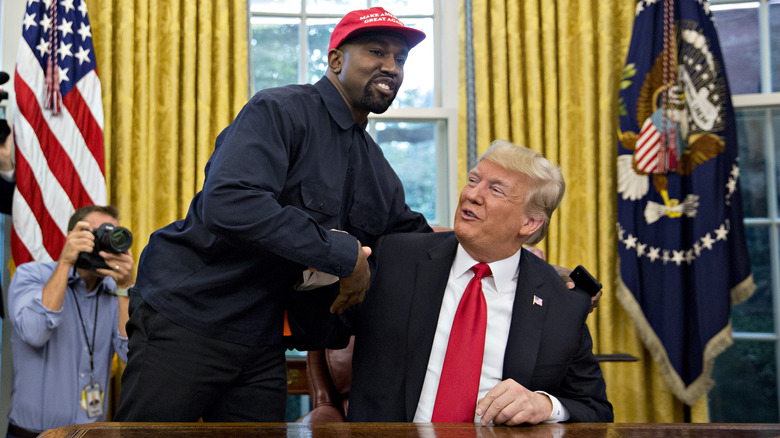 Bloomberg/Getty Images
Fans believe that Kanye West originally posted the tweet in response to "Friends" star Jennifer Aniston's Instagram post of herself dropping off her ballot for the 2020 presidential election. In the caption, Aniston stated that she voted for Joe Biden and running mate Kamala Harris. The "Murder Mystery" actor urged others to vote as well and concluded by stating, "PS — It's not funny to vote for Kanye. I don't know how else to say it. Please be responsible."
West was on the 2020 presidential election ballot as an independent candidate in 12 states. He received about 60,000 votes in total. Unlike former President Donald Trump, West did not seem to question the validity of his votes or the election as a whole, tweeting "WELP." The "Stronger" singer appeared undeterred. He deleted the "WELP" tweet, but later posted "Kanye 2024." However, as of 2023, it seems that West has decided to shift his focus away from presidential bids. West told the Daily Beast that he is "concentrating on the school, The Donda Academy, and my new wife, and my kids."