Every Detail Of Hallmark's 2024 Christmas Cruise Ranked (Because We're Elfin Excited)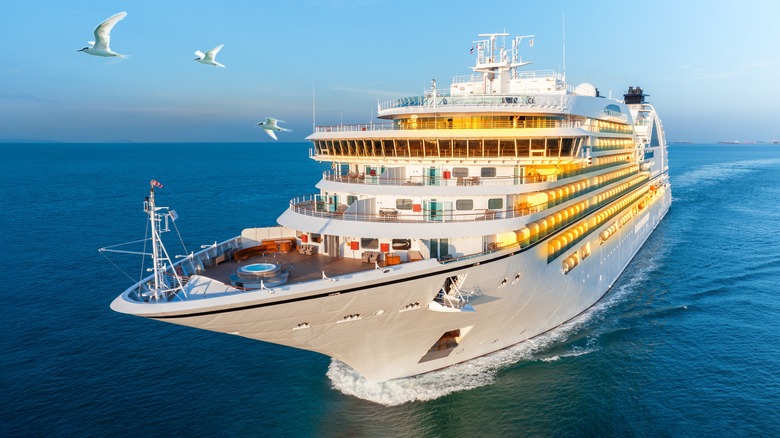 GreenOak/Shutterstock
Is the Hallmark Channel must-watch television for you? Do you mark your calendar for the premiere dates of their Christmas movies? Do your eyes well up every time the romantic leads share a kiss — even though you knew perfectly well from the start it was going to happen? Then you've probably already booked your stateroom for the brand-new Hallmark Channel Christmas Cruise.
Similar to similar themed experiences for "Schitt's Creek" fans, country music loyalists, and Disney aficionados — really, there's a cruise for just about any interest you can think of — the four-day excursion on the Norwegian Gem sold out so quickly in its presale that Hallmark soon announced a second sailing. Hopefuls on the first cruise's waitlist will get the first shot at reserving a space on Sail 2 when the presale begins Aug. 7, 2023. Everyone else will have to wait anxiously for the leftover reservations when general sales begin on Aug.10, 2023 (and good luck with that). Oh, and did we mention that both trips are for November 2024, more than a year away from the onsale dates? 
Naturally, guests will get to enjoy some sightseeing in Nassau, Bahamas, on the only shore day of the trip. But the whole point of going on this particular cruise is to schmooze with fellow fans and freely indulge one's love of all things Hallmark and Christmas without fear of ridicule. Here, we've ranked the most exciting parts of this holiday on the high seas. Wait — isn't that the title of a Hallmark movie?
#5: Relaxing with some Hallmark vino
Over the decades, Hallmark's reach has gone far beyond greeting cards and tree ornaments. The brand now includes clothing, jewelry, kitchenware, food — Hallmark Christmas in July cranberry hibiscus iced tea mix, anyone? — and even wine. Yes, the Hallmark Channel has its own custom wine line, all themed to either a season or to the Christmas spirit. (Holly and Jolly are red and white blends, respectively; Jingle is a Cabernet Sauvignon, and Joy is a Sauvignon Blanc.) Passengers who enjoy booze with their cruise can opt to buy a spot at a tasting session on the second evening of the trip. Experts will offer a crash course on winemaking as they offer flights of Hallmark-exclusive varietals like Autumn Dreams and Spring Blossom. 
One of the channel's wines was even inspired by a Hallmark movie, "The Perfect Pairing." Per IMDb, the 2022 offering featured Nazneen Contractor as a snobbish food and wine critic who loses her memory after an accidental slip and fall at a winery. Forgetting she once wrote a scathing review of the place, Contractor stays and gets to know the winery's owner. Naturally, love blossoms among the vines. The Perfect Pairing Sauvignon Blanc is a sweet ice wine made from frozen grapes, and it sounds like a perfect way to end a relaxing night at sea.
#4: Singing Christmas karaoke
Lacheev/Getty Images
Hallmark Channel is inviting their Christmas Cruise passengers to bring along their singing voice and leave behind their inhibitions. One of the first-day highlights of the excursion is a "Christmas Carol-oke." The microphone will be there for the taking, and the karaoke machine will be fully loaded with classic holiday numbers. All are welcome to perform, whether you're a soloist crooning a soulful "Have Yourself a Merry Little Christmas," or part of a friend group belting out "Rockin' Around the Christmas Tree." We're betting there'll be a magnificent rendition of "O Holy Night" by someone who really should be hired as a ship performer. And count on at least four efforts at "Jingle Bell Rock," with each one getting a little drunker and giggly than the last. (There's a reason this event has been scheduled for a late-night time slot.) But let's hope no one tries their hand at "Grandma Got Run Over by a Reindeer." That song totally goes against the Hallmark Channel spirit.
#3: Holiday traditions galore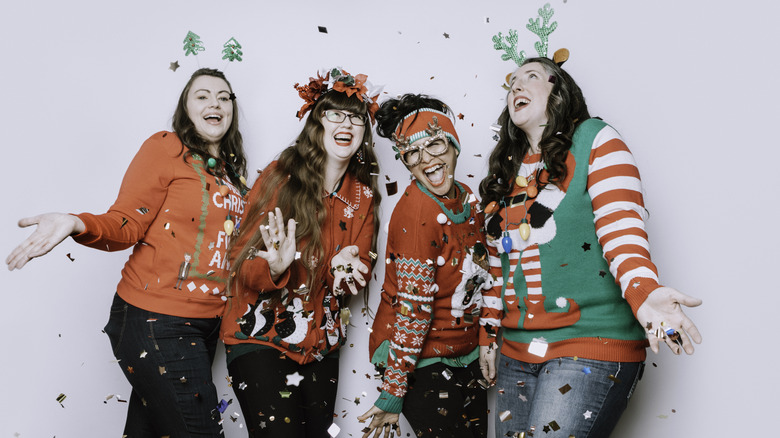 Ryanjlane/Getty Images
The weather outside may be delightful — it's a tropical vacation, after all — but on Hallmark Channel's cruise, it'll begin to look a lot like Christmas. Guests will have ample opportunity to indulge in their favorite holiday traditions on all four days. Shortly after the ship leaves port in Miami, the fun begins with a tree-lighting ceremony. Highlights on the second day include a cookie decorating session (don't skimp on the icing and sprinkles!) and a late-night Hallmark movie marathon. (Hopefully, passengers will be able to watch while sipping some of the Hallmark wine they tried earlier in the evening.)
The following day will be spent exploring Nassau, then it's back on board to put on your, um, best gaudy Rudolph pullover for the Ugly Sweater Contest. As the Norwegian Gem heads back toward Florida, creative guests will be putting together Christmas crafts to take home as a souvenir of a memorable time. And these are only the activities we know of so far; Hallmark is promising to announce "sooo much more!" fun as the cruise dates get closer.
What will make these events truly special is the opportunity to share them with friends and fellow guests who love the unabashed sentimentality of the Hallmark Christmas brand. Who else would muse with you on whether the shipboard tree is as spectacular as the one in "You, Me & the Christmas Trees"? And who else would empty a tissue box with you while watching a Hallmark marathon?
#2: An exclusive Hallmark screening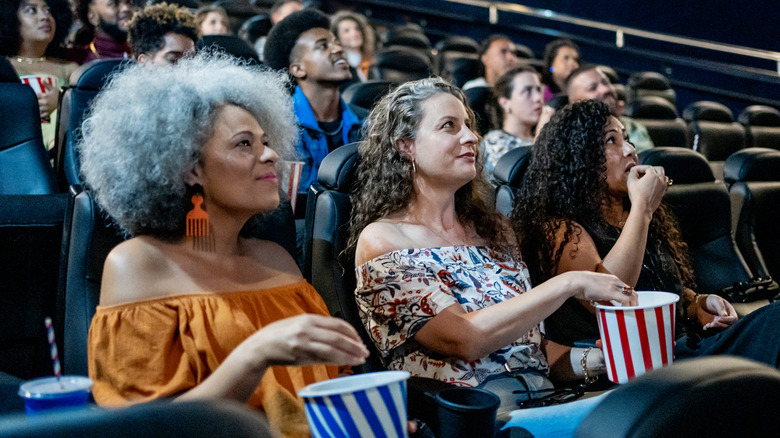 Drs Producoes/Getty Images
Movie nights just seem more fun when you're traveling on a cruise ship, and Hallmark Channel fans will have extra reason to load up on the popcorn: Both 2024 Christmas Cruise sails will feature a world premiere of a movie from their new "Countdown to Christmas" 2024 lineup. Guests are guaranteed a seat at one of three showings in the huge Stardust Theater, and they can make reservations online, meaning they won't miss out on pool time or cocktail hour because they're queueing up for tickets. 
The titles and stars of the holiday specials are still under wraps, likely because the scripts haven't even been written yet. It takes about a month to film Hallmark Christmas movies, and they're typically made in Canada the summer before their release. But we're already making our bingo card of likely plot points and locations, with "kissing in the snow" as the center square. ("Prince," "bakery," "singing carols," and "jaded big-city woman visits small town" should figure in there, too.)
#1: Lots of celeb ops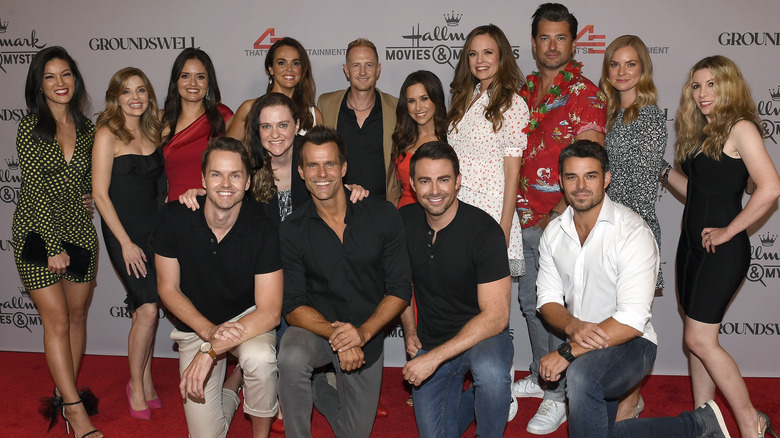 Michael S. Schwartz/Getty Images
All of these events are fun, but they're hardly unique: Any good luxury cruise will feature activities like entertainment, cooking lessons, drink sampling, and costume nights. The big draw for theme cruise passengers is the opportunity to meet and spend time with the celebs they love, be they Broadway veterans or cast members of all the "Star Trek" franchise series. So it is with the Hallmark Channel Christmas Cruise. Though the official guest list hasn't yet been released, expect to see a decent number of actors from some of the best Hallmark Christmas movies. 
Some may be popular stars who have appeared in numerous Hallmark releases (fingers crossed for mainstay Lacey Chabert, though no one's been confirmed yet); others may be featured players. Whatever the case, the cruise promises to provide photo ops, panel discussions, and even "onboard activities" with the performers. Lucky passengers might learn what it's like to complete a Hallmark movie in just a few short days or to film a snow scene in 85-degree weather while wearing a long wool coat. They might even find an actor like Maggie Lawson of "Christmas in Evergreen" joining them for cookie-baking fun. Those are the kinds of memories you can't make on a regular cruise — and these are the kind that will help make the Hallmark Channel Christmas Cruise an annual tradition.