The Real Meaning Behind What Was I Made For By Billie Eilish
Axelle/bauer-griffin/Getty Images
"I used to float / Now I just fall down / I used to know but I'm not sure now / What I was made for," Billie Eilish whisper-sings over a melancholy chord progression in the first few lines of her "Barbie" soundtrack hit, "What Was I Made For." The song beautifully concludes the film, playing as Barbie transforms from a doll to a woman and experiences a wide range of human emotions for the first time. In the lyrics, Eilish articulates the character's anxieties about losing her innocence and wondering what she's supposed to do next.
Although the singer and her brother and collaborator, Finneas, sat down to write a song strictly from Barbie's perspective, Eilish was also unknowingly writing about herself. Putting herself in Barbie's shoes served as a vehicle for her to tap into her own existential thoughts and feelings. She sings about feeling far away from her happiest self and not knowing how to move forward, but still having hope that she'll find her way in the end: "Think I forgot how to be happy / Something I'm not, but something I can be / Something I wait for." The song is arguably the crowning jewel on the film's soundtrack, but it's also just an A+ Billie Eilish single. 
The song is Billie's own story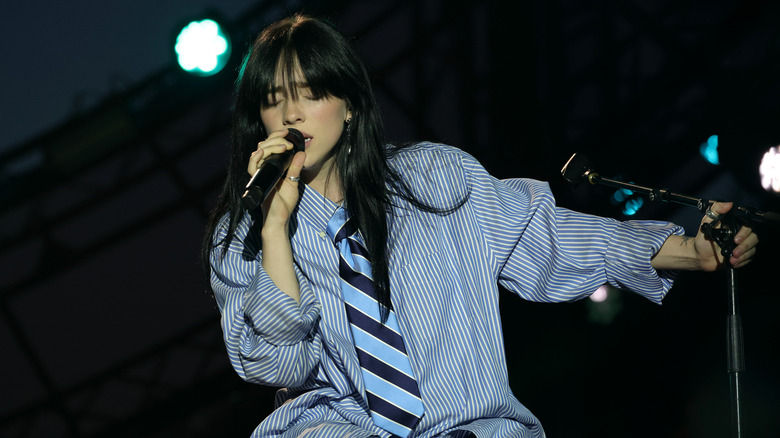 Kevin Mazur/Getty Images
When Greta Gerwig first showed Billie Eilish and Finneas the "Barbie" movie, the talented musical duo wasn't even sure if they would contribute to the soundtrack at all. However, they were so inspired after seeing the film that Eilish and her brother wound up writing most of "What Was I Made For" the very next evening. "We were purely only thinking about Barbie," the "Happier Than Ever" singer noted during an interview with Zane Lowe. 
After playing the song in the car and for other people, Eilish realized that the song actually captures her own life story and feelings — and that wasn't intentional. "It was truly the trippiest thing," the artist told Lowe. "I was like, oh, I absolutely was writing about myself, but I was thinking about myself from a third person." In the track, Eilish sings about mourning a past, happier version of herself and feeling unsure about the future and her purpose in life. With lyrics like "I was an ideal / Looked so alive, turns out I'm not real / Just something you paid for," she brilliantly describes both Barbie's wrestling with the real world and her own experience with pop stardom as a young woman.  
The music video features both Barbie and Billie looks
Billie Eilish was passionate about Barbie long before she saw Greta Gerwig's film. "Barbie was day and night, my life," she told Rolling Stone. "I made them do crazy things with each other and all that stuff." The singer shared some of her Barbie nostalgia in July Instagram Stories that featured throwback photos of a Barbie-themed birthday party she had as a child and a Barbie castle Christmas gift she received. 
Eilish made sure to incorporate her love of Barbie in the music video, which she self-directed herself. She created a vintage Barbie aesthetic with her pale yellow dress, intricate blonde wig, and the grainy, sage green background of the video. Eilish also marries Barbie visuals with images from her own past to portray the dual meaning of the song — throughout the video, she sits at a desk and sorts through miniature versions of iconic outfits she's worn throughout her career. (Some of the featured looks include her costumes for the "Bad Guy," and "When the Party's Over" music videos.) In "What Was I Made For (Behind The Scenes)," she explained, "It's all these past versions of myself that are me, and they're also not me...but they'll always be me." In the video, just like in the song, Eilish reflects on her younger self and asks questions about her identity, humanity, and future.