The Full House Co-Star Candace Cameron Bure Took To Her Prom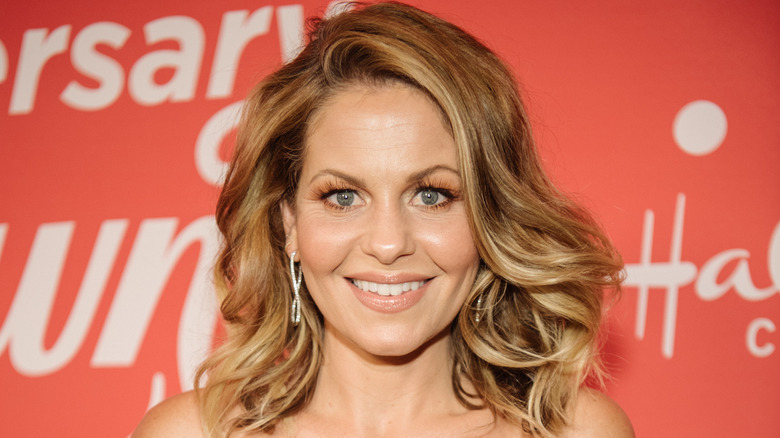 Morgan Lieberman/Getty Images
Candace Cameron Bure grew up on the set of "Full House," joining the show when she was just 11 years old. Since the series aired during Bure's school years, she was busy studying when she wasn't at work. She attended Chatsworth High School in Chatsworth, Los Angeles, California, and got to experience plenty of normal things that other non-famous kids got to experience — such as going to prom. But Bure didn't take a classmate to the school dance. Instead, she asked her "Full House" co-star — and on-screen boyfriend — Scott Weinger to be her date. 
In December 2016, Bure shared a throwback photo of the event. "#TBT to my real life senior prom with @scottweinger. Yup, this really did happen (Awwwww.)," she captioned the Instagram post. In the snap, she and Scott Weinger posed facing one another, his hand around her waist and her hand resting on his arm. Although the two looked quite cozy, they actually just went to the dance as friends. For years, many "Full House" fans shipped Bure and Weinger, and there were times that they toed the friendship line, but did they ever cross it?
Did Candace Cameron Bure and Scott Weinger ever date?
In a 2019 interview with TooFab, Candace Cameron Bure and Scott Weinger recalled attending the 1992 premiere of Disney's "Aladdin" together. Weinger had asked Bure to be his date to see the film, in which he voiced the title role, but admitted that he didn't realize how big of a deal it was. "I didn't realize it was like, they shut down Hollywood Boulevard," he said. Although Weinger said it was just a "casual thing," Bure admits that she was wondering if he liked her more than just a friend. "I remember kind of thinking, 'Scott and I are just friends and he invited me to the premiere. But is this a date or is it not.' I was kind of confused and didn't know and at 16 I wasn't about to ask," Bure told Weinger during the interview. 
Of course, those are completely normal feelings for teenagers to have, and while Bure now knows that "it was a date," she and Weinger didn't take their maybe feelings any further. According to Simplemost, Bure and Weinger never connected romantically in real life. "Full House" sort of still got their happy ending, however, because Steve and D.J. went the distance and tied the knot on an episode of "Fuller House."
Candace Cameron Bure and Scott Weinger's friendship has spanned decades
While still filming "Full House," Candace Cameron Bure met her now-husband, former NHL star, Valeri Bure, at the 3rd Annual Rock'n the Puck Celebrity Hockey Game, according to People. Meanwhile, Scott Weinger married television producer Rina Mimoun in 2008. Although the actors are both married and no longer work together, they have continued to stay in touch — and hang out whenever they get the chance.
In February 2022, Bure and Weinger reunited — and took a selfie together to share with fans. "Scott and Candace. Steve and D.J. Either way, my heart is full. We're cooking up something good," Bure captioned the Instagram snap. Based on the comments left on the photo, fans were overjoyed to see these two hanging out. Weinger shared the same picture on his Instagram feed, adding the caption, "So much fun hanging with my favorite DJ @candacecbure Talked for hours, felt like minutes," and adding the hashtag, #steejay, a mix of Steve and D.J., their two names in "Full House." Two months later, Weinger re-shared the aforementioned prom photo on Instagram and wished Bure a "Happy Birthday," and, in September 2022, he shared a throwback of him and Bure in honor of "Full House" turning 35. He ended his caption with "Love you DJ!" We just love these two!