Why Melania Trump Once Contacted Secret Service Over A Tweet About Son Barron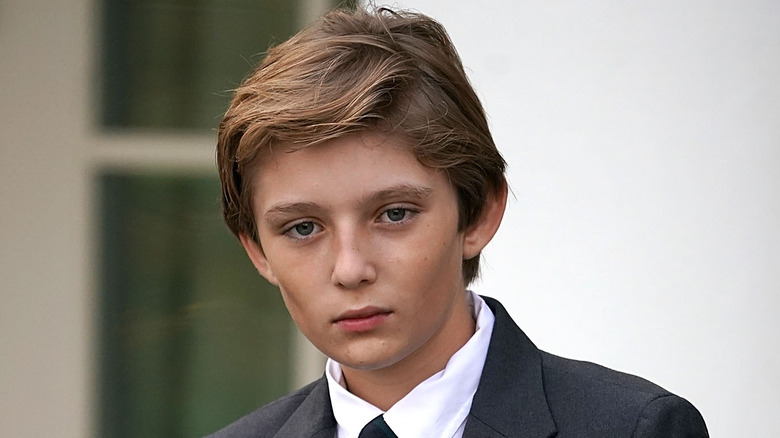 Chip Somodevilla/Getty Images
After Donald Trump was elected as the 45th president of the United States, the whole family knew that life as they knew it was going to change. Despite the fact that they were previously well-known celebrities who likely hired security in the past, the potential threats of being the first family were more serious — and they would have to learn to live with the Secret Service protecting them at all times.
For Melania Trump, making sure that her son, her husband Donald Trump's youngest, Barron Trump, was safe has always been a priority. "She is a doting mother to Barron and very protective of him," a source told People.
However, there was one time in particular when Melania contacted the Secret Service due to a concern over her only son. The call came after actor Peter Fonda sent out a tweet suggesting Barron be "put in a cage with pedophiles," according to The Hill. The message was loud and clear — and written in all caps — and was enough to make Melania take action to ensure her son's safety. The rest of Fonda's message was equally disturbing.
Peter Fonda deleted his tweet and issued an apology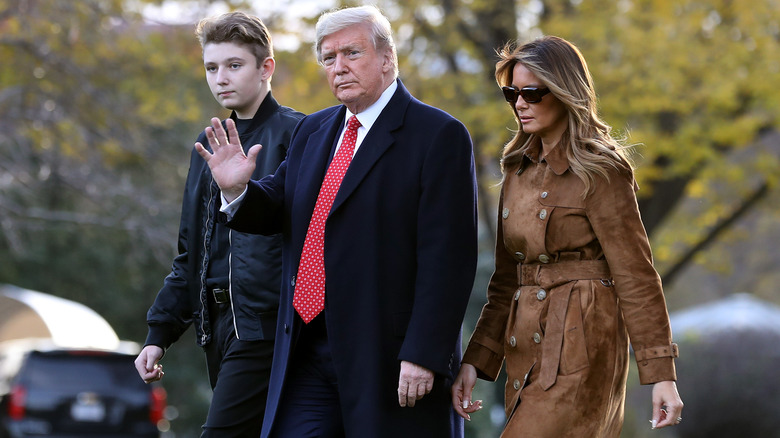 Chip Somodevilla/Getty Images
Peter Fonda was evidently feeling some type of way when he took aim at Barron Trump. "We should rip Barron Trump from his mother's arms and put him in a cage with pedophiles and see if mother will stand up against the massive giant a**hole she is married to. 90 million people in the streets on the same weekend in the country. F—," read Fonda's message (via The Hill). Fonda's message was in response to the new immigration policies set forth by the Trump administration.
A short while later, Melania Trump's spokesperson Stephanie Grisham confirmed that the Secret Service got involved to flesh out the situation and ensure that there was no threat to her son. Grisham called Fonda's tweet "sick and irresponsible," per the Daily Caller.
It didn't take long for Fonda to delete the tweet and issue an apology. Fonda admitted that his tweet was "highly inappropriate and vulgar" and that he "went way too far," according to the Associated Press. Fonda explained that his comment came from him being "impassioned" by what he'd been seeing on TV. "It was wrong and I should not have done it. I immediately regretted it and sincerely apologize to the family for what I said and any hurt my words have caused," he said.
Others have made inappropriate comments about Barron Trump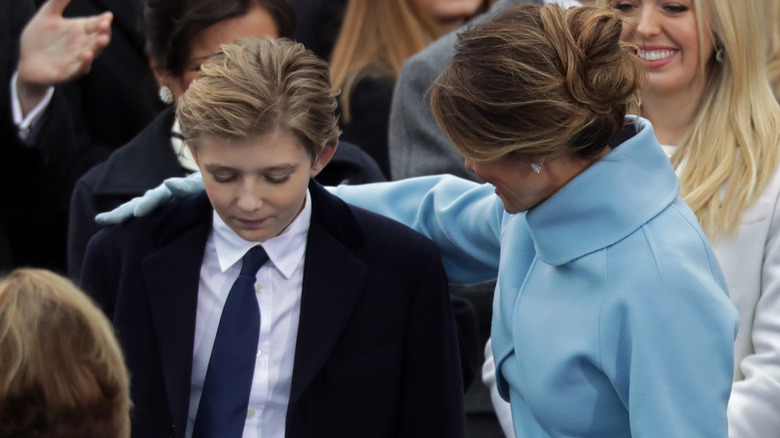 Chip Somodevilla/Getty Images
Peter Fonda wasn't the only person to ever take aim at Barron Trump. For example, during President Donald Trump's inauguration, "Saturday Night Live" writer Katie Rich tweeted that Barron would "be this country's first homeschool shooter," according to the New York Post. A few hours later, Rich deleted the message, but the damage had already been done. She was suspended from "SNL" and later issued an apology that still lives on her Twitter feed. "I sincerely apologize for the insensitive tweet. I deeply regret my actions & offensive words. It was inexcusable & I'm so sorry," she wrote.
The then-president commented on the ordeal in an interview with Sean Hannity. "It's a disgrace," he said, according to The New York Times. "He's a great boy. And it's not an easy thing for him. Believe me," he added.
While his dad was in the White House, Barron became an easy target for many celebrities, comedians, and media outlets. At one point, former first daughter Chelsea Clinton actually spoke out in his defense. "It's high time the media & everyone leave Barron Trump alone & let him have the private childhood he deserves," she tweeted in August 2017. With Donald running for a second term in 2024, we're hopeful that Barron won't become a target once more.