Tom Brady's Daughter Vivian Is Her Model Mom Gisele Bündchen's Mini-Me In New Photo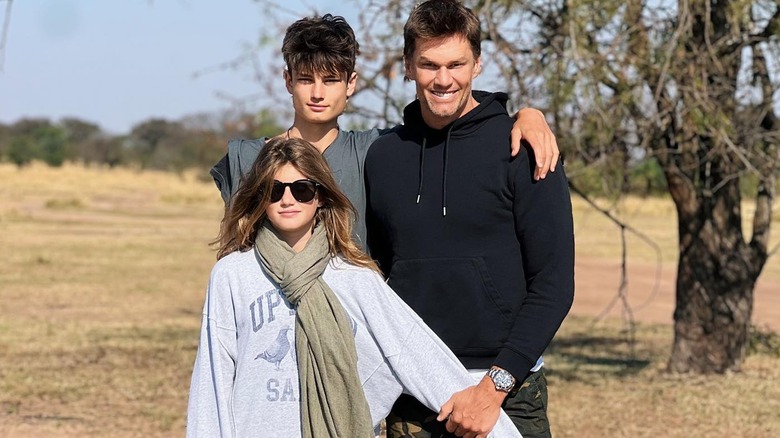 As it turns out, the apple doesn't fall far from the celebri-tree. Football star, Tom Brady, recently posted some photos on Instagram of his and his ex-wife Gisele Bündchen's children as they joined him on a vacation to Africa. While it's clear based on the photos and Brady's heartfelt caption that this famous family had an incredible trip, the beautiful scenery and Brady's reflective words about his recent birthday aren't what's leaving fans most in awe. Instead, folks who've seen the Instagram post are more focused on a certain uncanny family resemblance. 
We all know that Tom Brady and Gisele Bündchen's relationship didn't last forever; after 13 years of marriage, the pair announced their separation in October 2022. Still, despite the split, Brady still seems to have a Bündchen lookalike as the leading lady in his life. The pair have two children together, Benjamin Rein and Vivian Lake. While Tom Brady just celebrated his 46th birthday with an incredible trip, Vivian turned 10 in December, and despite her age, we can already see a resemblance between her and her supermodel mom.
Vivian Lake Brady looks just like her mom Gisele Bündchen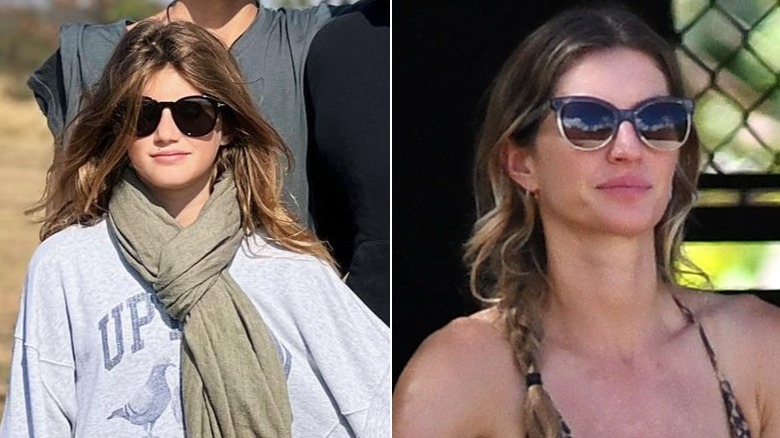 Mega/Getty & Instagram
It's easy to see that 10-year-old Vivian Lake Brady has inherited some of her dad Tom Brady's genes, but a side-by-side photo shows that her similarities to her mom Gisele Bündchen are uncanny. And, like her mom, it's clear that Vivian is just as glowing on the inside as she is on the outside. In an Instagram post for his daughter's 10th birthday, Tom addressed "Vivi," saying, "We adore you and your beautiful heart!"
In 2016, Tom talked about his soft spot for Vivian on "Entertainment Tonight," saying, "That little girl owns my day — owns my life," per People. "[I] cannot say no to anything. Whatever she tells her dad to do, that's what I do. That's just the way it goes," he added. It's clear that these two have a wonderful father-daughter relationship and that the whole fam had a great time on their summer vacation to Africa. And, while the comments may not be open on Tom's special Instagram post, we know what they'd look like if they were. There'd be plenty of commenters asking, "Is that a mini Gisele?!"