A Look At The Time Chip And Joanna Gaines Briefly Met Taylor Swift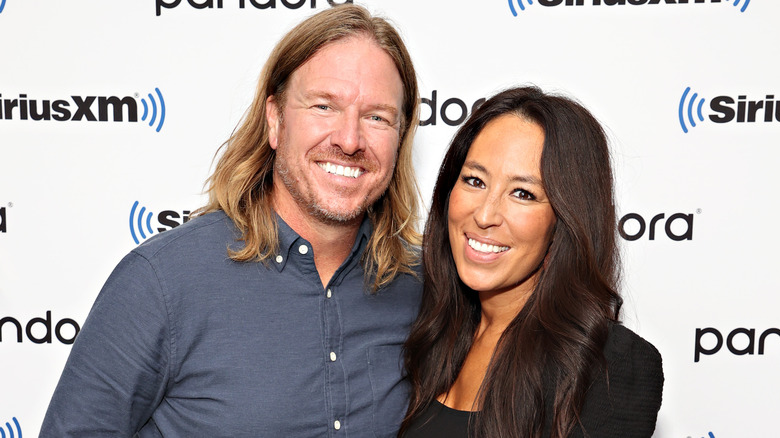 Cindy Ord/Getty Images
Chip and Joanna Gaines were hurled into public consciousness with their hit HGTV show "Fixer Upper" when it launched in 2013. While they started out as a married couple flipping houses in Waco, Texas, they've grown into a recognizable brand with a much bigger reach, launching their own television network and opening original storefronts.
With this growth and success comes new opportunities and experiences, including those associated with their unexpected fame. While the couple has been interviewed by big names like Oprah Winfrey and has worked with celebs like Jennifer Lopez, there's one star-studded experience that has really stuck with the renovation duo.
In an interview on "The Tonight Show Starring Jimmy Fallon," Chip and Joanna Gaines talked about their encounter with superstar Taylor Swift. While it was only a passing moment, it's one that's made a lasting impression on the couple, especially with Joanna being such a fan of the legendary singer.
Taylor Swift made an iconic gesture to Chip and Joanna Gaines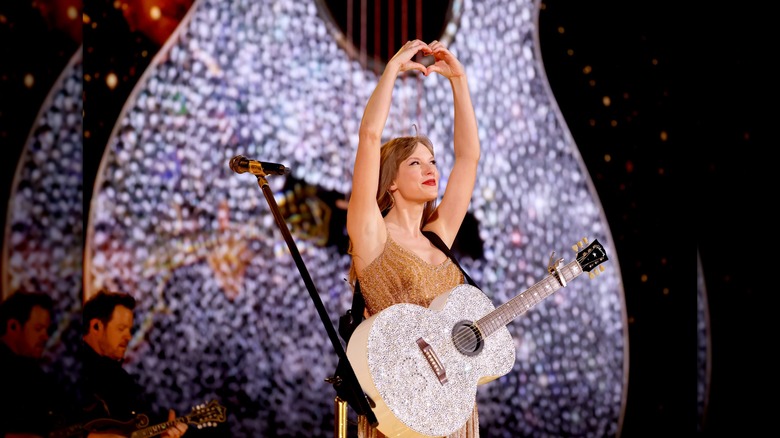 John Shearer/Getty Images
As mentioned, Chip and Joanna Gaines have opened up about their brief encounter with Taylor Swift during an interview with Jimmy Fallon. Chip provides the context for the story, setting the scene at Time Magazine's Time 100 Gala in 2019, an event hosting some of the most influential celebrities. "Everyone's mingling. There was The Rock, Martha Stewart. We were in awe. We were two kids from Waco, Texas." Joanna pipes in, adding, "What the heck are we doing here?"
Then, Chip picks the story back up. "And when you're sitting next to The Rock, and you see him gasp about this amazing creature, we were just like, 'Who in the world — who came in?' We weren't even paying attention. Taylor Swift rolls in. She kind of catches eye contact with, I thought, me. But Jo swears to this day it was her. This is true. And she goes like this to us," he says, making a heart shape with his hands.
Being in a big audience, Joanna explains that they were convinced that Swift was making the gesture at someone else, so they initially looked over their shoulder until they realized the superstar was potentially engaging with them. "It made our day. We were thrilled. We were smitten," Chip explains.
Joanna Gaines is a known Taylor Swift fan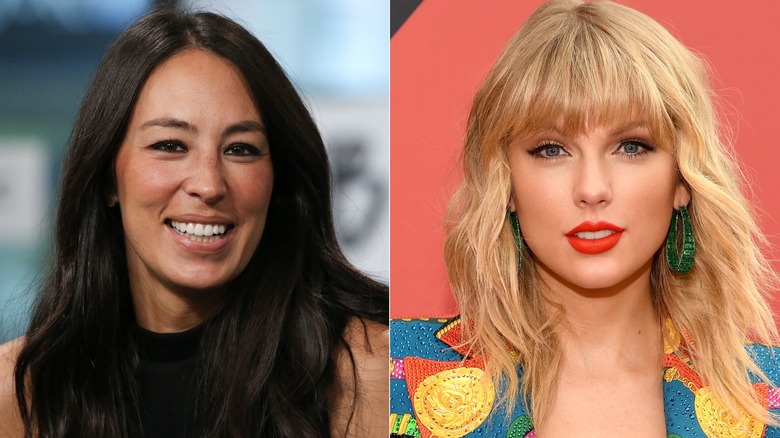 Kevin Mazur & Rob Kim/Getty
Even though their encounter with Taylor Swift was only a passing moment, it really stuck out to Chip and Joanna Gaines as known Swifties. "She sends us these little gift baskets whenever she releases one of her albums. So, we're like huge Taylor Swift fans," Chip tells Jimmy Fallon in the interview.
In an interview with Variety, Joanna similarly talks about her love for Taylor Swift, discussing her 2022 album "Midnights." "I listened to it the day it came out. She actually sent me some sweats and her [Midnights] vinyl, so I was very excited," she says. "The girls fought over it, so we kind of rotate. We've got the hoodie and the sweats and it's like every other week [we rotate]."
House Beautiful also reported on Joanna's rush to make a Taylor Swift Eras Tour concert in April 2023. After attending a panel at the High Point Furniture Market in North Carolina, the interior designer hopped on a plane to make it to the concert in Houston, Texas, taking to her Instagram stories to commemorate the experience. In this way, we can really see why Chip and Joanna's brief encounter with Swift really made a lasting impact.