How JFK And Jackie Kennedy's Marriage Changed After Son Patrick's Death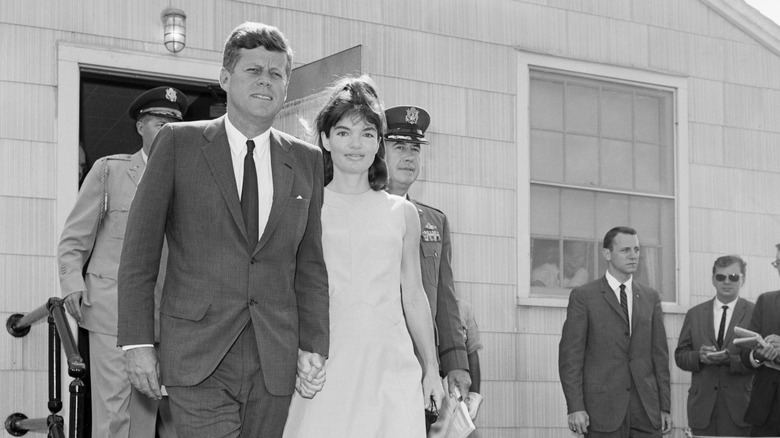 Bettmann/Getty Images
John F. Kennedy and Jacqueline Kennedy Onassis were married just over 10 years, a relatively short span of time considering the tragedies the couple experienced. On August 7, 1963, the couple's second son, Patrick Bouvier Kennedy, was born 5.5 weeks premature at Otis Air Force Base. Patrick had difficulty breathing and was diagnosed with hyaline membrane disease (now renamed respiratory distress syndrome). At the time, there weren't a lot of treatment options available. 
JFK traveled with Patrick when he was he was transferred to Boston Children's Hospital, while Jackie stayed behind to recover from her c-section. Before they left, Jackie held her baby's hand while he was in an incubator. The president tried to be optimistic about the situation. Their older son, John F. Kennedy, Jr., had trouble breathing at birth. Air was manually blown into his lungs to assist breathing.
Sadly, Patrick's breathing difficulties were more significant, and he died after 39 hours while JFK held him.Jackie remained in the hospital for a week, and the president spent considerable time visiting and grieving with her. When Jackie was discharged, she and JFK held hands as they walked to their car. This gesture demonstrated a shift in their dynamic. "Prior to this, they were much more restrained and less willing to express their close, loving relationship while out in public," Secret Service agent Clint Hill wrote in his memoir, according to Steven Levingston's book, "The Kennedy Baby" (via The Salt Lake Tribune). "The loss of Patrick seemed to be the catalyst to change all that."
JFK was more empathetic by the time Patrick was born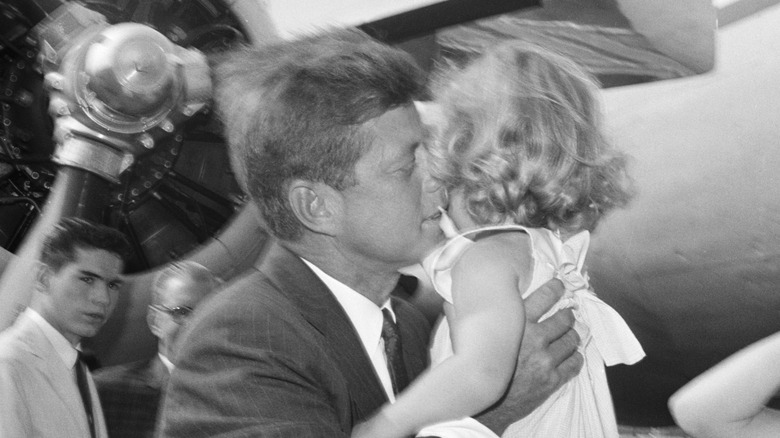 Bettmann/Getty Images
Jacqueline Kennedy Onassis had five pregnancies during her marriage to John F. Kennedy. The first, in 1955, ended in a miscarriage. In 1956 Jackie was pregnant again and gave birth to a stillborn daughter. The baby arrived a month early while JFK was vacationing in the Mediterranean. The then-senator got the news three days after the birth and was inclined to stay put. As recounted in "J.F.K.'s Last Hundred Days" (via Vanity Fair), JFK was reportedly only motivated to go home to Jackie after George Smathers, his friend and fellow senator, advised, "You'd better haul your ass back to your wife if you want to run for president," per 
In contrast, when Patrick Kennedy was born in 1963, JFK had the experience of parenting Carolyn Kennedy and John F. Kennedy, Jr. This time the president was more empathetic. He ensured Jackie wouldn't have access to TV in her room so she wouldn't hear about her baby's death from the media. While staying overnight at Boston Children's Hospital to be closer to Patrick, the president also reached out to a fellow parent by writing a note: "Keep up your courage. John F. Kennedy," per "J.F.K.'s Last Hundred Days." In addition, after Patrick's death, JFK provided his presidential signature for a $265 million grant ($2.1 billion today) focused on newborn research. Due to these efforts, babies today who are born 5.5 weeks premature (like Patrick was) have a 95% chance of surviving.
The president was more willing to include Jackie in his work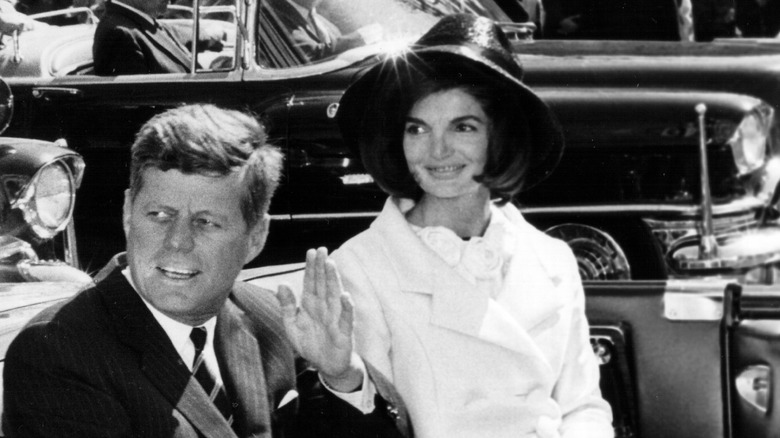 National Archives/Getty Images
While John. F. Kennedy grieved the death of his younger son, Patrick Kennedy, he also endeavored to focus on his role as president of the United States. "Jackie, we must not create an atmosphere in sadness in the White House, because this would not be good for anyone—not for the country and not for the work we have to do," he explained to Jacqueline Kennedy Onassis in her hospital room, according to "J.F.K.'s Last Hundred Days." Jackie was heartened at her husband's decision to include her in his work. The president also committed to increased family time, making frequent trips from D.C. to New England to be with Jackie and his children.
Three months later, JFK asked Jackie to accompany him on a trip to Dallas. Tragically, this led to Jackie being next to her husband when he was assassinated on November 22, 1963. Amid her grief, the then-first lady decided to continue wearing her bloodstained clothes so that the public could see the evidence of her husband's death.
Losing JFK had been on the first lady's mind 15 weeks before when Patrick died. Jackie was never the same after JFK died, and her grief for her husband's and son's deaths was inextricably intertwined. "I could have made his life so much happier, especially for the last few weeks. I could have tried harder to get over my melancholy," Rev. Richard T. McSorley's diary quoted Jackie (via The Washington Post).