Why Chip And Joanna Gaines Almost Lost The Opportunity To Be On Fixer Upper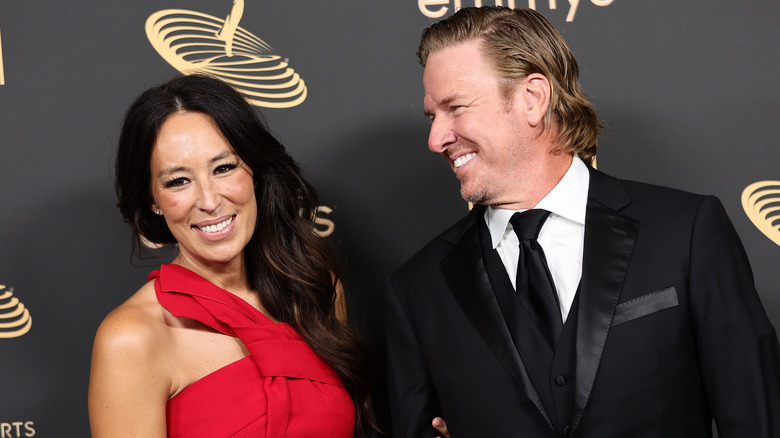 Matt Winkelmeyer/Getty Images
We may receive a commission on purchases made from links.
Chip and Joanna Gaines are synonymous with "Fixer Upper." Could you imagine another couple hosting the super-popular HGTV show? Well, there certainly could have been two entirely different people renovating homes in the Waco area had Joanna not been able to get her husband on board. In the duo's book, "The Magnolia Story," Joanna detailed how Chip immediately denounced "Fixer Upper" as a scam. 
Though the show was little more than an idea at the time, Katie Neff, a producer, called Joanna out of the blue and pitched it as a unique home renovation concept because the hosts would also be a married couple. Joanna shared how Neff said, "You and your husband work together, not only do you sell homes, but you also flip and renovate them." We can just see Joanna excitedly bringing up the opportunity to Chip at the dinner table. 
She was likely thrilled that Neff had found them through pictures of Joanna's designs featured on a popular blog. But Chip wasn't as eager as his wife, telling her simply, "Don't call them back." Chip confessed how high school colleagues had once been part of a scam regarding modeling headshots that cost them thousands of dollars. Afraid of being promised great things that were never to be delivered, he thought they should pass.
Joanna convinced Chip to take the plunge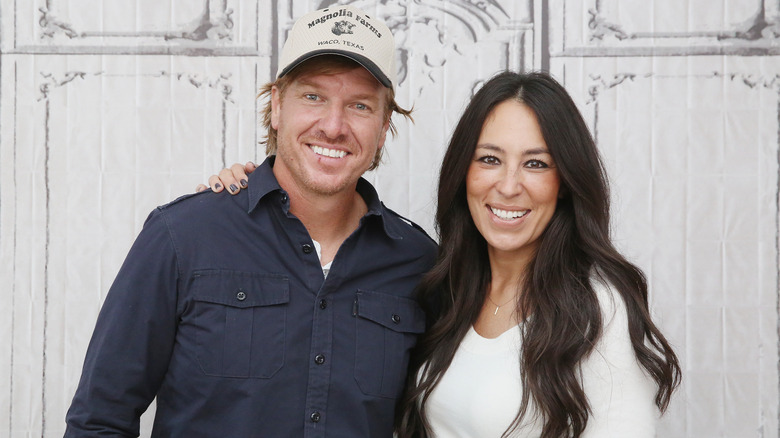 Mireya Acierto/Getty Images
Fortunately, Joanna Gaines was eventually able to sway her husband. And, within a few weeks, the pilot episode was being filmed at their home. However, things didn't go exactly as planned. Chip Gaines wrote that when the filming crew attempted to grab some footage of the couple, things got awkward. "My mouth was all dry and I couldn't think straight, and Jo was a little dull," he said. Joanna agreed, "Chip and I were horrible. We were scared of the cameras," continuing, "It certainly didn't feel natural, and it definitely wasn't any fun." 
For a moment it looked like "Fixer Upper" was in danger of not coming to fruition once again. Joanna noted that the head of the camera crew actually confessed to them that if the couple didn't make something happen fast the show wouldn't continue. Chip and Joanna, having never imagined themselves on reality television, weren't exactly upset but their future plans were about to change. 
Joanna noted in their book that "the very next morning, the houseboat arrived." For those unfamiliar with the show, Chip surprising Joanna with a houseboat purchased sight unseen and full of holes that he thought would be their new home was quite the ordeal. After an afternoon of shock, a bit of arguing, and Chip being his charismatic self, the Gaines assumed they had no hope of being on HGTV. The cameraman thought otherwise, telling them, "If I do my job, you two just landed yourself a reality TV show." 
Fixer Upper proved to be a massive success
The head of the production company relentlessly promoted their show until HGTV signed a deal meaning the arrival of the houseboat on the last day Chip and Joanna Gaines were filming the initial test scenes turned out to be a life-changing afternoon for the couple. To be sure, Joanna's designs are stunning, and her husband could charm the pants off anyone, but their TV deal catapulted them to success. 
According to Country Living, by 2016 (just three years after the pilot aired), "Fixer Upper" was already the most successful show HGTV had ever aired. Millions of viewers tuned in to watch the enigmatic couple renovate homes and have fun as a family. It's also been reported that the Gaines earned around $30,000 per episode (definitely not a scam then, Chip).
After being a mainstay on the network for five years, the couple's final episode aired in 2018. But taking producer Katie Neff's call continued to pay off as they launched Magnolia, an entire brand devoted to all things Gaines, "Fixer Upper," and just beautiful living in general. Kudos to "Jo," as Chip sweetly calls her, for taking a leap and trusting her gut for the both of them!