Ivanka Trump's Summer Of Fun Continues In New Video From Mets Batting Cages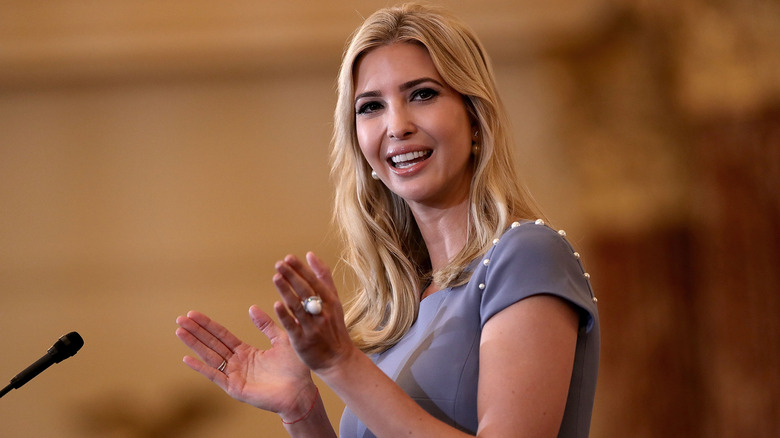 Win Mcnamee/Getty Images
Considering how much backlash she endured after taking on a role as one of her father's senior advisors, it's no surprise that Ivanka Trump has changed in almost every way since her White House exit. The former first daughter and her husband, Jared Kushner, were heavily criticized after being gifted high-ranking positions for which political commentators and the American public alike didn't believe they were qualified. 
As author Jill Filipovic argued in an interview with NPR, the businesswoman was essentially utilized to put "a pretty face, and a palatable face on what's a very, very ugly and very misogynist administration." However, amidst her father's mounting legal issues, Ivanka is nowhere to be found. Instead, she's been enjoying a summer filled with family fun, including a trip to the Mets batting cages where she showed off her impressive skills. 
"Pre-game warm up with @polarpete20 and @bnimmo24 was Amazin' ! Let's Go Mets!" the former first daughter wrote in the caption of the clip. She and Kushner are known to be huge Mets fans, with Page Six reporting on the couple's sweet PDA at the game, which they attended alongside their two young sons. Evidently, Ivanka isn't letting her father's legal woes rain on her parade. 
The former first daughter is reveling in her post-White House life
Ivanka Trump is making every last drop of the sunshine count, frequently sharing her fun summer activities with fans on Instagram. In May, she posted stunning photos from a romantic trip to Greece with her husband, Jared Kushner. In June, Ivanka shared a pic of her smiling widely while carting a surfboard around in Costa Rica and later hopped over to Ibiza to enjoy some quality time with Kushner (the couple also managed to squeeze in some partying during their time on the lively island). The following month, she even took helicopter flying lessons, impressing followers enormously. 
Notably, Ivanka looks considerably happier than she did throughout her father's White House tenure. The former first daughter opted not to be part of Donald Trump's 2024 campaign, explaining in a statement around the time he announced his candidacy that she wanted to "prioritize my young children and the private life we are creating as a family," (via Fox News). Ivanka did promise to continue supporting her father as a regular citizen, though. 
Donald is facing a number of criminal charges related to his attempts to overturn the results of the 2020 presidential election. He's set to stand trial in January 2024, though his lawyers are expected to delay it as much as possible. The former commander-in-chief's family has been notably silent throughout this latest debacle, and it seems Ivanka isn't planning to change tacks any time soon especially if this latest footage of her enjoying family time is any indication.