Melania Trump Was Miffed When This Magazine Refused To Feature Her On Its Cover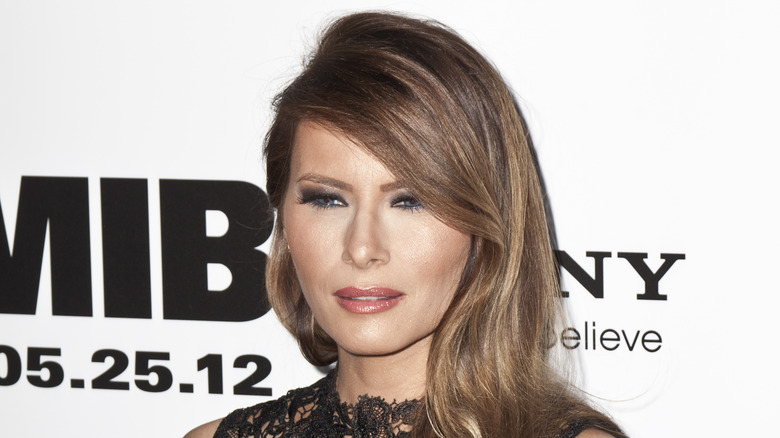 lev radin/Shutterstock
Before becoming a First Lady, Melania Trump found success as a model. She has graced several magazine covers, including that of Harper's Bazaar Bulgaria and Vanity Fair Italy. In 2005, she was even profiled on the front of Vogue, showcasing her stunning white satin Christian Dior wedding gown. British Vogue would also dub her luxurious garment "Dress of the Year." Yet, oddly enough, after Melania and her husband, Donald Trump, entered the White House, she was not featured on the prestigious publication's cover as other First Lady's had. 
According to the often elusive Be Best founder, the snub was intentional, suggesting Vogue purposefully singled her out. Additionally, a seemingly rocky relationship between Melania and Vogue Editor-In-Chief Anna Wintour could also be at the center of Melania's lack of features in the magazine. No matter the reason, the affluent wife was not pleased with how her association with the outlet had seemingly soured over the years.
Melania Trump felt that Vogue Magazine was biased
Evan El-Amin/Shutterstock
Former First Lady Michelle Obama landed the cover of Vogue in March 2009. Vice President Kamala Harris was honored with a cover in February 2021. Her friend, and wife of President Joe Biden, Dr. Jill Biden, received her own profile in the magazine in June 2021. Years prior, in 1998, Hillary Clinton became the first First Lady on the cover of the renowned fashion journal. Unfortunately, despite Melania's stunning transformation as a White House resident, the ex-runway beauty has not joined this list of accomplished women to receive such an honor. During her first post-White House interview, Melania Trump did not mince her words when discussing the reasons behind her lack of support from the company.
"They are biased, and they have likes and dislikes, and it's so obvious. And I think American people and everyone see it," she explained during her sit-down with "Fox & Friends Weekend" in May 2022. Melania's frustration with Vogue initially came to light in 2018. That year, her former friend and aide, Stephanie Winston Wolkoff, recorded her seemingly upset that singer Beyonce was chosen for the cover instead of her. However, a rep for Melania blew off the conversation, one of six taped phone calls released by Wolkoff in 2020.
There may be a feud between Melania Trump and Anna Wintour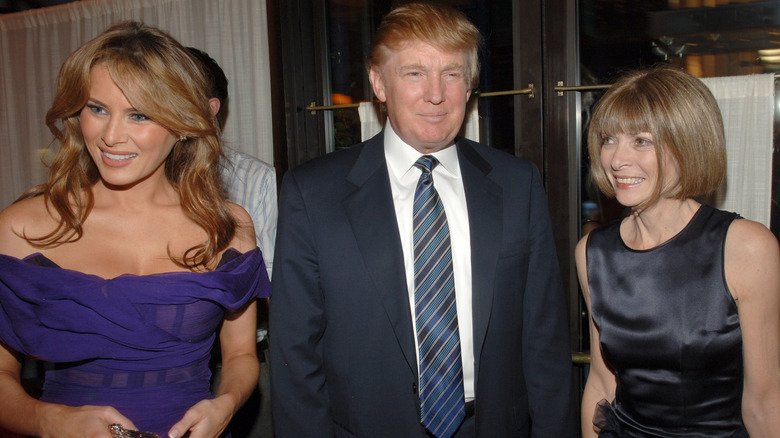 Stephen Lovekin/Getty Images
Melania Trump's fallout with Vogue may be more personal, stemming from her strained relationship with shot caller Anna Wintour. According to Melania's ex-friend and former Vogue employee, Stephanie Winston Wolkoff, the child advocate was actually extended an invitation to be featured in the magazine. In her tell-all memoir "Melania and Me: The Rise and Fall of My Friendship With the First Lady," Wolkoff revealed that the outlet wanted famed photographer Annie Leibovitz to shoot Melania in 2017, with longtime writer Rob Haskell crafting a piece on the socialite. However, Melania declined after learning she would not be guaranteed the cover.
The year before Melania turned down the offer, she had an odd run-in with Anna Wintour, who visited the Trump Tower in New York. A separate book, "Anna: The Biography," written by journalist Amy Odell, alleges that Wolkoff witnessed Melania act cold towards the editor because she wasn't unaware she was coming to their home. Instead, Wintour reportedly organized the visit with Donald Trump's daughter, Ivanka. During a 2019 podcast interview with Anne McElvoy, Wintour also gloated over Michelle Obama when asked what she admired about Melania's wardrobe, meticulously disregarding the First Lady of that time. Judging by these women's noticeable disdain for one another, it's safe to assume that Melania may not get her Vogue cover if her husband secures a second presidential term.