Bobby Berk Suffers Heartbreaking Loss Of His Beloved Dad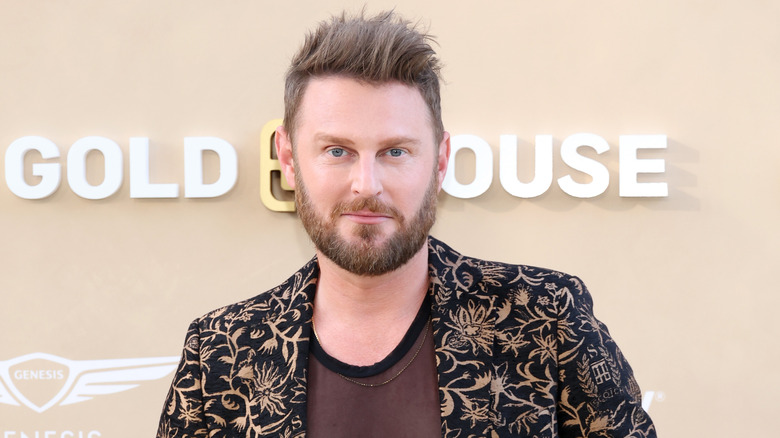 Monica Schipper/Getty Images
Losing a parent is always a life-changing blow, no matter what the circumstances or relationship. Sadly, "Queer Eye" star Bobby Berk can attest to that. The interior designer shared a heartbreaking post on his Instagram feed on August 10, 2023, announcing that his father had died. "RIP Dad. Can't believe you're gone," Berk wrote. "We didn't always have the most in common or understand each other but I always knew you loved me. You taught me the value of honesty and hard work and without you I wouldn't be where I am today. I love YOU." Per People, rancher Jerry Berk was actually Berk's biological uncle; he and wife Connie adopted their nephew because his teen mother was unable to raise him.
Berk's post was immediately met with messages of sympathy from fans and celeb friends, including "Beverly Hills 90210" alums Tiffani Thiessen and Jennie Garth. But perhaps the most meaningful support came from fellow entertainers from the LGBTQ+ community, including "Encanto"'s Stephanie Beatriz, "Crazy Rich Asians"' Nico Santos, and Colton Brown-Underwood, the first "Bachelor" alum to identify as gay. Carson Kressley, one of the OG "Queer Eye" cast, also sent condolences and added, "I know how you feel." Their outreach surely meant the world to Berk, who once wondered whether his family and the wider world would ever love him for who he was.
Bobby Berk made peace with his father
"Queer Eye"'s Bobby Berk is now free to use his platform for political and social awareness, but as a boy growing up in rural Missouri, he wasn't even free to speak out about his sexuality. His conservative church held extremely anti-LGBTQ+ views, preaching that gay people were an evil sin against God. "I left home at 15 for a bunch of reasons, but the biggest was that I was gay and I didn't feel I could come out in my small town," he told The Scott Brothers in an interview. "I was already hearing that I was never going to be anything, that I was wrong, and that I was broken." 
Berk moved to New York where, after a series of failed jobs, he launched his own design company in 2006. His career trajectory shot up from there and led to his becoming one of the new Fab Five of the "Queer Eye" revamp. Better still, Berk has resumed a loving relationship with his family and had made his peace with his father long before Jerry Berk's passing. "Things are great now. We reconciled years ago," Berk said in a 2020 interview with Attitude. "They just needed some time to figure out what they believed without the church."
Plenty of fans said they relate to Berk's situation. One wrote, "I've been through this. Bobby...Even when the relationship is complicated, it's a huge loss and I'm sorry." Another said, "I can commiserate with the emotional rollercoaster you are on right now."