The Rumor Tom Cruise Wants People To Stop Believing About Him
Mike Coppola/Getty Images
Tom Cruise is certainly no stranger to the rumor mill. The combination of the actor's A-list status and mysterious disposition has intrigued and inspired the world of celebrity gossip for decades. Still, despite how well-acquainted the movie star may be with having his name in the tabloids, that doesn't mean that he finds it easy to ignore every rumor he hears about himself.
The longtime actor has been gracing our screens since 1981, and while he's known for doing his own stunts and playing the role of the quintessential action hero, he's also found himself in the spotlight thanks to some big controversies over the years, like his high-profile romances and affiliation with the Church of Scientology. 
Still, since Cruise doesn't frequently address rumors about himself, we don't know which ones, in particular, get to the star. In the wake of press for "Mission: Impossible — Dead Reckoning Part One," however, we've got a chance to see a bit more of Cruise playing himself than we typically do. And, he's taken this opportunity to squash one rumor that he really doesn't like — the rumor that he is difficult on set.
Tom Cruise and his coworkers reject rumors that he's difficult to work with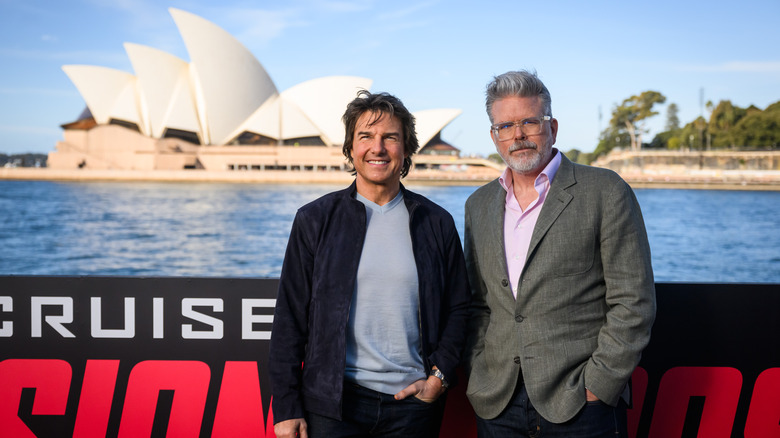 James Gourley/Getty Images
Christopher McQuarrie, director of "Mission: Impossible — Dead Reckoning Part One," spoke with the Times in July 2023 about his movie's leading man. He mentioned asking Tom Cruise which rumor that he'd heard about himself over the years was the "weirdest." McQuarrie shared that Cruise told him that a persistent rumor throughout his career suggested that folks he worked with "were not allowed to look me in the eye." Cruise and McQuarrie both insist that this couldn't be further from the truth, and it's clear that Cruise wants to tell his side of the story that has long been told about him.
Co-star Simon Pegg also jumped on the bandwagon to dispel this rumor, sharing that while Cruise certainly takes his craft seriously, he's really a regular guy at the end of the day. "On one side he's Tom Cruise — this enigmatic film star everyone wants to know about. And on the other, he's just a guy. I like being normal with him," Pegg explained. It's clear that when it comes to his work on "Mission: Impossible — Dead Reckoning Part One," Cruise wasn't just an action star; he was also a well-liked colleague.
Co-stars appreciate Tom Cruise's professional nature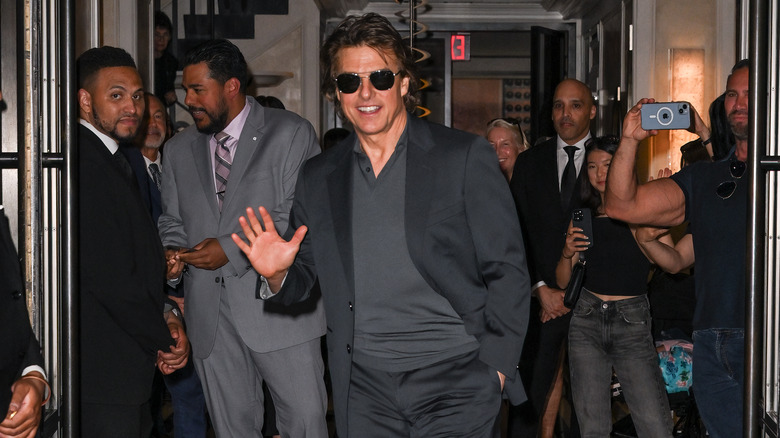 James Devaney/Getty Images
While it's clear that Tom Cruise's "Mission: Impossible — Dead Reckoning Part One" colleagues agree with his assertion that he isn't difficult to work with, this isn't just a new development that came as a result of the rumor mill. Last year, Cruise's "Mission: Impossible III" co-star Maggie Q said that when it comes to Tom Cruise, there's "no better person to work with," per Yahoo! She explained, "Tom is always trying to make everything better ... Say what you will ... I mean, people say what they want about everyone." 
Despite rumors about him, Q insists that if you want to "work with professionals who want to achieve the best work ...  there is no better person to work with than Tom Cruise. There's no one on the planet who fights that hard, who's always thinking, who cares as much as he does. There just isn't. And who's genuinely passionate about the product."
Of course, not every cast and crew member who's worked with Cruise may agree that he's the best colleague in show business. Still, it's safe to say that with the help of his costars, Cruise has managed to dispel what he thinks of as the "weirdest" rumor that's been perpetuated about him. Opinions on how pleasant he is to work with may vary from person to person, but it's safe to say that folks on set can, in fact, make eye contact with the star.