The One Time Meghan Markle Reportedly Felt Sorry For Kate Middleton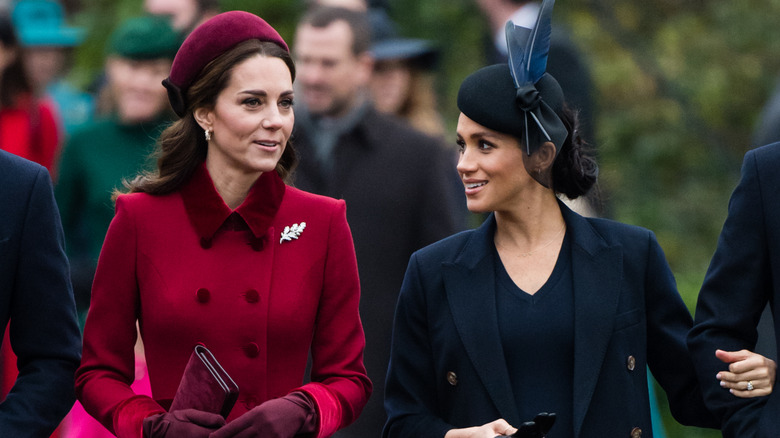 Pool/samir Hussein/Getty Images
Ever since Meghan Markle came into the fold, royal watchers were excited to see how she'd get on with Catherine, Princess of Wales, and many hoped that the two would become the best of friends. Sadly, that didn't happen, and Meghan soon realized that royal life wasn't going to work for her. As Kate Middleton has spent her married life preparing to take on the role of queen one day, Meghan, at times, seemed cast in the same shadow as her husband, Prince Harry, the "Spare." And so, Meghan and Harry stepped back as senior working members of the royal family to seek out a life that was better suited for them, and their family, ultimately causing a major disconnect between the Cambridges and the Sussexes. 
Almost everything that Kate and Meghan choose to do is different, including the way that they have approached tradition. For example, each time that Kate has given birth, she has officially introduced each one of her children to the world on the steps of St. Mary's Hospital in London within hours of giving birth. As it turns out, a source told Page Six that Meghan "felt sorry" for Kate having to abide by these particular traditions, as many prominent royals, including Princess Diana, did before her. Meghan was so against this, in fact, that she and Harry released a statement about their plans, which greatly differed from what Kate and William did after welcoming Prince George, Princess Charlotte, and Prince Louis.
Archie was 2 days old when he made his debut
Meghan Markle and Prince Harry were determined to welcome their children into the world privately. Despite the fact that they were still living in the UK when Archie was born, Meghan decided to go to a different hospital to deliver her firstborn and she had no intentions of stepping out mere hours after her labor to allow the media to snap photos of her son. 
The Duke and Duchess of Sussex released a statement about their plans ahead of time. "Their Royal Highnesses have taken a personal decision to keep the plans around the arrival of their baby private. The Duke and Duchess look forward to sharing the exciting news with everyone once they have had an opportunity to celebrate privately as a new family," the statement read, according to People.
Archie was born on May 6, 2019, at London's Portland Hospital, and it wasn't until two days later that Harry and Meghan introduced him to the public. On May 8, 2019, the new family walked into St. Georges Hall at Windsor Castle where a select handful of photographers snapped photos of the newborn and asked the couple some simple questions, such as how the baby was sleeping. After just a few minutes, Meghan and Harry retreated into the castle. 
In contrast, dozens of media personnel lined the street outside the Lindo Wing at St. Mary's Hospital to snap photos of each Cambridge baby. Catherine, Princess of Wales, appeared in full hair and makeup hours after labor and delivery.
Meghan Markle and Prince Harry kept Lilibet's birth more private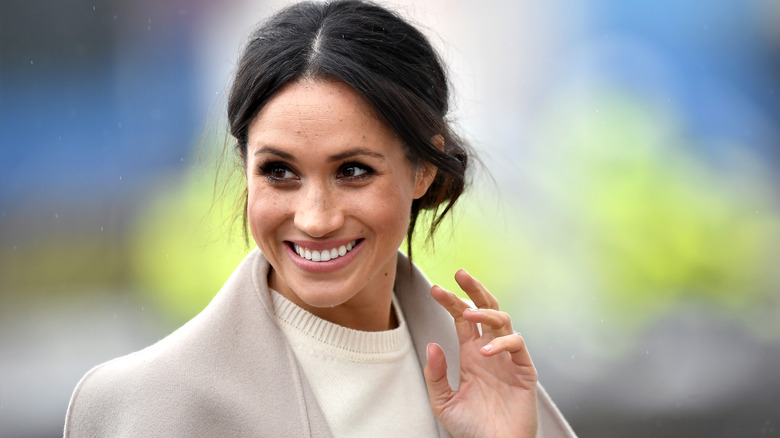 Charles Mcquillan/Getty Images
When it came time for Prince Harry and Meghan Markle to welcome their second child, the couple was living in the United States. Their daughter, Lilibet, was born on June 4, 2021, but her arrival wasn't announced until two days later. The Duke and Duchess of Sussex shared a statement about their daughter on their Archewell website, writing, "She is more than we could have ever imagined, and we remain grateful for the love and prayers we've felt from across the globe." 
Not abiding by anyone's traditions or rules this time around, Harry and Meghan didn't share a photo of Lili until she was a few months old. According to BBC News, the very first pic of the second Sussex child was revealed on the family's holiday card in December of that year. Even still, it is rare that the Duke and Duchess share photos of their kids.
Meanwhile, across the pond, the Prince and Princess of Wales' three children are often in the public eye. Beyond that, they often share photos of their children on social media, especially on birthdays. On July 22, for example, the couple shared a new picture of Prince George on his 10th birthday. "10 today! Wishing Prince George a very happy birthday," read the Instagram caption. And thus, the divergence between the two princesses continues on.