Royals Who Have Worn The Exact Same Dress As Another Royal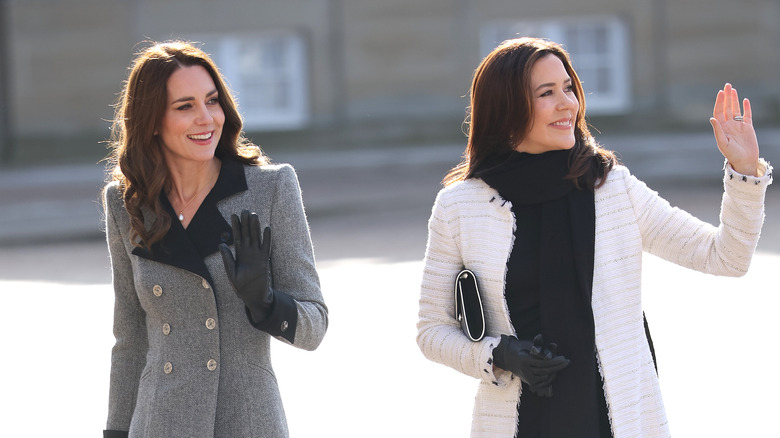 Chris Jackson/Getty Images
Living in the land of apple pie, fireworks, and presidential elections, Americans have long had a fascination with the trappings of the Old World — that faraway land that is known for its rich culture, ancient castles, and continued reverence for the monarchy. Specifically, Americans have long pined after the glitz and glamor of royal fashion. 
From the pomp and circumstance of a royal wedding to the socialite chicness of their streetwear, it's hard to tear your eyes away from the sparkly goings-on of those kings and queens from across the pond. However, royal fashion might very well appear more charming to us on the outside than it feels to those actually locked inside the institution. 
With strict rules in place, many royal women from across different monarchies have accidentally found themselves repeating an outfit that has already been debuted by one of their own. That's right — commoners are not the only ones who, from time to time, have to cope with that dreaded feeling of coming face-to-face with a fashion copycat. Don't believe it? Let's take a look at some of the most obvious moments of royal twinning. 
Fashion blunder at the Platinum Jubilee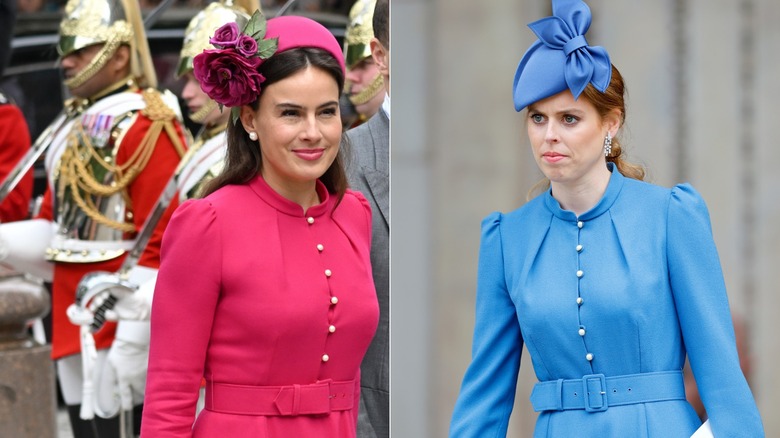 Max Mumby/indigo & Karwai Tang/Getty
During Queen Elizabeth II's Platinum Jubilee Service of Thanksgiving on June 3, 2022, two members of the British royal family accidentally committed one of the oldest fashion faux pas in the book. While attending a church service at St. Paul's Cathedral in London, Princess Beatrice and Sophie Winkleman shocked onlookers by showing up in matching Beula London dresses. 
Princess Beatrice wore an electric blue version of the Ahana Chambre dress that she paired with a bowed fascinator designed by Juliette Botterill. Winkleman, who is married to Lord Fredrick Windsor, the son of Queen Elizabeth's cousin, donned a dark pink version of the same dress. While the two women both cut dashing figures in the garment, Winkleman distinguished herself from the princess by pairing her dress with a beautiful rose-adorned fascinator. 
At any other heavily populated royal event, onlookers may not have noticed the twinning moment. However, the 2022 Trooping the Colour was not your average royal engagement. While the ceremony has long been considered the official celebration of the English monarch's birthday, 2022 marked 70 years of Queen Elizabeth as the head of state, warranting four full days of events recognizing her Platinum Jubilee. To twin at such a momentous occasion surely made these royals blush. 
Like mother, like daughter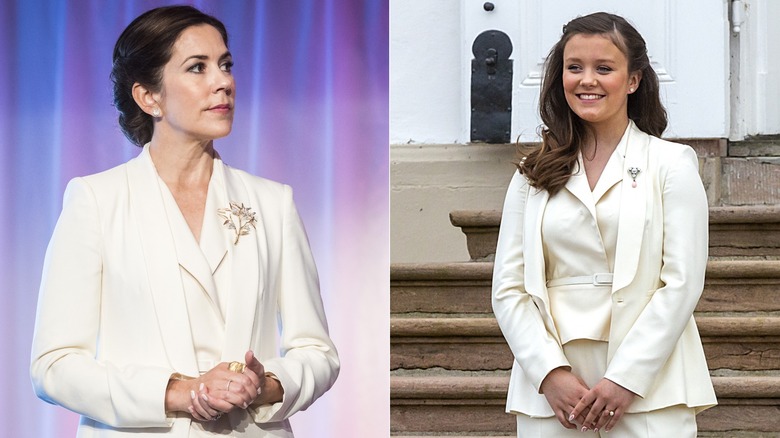 Michael Campanella & Ole Jensen/Getty & undefined
As a woman in royal life, much of your personal life is on display for the public to scrutinize. However, the 15-year-old Princess Isabella of Denmark kept one important thing to herself when she celebrated her confirmation into the Church of Denmark with a private ceremony in 2022. While paparazzi were not allowed inside the ceremony itself, the Danish royal family did release portraits of Princess Isabella and her loved ones to mark the special occasion. 
In the portraits, the young princess can be seen sporting a smart, all-white power suit paired with a mini belt around the waist and a diamond-and-pearl brooch that was reportedly gifted to her by her grandmother. Her mother, Princess Mary, was dressed in a bright coral gown for her daughter's confirmation; however, eagle-eyed fans noticed that she, too, had once worn the exact same suit as Princess Isabella. 
Photos from a royal engagement in 2017 show Princess Mary wearing the exact same power suit on stage in Stockholm, Sweden. While the elder royal wore her hair up in a tight bun for this ensemble, Princess Isabella let her brunette locks cascade around her shoulders. Unlike other royal twinning moments, this mother-daughter connection was surely planned by the royal family and their dressers to make Princess Isabella's confirmation that much more of a family affair. 
Emerald evenings in the U.K.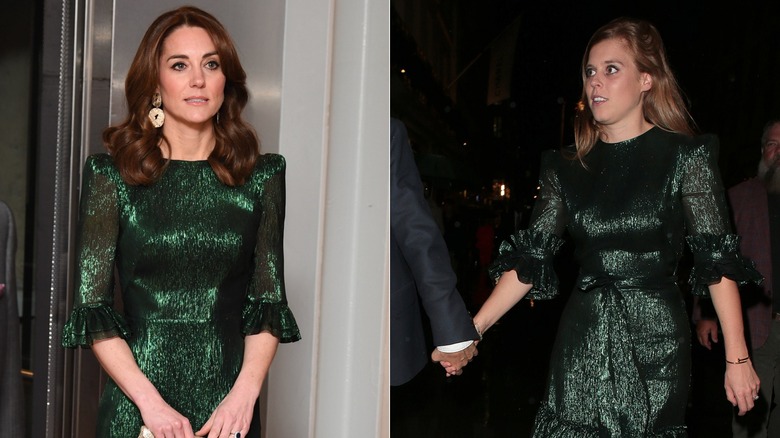 Ricky Vigil M & Wpa Pool/Getty
If you asked the average royal watcher to describe Catherine, Princess of Wales' fashion sense, chances are you would probably hear responses like "traditional," "elegant," "modest," and maybe even "pastel." Throughout the years, the star of the British royal family has been known to dress in conservative chic, often in colors that we associate with Easter Sunday. However, Princess Catherine broke the mold one evening in 2020 when she turned up at a royal engagement wearing an electric, serpentine green dress.
Touring Guinness Storehouse's Gravity Bar in Dublin on Day One of a cross-Ireland visit, the Princess of Wales wowed in this unexpected number from fashion brand The Vampire's Wife. Titled "The Falconetti," this dress was the perfect choice for a romp around Dublin as its shimmering emerald color perfectly captured the spirit of the green city. Fans were so impressed by the princess' choice of a rock-and-roll-inspired piece that British Vogue heralded this day as a "major moment in royal dressing."
However, despite the mountains of praise, the Princess of Wales was not the first member of the British royal family to wear a gown from The Vampire's Wife. Just one year before, Princess Beatrice was seen wearing a nearly identical Falconetti gown to a book launch afterparty in London. The near-identical gowns differed only in that Princess Beatrice's version boasted a bit more pomp and circumstance, with her earlier prototype of the gown having extra ruffles on its translucent sleeves. 
A sister's hand-me-downs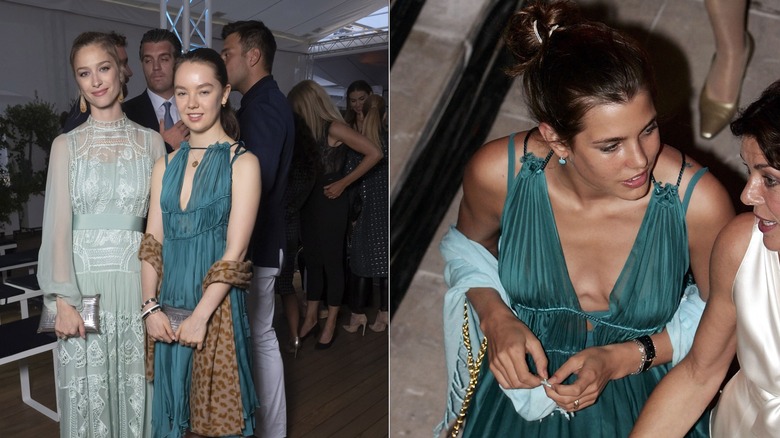 Pascal Le Segretain & Arnold Jerocki/Getty & undefined
While most U.S. tabloids are covered with reports of Meghan Markle and Catherine, Princess of Wales the lesser-known royals of Europe are not lacking in memorable fashion moments. One sweet incident that occurred between the royal family of Monaco happened when Princess Alexandra of Hanover recycled a 14-year-old hand-me-down from her trendy elder sister, Charlotte Casiraghi. 
Back in 2005, Casiraghi donned a breezy aquamarine dress in a Grecian style for her uncle, Prince Albert's, coronation ceremony. While the skin-bearing frock would probably be deemed too scandalous for the women of other royal families, the beach-ready gown fit Casiraghi like a glove and was perfect for an event celebrating such a momentous occasion in the history of Monaco — a tiny principality located on the French Riviera and surrounded by the Mediterranean Sea. 
The gown's beauty has stood the test of time, evidenced by Princess Alexandra's revival of the gown in 2019. When attending the Alberta Ferretti Resort 2020 show at the Monaco Yacht Club, the 19-year-old royal chose to go early 2000s vintage by recycling Casiraghi's coronation gown. Princess Alexandra added some modern flair to her look by pairing the gown with a circular pendant necklace and a cheetah-print scarf. It's no wonder that these two sisters share a similar bold fashion sense considering the fact that Grace Kelly is their grandmother.
Seeing double in Denmark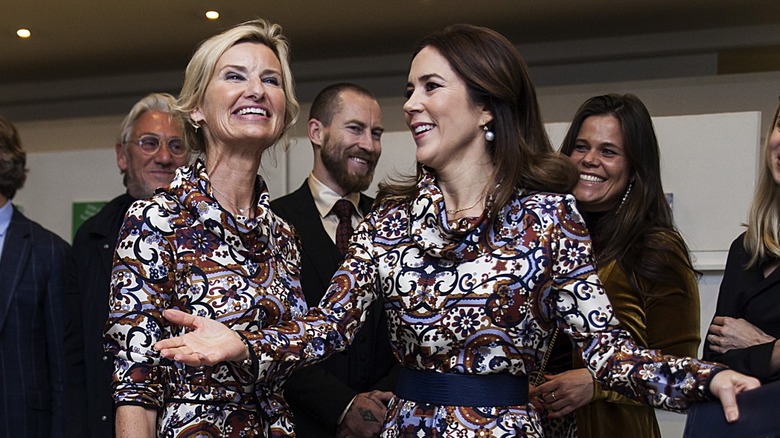 Ole Jensen/Getty & undefined
In October of 2017, Princess Mary of Denmark was tapped to present the Magasin du Nord Fashion Prize at the Charlottenborg Exhibition Hall in Copenhagen. Given out every year to a promising Danish designer, the Magasin du Nord Fashion Prize represents a seal of approval from the fashion circles of Denmark. Having been asked to present the night's biggest award, Princess Mary had also received a seal of approval from the fashion world. 
The princess did not disappoint, showing up to the awards ceremony in a striking cowl-necked gown designed by Britt Sisseck. The long-sleeved dress bore an animated pattern, with intricate swirls and flower designs intersecting in lively combinations of black, brown, and baby blue. Conservative, yet chic, the Princess of Denmark paired the fun number with a navy belt and a simple gold chain necklace. 
However, Princess Mary's big fashion night was interrupted when Nina Wedell-Wedellsborg turned up wearing the exact same Sisseck gown. The only discernable difference between their styling choices was Wedell-Wedellsborg's choice of a blocky platform heel and casually pushed-up sleeves. Thankfully, the fashionistas seemed to laugh off the crazy coincidence.
Coordinating capes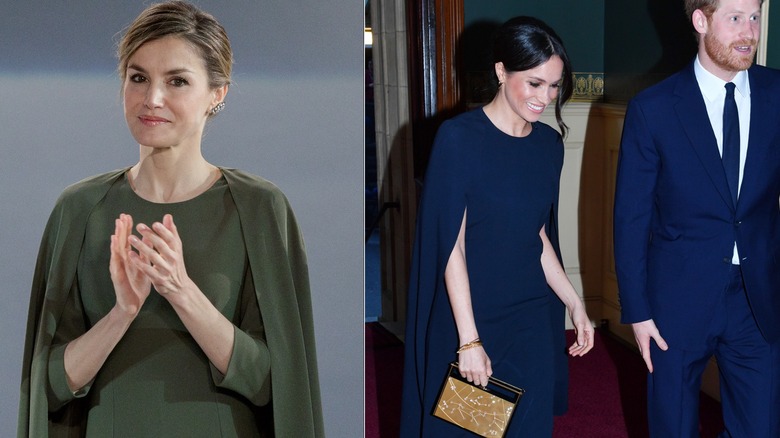 Wpa Pool & Eduardo Parra/Getty & undefined
When you think of a royal cape, your mind might conjure up the iconic portrait of King Louis XIV of France in his fleur-de-lys-covered coronation robes, or, perhaps, the television broadcast of King Charles III clad in the golden Imperial Mantle during his coronation ceremony. While these two garments have played seriously significant roles in royal history, two royal women have now begun to incorporate chic cape-like garments into their own closets. 
In 2017, Queen Letizia of Spain attended the Innovation and Design Awards ceremony in Alcala de Henares, Spain dressed in a Stella McCartney cape dress dyed an earthy green color. The matriarch harkened back to ancient royalty in her offbeat gown, paired with large diamond-and-pearl ear-climber style earrings. The olive look retained a bit of modern flair, however, with the queen accessorizing with snakeskin heels and a snakeskin purse. 
Just a year later Meghan Markle wore an almost identical cape dress to a celebration of Queen Elizabeth's 92nd birthday at the Royal Albert Music Hall. The American ex-pat wowed in a dark blue version of the Stella McCartney cape dress. Just as Queen Letizia had taken a cue from the earthy tone of her dress the year prior and exhibited a very forest-floor-inspired color scheme, Markle also paired her midnight blue gown with night sky-inspired pieces, including a gold Naeem Khan Armory Zodiac Clutch.
Goddess-inspired looks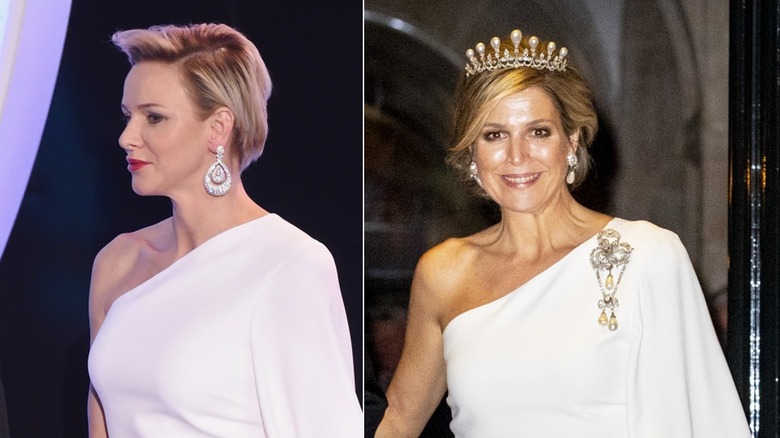 Stuart C. Wilson & Patrick Van Katwijk/Getty & undefined
Is there any better representation of female royalty than Hera — sister and wife of Zeus and goddess of women and marriage? What about Aphrodite — the goddess of love and beauty? These are just two examples of powerful women who dominate Greek mythology. With this impressive pantheon, it's no wonder, then that so many of today's royal women take cues from Greek fashion. 
This trend was on full display when Princess Charlene of Monaco and Queen Maxima of the Netherlands accidentally twinned in matching Stella McCartney gowns. In 2018, Princess Charlene donned this asymmetrical wonder while attending the Laureus World Sports Awards. The one-shoulder piece features an eye-catching balloon sleeve and slight cinching at the waist. The princess finished off her goddess-inspired look with chunky diamond earrings and her short hair perfectly coiffed. 
Queen Maxima of the Netherlands repeated this outfit a year later at a gala dinner in honor of the Corps Diplomatique in Amsterdam. Giving true Hera vibes, Queen Maxima paired her Stella McCartney gown with an oversized diamond-and-pearl brooch. Most special of all, however, was Queen Maxima's choice to wear a vintage pearl-adorned tiara that had long been in her royal family's jewelry box. 
Lovers of lace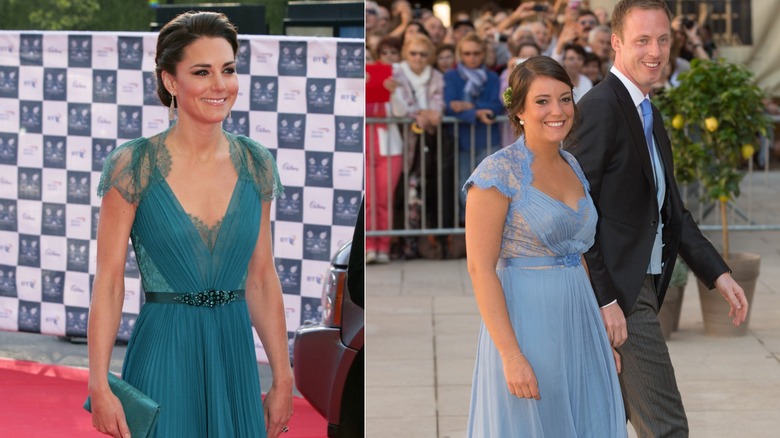 Dominique Charriau & Max Mumby/indigo/Getty & undefined
When it comes to royal fashion taste, there are a few designers who pop up again and again no matter the occasion, principality, or season. Jenny Packham is one such designer who has been patronized by many royal women. Packham's designs generally include the perfect combination of traditional glamor and fashion-forward artistry, guaranteeing that it was only a matter of time before the paparazzi caught an unexpected twinning moment. 
In 2013, Princess Alexandra was seen wearing a baby blue version of the Jenny Packham dress known as the "Aspen." She was all smiles as onlookers photographed her entrance to the wedding of Prince Felix of Luxembourg and Claire Lademacher.  With a small lilac belt cinching in the princess's waist and chunky diamond earrings glinting from her ears, she appeared the perfect portrait of European royalty. 
However, her gown gave many onlookers a feeling of déjà vu, as Catherine, Princess of Wales had been spotted wearing a similar lace-sleeved gown just a year prior. While attending a gala to celebrate London's hosting of the 2012 Olympic Games, the then-Duchess of Cambridge wore a turquoise version of the Aspen.  She too wore a belt around the bodice of the dress, but hers featured a turquoise bejeweled buckle rather than Princess Alexandra's understated silk moment.
Furstenberg fashionistas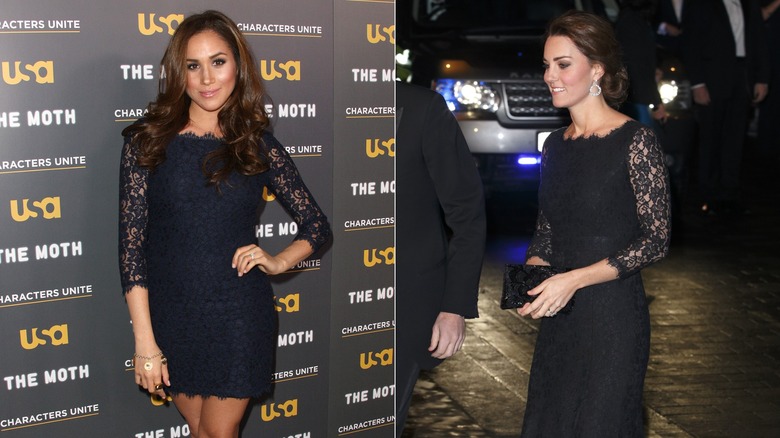 Max Mumby/indigo & Frederick M. Brown/Getty
Recently, the tension between Catherine, Princess of Wales and her sister-in-law Meghan Markle has been chronicled in a seemingly endless number of tabloid articles, books, and documentaries. However, when it comes to their fashion tastes, it seems that their closets have more in common than the two women themselves. Even long before she joined the family, photographs show that Markle and Princess Catherine often reached for similar silhouettes and fabrics when attending formal events. 
Perhaps the most obvious twinning moment between the ill-fated in-laws occurred when Princess Catherine wore a version of Diane von Furstenberg's Zarita dress that Markle had worn two years prior. The then-Duchess of Cambridge wore this lacy dress to a Royal Variety Performance in 2014. Cut into a column style, the dress included a scalloped neckline and a fishtail skirt that flared around her ankles. 
Meghan Markle also wore a version of the Zarita in 2012 while attending an event hosted by the USA Network. Markle battled the California heat by opting for a shorter version of the gown that reached the top of her knees. She also accessorized with gold chain bracelets and big bouncy curls, a far departure from the chignon bun that Princess Catherine chose to wear with her Zarita. 
Botanic beauties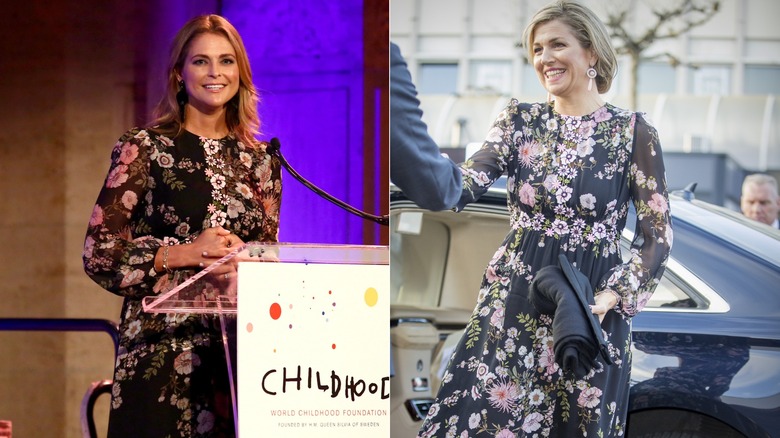 Patrick Van Katwijk & Astrid Stawiarz/Getty
The Italian designer Giambattista Valli is known worldwide for his dreamy, intricate designs that often include big flowy skirts and boisterous patterns. While such a lively designer may not be the obvious choice for members of royal families — who are expected to dress in monochromatic, conservative gowns — two of Europe's most regal women have made Valli numbers work for them.
Queen Maxima of the Netherlands chose a romantic Valli gown to attend the Kingsday Concert at Tilburg Theater in April of 2017. The matriarch was seen stepping out of a sleek black car in a long-sleeved and full-skirted black dress accented with light pink floral details. For the springtime event, Queen Maxima accessorized with an interesting pair of earrings that included a ring of diamonds at the base and teardrop gems in a matching pale pink color. 
This Valli look was repeated by Princess Madeleine of Sweden just a year later when the royal showed up to the World Childhood Foundation's Thank You Gala wearing the exact same black floral gown. It was a special event for Sweden's royal family, as Queen Silvia founded the organization way back in 1999 to combat child abuse and neglect. For the significant moment, Princess Madeleine appeared the portrait of female power in her floral Valli gown. 
It's a family thing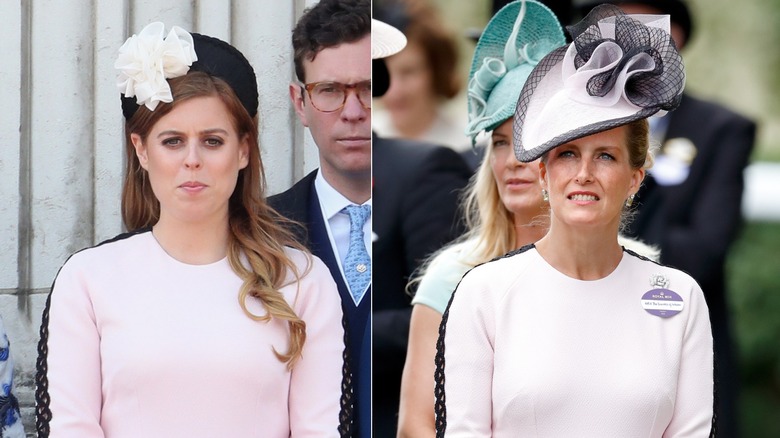 Max Mumby/indigo & Chris Jackson/Getty
As the future queen of England, Catherine, Princess of Wales has been known to highlight British-born designers like Jade Holland Cooper and Alexander McQueen. Two other members of the British royal family, however, ventured beyond the pebbly coasts of England when they both rocked this classic design from New Zealand-born designer Emilia Wickstead. 
In 2018, Sophie, Countess of Wessex — who is married to Prince Edward, Duke of Edinburgh, the youngest child of Queen Elizabeth II — wore this pale pink Wickstead number to the Royal Ascot. The annual horse race has long been a time for the bluebloods of British society to show the world their best finery, and the Countess of Wessex did not disappoint with this A-line design. Giving the gown that extra pop, a braided black applique lined the sleeves of her gown, which the countess matched with a playful pink-and-black fascinator. 
The very next year, Princess Beatrice appeared at the 2019 Trooping the Colour wearing an exact replica of her aunt's Wickstead gown. A major addition to Princess Beatrice's look was her statement headband, topped with a white tulle floral piece. Being only a few steps away from the Countess of Wessex on the Buckingham Palace balcony, one can imagine that the two perhaps shared a laugh over their accidental twinning moment. 
The power of the pencil skirt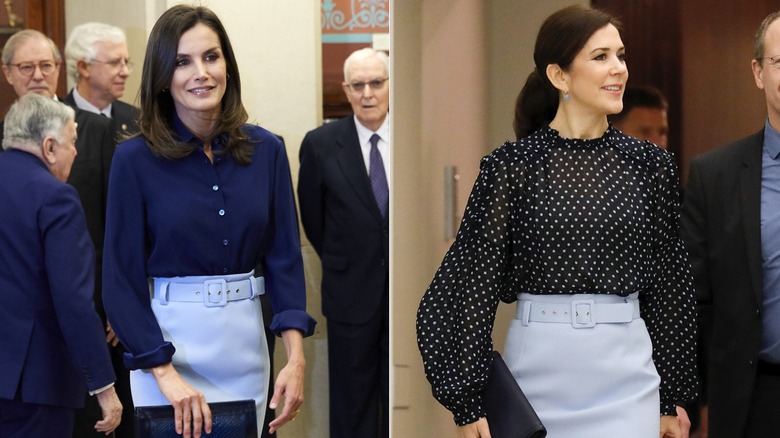 Tim Warner & Carlos Alvarez/Getty
While a royal woman's uniform generally includes a midi or maxi-length dress, probably paired with a high-end clutch and some enviable diamonds, a few of the more modern royal women have been known to venture out of bounds and experiment with business-ready pencil skirts or even a power suit or two. In their efforts to spice up their fashion catalog, two of Europe's more rebellious royals have accidentally copied each other's outfits. 
In March of 2019, Princess Mary of Denmark attended a royal engagement at a Houston, Texas medical center wearing a billowing polka dot top and a feminine periwinkle pencil skirt designed by Hugo Boss. With a monochromatic belt tied around her skirt and a prim low ponytail, Princess Mary came across as equally powerful and feminine. 
Just a few months later, Queen Letizia of Spain was seen out and about in Madrid, Spain wearing the exact same Hugo Boss skirt. Smiling and shaking hands throughout her royal engagement, the queen let onlookers know that she meant business with her own thick, fabric belt and a fashionable slit at the front right knee of the skirt. As opposed to Princess Mary's black-and-blue moment, Queen Letizia opted for a long-sleeved collared top that complimented her periwinkle skirt with its midnight blue hue.
Coral royals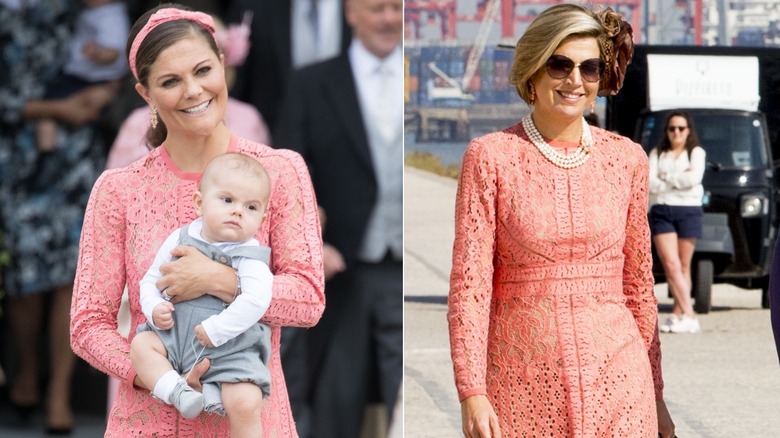 Luca Teuchmann & Patrick Van Katwijk/Getty
Sometimes when a royal accidentally twins with another royal, it has less to do with the strict rules of monarchical dressing and more to do with plain, good taste; that was certainly the case when Princess Victoria of Sweden and Queen Maxima of the Netherlands unknowingly matched in this lacy coral number from designer Elie Saab. 
Princess Victoria of Sweden was the first to appear in the gown at the 2016 christening ceremony of her 5-month-old nephew, Prince Alexander of Sweden.  Bright and laser cut with floral designs, her dress for the event accurately captured the day's joyous vibe when Princess Victoria was officially announced as her nephew's godmother. 
A year later, Queen Maxima of the Netherlands put a distinctly more mature spin on the Elie Saab design by pairing it with oversized black sunglasses and a three-strand pearl necklace. While Princess Victoria sweetly accessorized with a matching coral headband, Queen Maxima took a more experimental turn by adding a terracotta-colored headpiece that correlated to her snakeskin-like clutch and dark orange pumps. As opposed to attending a family event, the queen chose this ensemble for a visit to a biomedical research development center in Portugal. 
Role modeling in red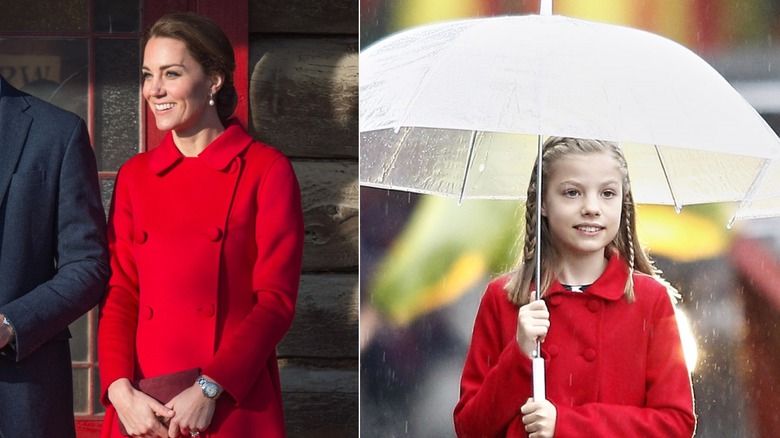 Pool & Pool/samir Hussein/Getty
Perhaps the most adorable moment of royal twinning occurred when Princess Sofia of Spain was spotted wearing a junior-sized rendition of a scarlet red Carolina Herrera coat that Catherine, Princess of Wales had worn just one month earlier. Considering the fact that the young Princess of Spain will mostly likely enjoy a similar career to that of her English counterpart, fans couldn't help but celebrate Princess Catherine as a great role model — sartorially and otherwise — for the younger princess. 
Princess Sofia's cozy moment occurred during a military parade to celebrate Spain's National Day. The double-breasted coat featured a Peter Pan-style collar and two sets of red buttons trailing down the front. The monochromatic red look coordinated perfectly with the national holiday, as crimson red is one of the primary colors of the Spanish flag. 
The prototype for Princess Sofia's look appears to have been Catherine, Princess of Wales who wore an exact replica of the Herrera coat just a month before while in Canada. Princess Catherine's ensemble featured an A-line cut and accessories including a silver watch and dangling pearl earrings. Dazzling in her geographically appropriate attire (red also being a staple of the Canadian flag), Princess Catherine made for a polished representation of royal womanhood. 
A cross-Europe connection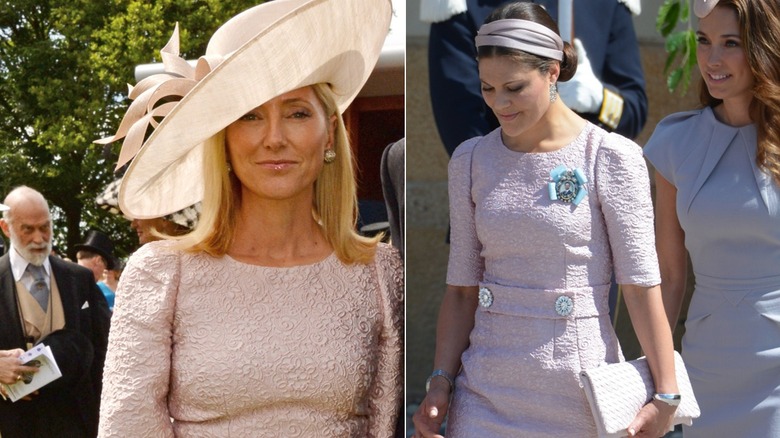 Luca Teuchmann & David M. Benett/Getty
Dolce & Gabbana might not be a designer you expect to see dressing the princesses, queens, and duchesses of Europe, as the Italian fashion house has long been associated with exotic animal prints, leather, and sequins — bombastic clothing designs that scream "Hollywood sex symbol" more than "face of a nation." However, in 2014, two royal women from some of the continent's lesser-known monarchies took a fashion risk by opting for intricate, rose-colored dresses from the risk-loving fashion house. 
Princess Marie-Chantal of Greece was the first to shock fashion bloggers and royal fans alike by turning up to Derby Day in Epsom, England wearing a light pink Dolce & Gabbana number. With gold bauble earrings hanging from her ears, the princess harkened back to the golden coasts of Italy that surely inspired Dolce & Gabbana's rosé-colored gown in the first place.  
Sweden's Princess Victoria was also drawn to the dainty details of the Dolce & Gabbana gown when she wore it to her niece, Princess Leonore's, christening one sunny day in June. She paired her version of the pastel pink dress with a royal Swedish brooch and a matching turban headpiece designed by Philip Treacy. Though their hats differed wildly, Princess Victoria also wore dangling diamond earrings, sparkling in the sun like a glass of Italian prosecco.
Lucky ladies in green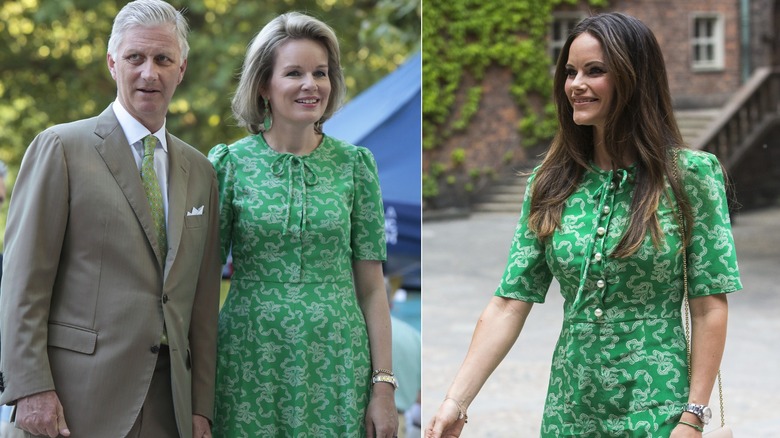 Patrick Aventurier & Michael Campanella/Getty
While many of the responsibilities of royal women include feel-good gatherings like ribbon-cutting ceremonies and national sporting events, the more underrecognized duties of a royal woman often include politically significant visits abroad and advocating for various human rights organizations. Because tabloids may not be as interested in covering charitable visits as they are publicizing a royal's visit to a movie premiere, a royal woman's fashion choices can be an important way to draw attention to these endeavors. 
Queen Mathilde of Belgium did just that when she wore this striking dress by L.K. Bennett on Day One of her visit to Mozambique. As an advocate of the U.N.'s Sustainable Development Goals, Queen Mathilde's itinerary included visits with the nation's Economy and Finance minister and the Gender, Childhood, and Social Action minister. The bright green hue of her dress caught the attention of photographers as the queen attended her various engagements, drawing even more attention to Queen Maxima's humanitarian efforts. 
Princess Sofia of Sweden wore an exact replica of the green dress when she attended the 2018 graduation ceremony for Sophiahemmet University in Stockholm. With pearl drop buttons lining the bodice of the dress and off-white swirl patterns covering the entire dress, the princess was wise to wear such an eye-catching number to an event that celebrates Swedish youth pursuing higher education.
Regal in rose pink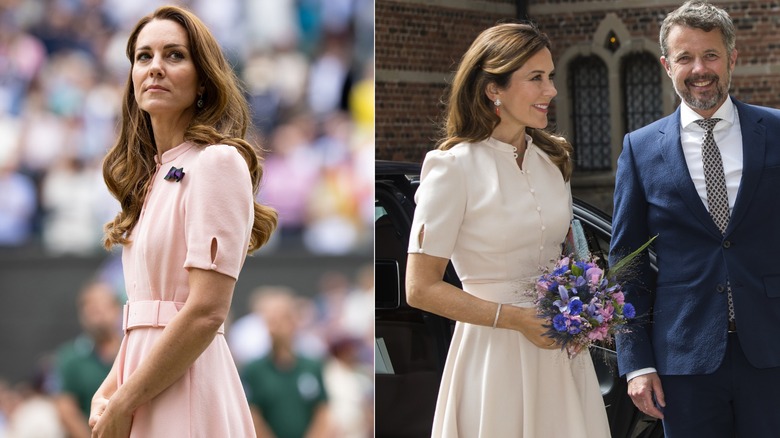 Ole Jensen & Simon M Bruty/Getty
With "Barbiecore" fashion taking the world by storm in preparation for the release of the blockbuster "Barbie" film, the summer of 2023 has seen every sidewalk and movie theater transform into a pink-drenched runway. However, while the general public has only recently fallen in love with the bubblegum aesthetic, the color pink has long been a mainstay of royal ladies' closets. The color is so popular that Princess Mary of Denmark and Catherine, Princess of Wales have both been spotted wearing Beulah London's blush-colored Ahana dress. 
Princess Mary of Denmark was the first to don the ultra-feminine number in 2020 when she was visiting the opening of an art exhibition at Frederiksborg's National History Museum. The princess exuded girl power as she accessorized with silver bangles and hot pink stone earrings in a drop-down style. Her bouquet also contained pastel pinks and dazzling violets, complimenting her gown perfectly. 
A year later, Catherine, Princess of Wales donned the exact same dress while attending the Wimbledon Tennis Championships in London. With the tournament taking place amid the COVID-19 pandemic, the princess was spotted accessorizing with a floral pink face mask at different points throughout the day. However, the pandemic didn't stop her from living out her summer fashion fantasy, with the princess also adding a chunky waist belt and bright purple brooch to her look. 
Springtime cheer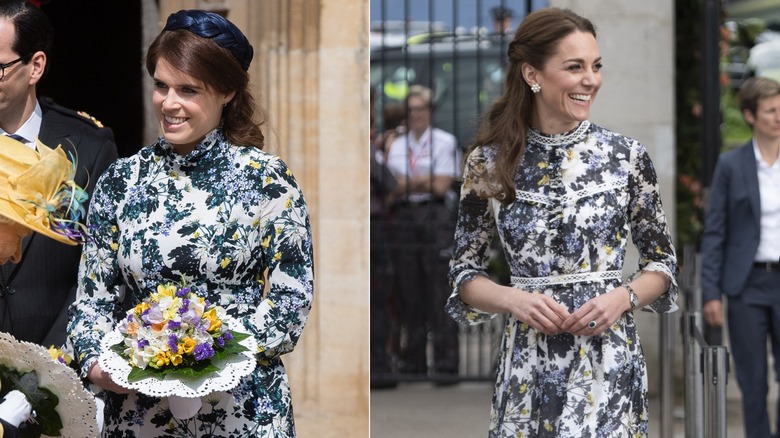 Wpa Pool & Samir Hussein/Getty
In 2019, Princess Eugenie and Catherine, Princess of Wales stepped out in nearly identical floral gowns only weeks apart. While you might be wondering how their royal stylists allowed this fashion blunder to happen, the spring season might explain why both royal women reached for the most botanical dress in their closets for their respective events.  
Princess Eugenie was the first to be spotted wearing a knee-length version of the Erdem dress when she attended the Royal Maundy Service at St. George's Chapel — an ancient religious ceremony where alms are offered to those who service their local community. The queen's granddaughter accessorized with a hat of braided fabric, navy heels, and a bouquet of matching violet and buttercup flowers.
Only a month later, Catherine, Princess of Wales arrived at the 2019 RHS Chelsea Flower Show dressed in a strikingly similar ensemble. Although her version of the Erdem dress reached the floor, she still kept it light and breezy with the addition of lace details across the bodice. The Princess of Wales followed in her cousin-in-law's footsteps by pairing her look with a bouncy half-up-half-down hair look, while also adding miniature floral earrings to her ensemble. 
Ladies in leather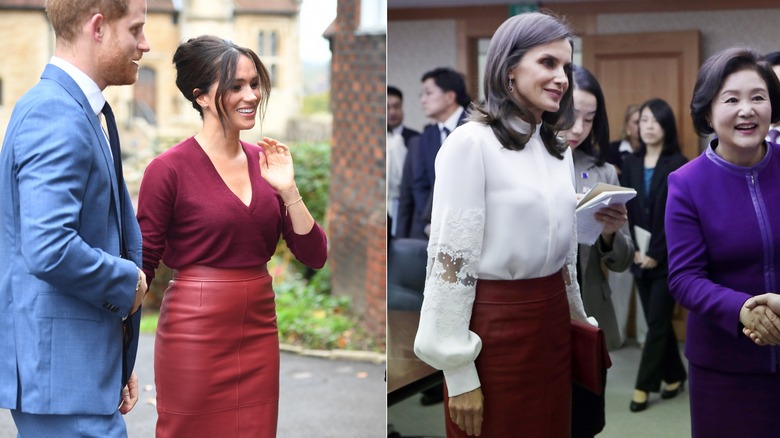 Wpa Pool & Woohae Cho/Getty
Meghan Markle's time in the British royal family was full of memorable fashion moments. A look through her best moments shows that Markle perhaps borrowed fashion tips from other royal women, with both Markle and Queen Letizia of Spain opting for the same red leather skirt designed by Hugo Boss on two separate occasions in 2019. 
Queen Letizia was the first to wear the leather number during an official visit to South Korea. While her rust-colored skirt gave more serious businesswoman vibes, her billowing white top with lacy detail on the arms combined the best of both worlds, allowing Queen Letizia to strike the perfect balance between diplomatic and queenly style. 
Meghan Markle wore her own version of the Hugo Boss skirt just one day later while speaking at a roundtable discussion hosted by The Commonwealth Trust. Her choice of attire was fitting considering that the topic of the roundtable discussion was gender equality. While the Duchess of Sussex surely discussed more pertinent global issues, her choice of such an adventurous look symbolically represented her support of bold, adventurous women. 
A family heirloom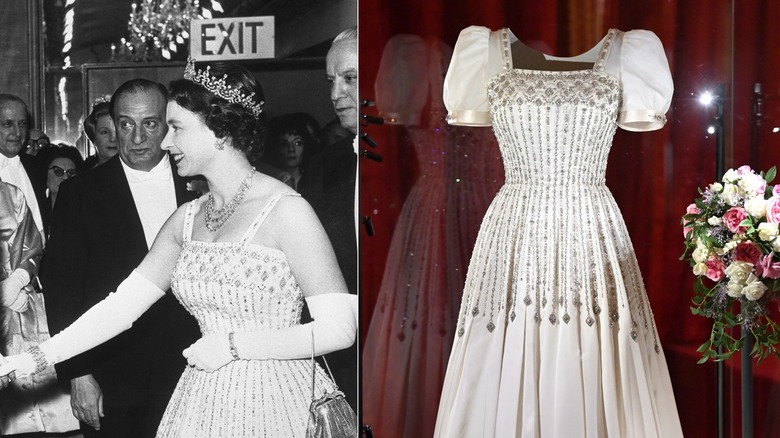 Karwai Tang & Bettmann/Getty
In what many might consider to be one of the most sentimental moments of royal twinning, Princess Beatrice turned to her grandmother's fashion archives to find her dream wedding dress. While other brides of the British royal family have sought out top-of-the-line designers to create bespoke wedding gowns, Princess Beatrice chose to honor her grandmother, Queen Elizabeth II's, legacy by walking down the aisle in one of the queen's own crème-colored gowns that dates back to 1962.
Although Queen Elizabeth did not wear this gown on her own wedding day, she did wear it to a high-profile movie premiere when the film "Lawrence of Arabia" hit British shores. Encapsulating all the authentic glamor of 1960s London, this Norman Hartnell piece was created using Peau de Soie taffeta and organza materials, lined with Duchess satin, and overlayed with diamanté. 
After Princess Beatrice had chosen this gown as her chosen piece, Queen Elizabeth's longtime dressmakers, Angela Kelly and Stewart Parvin, worked to refurbish the dress. On her wedding day, Princess Beatrice's borrowed look was completed with the addition of Queen Mary's diamond fringe tiara — the same one the queen wore on her own wedding day.