How Eric McCormack And Sean Hayes Rekindled Their Friendship After Will & Grace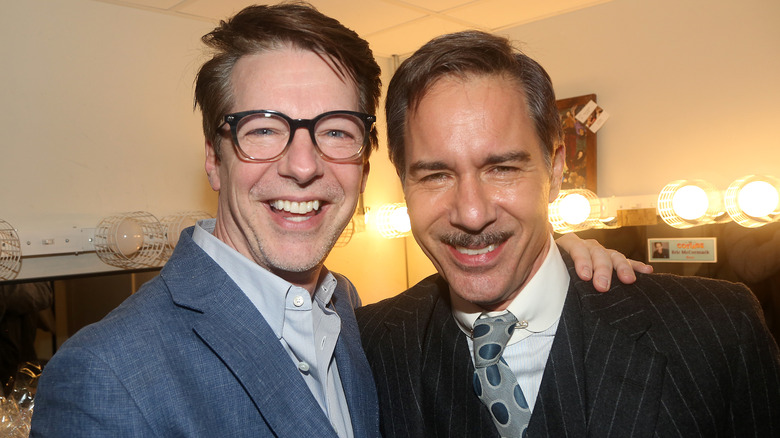 Bruce Glikas/Getty Images
"Will & Grace" was an absolute hit in the late '90s to early 2000s, with its original run lasting for eight seasons and then three reunion seasons from 2017 to 2020. But as close as Will, Grace, Jack, and Karen — portrayed by Will McCormack, Debra Messing, Sean Hayes, and Megan Mullally respectively — seemed on the show, off-screen, the cast of "Will & Grace" didn't hang out all that much. And once the show ended, they went their separate ways.
McCormack explained the situation at a panel event in New York in 2023 moderated by Isaac Mizrahi, "The Impact of Will & Grace: 25 Years Later." "We finished the show so many years ago," McCormack said, referring to the first run of the show. And once the show ended, he recalled he and Hayes in particular "didn't keep in touch that much." But thankfully, they were able to reconnect over the past few years. As McCormack put it, the two of them "found each other again just before COVID, and now we've been closer pals ever since then."
Sean Hayes and Eric McCormack have started a podcast about Will & Grace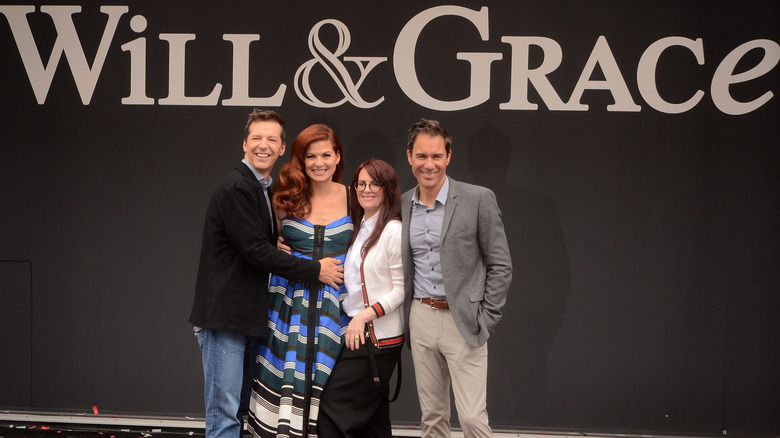 Kathy Hutchins/Shutterstock
There had reportedly been some tension on the set between Debra Messing and Megan Mullally in the final revival season of "Will & Grace," but it doesn't seem like a similar situation played out between Sean Hayes and Eric McCormack. No big falling out or drama has been made public as the reason why Hayes and McCormack didn't really keep in touch; perhaps it was just the natural passage of time when you no longer work with the same person every day.
You can hear them talk a bit about the relationship they built with each other in their podcast, "Just Jack & Will," in which they discuss each episode of "Will & Grace" one at a time. They came up with the idea for the podcast, which launched in June 2023, over lunch, according to People. Having lunches and making podcasts — it doesn't seem like they're going to let their relationship slip again this time.
In the first full episode of their podcast, they both talk about how working on "Will & Grace" became like working with family. "What I love about my career is I get to make new friends all the time," McCormack explained. "If it's a big, hit television series [like "Will & Grace,"] they're family, for life." Hayes completely agreed with him, saying, "I saw you guys a thousand times more than my friends and family."
Sean Hayes and Eric McCormack remember how much they laughed on set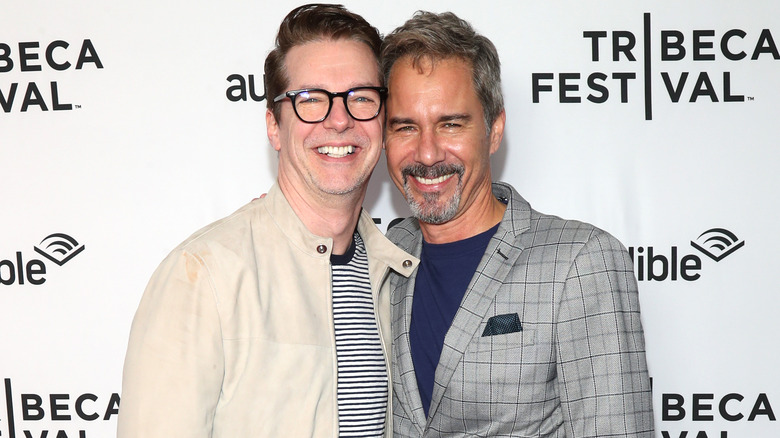 Manny Carabel/Getty Images
Eric McCormack did note that his friendship with Sean Hayes was somewhat limited just to on-set when they were first filming "Will & Grace." On their podcast "Just Jack & Will," McCormack compared the relationship the "Will & Grace" stars had to the one between the lead characters of another hit '90s sitcom "Friends." The "Friends" actors all hung out together off-set; however, for the "Will & Grace" cast, McCormack said, "the four of us had a much more concentrated experience. We didn't necessarily hang out a whole lot outside of Stage 17 [where "Will & Grace was filmed]." But it sounds like while they were on-set, they enjoyed focusing on cracking each other up with Hayes saying McCormack used to make "me pee in my pants laughing."
And the show had audiences laughing as well. "Will & Grace" was nominated for 96 Emmys — winning Best Comedy Series in 2000. And it was groundbreaking in its representation of gay couples. On "Meet the Press" in 2012, Joe Biden said, "I think 'Will & Grace' probably did more to educate the American public than almost anything anybody's ever done so far." Helping to educate the world with laughter, what could be better? And we're glad to hear that Hayes and McCormack don't just play friends on TV, but that they're actually friends in real life.