Halle Berry's Rare Photo Of Daughter Nahla Proves The Teen Is Growing Up So Fast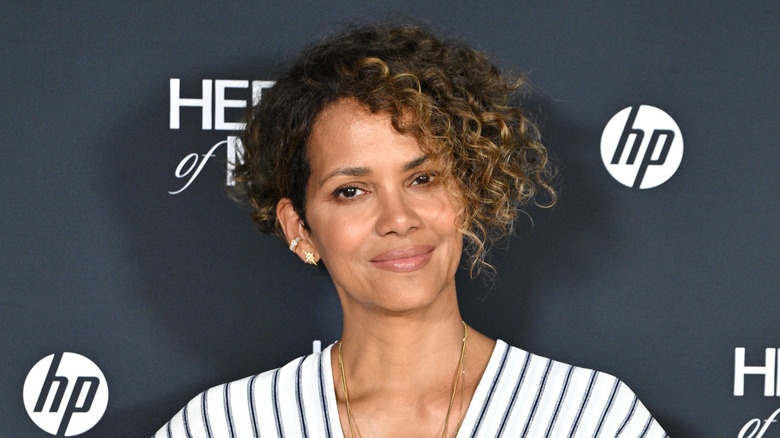 Lionel Hahn/Getty Images
Halle Berry may be celebrating her 57th birthday, but it's the star's daughter who's shocking the world with just how grown up she is. We all remember when Berry welcomed her daughter, Nahla, into the world, but it's hard to believe that was more than 15 years ago now, and the star's baby girl is all grown up. Halle Berry isn't acting much anymore, and she's not posting about her family life on social media too frequently, either. As a result, the star's desire to keep things a bit private makes an Instagram post featuring her and her daughter even more exciting from the public's perspective.
On August 14, her birthday, the actor and director took to Instagram to show off her super fun and very on-trend birthday celebration. Berry visited The World of Barbie in Santa Monica with her boyfriend, Van Hunt, and her daughter, Nahla. The photo carousel showed the famous family looking pretty in pink and strolling around together. And, while Berry was clearly careful not to show Nahla's face, what she did show us still made quite an impact. 
Halle Berry's daughter is all grown up
In the caption of Halle Berry's birthday Instagram post, she wrote, "My mini me (but not so mini anymore)" referring to her 15-year-old daughter, Nahla Ariela Aubry, who is now much taller than her mom (while wearing heels, at least). Multiple photos show the mother-daughter duo walking side-by-side, and it's easy to see just how tall the teen has gotten.
Berry continued the caption saying that Nahla "and my VanO took me to the World of Barbie for my B-day! I got to let my inner Barbie soar!!!! I love you guys ...thank you !And....I highly recommend it." It's clear that this family had a blast celebrating Berry's big b-day, and it's easy to see that she's proud of and protective over her "mini me." 
Fans were amazed to see what Berry's daughter looks like today. Many folks left comments, like "Your daughter looks like another beautiful Miss America" and "she's so tall!!!" It's clear that we're all excited to see where this stunning mom-and-daughter pair's future will take them.