What King Felipe And Queen Letizia's Wedding Was Really Like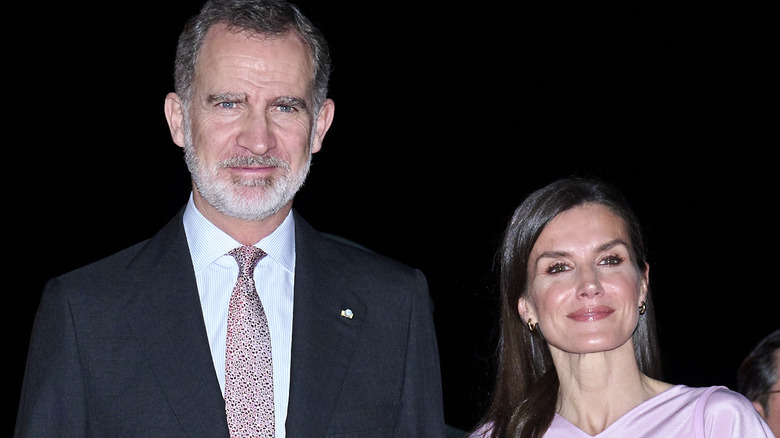 Carlos Alvarez/Getty Images
From the attire and guest list to menus and favors, planning a wedding of any size is no small feat. When it's a royal wedding, and one attended by dignitaries and royalty from around the world, the ante is upped even further. But it all came together in May 2004, when then-Prince Felipe of Spain married his fiancé, Letizia Ortiz Rocasolano, in Madrid. Watched by tens of millions of viewers, the fairy-tale union was the fulfillment of the prince's "most precious dream," as he shared with guests during the reception. 
To celebrate Felipe and Letizia's big day, no expense was spared. There were designer gowns, diamond rings, a full choir and orchestra, and even a height-defying cake. In the end, the festivities earned the Spanish royal family a spot near the top of the list of the most expensive weddings of all time. Let's take a look back at all the pomp and circumstance and also romance of now-King Felipe VI and Queen Letizia's early-aughts royal wedding.
King Felipe and Queen Letizia married at Almudena Cathedral in Madrid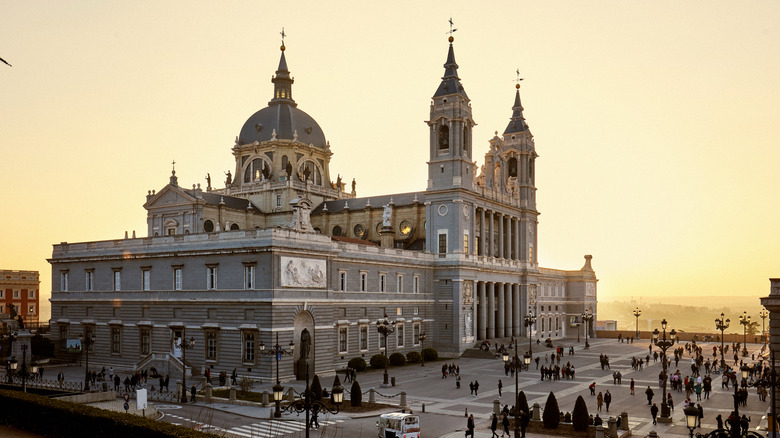 Xavierarnau/Getty Images
On May 22, 2004, millions of people in Spain and around the world tuned in to see then-Prince Felipe marry Letizia Ortiz Rocasolano, a former journalist and national Spanish TV presenter. The pair exchanged vows in a traditional Catholic ceremony held inside Madrid's Almudena Cathedral. Known in Spain as Catedral de Nuestra Señora de la Almudena, the neo-Gothic-style cathedral has a rich history dating back to the eleventh century.
It is situated near the Palacio Real, or Royal Palace, of the Spanish royal family. Construction of the cathedral began in 1879 but wasn't completed until 1992. Visitors can get a bird's eye view of the church and surrounding area after climbing to the structure's summit. Just around the corner from Almudena Cathedral are the ruins of Santa María de la Almudena, the first Christian church in Madrid. This site was previously where the former Great Mosque was when the Christians arrived in this part of Spain in the eleventh century.
Royals from around the world attended Queen Letizia and King Felipe's 2004 wedding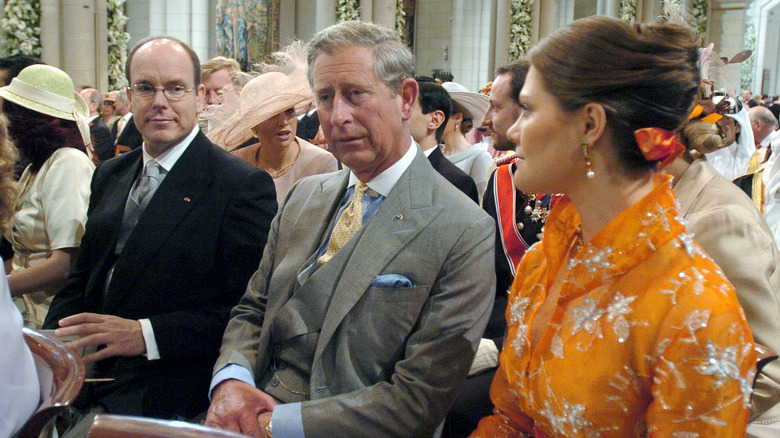 Pool/Getty Images
Queen Letizia and King Felipe's 2004 wedding at Almudena Cathedral in Madrid, Spain, was a big leap publicity-wise from when they were dating. The couple, who met at a mutual friend's dinner party, dated in secret for about a year prior to the announcement of their engagement. When it came time for their wedding, though, invitations were sent around the globe, including to other royal families.
Members of 34 different royal families from around the world attended the wedding festivities of Felipe and Letizia. Then-Prince Charles of England attended, as did Queen Rania of Jordan, Prince Albert of Monaco, and Queen Maxima of the Netherlands with her husband, King Willem-Alexander. Other notable guests included the former king of Greece, Constantine, as well as the former president of South Africa, Nelson Mandela, and his wife, Graça Machel. All in all, it's been estimated that more than 1,200 people in total attended Felipe and Letizia's 2004 wedding in Madrid.
Queen Letizia holds the record for the most expensive royal wedding dress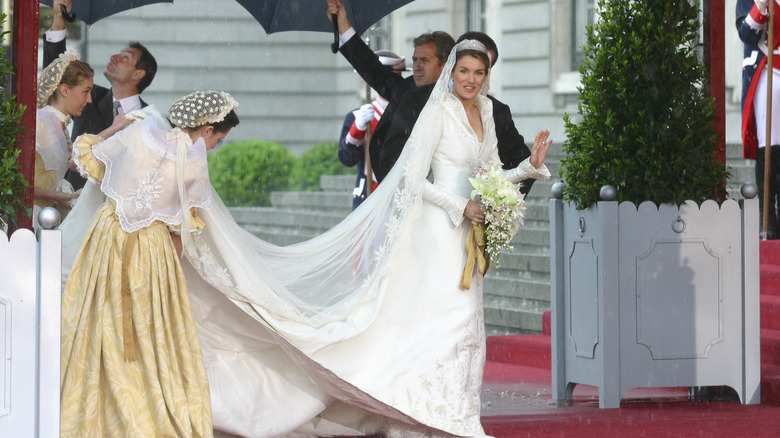 Dusko Despotovic/Getty Images
For her 2004 wedding to King Felipe of Spain, Queen Letizia opted for regal elegance in her fashion. Her gown, a long, white, embroidered column dress with long sleeves and an open v-neck-style collar, was designed by Spanish fashion designer Manuel Pertegaz. Along with the gown and its 14-foot train, Letizia, with her hair swept up, wore a floor-length veil over a diamond tiara. The tiara, known as the Prussian Tiara, had a special connection to Felipe's family. His mother, Queen Sofia, wore it on her wedding day when she married Felipe's father, King Juan Carlos, in 1962.
In the hem of the dress, Pertegaz included not only floral-pattern embroidery but also real gold! Parts of the train also featured gilding. The embroidery of the dress included renderings of details from the Prince of Asturias's (Felipe's) royal crest, like ears of wheat and the fleur de lis symbol. Letizia's gown has earned the distinction of being the most expensive royal wedding gown of all time. Its price tag? An estimated 6 million British pounds.
Queen Letizia's bridesmaids wore traditionally inspired gowns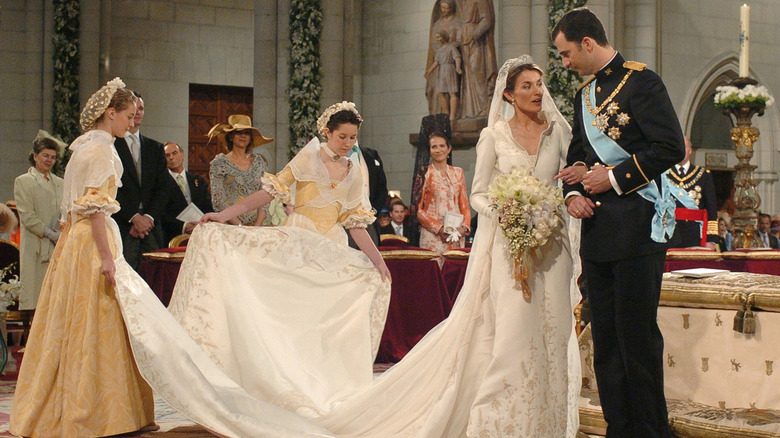 Pool/Getty Images
The bridesmaid dresses chosen by Queen Letizia of Spain for her 2004 wedding to King Felipe drew inspiration from eighteenth-century styles. Two of Letizia's friends served as her bridesmaids and attendants, Victoria Codorniu and Claudia González. Their dresses had a yellow base and featured a variety of components like corsets, ruffle-trimmed sleeves, and even lace aprons. To top off the look, each wore a short lace shawl over their shoulders. Their hair was gathered up in a gold and polka-dotted snood.
A different designer from Queen Letizia's dress, Lorenzo Caprile, created the gowns for Codorniu and González. According to Hello!, the dresses were directly inspired by the paintings of Spanish artist Francisco de Goya, who lived from 1746 to 1828.
Younger members of the bridal party also wore decoratively embellished outfits. The dresses and outfits of the flower girls and pageboys included gold sashes and embroidered waistcoats and skirts, among other elements.
The wedding of King Felipe and Queen Letizia of Spain was watched by 25 million people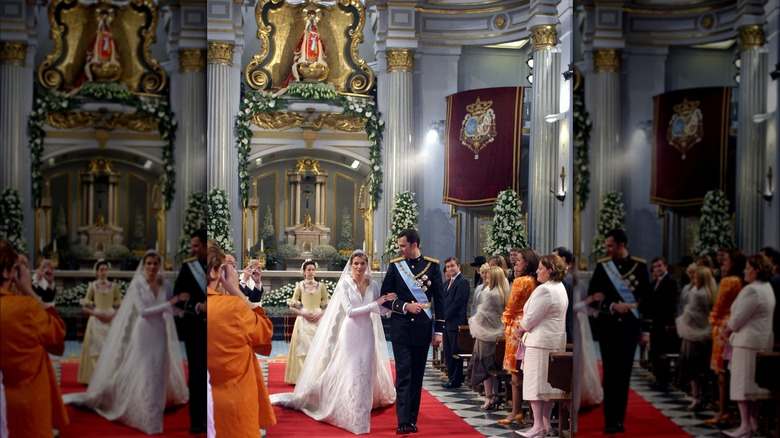 Lalo Yasky/Getty Images
Royal fans, both in Spain and around the world, tuned in in droves to watch then-Prince Felipe of Spain marry journalist Letizia Ortiz Rocasolano in Madrid, in May 2004. The ceremony at Almudena Cathedral was watched by upwards of 25 million people. During the traditional Catholic wedding ceremony, Felipe and Letizia exchanged vows in front of a full house as well as a full choir and orchestra inside the cathedral.
The couple also exchanged wedding rings during the ceremony. Prior to the wedding, Letizia had been sporting a diamond engagement ring containing 16 diamonds made by Spanish jewelry brand Suárez. The band was estimated to be priced around 20,000 British pounds. Since the big day in 2004, however, Queen Letizia has typically been seen wearing just her wedding band, a gold-outlined diamond ring by Spanish jewelry designer Karen Hallam. This ring features a circular row of diamonds outlined by gold bands.
Queen Letizia and King Felipe greeted the crowds before their bridal banquet at the Royal Palace in Madrid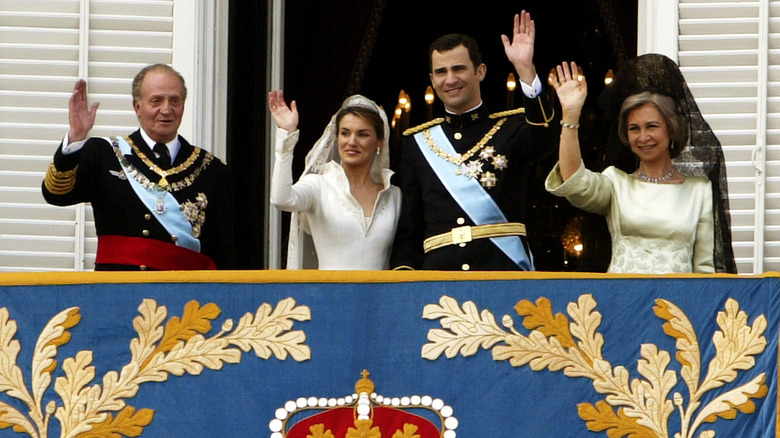 Ian Waldie/Getty Images
In addition to the tens of millions of people around the globe who tuned in to see King Felipe of Spain marry Queen Letizia in 2004, thousands of well-wishers also gathered in Madrid to catch a glimpse of the happy couple. After their wedding ceremony at Almudena Cathedral, Letizia and Felipe traveled by car around Madrid, greeting those who had assembled. They then went to the Royal Palace, which is located near the cathedral. From the palace balcony, they greeted onlookers once again and were joined by Felipe's parents, King Juan Carlos I and Queen Sofia. Felipe and Letizia shared a kiss on the balcony before returning inside to join their guests and begin the bridal banquet.
The bridal banquet, which took place inside the Royal Palace, featured an elaborate menu created by Spanish chefs Ferran Adrià and Juan Mari Arzak. The prepared items ranged from asparagus tips and summer truffles with soup to meat courses alongside dishes like tomato ravioli and smaller sweets like chocolate lollipops and mini cones.
King Felipe and Queen Letizia's wedding cake soared to dizzying heights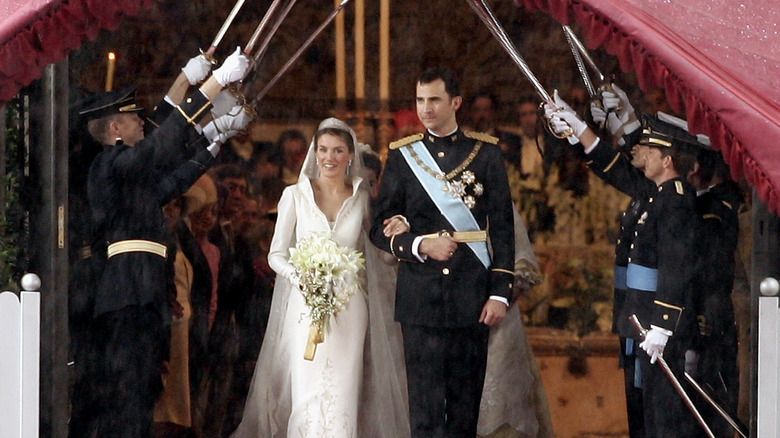 Pascal Le Segretain/Getty Images
In keeping with only the very best for the 2004 wedding of then-Prince Felipe of Spain and Letizia Ortiz Rocasolano, the cake served to guests after the ceremony did not disappoint. Pastry aficionado Francisco (Paco) Torreblanca and his baking company, Pasteleria Totel SL, created a truly unique confection and delivered what turned out to be a cake of epic proportions — literally.
Clocking in at nearly 14 feet in height, Felipe and Letizia's wedding cake arrangement also checked the box for most interesting shape, in a serpentine-style tiered form. Torreblanca included components and flavors that both Letizia and Felipe had requested: dark chocolate for the future king, and sweet chocolate and olive oil biscuits for the future queen. Torreblanca's baking efforts proved to be successful, as he earned applause for his cake from the guests at the banquet. King Juan Carlos, as reported by the New York Daily News in 2014, called the cake "a work of art."
Queen Letizia and King Felipe's wedding cost around $25 million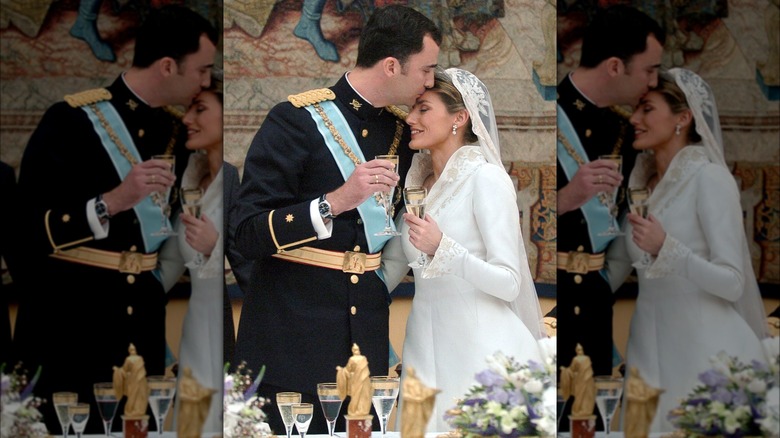 Lalo Yasky/Getty Images
Adding up the venue and food, dresses and suits, favors, entertainment, and other expenses, it's quite easy to spend a small fortune on a wedding. The 2004 nuptials of then-Prince Felipe of Spain and Letizia Ortiz Rocasolano cost a small fortune and then some. It's been estimated that after all was said and done, their wedding cost around $25 million. That puts them around the middle of the top-ten most expensive royal weddings of all time, just behind the 2011 wedding of Prince William and Kate Middleton and the 2018 festivities of Prince Harry and Meghan Markle, both in England.
In the midst of all the celebrations (and even a moment of fisticuffs post-wedding involving Italian royalty), Felipe maintained his focus on his new wife. The prince, who became a father to Princesses Leonor and Sofia a few years later and then became king in 2014 after his father abdicated the throne, spoke lovingly about Letizia during the bridal banquet following their wedding ceremony. "I am a happy man because I have fulfilled my most precious dream," Felipe said during his speech, as reported by Hello! "I have married the woman I love."