The Controversial Affair That Led To Robin Williams' First Divorce
Images Press/Getty Images
The late Robin Williams will forever be remembered as a comedic genius whose career spanned screen and stage for decades. After his unfortunate passing due to suicide in 2014, his private life has been the subject of intense interest to the public. In 2018, HBO released "Robin Williams: Come Inside My Mind," a documentary exploring Williams' complex life as an actor and comedian. The series takes a deep dive into his romantic relationships, particularly those with his three wives: Valerie Velardi, Marsha Garces, and Susan Schneider.
The "Good Will Hunting" star and his first wife were married from 1978 to 1988 before his career took off. Williams and Velardi had one child together, Zak, in 1983. Their relationship ended in divorce after the actor's infidelity, which his ex-wife discussed in the docuseries. "He loved women. Absolutely loved women," Velardi told HBO (per MamaMia). "And I got it, I understood and I wanted him to have that. But I also wanted him to come home."
The couple's divorce also came in the wake of a scandal: Williams stepped out on Velardi with Garces, their nanny. This complicated relationship led Williams to welcome his first child with Garces just a year after his divorce, in 1989.
Inside Robin Williams' three marriages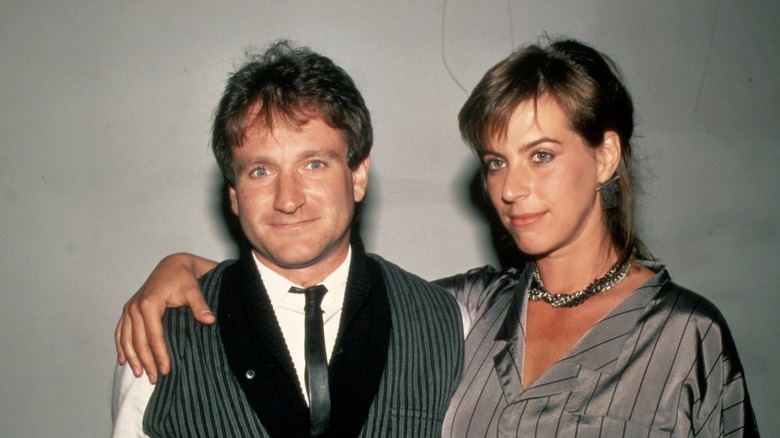 Images Press/Getty Images
While Valerie Velardi initially allowed her husband's infidelity, she said that they eventually grew apart from each other for other reasons. As Robin Williams' comedy career burgeoned, the recent college grad found that his new lifestyle didn't fit her. "He was always looking for a connection or another character or an accent," Velardi shared in "Come Inside My Mind" (per PageSix). "He was shameless. He would just do it ... So we gave each other up."
Williams and Marsha Garces were married from 1989 to 2010 and welcomed two children together, Zelda and Cody. Just a short year after his second divorce, the comedian married his third wife Susan Schneider. She was his spouse from 2011 up until his tragic passing in 2014. 
At 63 years old, Williams took his own life — shocking the world and his family. Speaking on her father's impact, his only daughter Zelda Williams said in a statement: "My family has always been private about our time spent together. It was our way of keeping one thing that was ours, with a man we shared with an entire world." (via Entertainment Tonight)
Robin Williams' third wife speaks out on his death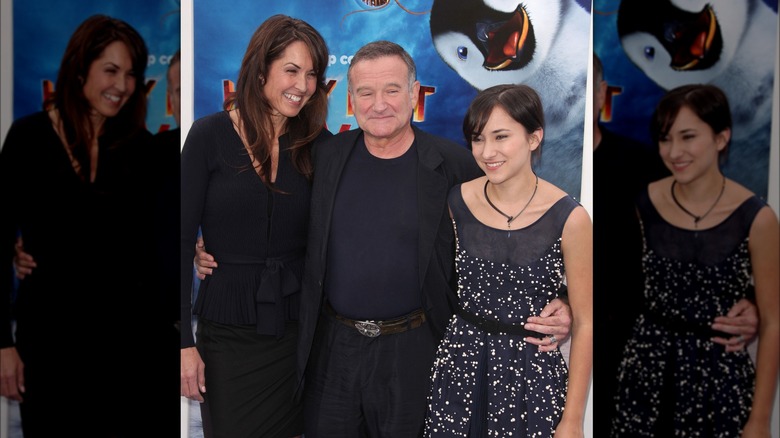 DFree/Shutterstock
Robin Williams quietly struggled with substance abuse during the golden years of his career. In his final year of life, he also began to lose cognitive function, which took a further toll on his mental health. In an interview with USA Today, Williams' third wife Susan Schneider attributed his unfortunate passing to difficulties with his new diagnosis of Parkinson's disease. "Robin's suicide was really a consequence of brain disease; his brain was so compromised," Schneider said. "I look at it like, Robin wanted to end the disease — he just didn't realize that meant he would end, too."
While Williams battled depression, Parkinson's, and undiagnosed Lewy body disease, insensitive media coverage of the cause of his suicide frustrated the newly widowed Schneider. Instead of humanizing his struggle, news outlets were eager to determine "why" for his death. "For someone as brilliant as Robin, who put his heart and soul into his career, to just start losing his abilities ... it was devastating for him to watch what it means to be human slipping through his fingers," Schneider said in the docuseries. Now, Schneider serves as a Board member for the American Brain Foundation and aims to support research for the disease that took her husband's life.