The Specific Rules The Royal Family Needs To Follow For Wearing Sunglasses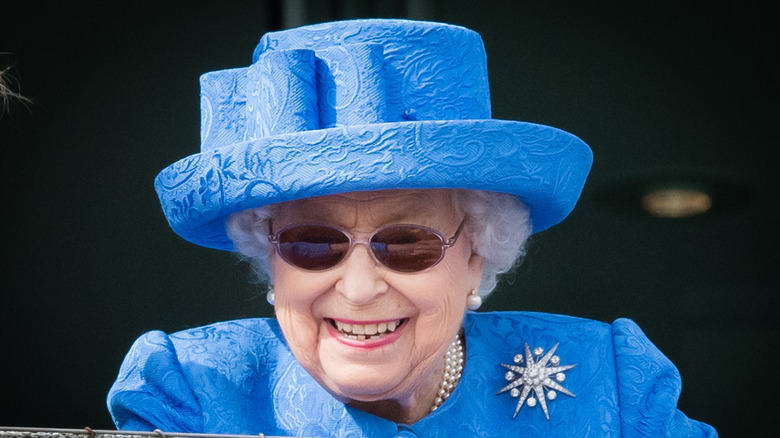 Samir Hussein/Getty Images
Everybody is well aware that the royal family has a long list of rules that official visitors and members alike must follow. While some believe these are more like common courtesies than strict regulations set in stone, there have been times when royals broke rules and things got dramatic. Clearly, sometimes, even the family themselves can't keep up with these restrictions, so you can imagine what happens to foreign visitors. Although the President of the United States has a large team of people, presumably even some well-versed in royal etiquette, he too made an error during an official visit. 
When President Joe Biden met Queen Elizabeth II at the 2021 G7 summit, he left his sunglasses on and broke royal protocol in the process. Speaking to Newsweek, Grant Harrold, King Charles III's former royal butler, explained why Biden should've taken his shades off during the visit: "If you're meeting the queen face-to-face, there's no sunglasses or anything like that at all because eye contact is quite important with any introduction." Harrold reasoned that the president might've kept his sunglasses on because it was an outdoor meet on a sunny day.
However, he also pointed out that neither the queen nor First Lady Jill Biden had sunglasses on. Harrold also stressed that all royals, regardless of status, follow this protocol to the letter. And yet, he acknowledged that if President Biden had worn his shades until he met Her Majesty, that would've been fine. And, unlike some royal rules that cannot be explained, this one has significance, which is why it's commonly followed.
The royal family doesn't shy away from sunglasses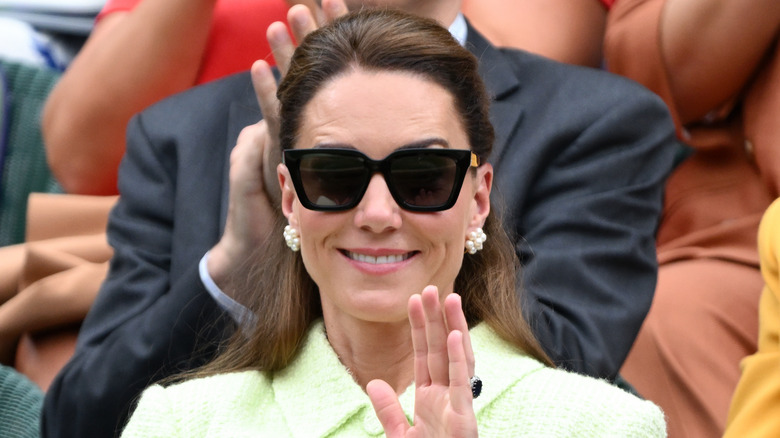 Karwai Tang/Getty Images
Over the years, we've seen several royal family members break protocol. Princess Diana was notorious for breaking strict rules but it's rare to see a royal break the sunglasses protocol. Maybe that's because it's a simple rule to follow, or maybe it's due to the logic behind it. Speaking to People, etiquette expert Myka Meier offered some insight into why the sunglasses rule exists: "Sunglasses don't allow direct eye contact, which can be seen as a barrier when communicating." She elaborated, "By taking sunglasses off upon meeting, it is seen as a sign of courtesy and respect to the other person." 
Meier also stressed that sunglasses are only permitted for outdoor events and should be stored away when moving indoors. In an Instagram video, she further shared that it's good etiquette to keep your shades in a case instead of holding them or attaching them to clothing. And while this isn't widely known royal protocol, The Firm seemingly always follows it. We've seen the royal family respect the sunglasses rule throughout history. 
When the Prince and Princess of Wales attend Wimbledon, for instance, they're often spotted wearing some stylish shades throughout the match, but they're noticeably absent in pictures taken with players or staff. Even their young daughter, Princess Charlotte, appears to strictly follow this protocol. Although Queen Elizabeth II often avoided sunglasses, she sometimes wore a signature pair during outdoor visits, but never indoors.
The royal family has several rules for accessorizing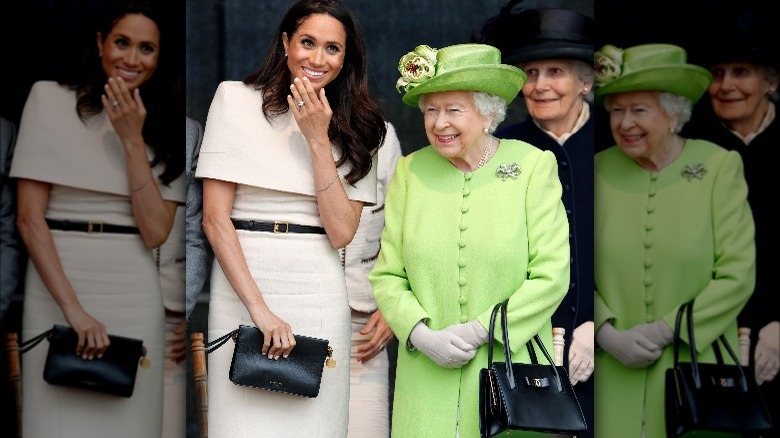 Max Mumby/indigo/Getty Images
Once you learn that the female members of the royal family try to only hold their purses in their left hand, you'll never be able to unsee it. Additionally, many royal women prefer carrying clutches and smaller handbags so that they can easily wave to their adoring public and shake hands with ease. Interestingly, it can be more than just an accessory too. Royal historian Hugo Vickers told People that Queen Elizabeth II often used her handbag as a means of secret communication. According to Vickers, when the queen moved her bag from one side to another, someone would swiftly whisk Her Majesty away from the conversation. 
Meghan Markle, the Duchess of Sussex, made headlines for wearing a crossbody bag at an official royal visit to Edinburgh since it was considered in certain circles to be breaking royal protocol. However, experts clarified that it's not a hard-and-fast rule, but rather simply a matter of preference. When it comes to nail polish, though, the royal family has limited options because they're not supposed to don bright colors.
However, this doesn't mean they don't take good care of their nails. As Sarah Gibson Tuttle, the founder and CEO of Olive & June, explained to Harper's Baazar, "The royal family tends to favor sheer, neutral shades on shorter, squoval-shaped nails." She added, "It's a super-classic, clean look that looks timeless and royal appropriate. ... Royal nails are always pretty, polished, and perfectly manicured."