Secrets Of Prince Andrew Sheds Light On Disgraced Royal's Demeanor Before Disastrous Interview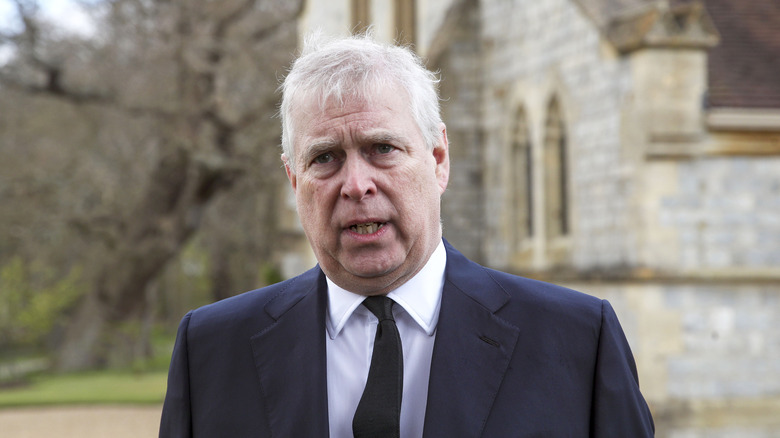 Wpa Pool/Getty Images
In November 2019, Prince Andrew agreed to a one-hour interview on BBC's "Newsnight" program. And his life was never the same. Now, a new documentary sheds some light on The Prince's state of mind directly in advance of that interview. 
The Prince (and the palace) had agreed to let the interview take place in order to allow Andrew to discuss his friendship with sex offender Jeffery Epstein, to confront the allegations made against him by Virginia Giuffre, and to attempt to set the record straight in hopes of regaining some control over the narrative. However, that is far from what happened. Instead, the interview proved so disastrous for Andrew's reputation and position that it has since been called "a plane crashing into an oil tanker, causing a tsunami, triggering a nuclear explosion" (via LA Times).
Now, however, in the new documentary "Secrets of Prince Andrew," the producer and journalist behind the interview are shedding new light on what Prince Andrew's state of mind was like directly before the interview happened. They also describe what the pre-interview meeting was like, how welcoming and jovial Andrew seemed to be toward them and their pitched interview, and they even divulge details about the surprise guest Andrew brought to that meeting.  
What happened in that pre-interview meeting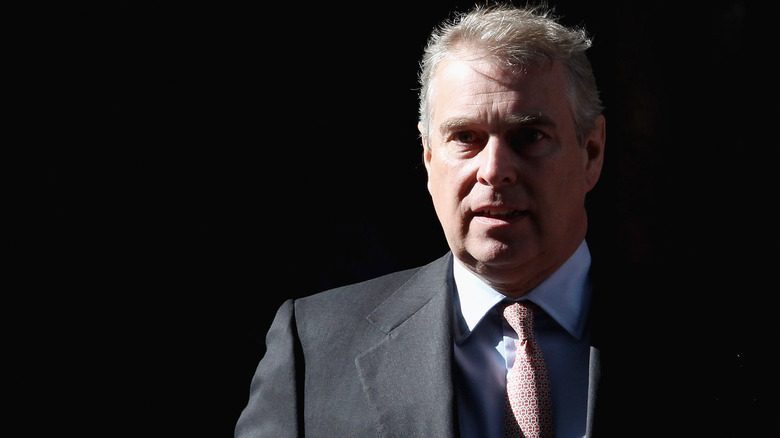 Dan Kitwood/Getty Images
Sam McAlister, who produced the now-famous BBC interview with Prince Andrew, and Emily Maitlis, the journalist who interviewed him, had gone to Buckingham Palace to meet with Andrew in the fall of 2019 to discuss whether or not he might be interested in doing a "Newsnight" interview. In recalling this meeting, McAlister admitted she knew she had one shot to convince Andrew to do the interview, and so she said something very bold.
"Sir," McAlister said to the senior royal seated across from her, "I have lived in this country for over 40 years and, until now, I only knew two things about you. It's that you're known as 'Air Miles Andy' and 'Randy Andy.' And I can absolutely tell you that the latter really doesn't help you in your current predicament." And Andrew's response? He laughed. In fact, both journalists recalled Andrew being very warm, welcoming, and magnanimous toward them and toward their idea of giving him a platform to share his story. It appeared he felt positive about his ability to tell his side in a way that the wider public would support and understand. 
McAlister and Maitlis also recalled that Andrew had brought a surprise guest to this meeting – his daughter Princess Beatrice. 
The fallout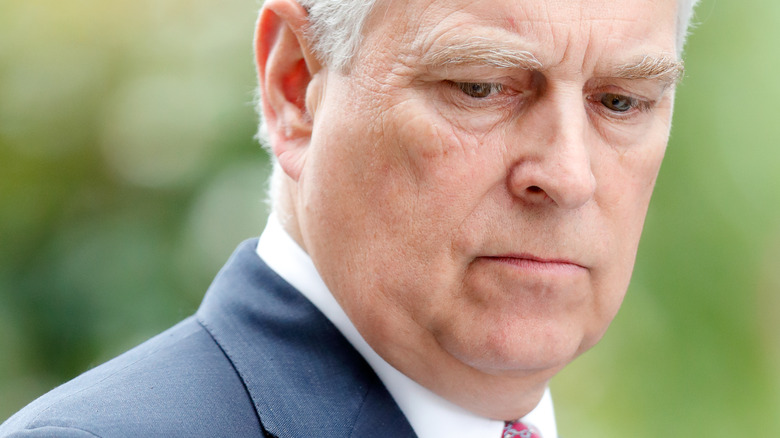 Max Mumby/indigo/Getty Images
While it at first struck both journalists as odd that Andrew would want to discuss alleged sexual misconduct in front of his daughter, it later occurred to them that perhaps Andrew was doing all of this for her sake. After all, at the time, Princess Beatrice was planning a wedding, and all of the scandal surrounding her father's association with Jeffery Epstein was likely very distressing to her. While McAlister and Maitlis admit they don't know the reason Andrew brought Beatrice along, they imagined that perhaps he was trying to assuage her concern and assure her that he was about to set everything right.
But that's not what happened. During the interview, rather than take any accountability whatsoever, rather than apologize, rather than promise to make things right, Prince Andrew chose to do a bizarre and painful-to-watch dance of avoidance, even denying things for which there was photographic evidence and stating things that were provably false. Just days after the interview, Queen Elizabeth II stripped him of his military titles, his HRH title, and his royal sponsorships. A single interview took down a prince. 
Further, according to Virginia Giuffre's attorney, who is also interviewed in the documentary "Secrets of Prince Andrew," Giuffre hadn't actually planned to sue or to otherwise go after Prince Andrew in any formal way until he flat out denied ever even knowing or meeting her in the BBC interview. Andrew later settled with Giuffre for an undisclosed amount thought to be close to $20 million.