Malia Obama Had Some Serious Driving Instructors Growing Up In The White House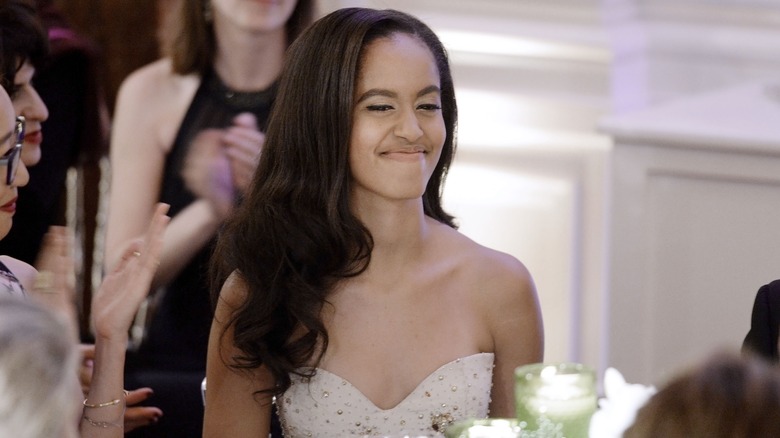 Pool/Getty Images
When Malia Obama moved into the White House, she was only 10 years old. Her younger sister, Sasha, was just seven. The Obama daughters grew up sliding down historic banisters and walking their dog Bo on the White House lawn. When they took family vacations to Martha's Vineyard (where Barack and Michelle Obama eventually bought an estate) in the summertime, they flew private helicopters. The literal president was briefly Sasha's childhood basketball coach (until parents from other schools complained), and the Secret Service taught Malia how to drive. There was nothing normal about their childhoods.
How did Malia score the Secret Service members as driving instructors? "They wouldn't let me in the car with her," Michelle Obama told Rachel Ray in 2015, per CBS. Allegedly, the former First Lady was a little rusty behind the wheel, especially after not driving much during Barack's two terms in the White House.
As the author and activist explained on "Live! With Kelly and Michael," she struggled to give advice when Malia asked her how to navigate a public parking lot, per The Wall Street Journal. Eventually, the eldest Obama daughter began driving solo. "In order for her to learn how to drive," shared Michelle, "she had to drive on her own. So once she was legally permitted to drive on her own, she gets in her car." 
That said, security was never too far behind. According to her mother, driving alone helped Malia to feel more like an average teenager. We're guessing she has some pretty serious maneuvering skills thanks to her first-class Secret Service teachers.
Malia and Sasha had Secret Service tag along on their dates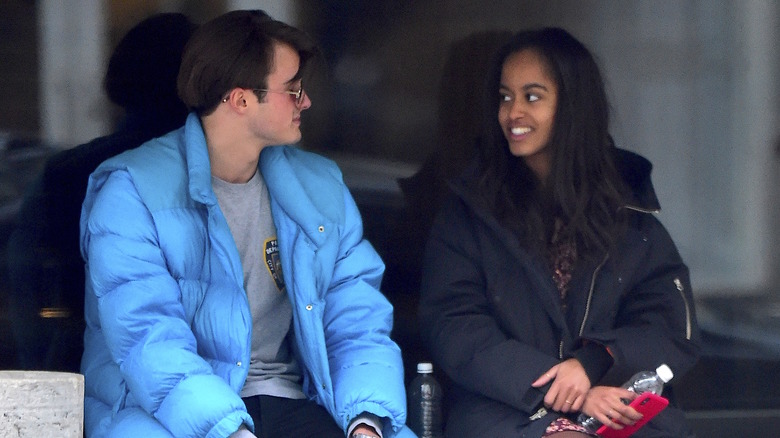 Alo Ceballos/Getty Images
Throughout Barack Obama's two terms in office, the former first daughters couldn't go anywhere without Secret Service by their side. That meant driving lessons, outings with friends, and, yes, even dates.
"First of all, them as teenagers having Secret Service guys follow them when they were going out on dates, I think probably has shut down their interest in public service," the former president joked on "The Late Late Show with James Corden." "They still have PTSD from our guys talking into their wrist microphones and glasses as they're trying to go to a music concert." Instead, President Obama predicts they'll look for ways to give back outside the world of politics ... they've already had their fair share of "nonsense and silliness and meanness."
However, perhaps even more intimidating than the Secret Service trailing you on dates is when meeting the parents for the first time turns into shaking hands with the president. According to Barack Obama, Malia's boyfriend quarantined with the Obama family during the early days of the pandemic — the president even taught him how to play spades. "[We] took him in and I didn't want to like him, but he's a good kid," Obama shared on "The Bill Simmons Podcast" (via Marie Claire). However, he did realize that "young men eat." His grocery bill went up substantially over that time, he said.
The Obamas had a few ground rules in the White House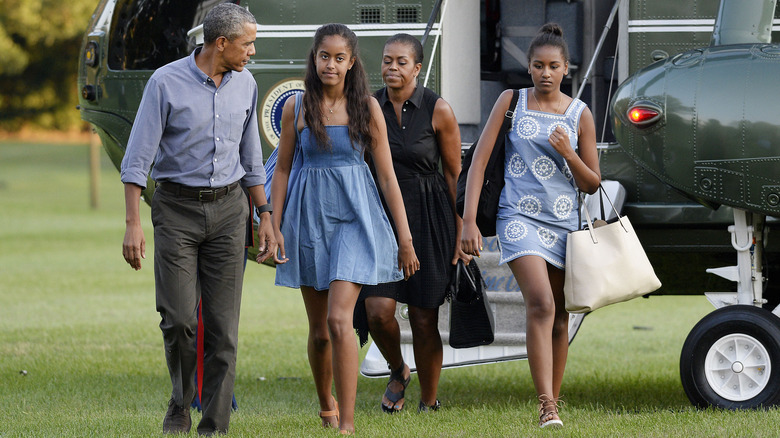 Pool/Getty Images
Despite their extraordinary circumstances, Michelle Obama wanted to give her daughters a normal childhood — at least one as normal as possible. Reflecting on their eight years in the White House, the former First Lady explained to Entertainment Tonight how she and her husband "tried to normalize their lives as much as possible."
Part of that meant enforcing a few ground rules at the White House. The couple made sure the girls learned how to make their beds and clean up after themselves and their dog Bo. During one Martha's Vineyard summer, Sasha even took up a job at a local seafood restaurant.
"What's true for you all in your homes is the same for us," Michelle told People in a 2011 interview when Malia and Sasha were 13 and 10, respectively. "It's really the interaction that we have as a family that makes [the White House] feel like home," she added. "It's sitting down at the dinner table and having Barack's day be the last thing anyone really cares about." The bottom line for the Obamas? Unconditional love and a little structure in a family is essential.