How Did Katharine McPhee Meet Her Husband David Foster?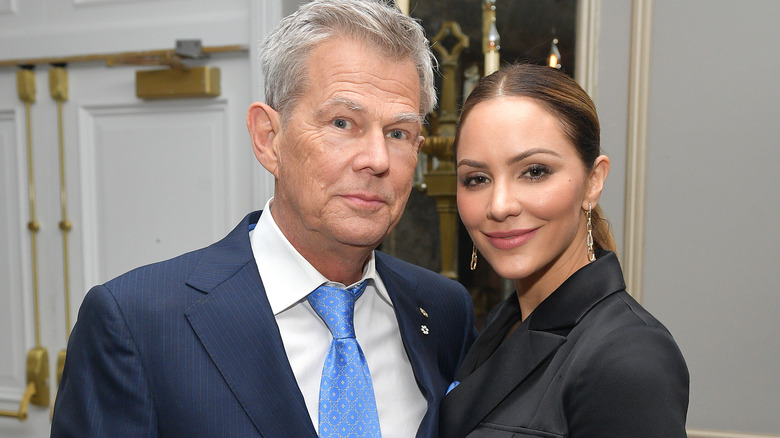 Matt Winkelmeyer/Getty Images
David Foster and Katharine McPhee were romantically linked in 2017, just before his divorce from "Real Housewives of Beverly Hills" star Yolanda Hadid was finalized. The two were spotted out and about together on numerous occasions, but weren't in any kind of rush to publicly label their relationship. "I think it's so amusing that people are amused by my love life," McPhee told People in November 2017. "Here's how I look at it: I'm not doing anything wrong, so whether people think it's true or false, I don't, you know, there's nothing bad happening in my life, so people can just say whatever they want."
While some people may think that 2017 was the first time that Foster and McPhee connected, the truth is that they had known each other for many years prior. According to InTouch, Foster first met McPhee when she was an "American Idol" contestant in 2006. That season, Foster served as a guest mentor and had the chance to work with the talented artist. Things went well and Foster was impressed by McPhee's talent, saying that she had a "great, great future ahead of her." 
Although McPhee lost to "American Idol" fifth-season winner Taylor Hicks, she and Foster kept in touch, and they reconnected in 2008 at McPhee's wedding to Nick Cokas. People magazine shared photos of the event and, lo and behold, Foster was there.
David Foster performed at Katharine McPhee's first wedding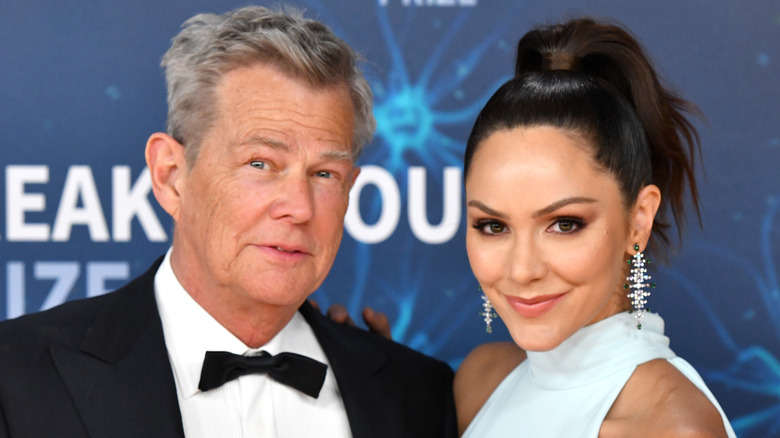 Ian Tuttle/Getty Images
Yup, you read that right. Katharine McPhee enlisted the help of David Foster to make her wedding day even more special. At the reception, McPhee performed "Unforgettable" by Natalie Cole and was accompanied by Foster, who played the piano during her tribute to then-husband, Nick Cokas.
In 2014, McPhee's marriage ended in divorce, according to E! News. "After six years of marriage, and having been separated for the past year, Katharine McPhee has filed for a dissolution of marriage from Nick Cokas. The two have an amicable relationship and will remain friends," read the couple's statement.
McPhee went on to date Elyes Gabel for nearly two years before they went their separate ways in July 2016, per E! Nearly two years later, McPhee went public with another romance, this time with Foster. In May 2018, she and Foster made their couple debut on the red carpet at the Met Gala in New York City. In an interview with Entertainment Tonight, McPhee called the outing a "fun date night," effectively confirming that she and Foster, who is 35 years her senior, were a thing. 
Two months later, McPhee revealed that she and Foster were engaged. The news came around the same time that McPhee's father died. "My ring was the last thing I showed my dad before he passed and makes me smile when I look at this as a reminder of our last conversation," she captioned an Instagram post at the time.
Katharine McPhee and David Foster got married, welcomed a son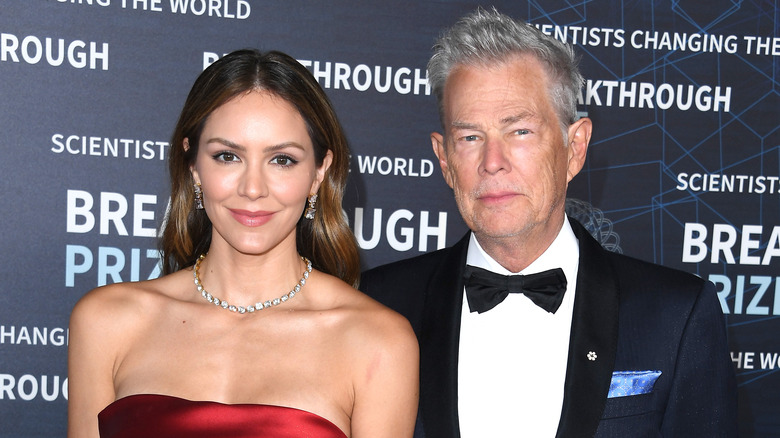 Steve Granitz/Getty Images
David Foster and Katharine McPhee seemed to defy the odds with their love story, simply based on how they met, and when. Nevertheless, in 2019, they tied the knot in London just after a dreamy trip across Europe that included a yacht and the Mediterranean Sea. About a year later, People magazine confirmed that the couple was expecting their first child together. In February 2021, Rennie David made them a family of three; the first child for McPhee and the sixth for the music producer. 
As the couple continues to navigate the journey of life together, McPhee isn't shy about sharing her first encounter with Foster and how grateful she is for the experience that led her to him, albeit many years later. "It's a real wow," she said during a January 2023 interview on "The Jennifer Hudson Show." "We sometimes still look at each other and we can't believe that we met that long ago and we went on vacations together with other couples," she added, referencing times when she and Foster were in relationships with other people. "We can't believe the ride that we've been on."
McPhee went on to say that she looks back at "American Idol" even more "fondly" because of what it ended up bringing her in life that far surpassed a career in the music industry. As for what the future holds, McPhee told Hudson she'd love to expand her family. "I love being a mom. I really love it," she said.