Inside Riley Keough's Relationship With Grandma Priscilla Presley
Kathy Hutchins/Shutterstock
Elvis Presley was an icon, a pop culture legend, and a pioneer in the rock music genre in America. With the 2022 release of the biopic "Elvis," a new generation of fans became acquainted with Presley's story, which includes his wife, Priscilla Presley, their daughter, Lisa Marie Presley, and his granddaughter, Riley Keough. Following the death of Lisa Marie in 2023, Priscilla and Keough were rumored to have been feuding, bringing their relationship into the spotlight.
Keough began her career as a model and has become a sought-after actor, starring in films such as "Mad Max: Fury Road," and the series "Daisy Jones & the Six.". Priscilla Presley, who is more than just Elvis' widow, is an actor in her own right and the subject of an upcoming film directed by Sofia Coppola called "Priscilla." Read on to find out how this ultra-famous grandmother and granddaughter really get along, how they've coped with unthinkable tragedy, and how they've navigated their way through a very public legal battle.
Riley Keough and Priscilla Presley had been close since Keough was little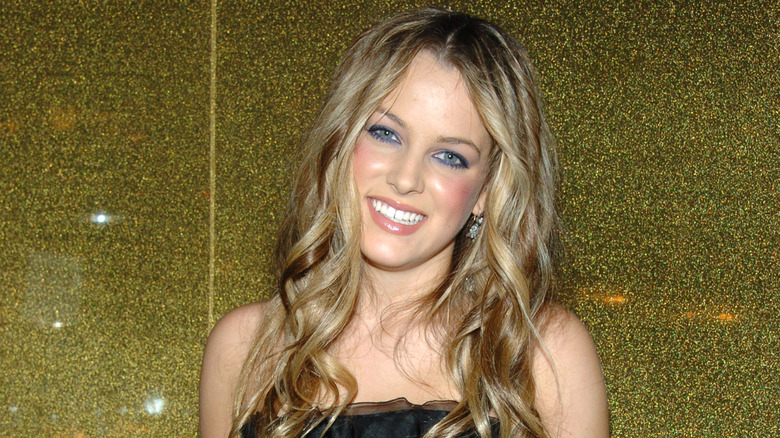 Theo Wargo/Getty Images
The dynamics within the Presley family have become complicated over the years, but when Riley Keough was little, it seems she and her grandmother Priscilla Presley were quite close. The whole family was tight-knit at one point, and there was a special reason for that.
Presley gave birth to a son, Navarone, in 1987, and Presley's daughter, Lisa Marie, gave birth to Riley Keough in 1989. Priscilla and Lisa Marie had a harmonious relationship at that time, which Priscilla spoke about in a 1991 interview with Vanity Fair. "Our children growing up together is the most touching experience either my daughter or I have had. Both of us have been through quite a lot together, and this has even brought us closer," she said.
Although by all accounts Priscilla and Lisa Marie loved each other very much, their relationship eventually soured amid legal disputes and family drama. Sadly, Keough often found herself in the middle, trying to keep the peace.
Trouble began brewing in 2016 between Riley Keough's mom and grandma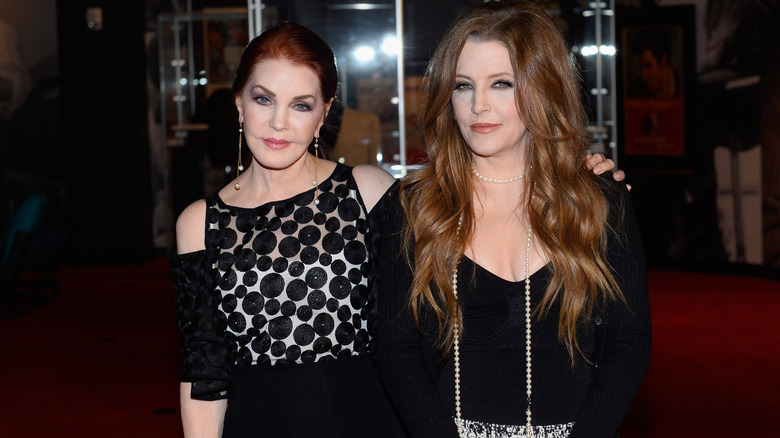 Bryan Steffy/Getty Images
Priscilla Presley's daughter, Lisa Marie, was married four times: to Danny Keough (with whom she shared daughter Riley Keough) from 1988 until 1994, to music legend Michael Jackson from 1994 until 1996, to iconic actor Nicolas Cage from 2004 until 2006, and to guitarist Michael Lockwood from 2006 until 2021. The latter, although not the most high-profile, proved to be the most contentious. And while the divorce was finalized in 2021, their split occurred in 2016. 
At that time, tensions arose between Priscilla and Lisa Marie, stemming from the fact that Priscilla seemed to side with Lockwood during a custody battle over the couple's twin daughters, Finley and Harper. According to sources, this also caused a rift between Riley Keough and her grandmother. "Riley was always on her mom's side when it came to Michael," a source told People.
In 2016, after her split with Lockwood, Lisa Marie made some changes to her will that Priscilla opposed. The amendment removed Priscilla as a co-trustee of Lisa Marie's estate and named Keough and her brother as the new co-trustees. Keough's brother, Benjamin, passed away in 2020, leaving Keough as the sole trustee. A source told Entertainment Tonight, "It was always meant for her children to inherit her trust. Lisa always wanted Riley and Benjamin to be the beneficiaries of the trust and that was no secret."
Riley Keough tried to keep the peace between her mom and her grandmother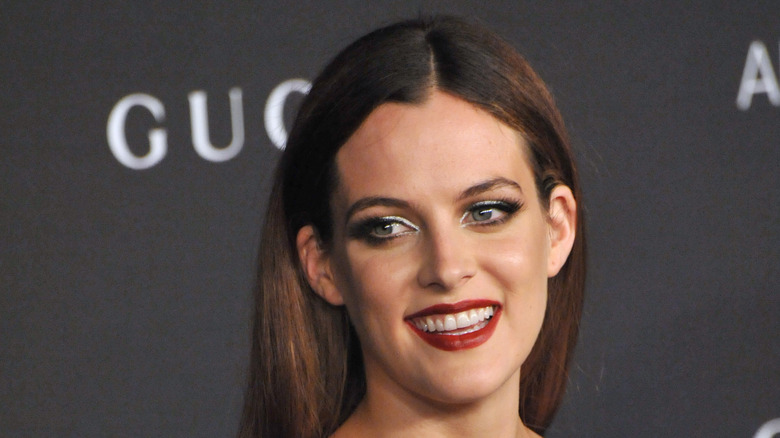 Featureflash Photo Agency/Shutterstock
When Riley Keough's mother, Lisa Marie Presley, died unexpectedly in January 2023, things got complicated between the actor and her grandmother, Priscilla Presley. Priscilla contested the amendment to Lisa Marie's will that named Keough as co-trustee of her late mother's estate. A source told Entertainment Tonight, "Riley wants to keep the family together and keep Lisa Marie's legacy in a positive light, but she feels that her grandmother's actions are pushing the family apart even more."
Keough reportedly wanted to honor her mother's wishes without hurting her grandmother, but the family dynamic was precarious even before Lisa Marie's untimely death. While Lisa Marie was still alive, Keough reportedly found herself in the middle of her mother and her grandmother's feuding. "Riley knew there was contention with her mom and grandmother and has always tried to be a bridge between them," a source shared with Us Weekly.
The family came together to honor Elvis' legacy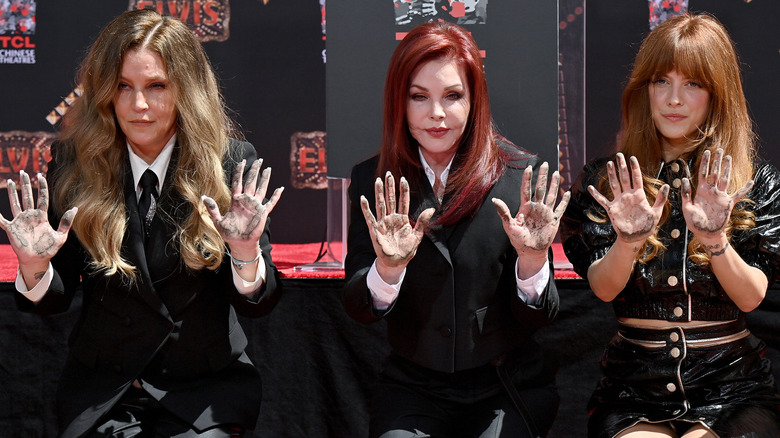 Axelle/bauer-griffin/Getty Images
In 2022, Riley Keough and Priscilla Presley came together to honor Elvis' legacy in tandem with the release of Baz Luhrmann's biopic about the legendary singer, "Elvis." Keough, along with her mother and grandmother, attended the Memphis premiere of the film together, and Keough shared a sweet pic of the family in an Instagram post. "We're so thrilled to be in Memphis with @elvismovie and with all of the wonderful performers," Keough captioned the pic, adding, "It's been such a special weekend, I couldn't think of a better place to Premiere ELVIS in America."
As part of the promotion for the film, Keough, her mom, and her grandmother took part in a handprint ceremony at TCL Chinese Theatre to honor Elvis, and according to Keough, it was a very special experience. Upon seeing a photo of herself with Priscilla and Lisa Marie at the event, Keough told Vanity Fair, "Oh, you guys are gonna make me cry." She added, "I mean, it was very emotional ... I don't think you can watch a film about your family without it just being an incredibly personal experience."
A family tragedy fractured Riley Keough and Priscilla Presley's relationship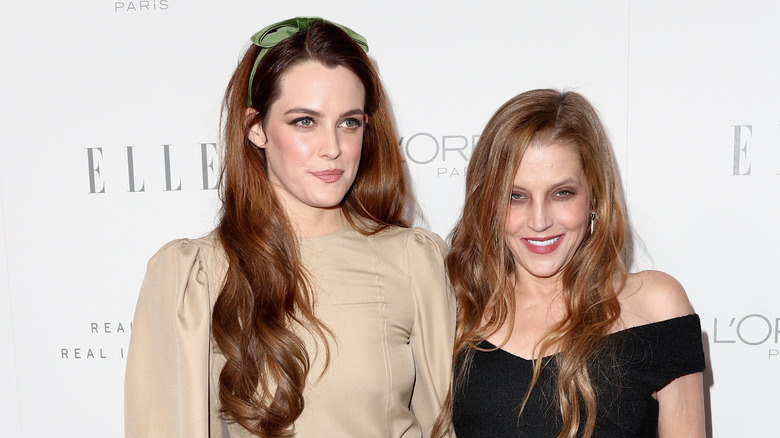 Frederick M. Brown/Getty Images
When Lisa Marie Presley died at the age of 54 due to cardiac arrest, it was shocking to her fans and family alike. Lisa Marie's daughter Riley Keough and mother Priscilla Presley were grieving their loss, but there were legal matters to consider as well. Thanks to the amendment Lisa Marie made to Keough's will in 2016, Keough stood to inherit her mother's entire estate (which includes Graceland), and Priscilla decided to contest that.
Little more than a week after Lisa Marie passed away, Priscilla filed documents challenging the changes made to her daughter's will, which named Keough as the trustee. According to court documents, Priscilla said that there are many issues surrounding the authenticity and validity of the purported 2016 amendment and also claimed that the amended will was never delivered to her while Lisa Marie was still alive, as was required. She also said that Lisa Marie's signature looked different, implying there was something underhanded at play.
The legal drama was another blow to Keough, who was already grieving her mother's death. She didn't want any bad blood between her and her grandmother, but it was hard to ignore Priscilla's claims. "Riley has been mourning the loss of her mother and is heartbroken to have to deal with a trust dispute with a family member," a source told Entertainment Tonight.
Priscilla Presley shut down rumors of tensions with Riley Keough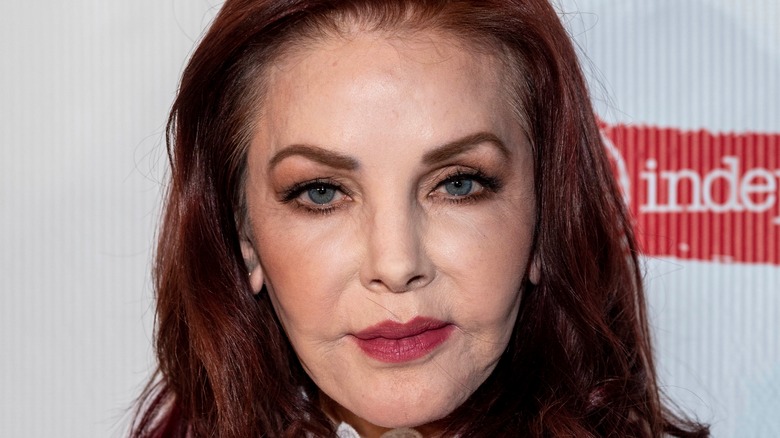 Eugene Powers/Shutterstock
Although there were clearly issues between Riley Keough and Priscilla Presley following the death of Lisa Marie Presley, both women were keeping mum about their reported feud. In April 2023, Priscilla shut down rumors that she and Keough were not on speaking terms when she told fans, "Don't believe what's been said ... Riley and I get along well," according to Entertainment Tonight. 
It was after "An Evening to Remember With Priscilla Presley" that fans got the opportunity to speak with Elvis' widow, and naturally, the subject of her granddaughter came up. Priscilla reportedly said she was proud of Keough and maintained that the she and her granddaughter remained close. "You know, I went to dinner with [her] before I came [here]," she said, adding, "Everything's good."
Whether that was the truth or an attempt to keep up appearances, it does seem as though the family was doing their best to keep it together amid the drama and their tragic loss. "When my mom passed, there was a lot of chaos in every aspect of our lives. ... Everyone was in a bit of a panic to understand how we move forward," Keough told Vanity Fair. "We are a family, but there's also a huge business side of our family. So I think that there was clarity that needed to be had."
Following Riley Keough and Priscilla Presley's legal drama, all seems well in Graceland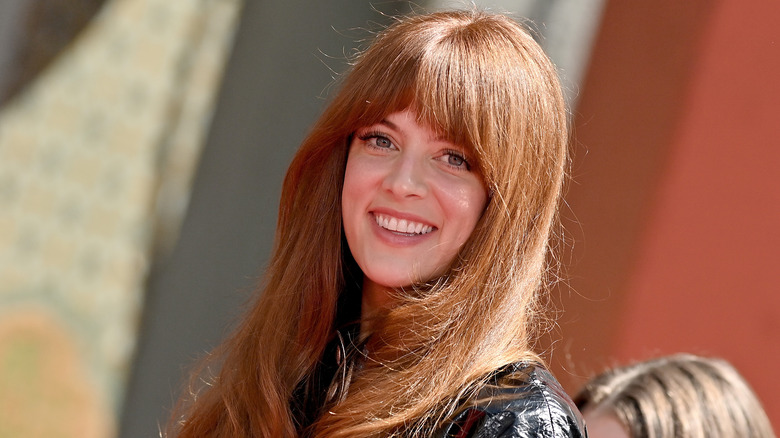 Axelle/bauer-griffin/Getty Images
Clarity was eventually restored between Riley Keough and her grandmother Priscilla Presley following the death of Lisa Marie Presley and their ensuing legal issues. In June 2023, they reached a settlement regarding the family trust. In addition to a lump sum of $1 million to be paid to her grandmother, Keough also agreed to pay $400,000 to cover the cost of Priscilla's legal fees, according to documents obtained by People.
In her interview with Vanity Fair, Keough remained positive about her relationship with her grandmother, emphasizing her admiration and respect for Priscilla. "She's a beautiful woman, and she was a huge part of creating my grandfather's legacy and Graceland. ... Anything that would suggest otherwise in the press makes me sad because, at the end of the day, all she wants is to love and protect Graceland and the Presley family and the legacy," she said. And it seems as though the two women have a pretty traditional relationship, given how unconventional both of their lives have been. "Things with Grandma will be happy," Keough said. "They've never not been happy. ... She's just been my grandma."