The Royal Family's Best Tartan Looks (Including King Charles' Kilts)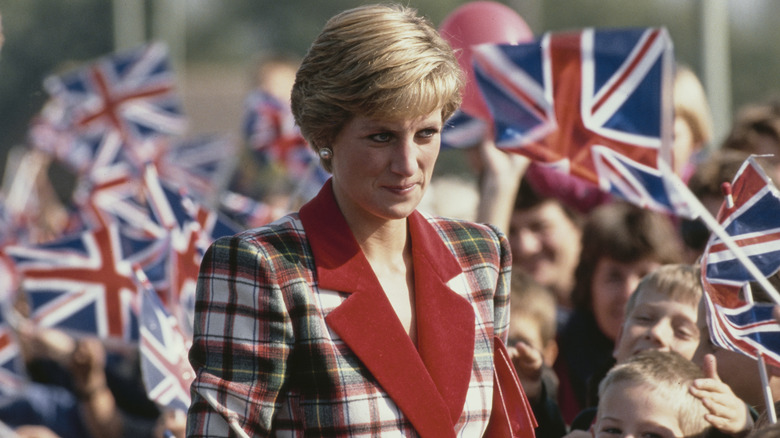 Princess Diana Archive/Getty Images
The British royal family is loved the world over. Whether you're obsessed with the history of the House of Windsor or just like a good old-fashioned regal institution, there's no denying that the royals are born to serve. Not only do they bring in millions of pounds in tourism money to the UK each year, but there's something else they deliver in buckets: serious fashion. From the People's Princess, Princess Diana, to the late, great Queen Elizabeth II, the Windsors sure seem to understand the stakes when it comes to style.
While there are many royal fashion trends worthy of diving into, the royal family's love of tartan deserves extra attention. The House of Windsor does indeed have ties to Scotland, as Elizabeth was a descendant of Robert II, King of Scots. What's more, one of Elizabeth's favorite residences was Balmoral, a sprawling estate around 80 miles from Aberdeen. It was here, at the privately-owned castle she inherited from her father, where Elizabeth died in 2022.   
Needless to say, tartan is more than a fashion statement to the royal family. The women love a bright tartan dress, and King Charles III has a wide range of fabulous kilts. Let's take a look at some of the most fantastic tartan outfits sported by the Windsor clan. 
Queen Elizabeth II's country chic look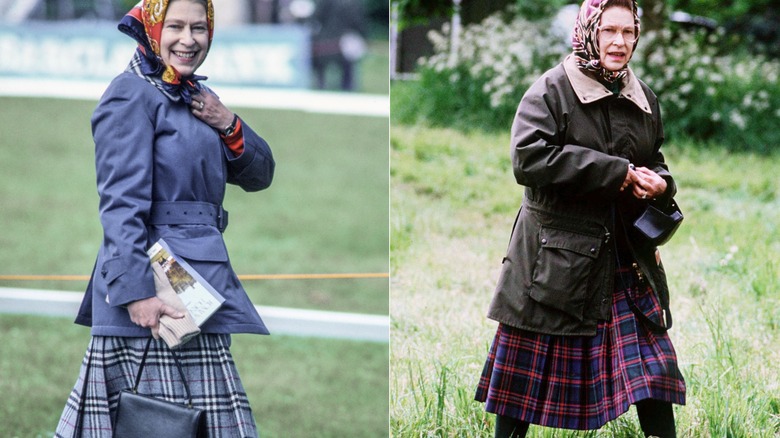 Derek Hudson & Tim Graham/Getty
In the '70s, Queen Elizabeth II was the epitome of granny chic. Although her first grandchild wasn't born until 1977, Elizabeth had been perfecting the style for decades. She could often be spotted out and about in the country wearing a thick tartan skirt with a sturdy coat, but the cherry on top of the sundae was always her headscarves. Practicality ruled in cold weather, with the monarch likely protecting her perfectly coiffed and blow-dried hair by wrapping it securely in a scarf. The scarves, which she wore all throughout her reign, tended to be patterned (see above) and tied just under the neck to keep them in place. Elizabeth's scarf collection became the stuff of legend, as she had a number of Hermès pieces. 
As for her range of tartan skirts, they seemed to be just as varied as her headscarf collection. Two of Elizabeth's tartans were particularly noteworthy: the Royal Stewart tartan, which was her official tartan, and the Balmoral tartan, which can only be worn by the reigning monarch and approved royal family members. It is no exaggeration to say tartan was a staple in her wardrobe for her entire life: In the final public photograph taken before her death, Elizabeth posed in — what else? — a tartan skirt. 
King Charles III and Princess Diana's tartan couple's outfit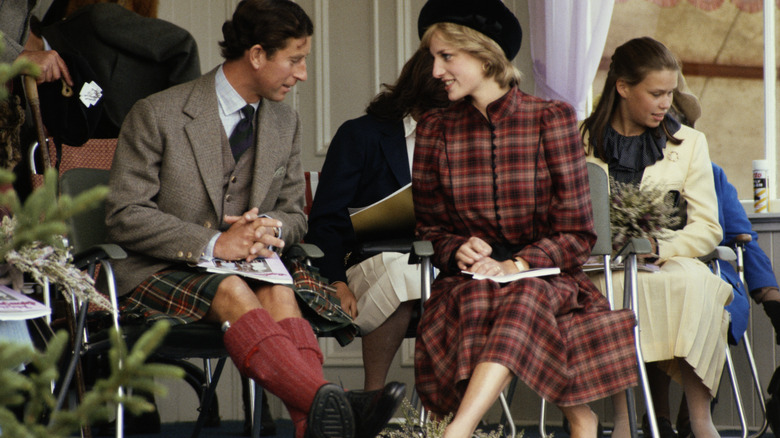 Princess Diana Archive/Getty Images
foThis photo of King Charles III and his doe-eyed first wife, Princess Diana, was taken just two months after they wed. At this point in their marriage, they likely had no idea of how things would turn out between them, nor could anyone have imagined she would die in a car accident at the age of 36. Before their relationship turned sour and they had one of the most famous divorces of all time, the couple frequently attended public engagements, such as the Braemar Games in Scotland in 1981. 
Diana wore a full-length Caroline Charles suit with slightly puffed shoulders and exquisite black button detailing. The tartan material was a muted reddish brown, which gave off an autumnal vibe perfect for the September weather. Diana topped her short blond hairdo off with a black beret and minimal accessories. Evidently, the new bride wanted to wear tartan just as her husband did. 
For his part, Charles donned a tweed brown blazer and waistcoat with a green and red tartan kilt and matching thick woolen socks. While their relationship was not a fairy tale, the fashion was on point.
Princess Anne, King Charles III, and Camilla, Queen Consort's triple threat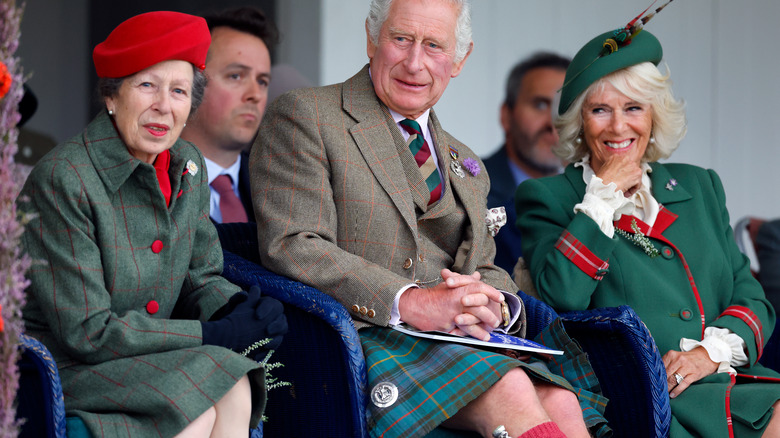 Max Mumby/indigo/Getty Images
King Charles III attended the Braemar Highland Gathering again in 2022, prior to his mother's death. At the event, Charles sat alongside his sister, Princess Anne, and his second wife, Camilla, Queen Consort. The trio made for an impressive sight, decked out in their Scottish finery. If green was the theme, they nailed it beyond measure. 
Anne wore a stunning bright red hat with a gentle sloping shape, with lipstick to match, but her outfit was really what tied it all together. Her green full-length tartan coat was accented with red buttons and an elegant brooch. As for the monarch, he wore a jaunty green, gold, and red striped tie with a tweed coat and waistcoat, along with a green and red tartan kilt and matching red socks. Not to be left out or behind, Camilla went for a deep green outfit with red tartan detailing on the sleeves. 
Whether this was a coordinated effort or simply an accident, it can't be denied that the completed aesthetic looks incredibly festive and grand. More power to the senior royals for making this a true style moment that won't be forgotten. 
Princess Anne's tartan jacket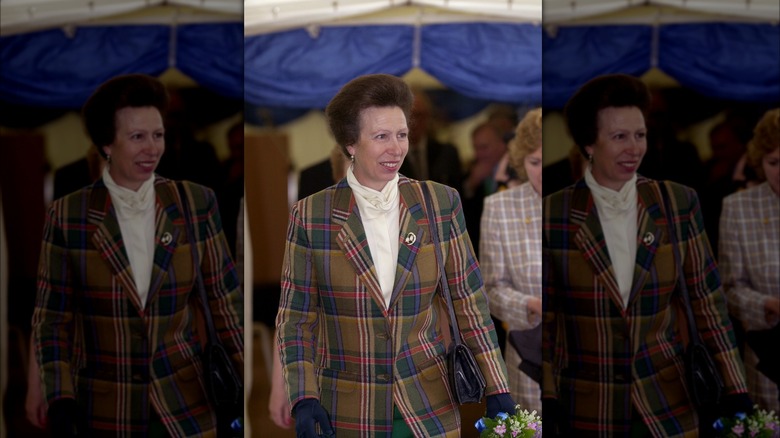 Tim Graham/Getty
Just like the rest of her close family, Princess Anne knows a good tartan look when she sees one. Besides her love of the style, Anne has always made it perfectly clear that she adores Scotland, once proclaiming (via Scotland Mag): "Scotland is such a beautiful country with such passionate people, who could fail to want to be a part of it?" 
And, as many other royals know, you don't have to be in Scotland to show off your finest checked styles. Anne wore this green, red, and blue jacket back in 2000 when she opened a school in Thatcham, Berkshire. It wasn't a gala or some other fancy state event, but Anne still looked delightfully dapper and immaculately put together in this simple, yet elegant look. Anne paired the jacket with a high-neck white blouse and a green skirt. 
Just a couple of months prior, Anne had donned a different tartan look, this time a red jacket with a matching skirt, to another public event, proving it was one of her favorite styles of the era. Given her love for all things country, it's not surprising that Anne is one of the most prominent tartan lovers in the House of Windsor. 
Princess Catherine's bold red number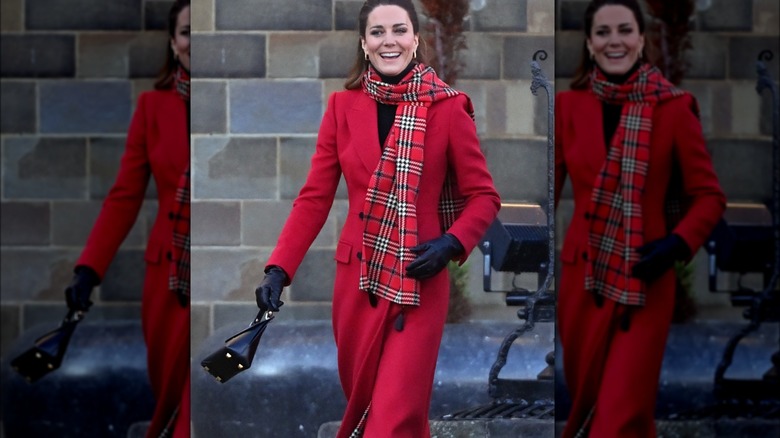 Pool/max Mumby/Getty
All eyes have been on Princess Catherine since the '00s, dating back to the time when she was still Kate Middleton, Prince William's university girlfriend. When the pair got engaged in 2010, the interest in the future queen skyrocketed. Not only is she held in incredibly high regard by the public, but Catherine has cemented her status as one of the most stylish women in the world. Her 2011 Alexander McQueen wedding gown started its own bridal trend, the effects of which are still felt to this day. 
Catherine's fashion moments continue to be reported on, with publications across the world commenting on which designers she wears and her sartorial wins. Of course, Catherine wouldn't be a true part of the royal House of Windsor if she hadn't broken out a tartan look every now and then. Although there have been several, this tasteful red number was sensational and on-point for the occasion. Remarkably, she didn't wear this to Scotland as one may expect, but to Cardiff, Wales, in 2020. 
As it was December and very chilly, Catherine bundled up in a full-length red coat and black gloves. The entire look was pulled together by a bold red tartan scarf. As for her accessories, the princess opted for simple gold earrings that topped off the seasonal aesthetic perfectly — although it could be argued that Catherine's beaming smile was the real piece de resistance. 
Princess Diana's tartan power suit dress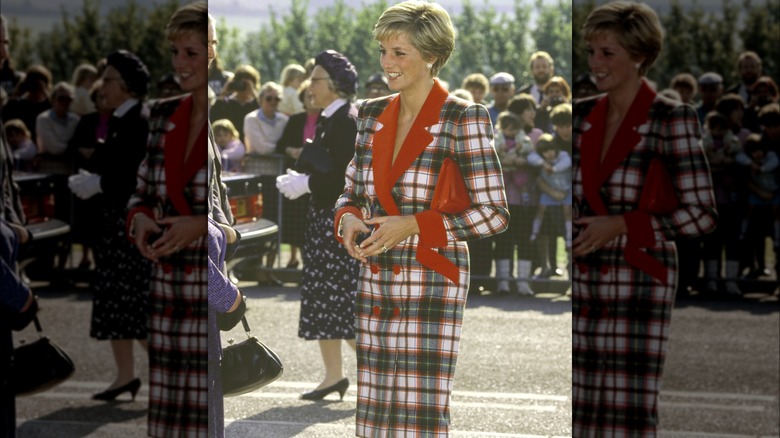 Princess Diana Archive/Getty
There are many things that spring to mind when thinking of Princess Diana. King Charles III's first wife made a huge mark on the world. Not only was she beautiful, but she went out of her way to help others, cementing her status as the "people's princess." Of course, she was also renowned for her impeccable fashion sense. Diana's wedding dress caused a huge sensation when she tied the knot at St. Paul's Cathedral in London, but that was just the beginning of her fierce, on-trend looks. She became a huge lover of tartan, pushing the envelope and making the checked pattern distinctly her own, as witnessed in the above snap. 
The mom of two wore the incredible Catherine Walker coat dress while visiting a Honda factory in Japan. Not only was the red and green patterned dress tailored to perfection, but it really popped next to the staff's understated uniforms. Diana chose to accessorize with simple gold earrings, and of course, her famous sapphire engagement ring. Her hair was in her trademark short, easy-to-maintain style. 
This visit happened in 1990, just a couple of years prior to her split from Charles. Even before the divorce was official, Diana was making power moves like this and proving she could stand on her own two feet in the public eye — and look fabulous while doing it. 
King Charles III's dad kilt game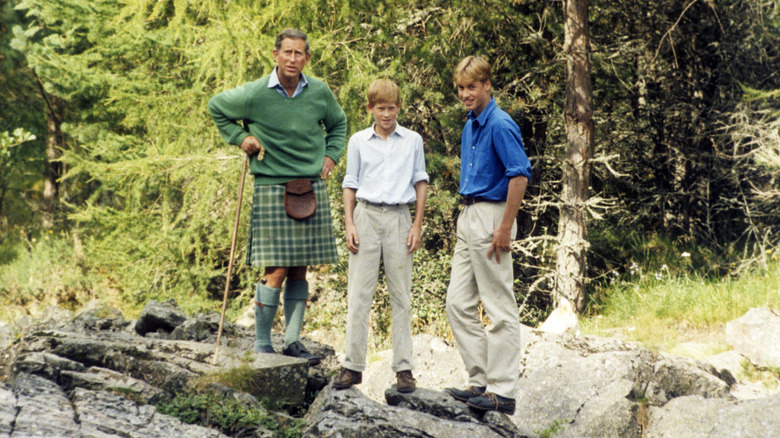 Anwar Hussein/Getty Images
Princess Diana may have been a tartan lover, but when it comes to kilts, King Charles III is numero uno. Britain's current monarch has been feeling the breeze in the Scottish traditional dress ever since he was a youngster. In fact, there appear to be more photos of Charles in a kilt than any other male member of the House of Windsor. His children, Prince William and Prince Harry don't seem to follow his love of the look. The elder son's apparent reluctance to wear a kilt has even made headlines, with The Guardian asking, "What has Prince William got against kilts?" 
Regardless, Charles continues to rock kilts right up to this day, but some of his most memorable skirt-swinging looks hark back to the '90s. Regular dads might throw on a pair of sweats and some sneakers when taking their kids out hiking, but not Queen Elizabeth II's son. Back in 1997, Charles donned a bright green sweater over a pale blue shirt and paired it with a green kilt, green socks, and black shoes. It's an undoubtedly strong look that could divide or conquer. 
This snap was taken while the trio was exploring Glen Muick on the Balmoral estate. It was just two weeks prior to the tragedy that would change the lives of the young princes forever: the death of their mother on August 31, 1997. 
The Duke of Edinburgh joins in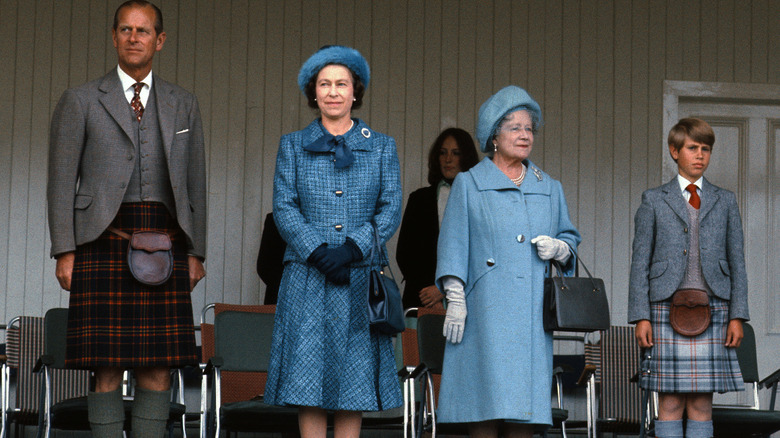 Anwar Hussein/Getty Images
What's the point of being the Duke of Edinburgh if one can't wear a good kilt once in a while? Queen Elizabeth II's husband, Prince Philip, sure seemed to embrace the look. The former prince of Greece and Denmark gave up his titles when he married Elizabeth in 1947. Instead, he became Duke of Edinburgh, Earl of Merioneth, and Baron Greenwich. However, Philip's links to Scotland go back much further than that. 
Philip spent a large portion of his childhood in Scotland where he attended Gordonstoun School in Morayshire. He actually had the rare privilege of being one of the first pupils to enroll at the Kurt Hahn-founded school. By all accounts, Philip felt like the experience did him good as he was insistent on sending his own sons there when the time came. 
Needless to say, Philip's love for Scotland was reflected in his love for tartan kilts. Although he sported them on many occasions, he looked particularly regal and dashing in the above snap taken at the 1976 Braemar Games. Philip opted for a dark brown and red kilt and paired it with muted green socks. Both Elizabeth and her mother looked elegant in blue, while a young Prince Edward looked just as bonny. 
Prince Andrew and Sarah Ferguson's coordinated moment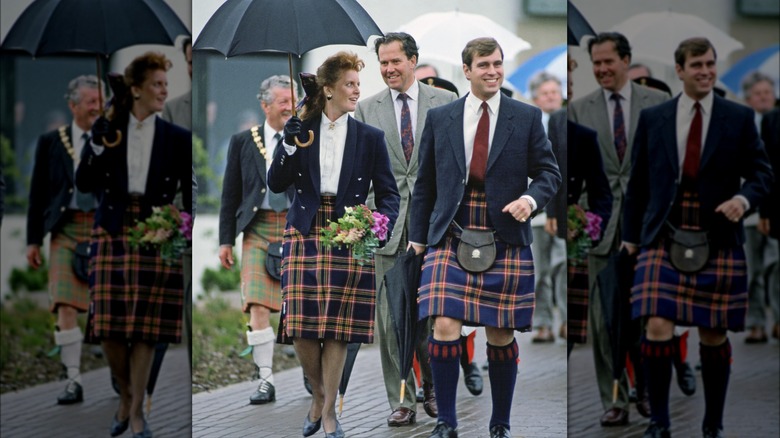 Tim Graham/Getty
The '80s were arguably a simpler time for Prince Andrew. It was decades before his friendship with Jeffrey Epstein became front-page news, and he was still one of the most prominent senior royals. He also had yet to divorce his then-wife, Sarah, Duchess of York. Sarah and Andrew have always caused somewhat of a stir, whether it be with their wedding day balcony kiss or their choice to continue to live together at Royal Lodge post-breakup. Whatever the matter, they have always presented a united front, which could explain their bold and beautiful tartan couple's look in 1987. 
For their official visit to Scotland, the pair thought they would dress accordingly, with Andrew wearing a kilt that matched Sarah's skirt. The blue and orange pattern looked very dashing, especially when paired with navy blazers. Of course, Sarah's jacket was perfectly fitted and had giant shoulder pads, which were very on-trend at the time. She accentuated her strawberry blond tresses with a big bow pinned to the back and wore subtle jewelry. 
As for Andrew, he looked delighted to be wearing the getup, pairing the look with knee-length socks with red detailing. Whether he looks as good as his brother, King Charles III, in tartan is up for debate, but you certainly can't blame him for trying. It's a dedicated and unwavering couple's outfit that will go down in history as a true testament to '80s royal fashion.
Queen Elizabeth II's daring green moment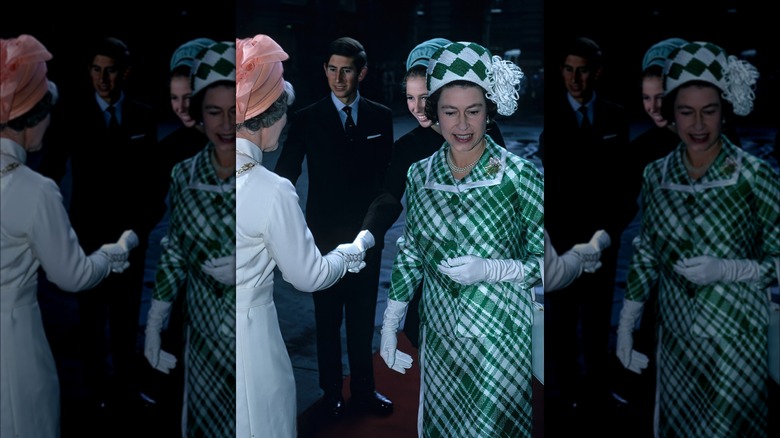 Princess Diana Museum/Getty
As we've already seen, Queen Elizabeth II never shied away from wearing tartan out on her country walks. However, Elizabeth was a fashion pioneer and knew how to dress up the pattern, too. Younger royalists may most prominently remember the late monarch wearing solid block color suits, but back in her younger years she was slightly more daring, as is evidenced in this picture taken at the Commonwealth Games in Edinburgh back in 1970. Elizabeth wore a striking green and white tartan skirt suit, topped off with white evening gloves. 
The hat she chose for the event was just as eye-catching, with green and white diamond shapes and white ruffle detailing. Elizabeth chose a trusty white purse to match the outfit and accessorized it with a diamond brooch and necklace. In the image, a young King Charles III can be seen smiling, alongside a barely visible Princess Anne — neither of whom appear to be wearing tartan. 
This time, Elizabeth carried the Scottish torch for her family and arguably looked sensational while doing so. This is just one example of the former queen displaying the playful side of her sartorial sense. When it came to turning heads, Elizabeth knew how to dress. Perhaps it should come as no surprise that she took a hard stance against wearing beige in public.  
Princess Diana's very '80s look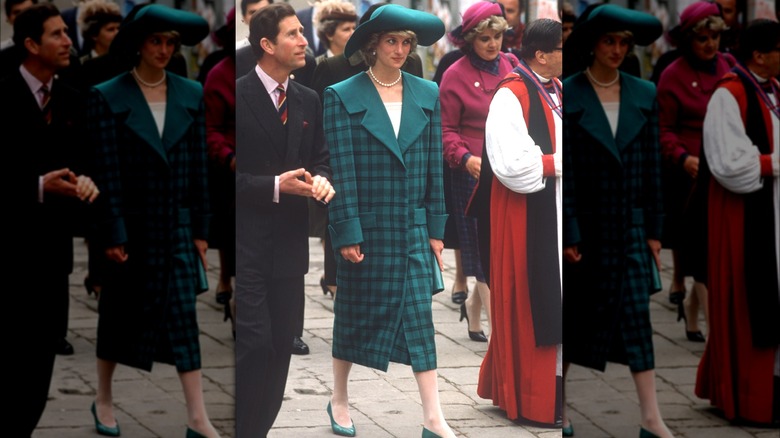 Tim Graham/Getty
Princess Diana proved that one could never wear too much green or tartan on this trip to Venice in 1985, alongside King Charles III. The outfit is about as '80s as it gets, with bold square shoulders, oversized sleeves and cuffs, and a giant lapel. Even though this was a tried and tested silhouette in that decade, Diana managed to make it look fresh and new. She paired the already phenomenal look with a wide-brimmed floppy hat in the same emerald shade.
Diana tied the ensemble together with a green clutch bag and green pointed court shoes, but Charles didn't get the fashion memo. Her then-husband went for a decidedly more subtle look, wearing a black suit with a striped tie. His simple garb made Diana stand out even more than she already did, while the green made her blue eyes pop. 
As for jewelry, the people's princess opted for a one-string pearl necklace and matching earrings, letting the outfit do the talking. It was a great choice given the occasion, and even though it never pops up in Diana's most talked about outfits, it's worth much more recognition than it gets. After all, who could pull off this look better than Diana? 
Camilla, Queen Consort takes a note out of Diana's stylebook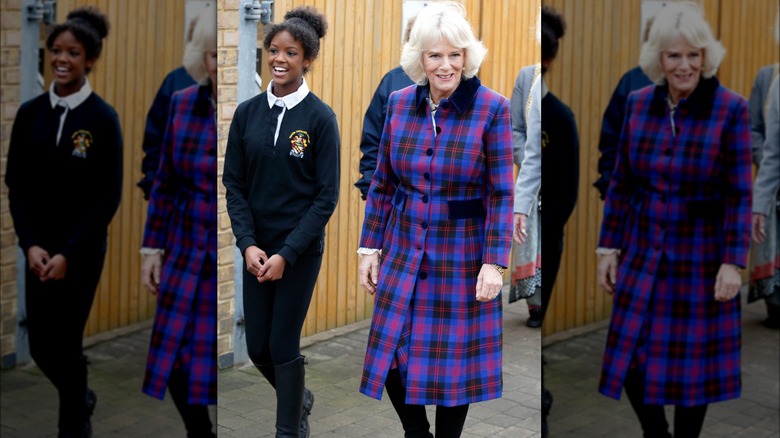 Max Mumby/indigo/Getty
Comparisons have long been drawn between Princess Diana and Camilla, Queen Consort. It's hardly surprising, as the public held Diana in such high regard, while Camilla caught a lot of ire as Charles' mistress and subsequent second wife. Camilla has done her utmost to serve the country since tying the knot with the monarch in 2005, and that means looking her best at every public event. 
For a visit to the Ebony Horse Club riding center in 2017, Camilla took a leaf out of Diana's style book and wore a long blue and red tartan coat with a blue velvet collar and black boots. With her hair in her trademark flicked-out style, Camilla looked radiant as she chatted with staff members. Since it was February, it was a great choice to battle the great British weather, with it being notoriously chilly around that time. Camilla managed to fight the elements while also staying chic, which isn't always an easy thing to master. 
Like her husband and his family, Camilla breaks out her best tartan styles from time to time, whether it be for relaxing at Balmoral, attending a Scottish event, or simply taking part in her everyday royal visits.