Michelle Obama Hid How She Felt When She Learned Sasha And Malia Were Going To Be Roomies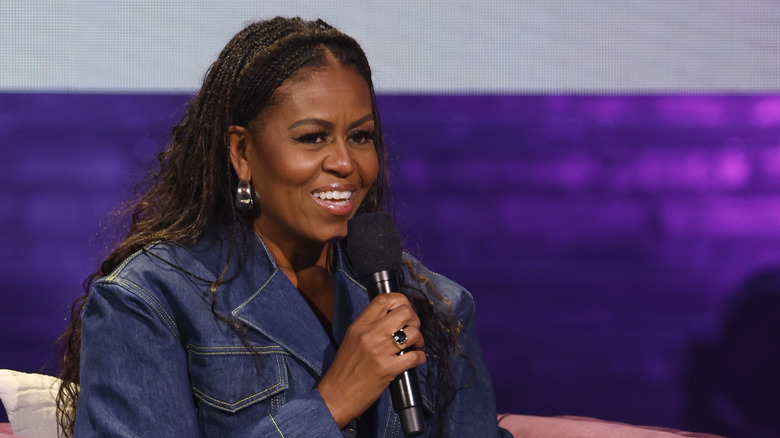 Tasos Katopodis/Getty Images
Moving in with your siblings may seem like a crazy idea to many of us. After spending years bickering as children, the last thing you want is to do it 24/7 as adults. But for Malia and Sasha Obama, it felt like a natural next step, so they moved to Los Angeles together in 2022. Even though Barack and Michelle Obama could rest easy knowing their daughters would always have each other, they still battled natural anxieties about the distance. 
Michelle informed People that their family regularly texts and Barack frequently spams the group chat with earthquake safety articles because he's panicky about the extreme weather in L.A. But when Malia and Sasha approached Michelle to tell her they would be living together, she knew to tread with caution. Michelle felt that if she told her children how stoked she was, they might second-guess their decision because they would be doing what their mom wanted. 
Thus, the former first lady subtly disguised her reaction: "So I just said, 'Okay, well that's interesting that you guys are going to try living together. We'll see how it goes.'" She continued, "But yeah, it feels good to know that the two girls you raised find solace at a kitchen table with one another. It's like the one thing you want for them." And Michelle was pleasantly surprised to see how her daughters had changed when she visited them.
Malia and Sasha Obama impressed their parents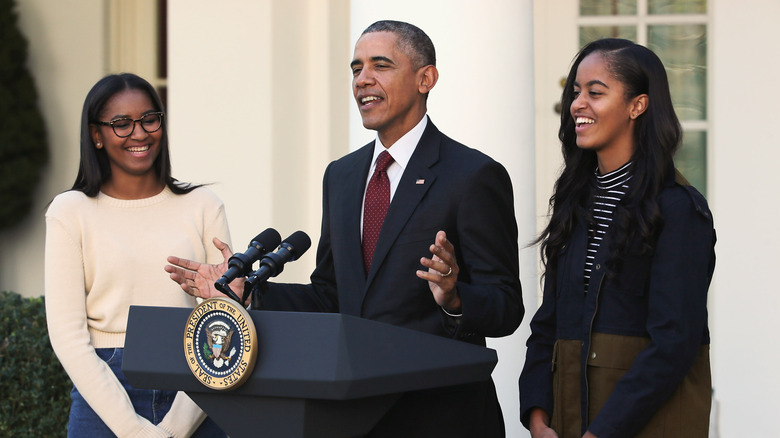 Chip Somodevilla/Getty Images
Although Malia and Sasha Obama have plenty of resources at their disposal, they still ventured into yard sales and IKEA to find furniture that fit into their new home and their budget. And they were extremely protective of this furniture. In a "TODAY with Hoda & Jenna" interview, Michelle Obama shared that, on one occasion, the family was about to head out for some food when Malia and Sasha invited them for cocktails and a charcuterie board before the meal. 
The "Becoming" author joked about how her daughters' martinis weren't quite as strong as she would've liked them to be, during an appearance on "Good Morning America" (via ABC News), but Michelle loved watching her children whip up the drinks from their limited ingredients regardless. She added that the siblings strongly urged her to use coasters with their drinks, and Michelle joked about how they never used them in their parents' home or The White House. 
As always, Michelle also shared how proud she was of her kids, gushing on "TODAY," "The thing I love the most is that those two girls are each other's best friends, and there was a period of time when they couldn't stand each other." She added, "And I said, 'You wait. You're going to wake up one day and you're going to look up at that other person and know that you two share something very unique and special.'" Still, it was bittersweet because it meant the Obamas were officially empty nesters.
Barack and Michelle Obama are embracing their empty nest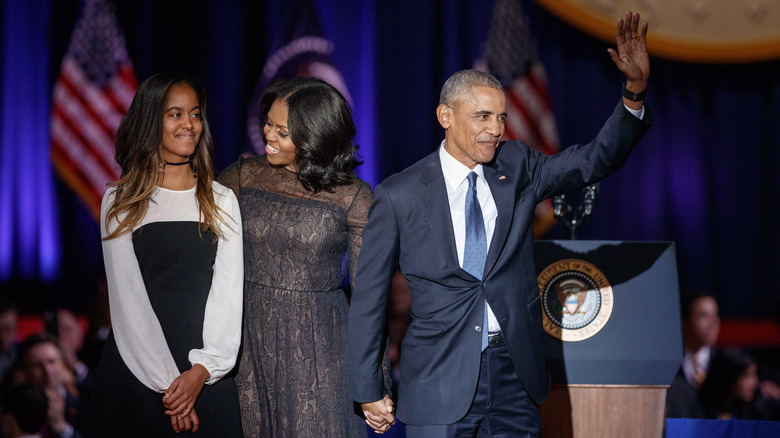 John Gress Media Inc/Shutterstock
Pretty much from the moment Michelle Obama set foot in The White House, she was clear about one thing: her daughters were her priority. On "The Light Podcast," Michelle acknowledged gradually moving into more of an advisor's role in her daughters' lives, but she was happy she got to watch Malia and Sasha grow into strong, independent women (via People). But, in an interview on "The Kelly Clarkson Show," Michelle revealed that Former President Barack Obama took the move much harder than her. 
She believed this was because she got to spend ample time with her daughters, but their father was often tied up with pressing political matters, so he missed certain parts of their lives. Michelle added that while she obviously misses her kids, she doesn't miss them raiding her makeup stash because once they'd been through her collection, it was hard to find anything ever again. Like many parents, Barack and Michelle filled the gap with their dogs and traveled together.
But regardless of how well they're coping, the beloved couple still couldn't help the outpouring of emotion when they dropped Malia off to college. While speaking to "Today," Michelle confirmed that she and Barack managed to hold their tears in because they didn't want Malia to feel embarrassed in front of her roommate. But on the way home, they couldn't help but cry. She felt upset that her daughters' childhood was behind them but excited for their future.