Candace Cameron Bure Mourns The Loss Of Her Family Dog, Boris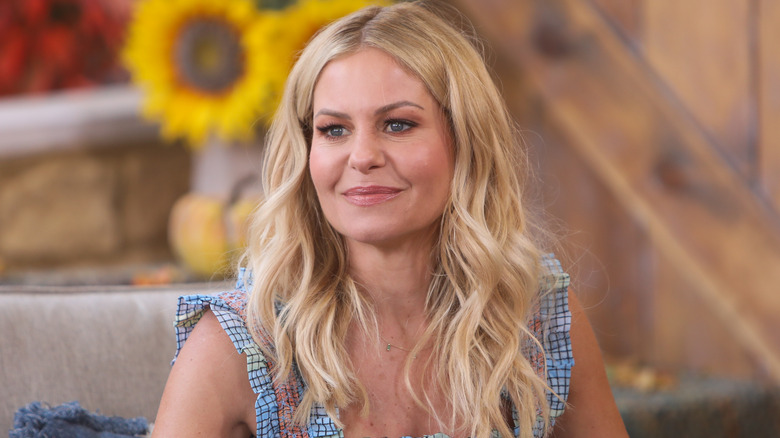 Paul Archuleta/Getty Images
Losing a loved one can be the most difficult period in anyone's life. When that loved one is a furry friend, coping with the loss is especially unique and can often be especially painful. Saying goodbye to a pet can be devastating, and it's difficult not to empathize with Candace Cameron Bure's recent Instagram post, which shows that she's currently in the painful process of grieving a pet.
On August 21, the "Full House" star took to the social media site to share an emotional video montage featuring her beloved dog, Boris. In the caption, she explained that Boris had passed away. The video montage was set to emotional instrumental music and showed photos and videos of Boris enjoying plenty of fun and family time. It's easy to see just how loved Boris was, and that saying goodbye to this sweet pup will be a challenge for the whole family.
Candace Cameron Bure pays perfect homage to her pup with a heartfelt message
Candace Cameron Bure's post about Boris made it evident what a happy and treasured dog he was. The Hallmark star's caption began, "Life isn't the same without you Boris," and included a broken heart emoji. "You will forever be with us in our hearts and memories- you brought us so much love, protection and joy. You were such a special boy. Our hearts will never get over you," she wrote. "Now go run with Emma, Sydney, Gianna, Lola and Samson," she shared, concluding with a heart emoji and "my sweet Bobo."
The Bures welcomed the Rottweiler as a puppy back in 2015 and he has been a beloved member of the family ever since. This was far from the first time Bure posted about Boris on her Instagram. Back in March, she shared another adorable montage of her dog featuring the caption, "Everyone needs a little Boris today." In 2021, she delighted fans with an Instagram video showing her practicing yoga with the adorable pooch.
Our hearts go out to Bure and her family during this time, and it's clear that their love and memories of Boris will keep him alive in their hearts.