Zahara Jolie-Pitt's Adoption Story Is More Complicated Than We Realized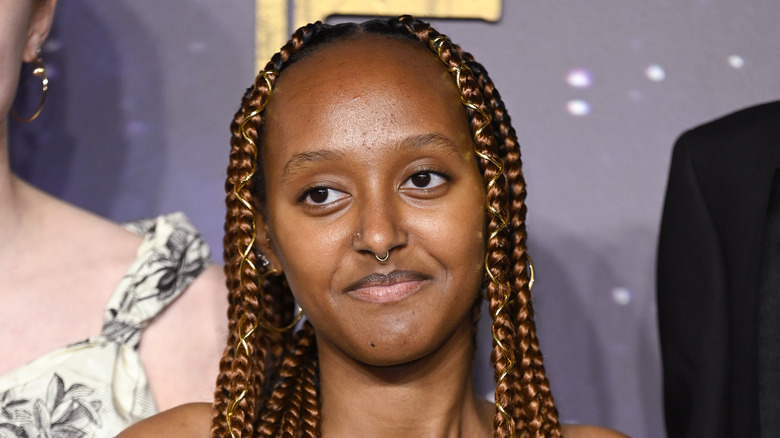 Karwai Tang/Getty Images
Zahara Jolie-Pitt is the eldest daughter of Brad Pitt and Angelina Jolie's six children. In 2005, Jolie adopted Zahara when she was just six months old. While she grew up with an affluent lifestyle unimaginable to the average teen, her life in Ethiopia would have been very different. Despite this happy ending, it turns out that a woman claiming to be Zahara's biological mother still wished to be in her life.
In 2017, Mentewab Lebiso told the Daily Mail that she was 19 years old when Zahara was conceived due to rape, and she became sick after her birth. Lebiso said that if the situation had been different, she would have kept her daughter. She explained: "Angelina has been more of a mother to her than I have ever been. She has been with her since she was a baby, but that does not mean I do not miss her."
Despite Lebiso's story, there has been much controversy swirling about the actual whereabouts of Zahara's mother. In 2006, Jolie told NBC that the woman had died from AIDS, despite claims from Lebiso and her alleged birth family. After Lebiso's second attempt to tell her story in 2017, the adoption history got even more complicated. There were contrasting reports about the aftermath of Zahara's birth, as it has also been reported that Lebiso ran away after the baby fell ill (via Daily Mail).
Zahara's biological family still demands access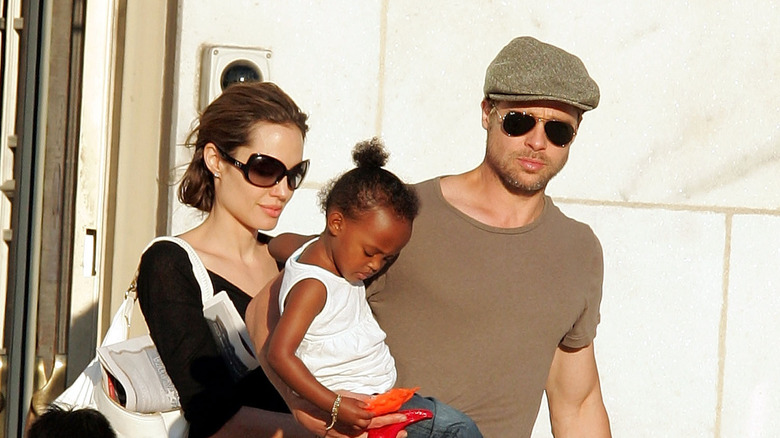 James Devaney/Getty Images
Angelina Jolie and Bradd Pitt are now famously known for their family of multicultural children. But in 2005, Jolie adopted Zahara as a single mother, as she and Pitt were not married at the time. But soon after, Pitt was moved to become the legal adoptive father of Zahara and her older brother Maddox (per People).
Within three years, the Jolie-Pitt clan grew to include six children total with the additions of Shiloh, Pax, Knox, and Vivienne. However, only Zahara's adoption was riddled with controversy. In 2007 Mentewab Lebiso, who claims to be Zahara's biological mother, and her family stated that they were misled by the adoption agency. Lebiso's family told In Touch that local officials ensured they would be able to keep contact with the child, which didn't happen (per Daily Mail).
After these accusatory claims, the Wider Horizons adoption agency in Ethiopia reexamined the case. The organization confirmed that Zahara's biological mother had died due to AIDS in 2005. Despite this apparent resolution, Lebiso went on to demand access to her daughter nearly a decade later in 2017. However, Jolie and Pitt never addressed this feud publicly and continued to raise Zahara as one of their own.
Angelina and Zahara share a close relationship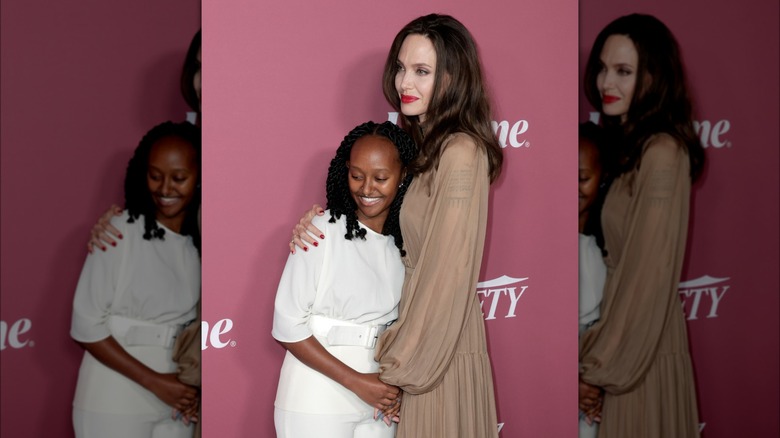 Frazer Harrison/Getty Images
After 10 years and raising six children together, Angelina Jolie and Bradd Pitt divorced in 2016. Since then, they have been engaged in harsh legal battles over the custody of the kids. Despite these troubles, Zahara Jolie-Pitt and her siblings appear extremely close to their mother. She is often right by Jolie's side, whether her mom is working on her political advocacy in Washington D.C. or heading to the "Eternals" film premiere.
During a Time 100 Talk in 2020, Jolie noted that she encourages Zahara to embrace her cultural heritage. "She is my family, but she is an extraordinary African woman," the mother of six shared (via Life and Style). "And her connection to her country, her continent, is her own, and it's something I only stand back in awe of." Angelina shared a sweet Instagram post announcing Zahara's attendance at Spelman College, a historically Black college in Atlanta.
The teen is also following in Jolie's footsteps, pursuing humanitarian work alongside her mother. The mother-daughter duo launched their own clinical project, named the Zahara Program, in Ethiopia. Founded in 2009, the Zahara Program is dedicated to advocating for and funding tuberculosis and HIV/AIDS treatment in the nation.