Meet Cillian Murphy's Kids, Malachy And Aran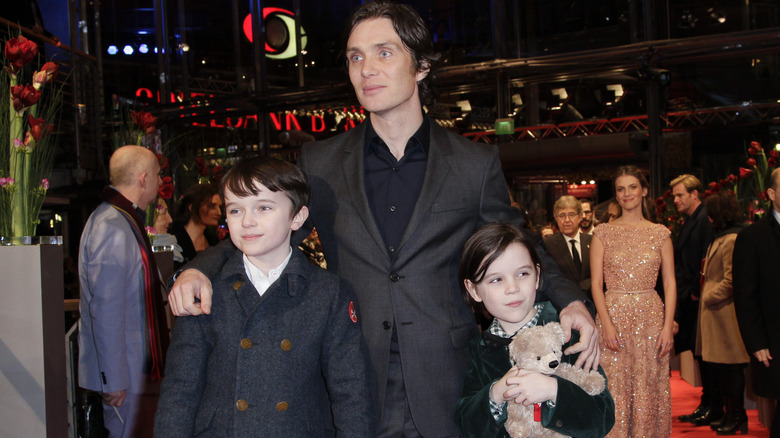 Athanasios Gioumpasis/Getty Images
It was Dublin in the mid-1990s, and Cillian Murphy — who some might consider pretty down to earth for a Hollywood celebrity — was starring in a hit play called "Disco Pigs," which was a role that would change his life. He had recently turned down a record deal with his rock band, The Sons of Mr. Green Genes, to follow his passion for acting. It was also around this time that he met his future wife, artist Yvonne McGuinness. "She came on tour with us. It was so exciting, 20 years ago or whatever it was — we were all just kids, trying to find our way — but such a special, special time," he recalled in an interview with The Guardian. They were married in 2004 and welcomed their first son, Malachy, in 2005. Aran came two years later in 2007. Both boys were born in London, although their parents have Irish roots.
While Cillian Murphy's youngest son definitely inherited the acting bug, Malachy has stayed more or less out of the spotlight, only appearing on the occasional red carpet alongside his father. However, he has allegedly shown an interest in music, taking after his father. According to the "Oppenheimer" star, his sons, now both teenagers, are relatively unimpressed by his award-winning resume. "Most of what I do is highly unsuitable for them," Murphy told The Evening Standard in a 2017 conversation, adding, "They're suitably underwhelmed by my work. I'm trying to keep them in that state because it's such a silly industry."
Malachy's and Aran's accents changed after they moved to Ireland
Although Malachy and Aran spent their early childhood years in London, their parents eventually moved them back to a wifi-free home in Dublin, Ireland in 2014. "We wanted them to be Irish, I suppose," Cillian Murphy told The Guardian a few years later, adding, "It's amazing how quickly their accents have adapted. Even within a year of moving back, they are fading into this rakish west Brit kind of thing. Which I think, hopefully, will get them lots of girls when they're 15."
Cillian Murphy is constantly impressed by his sons' confidence. That being said, Malachy still feels a bit frightened when watching his dad in certain films . . . especially if they involve zombies. "I was pretty proud of how well ["28 Days Later"] stood up," Cillian Murphy told Esquire in 2022, explaining that he showed the early 2000s disaster flick to his oldest son."[Malachy] loved it. He was really scared," said the actor. 
However, there's one Cillian Murphy character that Aran, Malachy, and Yvonne McGuinness got to know more than others: the Irish gang leader Thomas Shelby from the long-running series "Peaky Blinders." Murphy's family might even describe him as "not being all there" while the show is in progress, per Esquire Middle East. After becoming Shelby, returning to himself (and his family) takes time. "My wife can see it happening," the actor explained to The Guardian. She'd say, "'OK. Tommy's gradually leaving. I'm getting Cillian back.'" 
Aran Murphy is an actor like his father
Aran Murphy, like many children of famous actors, has decided to try his hand at the family business. His first professional acting role was in 2019 when he starred as the titular character in "Hamnet," a Dead Centre theater production. In the mostly one-man (or, in this case, one-kid) show, Aran played Shakespeare's little-known son, Hamnet. It's a role that took him all the way to Brooklyn, New York at just 11 years old and earned him a positive review in The New York Times. He also ventured to Boston with the production.
Aran clearly has wisdom beyond his years. Addressing some of the darker themes within the one-hour play, Cillian Murphy's youngest son told The Guardian, "No one really has a full understanding of grief and death and the after-life and what is going to happen. [The show's] not telling you about all grief and death — but it is one famous story of an understanding of it."
Cillian was understandably proud of his son, pointing out how Aran wasn't nervous about performing in front of a live audience. "He was so chilled about it, you know? He would come off stage and ask what the score was in the Liverpool game" (via The Guardian). The more experienced actor even found himself getting a little bit jealous. It's only a matter of time before Aran starts starring in Hollywood blockbusters like his father.