When The Obamas And The Springsteens' Longstanding Family Friendship Began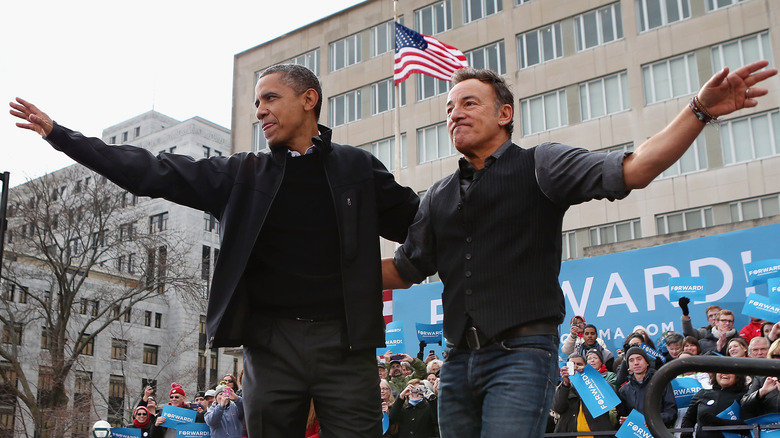 Chip Somodevilla/Getty Images
At first glance, Bruce Springsteen and Barack Obama are an unexpected pairing. One is a top-charting musical artist with a penitent for double denim, and the other is the former president of the United States. One has spent his life in recording studios, the other in politics. That being said, Springsteen and Obama have managed to maintain a friendship for well over a decade. And, like any reasonable pair of adult male pals, they even decided to record a podcast together. "Renegades: Born in the USA" was released on Spotify in February 2021 and features conversations about race, fatherhood, and the American dream.
As the former president and award-winning recording artist recount in their first episode, they met in 2008. A long-time Democrat, Springsteen used his musical talents to support the Obama-Biden campaign. At first, Obama saw Springsteen as surprisingly "lowkey" and "maybe a little bit shy." However, he appreciated the singer's talent for introspection, and they enjoyed several dinners together at The White House (yes, these did involve piano sing-alongs). According to the former president, First Lady Michelle Obama wholeheartedly supported their friendship. "Michelle was very pleased in the insights you had in your failings as a man," joked Obama, continuing, "After we would leave a dinner or party or conversation, she would say, 'you see how Bruce understands his shortcomings and has come to terms with them in a way that you have not?'" She encouraged them to spend more time together. They did.
The Obamas and Springsteens dinner date together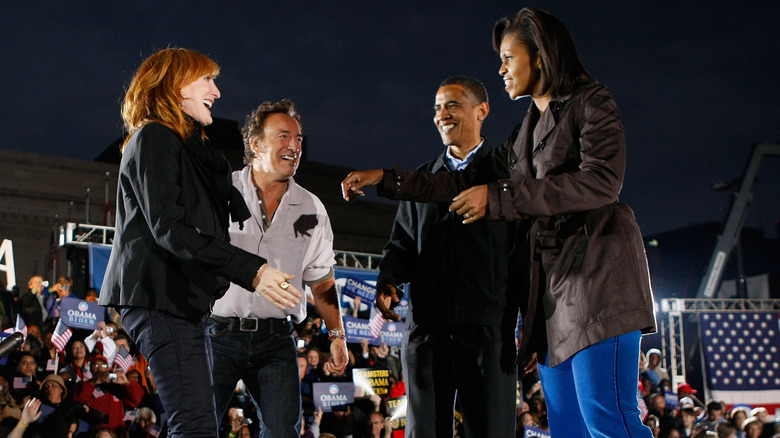 Joe Raedle/Getty Images
Barack Obama and Bruce Springsteen aren't the only unlikely friendship to emerge out of the 2008 presidential race. Their partners, Michelle Obama and Patti Scialfa, are also close. "Michelle and Patti hit it off," the former president shared on "Renegades: Born in the USA." In other words, it's the ideal scenario for a double date. The two couples — also accompanied by their friend Steven Spielberg — were even pictured going out to dinner at the world-class Palace Hotel restaurant in Barcelona, Spain. It was also during this trip that Michelle Obama appeared onstage alongside Springsteen and the E Street Band, hitting a tambourine in time to the song "Glory Days," per YouTube. Steven Spielberg's wife, Kate Capshaw, also joined in on the fun. Michelle Obama was excited to share the moment with fans on Instagram, writing, "When in Barcelona . . . Had so much fun on stage with @Springsteen, Patti, and Kate!"
Despite his incredible power, especially during his eight years in the Oval Office, Barack Obama (just like his wife, Michelle) is pretty easygoing. Allegedly, it's what made his years-long connection with "The Boss" possible."The president is a funny and an easy guy to be around. He'll go out of his way to make you comfortable, as he did for me so that I might have the confidence to sit across the table from him," the singer shared on their podcast. 
Bruce Springsteen and Barack Obama have a few similarities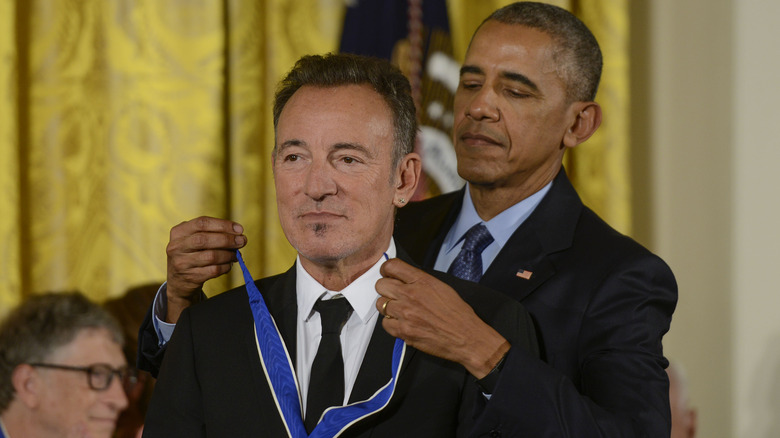 Leigh Vogel/Getty Images
Although they come from different backgrounds — Obama was raised by a single mother in Hawaii and Springsteen was born over a decade before in a working-class New Jersey neighborhood — both men have spent decades speaking out in favor of the Democratic party. "What we've found is that we got a shared sensibility: about work, about family, and about America," the former president explained on their podcast. However, these aren't the only things they have in common — not by a long shot. Both men have extraordinary amounts of influence, with millions upon millions of Instagram followers and Spotify streams. Both have enough in the bank for multiple properties — it seems Bruce Springsteen is far from the "working class hero" he once claimed to be. In other words, their shared celebrity status and political beliefs have made them rather likely friends, not unlikely ones.
In 2016, Barack Obama presented Springsteen with the Presidential Medal of Freedom, per ABC News. "The Presidential Medal of Freedom is not just our nation's highest civilian honor — it's a tribute to the idea that all of us, no matter where we come from, have the opportunity to change this country for the better," said the president (via The White House). These days, "The Boss" and the president can probably be found behind exploring Springsteen's New Jersey farm behind the wheel of a glossy 1960s Corvette, one of the singer's first-ever purchases, per CBS Sunday Morning.