Here's How Much Prison Time Major Players In The Trump Election-Meddling Scandal Face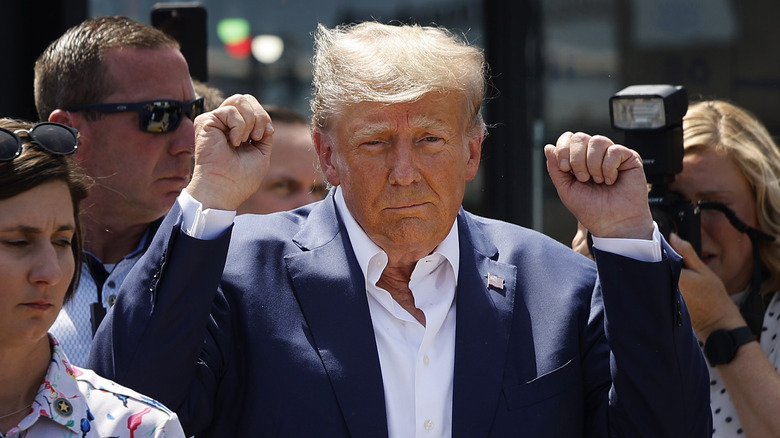 Chip Somodevilla/Getty Images
Donald Trump and 18 others have been indicted for attempting to discredit the results of the 2020 election. For years, the former U.S. president and his high-profile group of supporters have been trying to overturn the election in Trump's favor. The outspoken politician has vehemently denied his loss numerous times and declared himself the rightful winner of the race (via People). The conspiracy he and others have pushed ultimately culminated in the disastrous protest-turned-riot on Jan. 6, 2021.
Since the indictment in Georgia, the fourth for the former president since leaving office, Trump has agreed to pay the $200,000 bond in that case. He and his co-defendants have been given until Friday to surrender to authorities and will likely enter their formal pleas later this year, per Reuters.
The List received insight from Neama Rahmani, president of the Los Angeles-based firm West Coast Trial Lawyers, on how much prison time Trump and other major players in the election fumble are facing. According to Rahmani, the outlook is not good for Trump and his co-conspirators.
The racketeering charge could be a 'life' sentence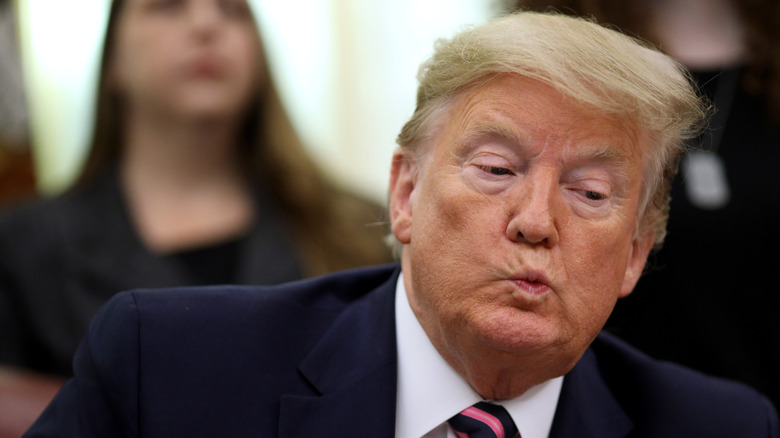 Win Mcnamee/Getty Images
Donald Trump is facing 13 charges in relation to meddling with the election. He was able to rally support from several influential figures to try and declare the election illegitimate. Among them are former New York City Mayor Rudy Giuliani, Trump's chief of staff Mark Meadows, and lawyers Sidney Powell and Jenna Ellis (via CNN). Everyone who had a hand in the election meddling is facing prison time, former federal prosecutor Neama Rahmani tells The List.
"Trump and his co-defendants in Georgia are looking at a 20-year maximum sentence for the most serious charges, which are racketeering," Rahmani explained. Per NBC News, the indictment states that Trump has been charged with felony racketeering, which carries a minimum sentence of five years, along with conspiracy counts.
However, Rahmani doesn't find it likely that Trump will spend 20 years in prison. "That doesn't mean he'll get the maximum or anywhere near it if he is convicted. Very few criminal defendants get the maximum," he said. However, even if Trump doesn't receive the maximum sentencing, any length of time in prison could prove devastating to the GOP candidate. "Trump is 77, so even a multi-year prison sentence may be a death sentence for the former president," Rahmani pointed out.