When Did HGTV's Ty Pennington Meet Wife Kellee Merrell?
Ty Pennington sometimes seems like a one-man show. He's an enigmatic host, pretty handy with a hammer, and often appears alone on the red carpet. But the face of DIY has a strong support system behind him in the form of his wife, Kellee Merrell.
If you're feeling out of the loop about Pennington having a significant other, don't. The two only recently tied the knot in November 2021. While Pennington's Instagram is full of photos of Merrell, the HGTV host still operates (at least in our minds) as a lone wolf much of the time. They're unlike other Hollywood "It" couples constantly photographed at one another's sides. Plus, Merrell is MIA when it comes to having her own social media accounts. Pennington rarely tags her in photos, and when he does, the tag goes to a page that states "user not found."
However, this shouldn't be mistaken for there being trouble in paradise. Not only does the romantic relationship between Pennington and Merrell appear to be going strong, it's also based on a deep-rooted friendship that they began developing the moment they met all the way back in 2010.
Ty Pennington and Kellee Merrell met more than a decade ago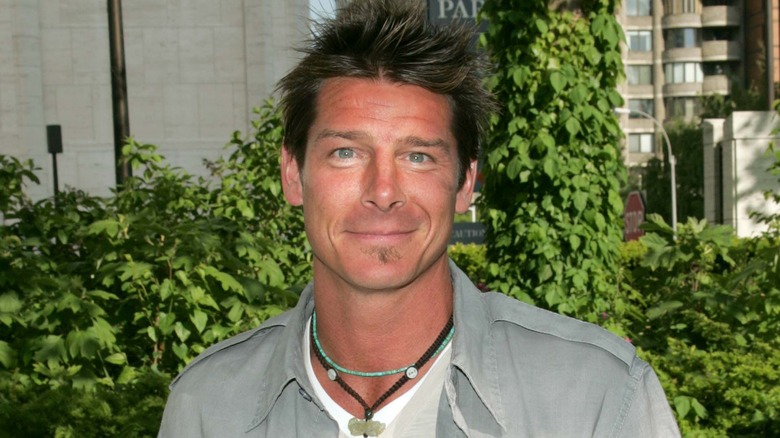 Jim Spellman/Getty Images
Back in 2010, "Trading Spaces" alum Pennington was in Canada to shoot a television show. Unbeknownst to him, he was in Merrell's home country; and though she was originally from Vancouver, Merrell just happened to be in Toronto, where the crew was stationed.
There may have immediately been sparks between the two, but Pennington couldn't see the writing on the wall just yet, he admitted in an interview with "Daily Blast Live." "We were attracted to each other ... but we certainly knew I wasn't ready," he recalled. And so, Merrell waited while the two deepened their friendship.
Fast forward a decade later, and the longtime pals reconnected through mutual friends only to discover they had a "mutual crush" on one another. This time, at 56, Pennington was finally ready to be in a relationship, and boy, was he about to go from zero to 60. He and Merrell began dating around the time the COVID-19 pandemic began taking hold in the U.S., and the pair ended up quarantining together in Pennington's home during lockdown. It was a make-or-break situation for the couple, being stuck indoors with one another for months. Fortunately, it brought them closer together than ever before. "I never thought I would get married, but she changed that. Glad I waited for the one," Pennington gushed to People. Good thing he turned down that spot on "The Bachelor"!
The couple prefers to keep their relationship private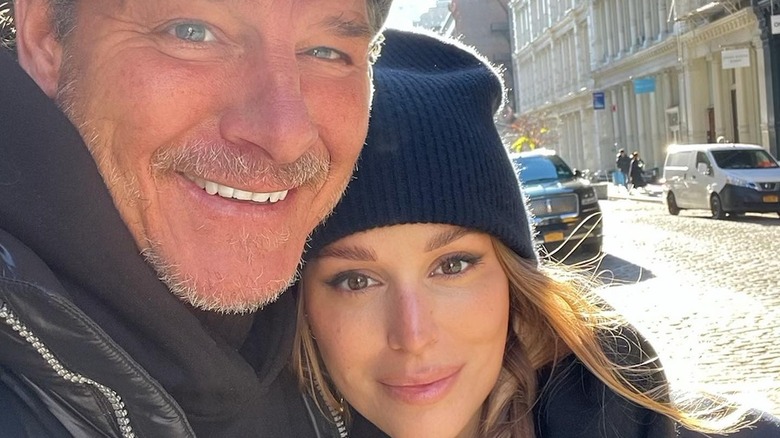 They met in 2010, reconnected in 2020, and tied the knot in 2021... all with very little media hoopla. That's because Ty Pennington and Kellee Merrell appear to enjoy keeping their relationship private. This actually might be an understatement for Merrell, who keeps a surprisingly low profile online despite having a career in brand social media management.
Aside from her job and birthplace, we are left to cultivate other details about Merrell from the pictures Pennington posts. We do know the couple has a 24-year age gap between them, but they still share common interests like home renovation. In fact, together, the "Extreme Makeover: Home Edition" star and his wife have been painstakingly restoring a historic home in the heart of Savannah, Georgia.
When they're not investing time into their stunning labor of love, Pennington and Merrell apparently like to go hiking and spend time playing with their pups. Waiting for his "one" seems to have paid off for Pennington, who captioned an anniversary post, "10/10 recommend marrying your best friend."