The Real-Life Inspiration For Daisy Jones & The Six Makes So Much Sense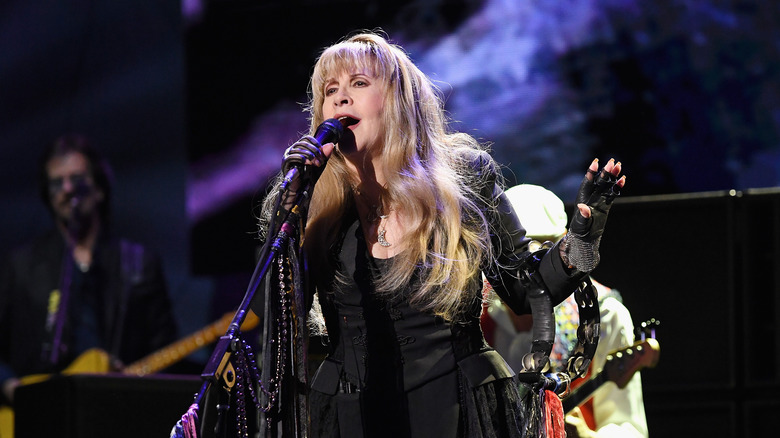 Kevin Mazur/Getty Images
Based on the book by Taylor Jenkins Reid, the hit Prime Video series "Daisy Jones & The Six" treated viewers to a '70s-inspired rock'n'roll extravaganza. The series follows the eponymous fictional band as they catapult from humble beginnings to rock superstardom. Of course, there are countless bumps in the road on their journey to fame. Band members date, break up, and start huge fights — in other words, there's no shortage of drama. With all that in mind, it's no surprise to discover that an iconic real-life band served as her muse for the story. 
In an interview with her publisher, Penguin Books, in 2019, Reid named Fleetwood Mac as a key inspiration for the novel. "When I thought about my favorite music from the '70s, it was a lot of that Southern California sound — Fleetwood Mac, the Eagles, Linda Ronstadt... I just got really excited and sort of nostalgic for that time." When asked what in particular intrigued her about the band, she said that Stevie Nicks' stunning transformation and tumultuous love affair with Lindsey Buckingham helped kickstart her writing.
The parallels between Daisy Jones and Stevie Nicks are huge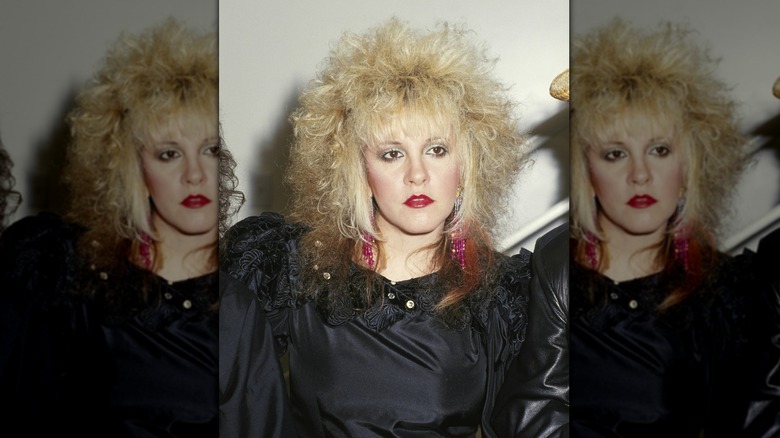 Barry King/Getty Images
Aside from the obvious — both Daisy Jones and Stevie Nicks are female rockstars and vocal powerhouses in a male-dominated industry — there are more personal parallels between the two leads: namely, addiction.
Addiction played a huge role in both of their lives. Stevie Nicks herself confirmed the similarities in August 2023. In an Instagram post, she said of the series: "It brought back memories that made me feel like a ghost watching my own story." What she initially thought was casual drug use turned into a full-blown cocaine addiction, which, according to Rolling Stone, burned a hole through her nostril. Fortunately, Nicks has since stayed sober, aside from occasional weed smoking for creativity.
As for Daisy Jones, addiction struggles are a big part of her character development in both the book and the show. Daisy comes of age on the Sunset Strip and constantly drinks, pops pills, and snorts cocaine. Many of her issues with drug use parallels the attitudes surrounding drugs in the '70s rock scene. Riley Keough, who plays Daisy in the TV series, told Gotham, "We actually met with a guy who came in and explained what the thoughts were about addiction in the '70s and how it was and wasn't thought of, and that was really helpful."
There's a love affair at the center of it all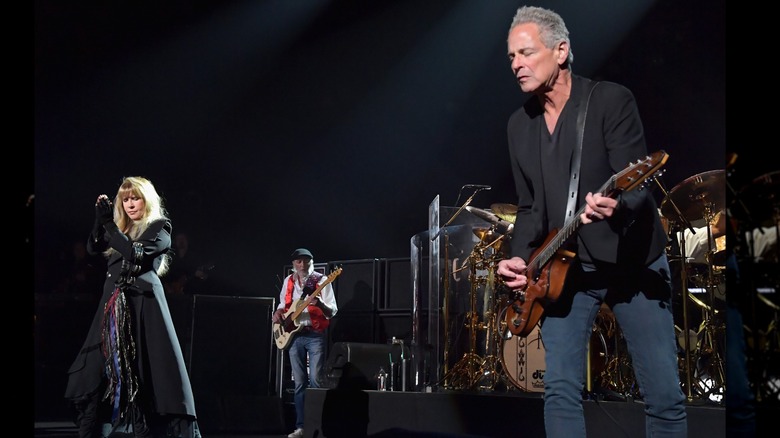 Lester Cohen/Getty Images
In the TV series, singer-songwriters Daisy Jones and Billy Dunne are helplessly drawn to each other despite being in relationships with other people. This, combined with their fiery, headstrong personalities, leads to often explosive interactions between the two. Still, their chemistry fuels their creativity, and they channel it in their songwriting, eventually creating the band's incredibly successful but only album, "Aurora."
This reflects the relationship between Stevie Nicks and Lindsey Buckingham, which affected many of the songs on "Rumours." Unlike Daisy and Billy, Stevie and Lindsey were actually in a serious relationship — until it all came crashing down. As Nicks told Rolling Stone of the breakup, "It just wasn't good anymore, wasn't fun anymore, wasn't good for either of us anymore."
After the breakup, things were never the same between the two. Buckingham wrote "Go Your Own Way" about Nicks, and she hated him for it. She told Rolling Stone: "I very, very much resented him telling the world that 'packing up, shacking up' with different men was all I wanted to do... Every time those words would come out onstage, I wanted to go over and kill him." If "Go Your Own Way" was Buckingham taking a jab at Nicks, "Silver Springs" is her answer. "You'll never get away from the sound of the woman that loves you" is a promise that Nicks delivers on. After they reunited for a concert in 1997, Buckingham told Rolling Stone that, while they weren't back together at the time, he wouldn't say no. Lindsey Buckingham and his wife, Kristen Messner, actually split back in 2021. While "Daisy Jones and the Six" ends neatly, in the way only fiction can, their real-life counterparts can never escape the drama.