What You Need To Know About Presidential Hopeful Doug Burgum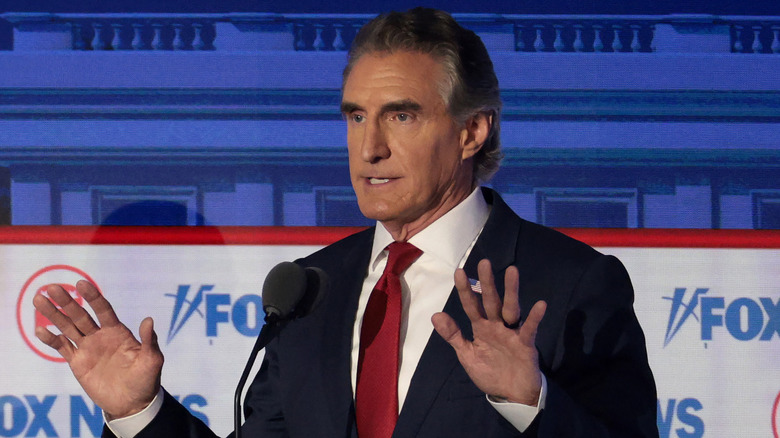 Win Mcnamee/Getty Images
Many 2024 Republican candidates have been around the block once or twice. There's former Vice President Mike Pence, Former New Jersey Governor Chris Christie, who seems to pop up every election season, and Florida Governor Ron DeSantis, who's made headlines for banning books in Florida schools. Some names, however, might not ring as many bells. South Carolina Senator Tim Scott and Vivek Ramaswamy, the millennial entrepreneur who ripped off a famous Obama quote, are relatively unknown nationally. We also can't forget Doug Burgum, North Dakota's governor since 2016.
If you watched the first Republican presidential debate, you may remember him as the guy with shockingly white teeth and an unfortunate Achilles tendon injury ... "I've played lots of pick-up games in my day! This isn't the first time one has sent me to the ER..." he wrote on his Twitter ahead of the debate. However, there's a lot more to this guy than his wounded leg. As noted on his website, Burgum plans to prioritize the economy, cut taxes, and lower inflation and gas prices if he's elected. Like many of the Republican candidates this election season, Burgum supports anti-trans legislation and continuing the use of oil, natural gas, and coal (although he is, notably, committed to carbon neutrality). The governor also hopes to unite the country against Russia and China ... Here's what else you need to know about the Republican candidate from North Dakota — if you're lucky, he might give you a $20 gift card for your support. 
Doug Burgum is a believer in 'small-town values'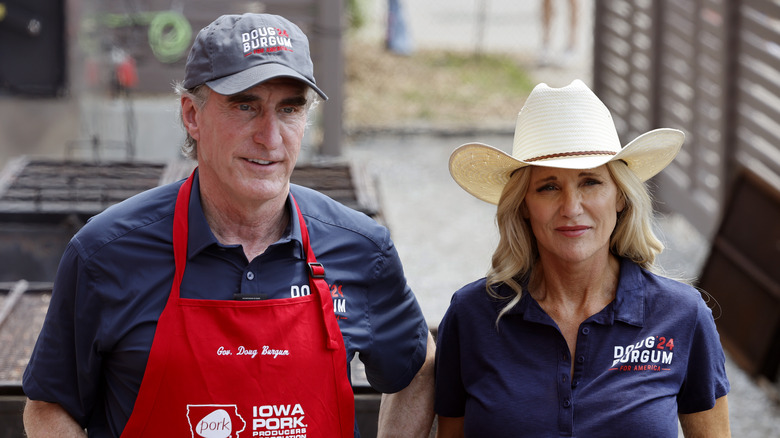 Chip Somodevilla/Getty Images
As is the case for plenty of past candidates like Barack Obama, Joe Biden, and Chris Christie, Governor Doug Burgum's humble background has become a big part of his presidential campaign. He grew up in Arthur, North Dakota (population 323), and is proud of his small-town roots. "We need a president who knows what it takes to create jobs and make payroll — a president who can apply small-town common sense values to fix this economy for every American!" he tweeted. His father passed away when he was a freshman in high school so he was forced to grow up fast.
Burgum attended North Dakota State University and famously worked as a chimney sweep to pay off his tuition — it was all very "Mary Poppins." He received an MBA from Stanford and went on to work as Microsoft's senior vice president in the early 2000s. Burgum eventually co-founded the firm Arthur Ventures and now owns Kilbourne Group, which specializes in real estate development. According to The Independent, his net worth is over $1 billion.
In 2016, Burgum became North Dakota's 33rd governor, and, during his time in office, he signed a strict abortion ban — the procedure is only permitted within the first six weeks in very specific cases. After that, even these pregnancies will be forced to term, per AP News. "This bill clarifies and refines existing state law ... and reaffirms North Dakota as a pro-life state," explained Burgum. 
A presidential win is a longshot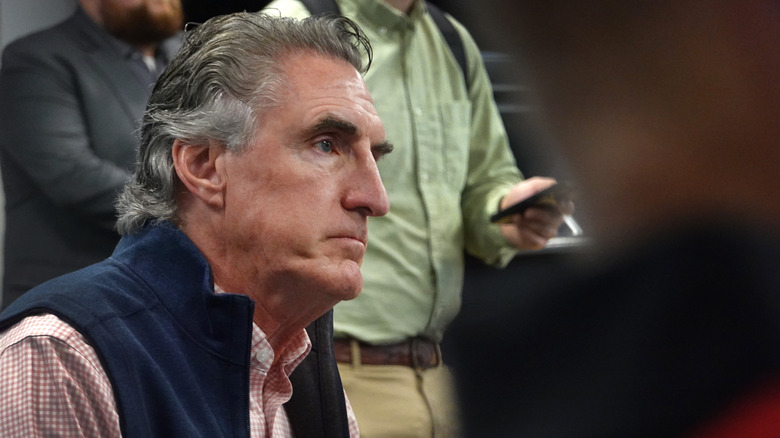 Scott Olson/Getty Images
Based on Doug Burgum's performance at the first Presidential debate (and his lack of name recognition), it's not all that likely that a 2024 win is in his future. According to one Quinnipiac University poll, 90% of conservative voters hadn't heard enough about him. As it stands, his follower count on Instagram is pretty measly. What's more, campaign reporter Sally Goldenberg told Politico that he failed to make a splash amongst some of the more outspoken Republican candidates like Chris Christie and Mike Pence. "With the next debate rules setting higher polling thresholds, that may [have been] the last time we see [him] on stage," she said.
In a controversial move, Burgum promised $20 gift cards to anyone who donated $1 to his campaign, calling them "Biden Economic Relief cards," per Twitter. This was an outright attempt to qualify for the main debate stage, which requires that candidates receive donations from 40,000 unique parties... Arthur, North Dakota residents know that a Burgum presidency is a long shot. "Kudos to him for getting out there. He's used to being the long shot," cafe owner Kelly Johnson told The Bismark Tribune. She's referring to his 2016 gubernatorial win, which was a definitive upset.
When he's not running for president and injuring himself in a game of pick-up basketball, you can probably find Doug Burgum with his three children and second wife, Kathryn Helgaas Burgum.