Kevin McGarry Had A Spicy Modeling Career Before Joining Hallmark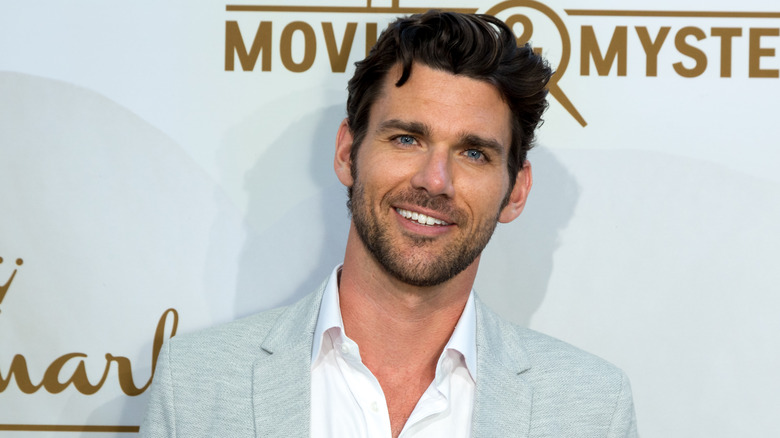 Greg Doherty/Getty Images
Kevin McGarry is one of Hallmark's most popular heartthrobs, gaining fame on the classic series "When Calls the Heart" and in made-for-TV movies such as "The Wedding Veil" and "Winter Love Story." Fans of Canadian television will also recognize him as Mitch from the long-running "Heartland." While he's made quite the name for himself in feel-good TV, one element of McGarry's early career has a much different tone.
Fans might be familiar with the star's early acting work, which includes an appearance on TBS's "Love Bites" and a recurring role in the mystery drama "Open Heart," but his time in modeling is a lesser-known aspect of his career. While McGarry hasn't spoken much about his modeling stint, he did reveal on social media that he posed for the covers of some sexy romance novels.
This tidbit may come as a surprise to those used to his family-friendly image, but we can't help but think he fills out these book covers quite well. On top of that, McGarry has shared a little insight into his overall modeling career in an interview.
McGarry teased his modeling days in an Instagram post
Back in 2014, Hallmark star Kevin McGarry provided a glimpse into his early days as a model, posting an Instagram snapshot of three Harlequin books that spotlight him on the cover. If you're unfamiliar, Harlequin is a super successful publisher of romance novels and women's fiction, most known for their steamy love stories.
The McGarry titles include "Her Sexiest Surprise" by Dawn Atkins, which features a smiling close-up of the actor next to a woman holding a chocolate-covered strawberry, and "Mission: Christmas" by Lindsay McKenna and Susan Grant, which shows "The Winter Castle" star wearing a pilot outfit while looking dramatically off into the distance. Lastly, the photo features "The Christmas Cowboy" by Judy Christenberry with a cowboy McGarry carrying a freshly-cut pine tree and axe in a snowy mountain setting on the cover.
Truthfully, these book cover personas aren't too far off from some of McGarry's feel-good roles, with the Canadian native playing a man-in-uniform in "My Grown Up Christmas List" and assuming a cowboy-inspired part in "Heartland." They may be a bit more sexy than Hallmark fans are used to, but McGarry definitely does these book covers justice.
The Hallmark star has briefly discussed his modeling experiences
Although Kevin McGarry hasn't been too vocal about the time he spent modeling, he has briefly spoken about his experiences, giving fans a bit of insight they've been craving. In an interview with Paul Greene on "The Grass is Greener" podcast, the Ontario native explained that he experimented with modeling when he first moved to pursue his acting career.
"I did model when I first came to Toronto. I was not good at it," he shared. "But the only thing I really got down was on the catwalk walk or the runway walk ... putting your shoulders back to slide off the jacket and then [doing] the over-the-shoulder [motion] in one move."
McGarry also mentioned that he posed for a Sears catalog, which gained a lot of traction among his friends back home. "I'm from a small town, and, you know, back then we had the Sears Wishbook. And they were like, 'McGarry's in the Wishbook. He's like, page 170,' or whatever it was," he said.